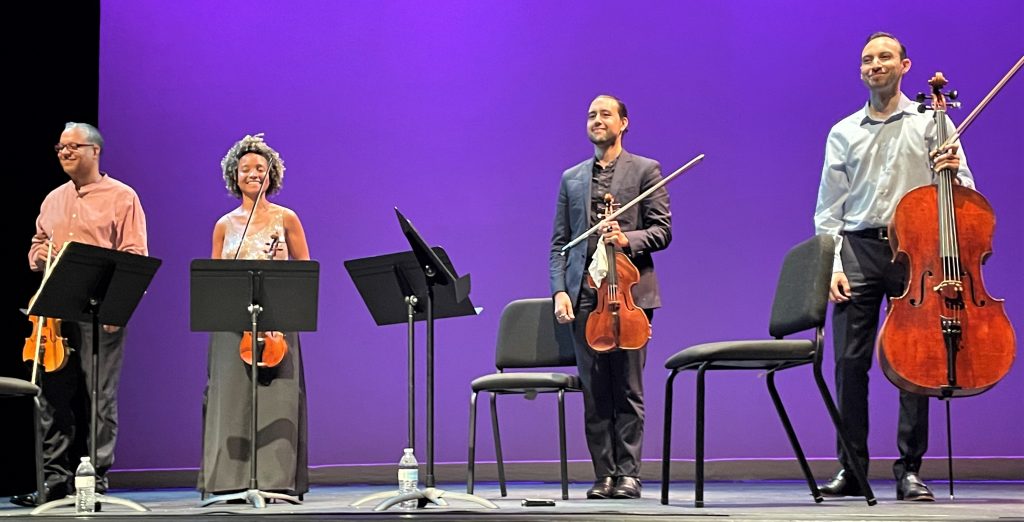 Sometimes concerts are impressive and superlative when musical wit explodes; Saturday night's concert at Hudson Hall displayed superior musicianship accompanied by warmth and wit. When that contagious warmth is present, there is a kind of healing miracle: neurons in your brain undergo a musical resurrection that relaxes and rejuvenates one's whole body. This was one of those nights!
The Harlem Quartet opened with Fanny Hensel Mendelssohn's String Quartet in E-flat Major, one her 250 compositions which was not published until 1988' it has been undergoing a deserved revival. Ilmar Gavilán, first violinist, played with palpable affectionate charm; in the second movement violist Paul Laraia from the Catalyst Quartet (substituting for Jaime Amador who is ill) effectively played an amusing mini-solo which he passed off to cellist Felix Umansky who wrung more amusement with lower notes; it was an unexpected diversion as if two old friends popped into your room when you thought they were abroad and they joined the family in celebration. Melissa White on violin had invited them through the door. (It sounded like there were children running around.) Everyone was happy, including Fanny and the audience at Hudson Hall. (I had recently heard this piece played and I can say that it has grown on me; I would like to hear this neglected masterpiece again, since it leaves string players with interesting angles of interpretation.)
A Night in Tunisia by John Birks Gillespie (Dizzy) followed without trumpet. I once in 1971 talked briefly to Dizzy who was the living embodiment of the cool cat, an international Bahia' saint, despite is unsaintly youth. (If you want the genuine lowdown on jazz with fascinating anecdotes from 1937 to 1977, it's all in his 500-page memoir To Be, or not… to Bop.) Ilmar's string arrangement was sheer genius: cool, slightly Dizzy mischievous, creating Afro-Cuban sounds I never thought the violin could do with such swinging zing!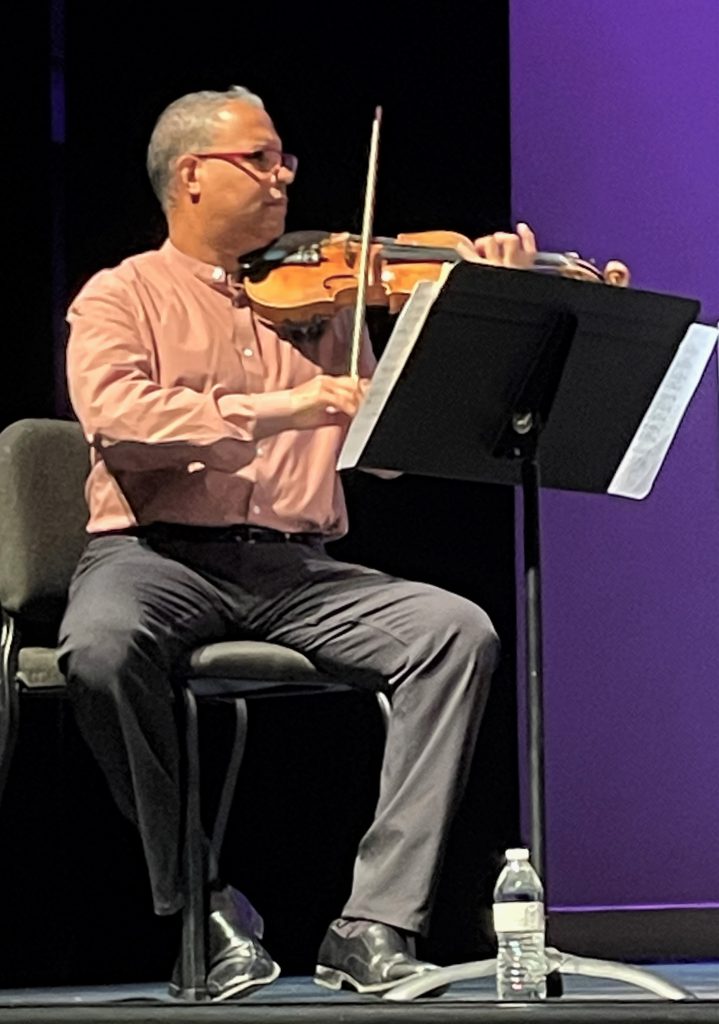 Cuarteto en Guaguancό (2005) was written by Guido Lόpez-Gavilán, a noted Cuban composer and conductor, Ilmar's father. This was a syncopated dance piece, more complex than salsa; it somewhat resembles rumba, which is based upon its drum accent on the third beat. While there was no drum present, Melissa White on plucked violin provided that magic dance rhythm for this infectious, happy number. Ilmar on violin played with such breathtaking nuance that the audience was mesmerized by his affectionate family tribute to his father.
Changing trains, the Quartet boarded contemporary American classical revival with Caroline Shaw's Entr'acte (2011). Riffing on Haydn's Op. 77, no. 2, Shaw reverses much of Haydn's structure to arrive at a slightly jazzy version of a minuet and trio, endowing the piece with more emotion than Haydn ever dreamed, especially in the concluding climax, which is nearly orgasmic, or maybe is. Now do you understand the risque humor of the work's title?
The originally announced closer was Claude Debussy's String Quartet, Op. 10, but they changed the program, perhaps in reference to Queen Elizabeth II, who recently died. They played String Quartet No. 2 (1945) by Benjamin Britten, premiered at the 250th death anniversary of England's most influential composer, Henry Purcell. There is much anguish in the music, as well as nostalgic rural melody of more peaceful times. Here the heart of the anguish was not only the Holocaust, but the inevitable destruction of peaceful rural life which England had enjoyed since Purcell. Brimming with folk melodies in clipped, truncated, Schoenberg-like atoms, an unusual and memorable pathos arrives as it presents the fragility of life and its inevitable end. I was not familiar with this gentle and fatal work where emotion hung closely to the first violin and cello with resonant viola: here the ensemble performed with such deep feeling that the audience demanded many bows.
Melissa announced her gratitude for such a warm audience. She said all could take a ride on the A train, thanks to Duke Ellington and Billy Strayhorn. So, the delighted audience enjoyed a free ride to Music Everland in the underground depths of unified appreciation!