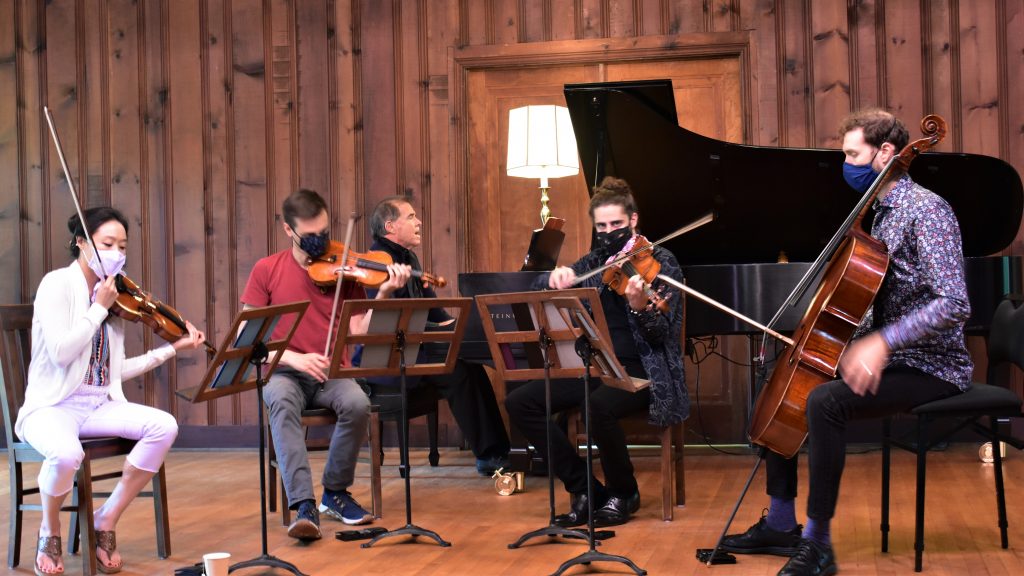 by Kevin T McEneaney
Atop Music Mountain in Gordon Hall by Falls Village, CT, on Sunday, the Tesla Quartet provided an electric performance of the last quartet, String Quartet in G major, Op. 161, composed by the young genius Franz Schubert who died at 31. Symphonic in its sensibility, structure, scale, and rapid staccato triplets with headlong chromaticism, this rather Manichean masterpiece remains one of the most dazzling and challenging chamber music works in the repertoire.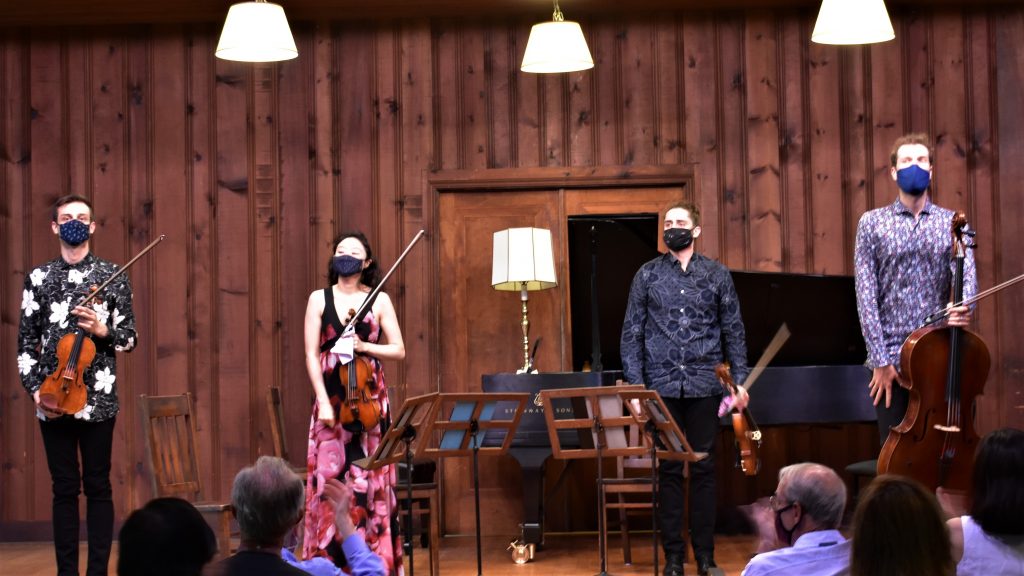 The blended unity of and emotional timbre of the Tesla Quartet was breathtaking. Ross Snyder on first violin dominated with authoritative texture that sang with sincerity while Serafim Smigelskiy on cello delivered sonorous gravity when needed. More tender emotion arrived through Michelle Lie on second violin and Edwin Kaplan on viola. The Quartet played as if they were a single instrument as they navigated the multiple, rapid one-sixteenth notes! The focus of this work, which explores both major and minor modes, features lyrical folk tunes amid dynamic contrasts. At times it seems almost too much to digest in its haunting richness. Michelle's fluid pizzicato was often key to mellow ambiance.
While the first three movements sometimes appeared to descend into a strange underworld, the structurally ambiguous comic fourth movement offered sunlit reversal in an extroverted world of contagious happiness and surprising simplicity after the long journey of about 45 minutes.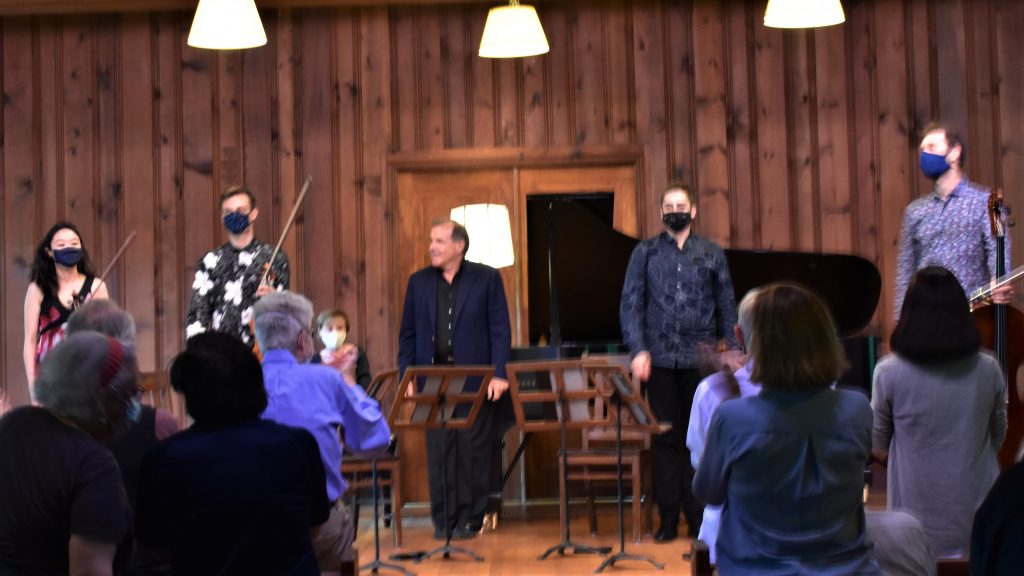 After brief intermission, pianist Misha Dichter joined the Tesla Quartet for Piano Quintet in A major, Op. 81 (1887) by Antonín Dvořák. His was the forty-sixth performance at Music Mountain of this incredible work, which I have heard performed many times before, yet this performance sounded like the consummate performance version with Dichter on keyboard fingering with astute and nuanced modulation when needed, as well as authoritative lead when required as he supported with seemingly effortless background or led in foreground.
The lyricism of Serafim's cello in the first movement was captivating. In the second movement, Michelle's first violin provided a relishing sweetness that was as captivating as charming and engaging.
The furious and ecstatic Bohemian folk dance of the third movement allowed Edwin's viola to rhythmically shine. As with Schubert, the final movement offered a delirious reversal with Ross's violin becoming more extroverted as Misha on piano led the strings to ravishing acceleration that concluded with extravagant and satisfactory exuberance! The intensity of those forty minutes echo in memory for hours!
Next Saturday at Music Mountain the Wolverine Jazz Band will be playing at 3 pm; Sunday at 3 pm will feature the Ulysses Quartet with the following program: PAUL FRUCHT, Rhapsody; LEOS JANACEK, String Quartet #2, "Intimate Letters"; ALI-ZADEH, Reqs (Dance); MENDELSSOHN, Quartet in E Flat Major, Op. 44 #3.
For further ticket information visit: https://www.musicmountain.org/