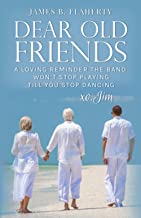 Dear Old Friends: A Loving Reminder the Band won't stop playing till you stop dancing. James B Flaherty. Amazon.
Review by Kevin T McEneaney
Addressing the challenges of old age with savvy and charm, Flaherty @ jamesbflaherty.com, provides an extended meditation on motivation and goal-orientated thinking with cheerful aplomb. This short volume finds itself in the tradition of Mitch Albom's 1958 best seller tuesdays with Morrrie: an old man, a young man, and life's greatest lesson and an essay, "The View from 80" (1978) by Malcolm Cowley (publisher of Jack Kerouac, Larry McMurtry, Ken Kesey, and host of others) which appeared in Life magazine as a promotion for his marvelous autobiography And I Worked at the Writer's Trade: Chapters of Literary History 1918-1978.
Like Albom and Cowley, the memoir collects lively and humorous anecdotes; in this case primarily from show biz—people like the Canadian Hume Cronin and his wife Jessica Tandy, a wonderful spirit whom I once carried in a chair when she broke a leg at the Irish American Historical Society when I was the Executive Director, across from the Metropolitan Museum in Manhattan.
In Flaherty's vision obstacles are transformed into vehicles for success, as he regales anecdotes from his own family and unusual people he has met on the rocky road of life, always extracting nuggets of wisdom from problems in the past or present. Jim's buoyant voice trills like a stream running over all stones in its path.  
Flaherty's cheerful baritone reveals his love for people and compulsive organization on how to address problems when the window blinds are closed. In high school he played the bassoon and transformed that talent into a college scholarship; I warmly concur with his advice for the elderly to become involved in listening to music as the music of one's life winds down. This little volume is in no way a downer—it is an UPPER brimming with optimism in its advice on how to confront one's latter decade.