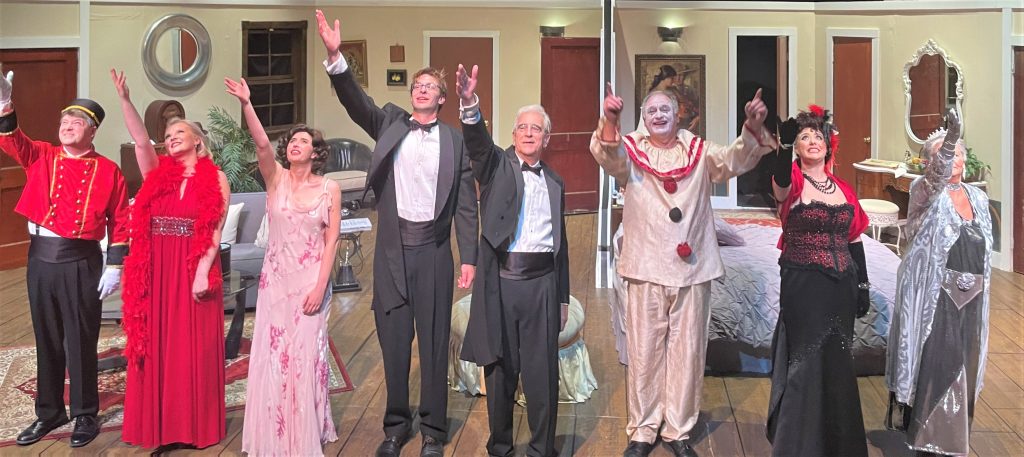 by Kevin T McEneaney
First performed in England's West End, Lend Me a Tenor (1986) by Ken Ludwig underwent a face transplant from black-face to white-face, from employing riffs on Shakespeare's Othello to imitating and complicating the plot of Ruggero Leoncavallo's famous Pagliacci (1892). This much-improved version is a middle-brow comedic farce that satirizes greedy producers, female opera groupies, and the ambition to be upscale social clowns who are nobodies pretending to be somebodies. From a psychological point to view, farce works best when social cohesion reaches superior levels of inanity, which may be the reason why this is the inaugural production of a new theater company in Rhinebeck: TroupEnigma performing at The Center for Performing Arts, in co-operation with the Center.
Since farce is a parade of clownish stereotypes, there are only two serious characters here, two opera singers: one, an old man tired of his multitudinous successes and feeling like a clown robotic-ally imitating himself; the other young and ambitious yet devoid of confidence; they are each the other's doppelganger; the old pro inspires and instructs his surprise protégé. There is a wandering profusion of costume jokes which enhance the theme of spontaneity in theater, as well as an implied undertone of pathetic and tawdry illusion amid the commitment to entertain others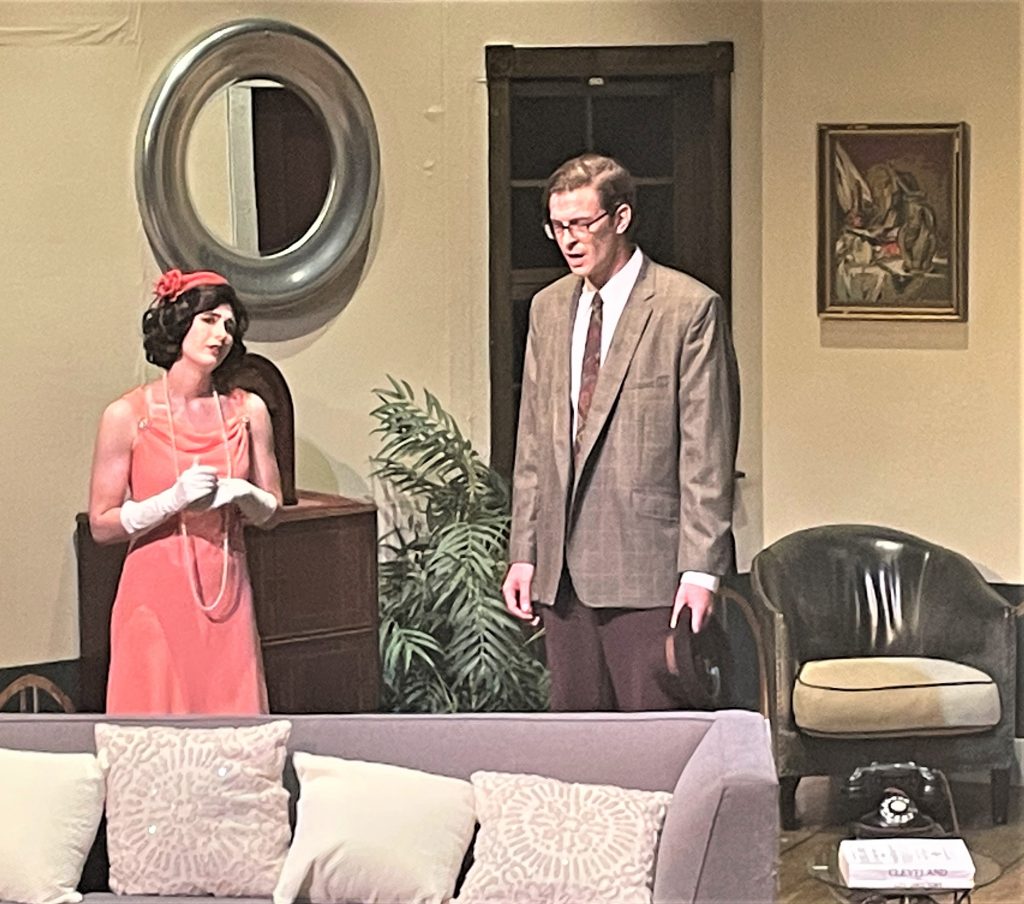 The first act, which belabors various anxieties, serves as a footstool to the funnier and more profound second act which revels in amusing, ironic confusion as actors put on temporary "masks," then suddenly rip off their "masks," revealing their true characters. Every actor on set slams doors at least a dozen times, as if storming off the set after a biting critique from the director, who, in this case, is Michael Juzwak, able at layering and echoing irony. There is a wide mush-mash of jokes that are flung pell-mell; some will find these jokes small, yet many remain stubbornly quite funny.
Marco Caviglis, as the aging opera singer Tito plays his role as numinous star exuding fatherly empathy when teaching his protégé, rising to resignation with whatever all the clowns around him offer, plays this multi-faceted role to perfection as if his whole life was arcing to this stand-out performance. Austin Lightning Carrothers as Max dramatizes the awkwardness and insecurity well yet is most poignant with facial expressions when saying naught when caught in ridiculous situations. His love scenes with at first diffident girlfriend Maggie, played by Emily McCarthy exude confusion between her attraction to Max and her father's contempt for Max.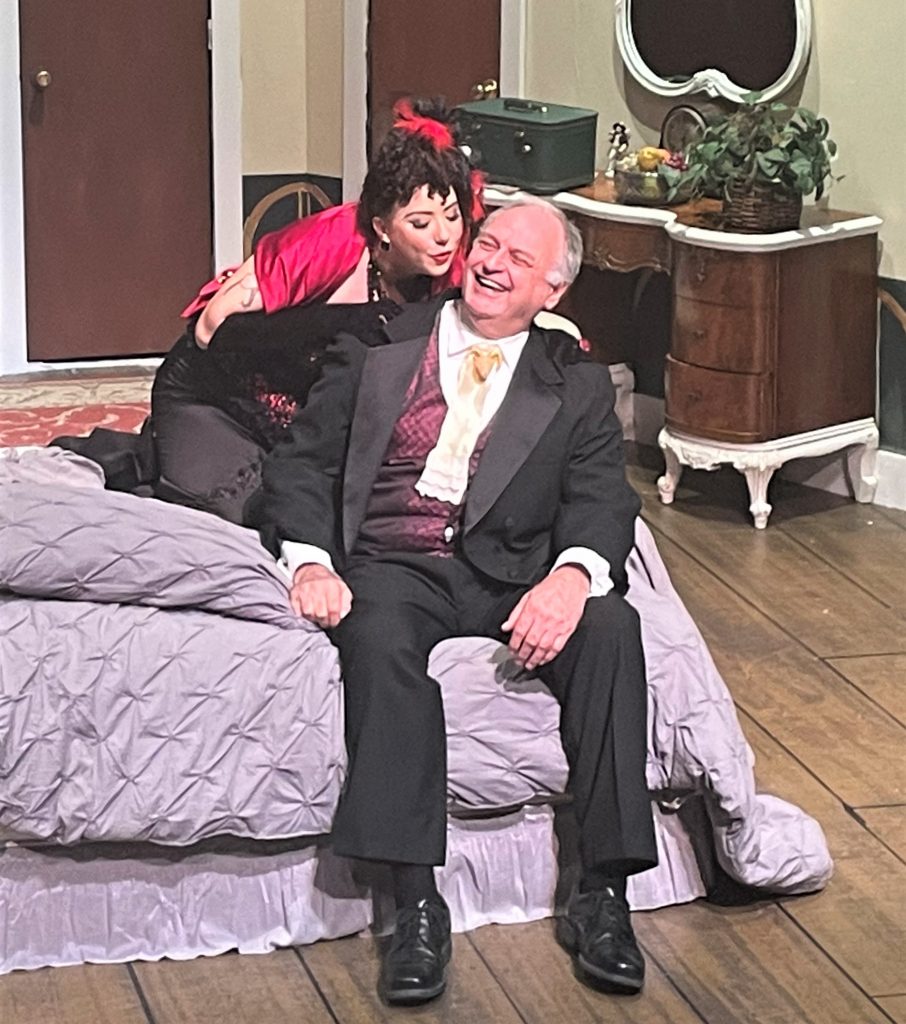 As Maggie's father and producer of the 1934 Cleveland opera show, John D. Remington is adept at expressing frustration, anger preceding the process of sober thought, and Trumpian greed at raking in more than his arms can hold. Jesse Truin as Maria offers memorable comic relief as the ever-forgiving shrew who screams at the feckless womanizing of her perpetually unfaithful opera-star husband. Joseph Bongiorno as the insouciant Bellhop manages the see-saw of being both obnoxious and charming. The minor role of the soprano Diana, played by Diana Borshcheva suffers from serious script under-writing but she manages that well. As Chairman of the Opera Guild, Stephanie Hepburn is so convincing that delivers an unexpected realism to the role.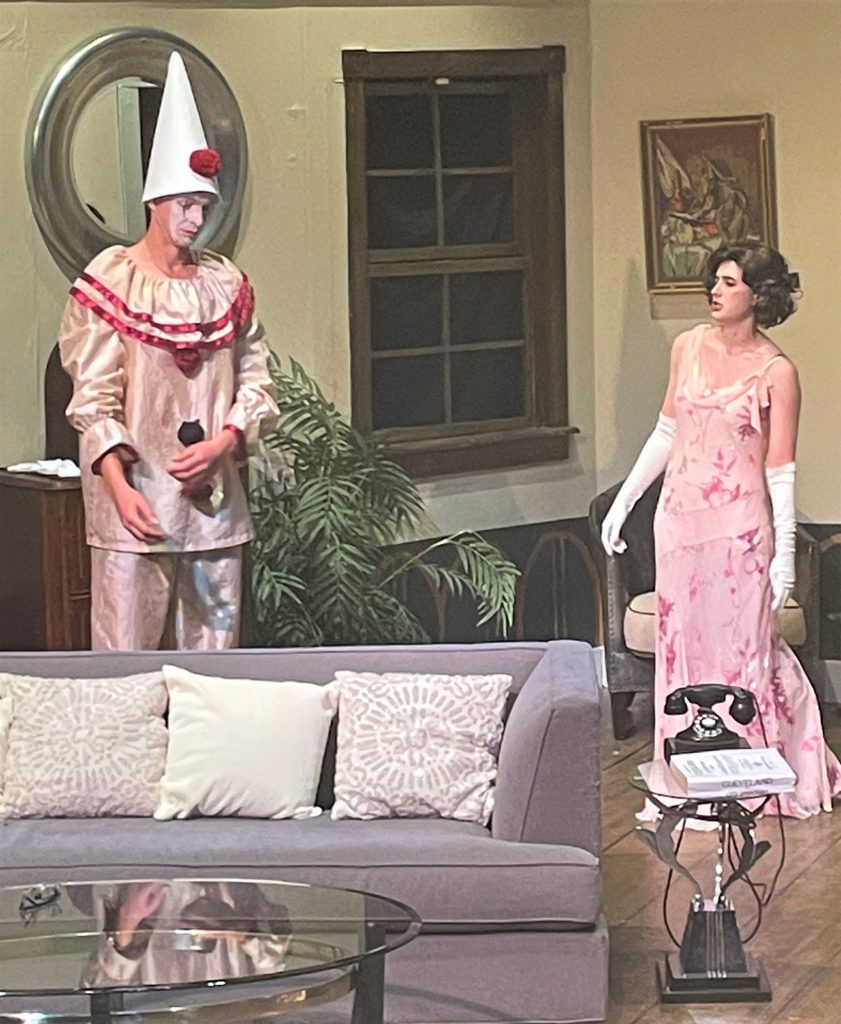 The finale offers an amusing mime anthology of physical antics, as if the finale is a miniature Greek satyr play. We hope to hear more from this fledgling theater troupe which has its main support form Ulster Savings Bank and Berkshire Hathaway.
Lend Me a Tenor runs at the Center for Performing Arts through September 11. For more information or tickets click this link.