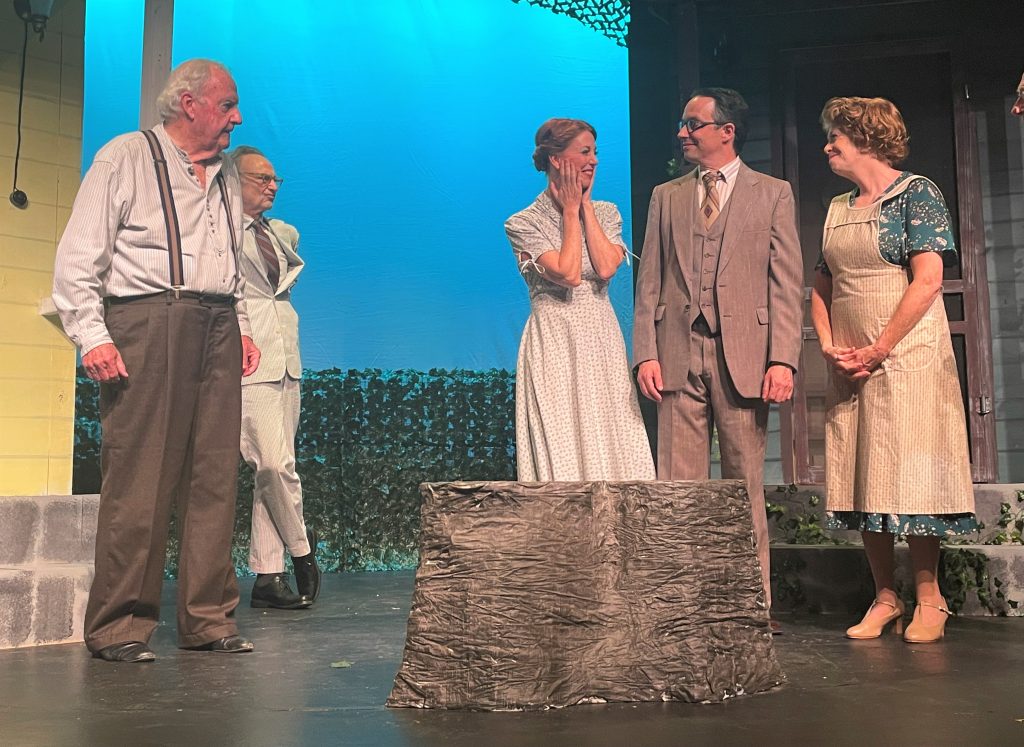 by Kevin T McEneaney
Some years ago, I saw Director Frank Arcaro's production of Noël Coward's 1930 play Private Lives. I was stunned by the production, and thus I could not resist seeing Paul Osborn's 1934 play Mornings at Seven under his direction at TheatreWorks in New Milford, CT. Osborn's play is the offspring of Uncle Vanya and Three Sisters by Anton Chekhov of Odesa. The influence of Chekhov on theater in the U.S. remains hard to under-estimate. Osborn's play is set in the Midwest anywhere where four sisters live in the same neighborhood outside of a small town. Arcaro's direction was as meticulous as I had hoped, and the actors are seasoned hands performing at their peak in this classic three-act play.
The first act rumbles by with rural satisfaction and complacent triviality with everyone pretending that life remains a feast of dull routine: sun rises and sets while nothing happens, except the next meal; everyone gets along so smoothly and cheerfully that they appear to be a bore. The second act poses some problems: forty-year-old Homer brings his fiancée, 39-year-old Myrtle, home for a visit and the rustic façade begins to crack.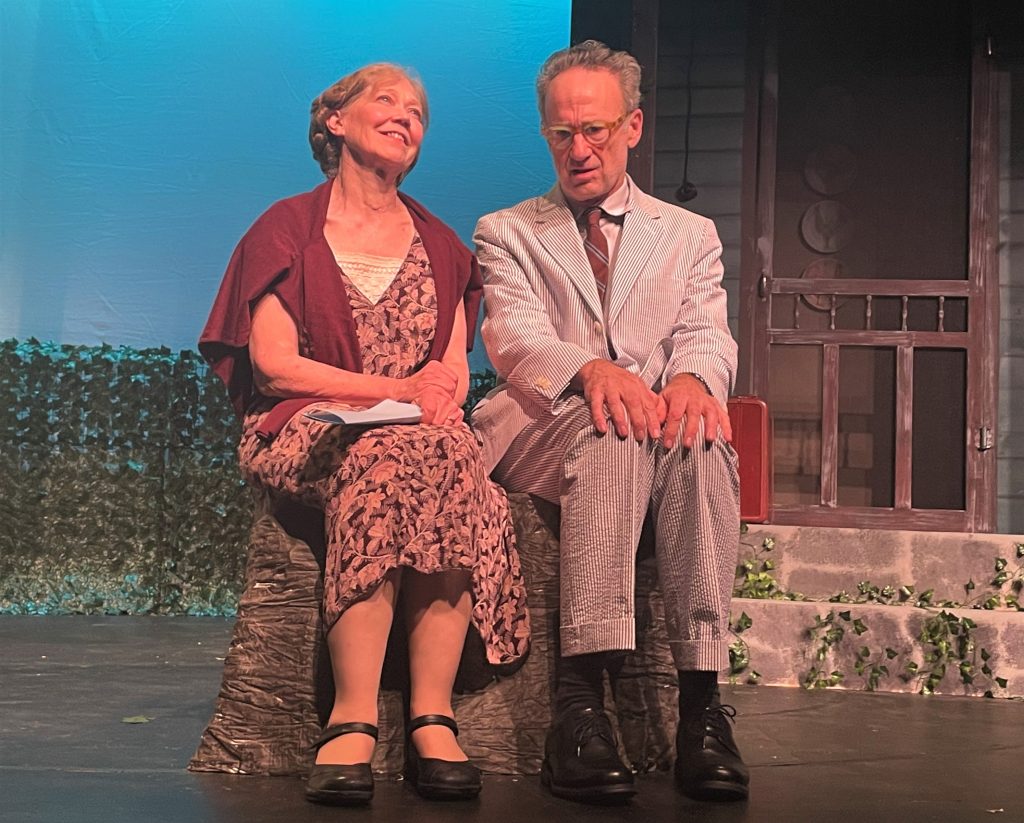 The fireworks arrive in the third act (and they are worth waiting for). The play offers satire on the apparent sexual prudery of 1930s Midwestern culture and the respectable cult of accompanying boredom. Ultimately, the play travels into the nighttime of the eternal question: what does our life mean? Irony, humor, and even gripping suspense dominates the final act. The concluding reversal is most satisfactory, engaging us with the wisdom that in old age we must forgive our own follies and the follies of others in order to appreciate what gifts old age may bestow upon us.
There are a few dull spots in this mesmeric play yet the actors on stage know quite well how to handle such material with wry aplomb. The trinity at the heart of the play: Jeff Savage as complacent Theodore (Thor) Swanson, who discovers he is being squeezed in a vice, in the final act is a master of fatal understatement; Jody Bayer, as Cora, Thor's wife renounces half a century of subjugation with a plan; her dominating sister Arry, played by M.J. Hartell, strides the boards as if she owns every square of the stage with the commanding sweep of her voice that bounces with lilting authority.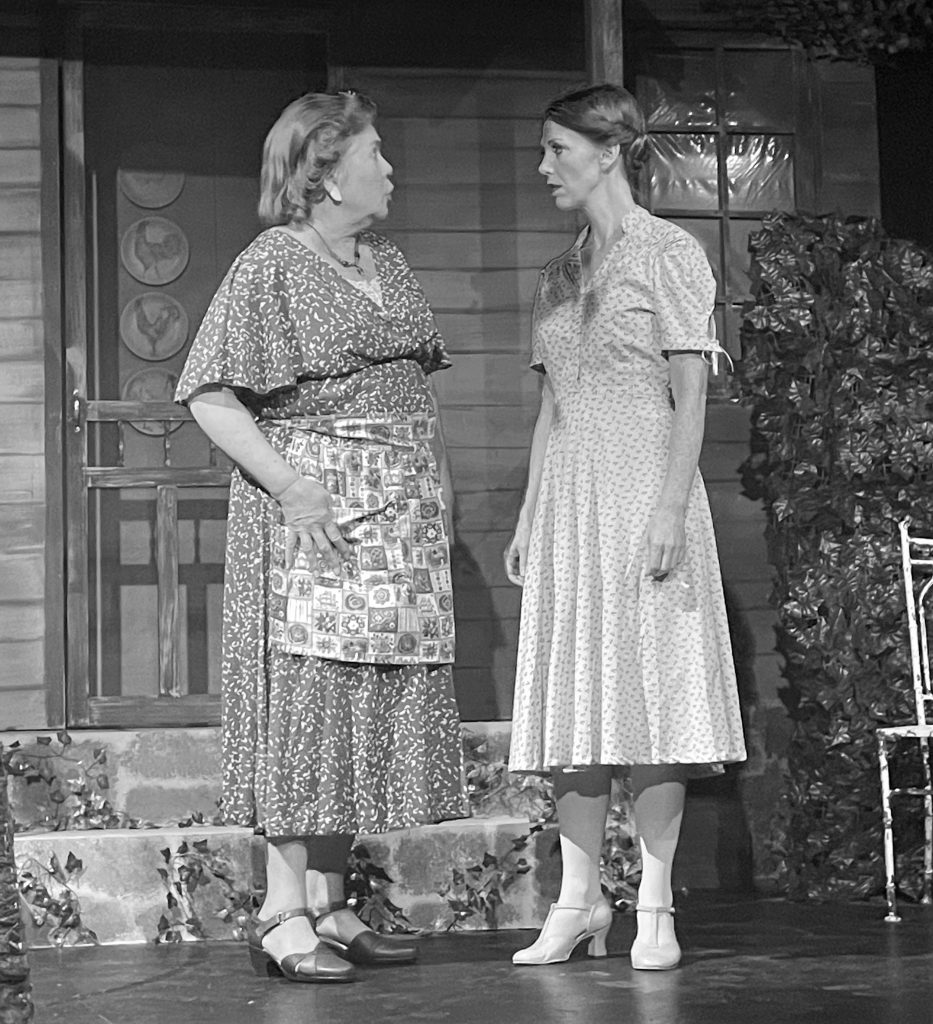 Sister Ida, poignantly played by Eileen Epperson with fragile distraction, does not want her son to marry; her husband Carl suffers from mental affliction with such conviction that one cannot doubt a gesture. Daniel Basiletti, with his panicked and paranoid persecution mania nearly steals the show with his all-too-convincing mannerisms and contagious comedy nearly steals the show; his finance Myrtle, played by Christine Olson, exudes restrained uneasiness that also exhales comedic twist. Fourth sister Esther, played by Beth Steinberg exudes that universal defect, common sense, while her husband David, a college professor and psychologist played by limber Roger Netzer, delivers enough delirious mania through his excited gestures that we realize that the great intellectual is the most insane and energetic healer to ever live in a small town, although he manages to heal Carl.
And through the deep magic and wisdom of this play we are all healed. One walks away from the theater with a sense of being reborn into accepting one's own fate and past follies. That remains an achievement which few plays can rival. And Frank Arcaro found the actors to do that.
The play at TheatreWorks runs through September 24; for more information or tickets click this link.