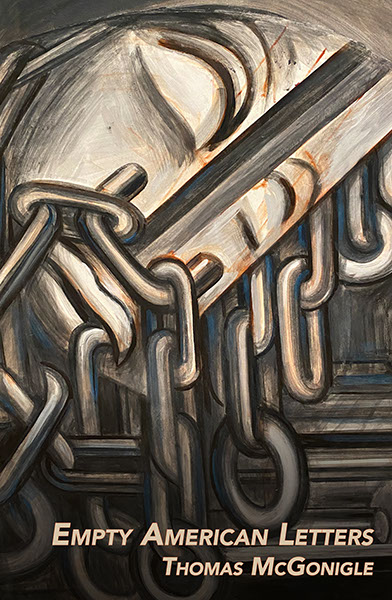 by Kevin T McEneaney
Empty American Letters: the Bulgarian novel by Thomas McGonigle. Spuyten Duyvil Press. 316 pages, 2022. Pub. Oct 6, 2022.
There is nothing empty here in McGonigle's sixth novel, unless it's the empty vacuum American pop culture has descended into: fast-food emporiums, loss of observation and imagination, detached, irrelevant academic inanities, loss of lust for the gritty detail of everyday thinking, or the spontaneous delight in life's oddities. This is a novel of travel: through Bulgaria, Potsdam, Patchogue, Vienna, but mostly through the mind of a traveler who collects a montage of moments, pasting them like photographs on an immense canvas in an abandoned warehouse to create a literary epic out of fragments. While fragments cohere, they sometimes disorientate, removing the reader from habitual complacency. One is forced to come to terms with what has been forgotten about one's own travels in life.
Elements of realism and surrealism jostle like numbered tickets shaken in a lottery. Most passages are short. The whole is like threads woven to create a giant tapestry. Inflection of the author's voice is by turns tender, brutal, casual, rude, baffling, poetic, obsessive, deranged, and comic—a cornucopia that compels one to look at life and self differently.
In a general sense, the novel can be compared to Samuel Beckett's caustic, comedic novel Murphy, yet McGonigle's novel has considerably wider scope. Like Beckett, McGonigle remains entrenched in bleak but wise irony. In his collage of verbal snapshots remembering becomes forgetting, and the attempt to forget becomes an obsessive frustration. Quotations from French writers such as Roger Caillois or Nobel Laureate Claude Simon appear as if they were vaudeville interruptions from an Otherworld.
One of the organizing vehicles of the novel is an obsession with time, how permanent and haunting our memories are, despite the temporality of our lives. Eastern Orthodox Christianity features a mythology of the soul's journey in a transitional afterlife for forty days until the soul is judged. (In biblical shorthand the number forty means however long it takes to achieve something of religious importance.)
We wander through the byways of Bulgaria and America during the forty days via the Orthodox aerial "toll booths" until the soul is judged. Along these toll roads appear trenchant observations on American and Bulgarian culture—a diptych exhibit with clashing irrationality. Absurdity becomes a form of sanity as autobiographical fragments coalesce, conjuring a pilgrimage to discover love, loss, laughter, and significance in the oddest quirks of life. Although the reader travels the forty "aerial tollbooths," these are not presented in consecutive order, just as nothing appears in our fitful memories with consecutive order.
In alleys and parks of Sophia and Varna, history lurks in the shadows of trees and drab cafés: from 1444 in Varna when Bulgaria was liberated from the Ottomans to its twentieth century engulfment by Communism, the scars remain on the behavior and psychology of people.
This novel has more female narrative voices than most of McGonigle's novels; it is their sensitive, sometimes irreverent and despairing, stories that drive the narrative, especially a woman who teaches as an adjunct professor at SUNY Potsdam; she attempts, despite a heavy backpack of abusive obstacles, to write her doctoral dissertation on the social plight of women in nineteenth century Bulgaria. Piret, a Bulgarian woman, supplies the daily earthy quandaries of the stratified, exploited situation of Bulgarian women under Communism and beyond. The author muses about their fate while humor arrives with angular or deadpan thrust like a lightning bolt.
Occasionally, the elliptical argot of conversational syntax can swerve suddenly in stream-of-consciousness ellipsis with arresting effect, yet the narrative remains clear as to what happens, or what the interior monologue intends. Humor arrives with angular or deadpan thrust.
Much of the narrative focuses on the ordinary, yet the humdrum ordinary glows with powerful redolence—as what appears to be insignificant becomes important, and vice versa, since the prose is bathed in an ironic aura: past is in the present, while the present floats definitively in memory.
More than any other novel I have read, Empty American Letters captures the oblique and opaque life of transience as it travels present and past in the streets of Sofia, upstate New York, Manhattan, and the conscience of a writer who prefers to warp sentences into gonzo inflections.  
Thomas McGonigle is the author of The Corpse Dream of N. Petkov, Going to Patchogue (both from Dalkey Archive)and St. Patrick's Day: another day in Dublin (University of Notre Dame Press). Going to Patchogue was reviewed and commented on across the US as it dealt frankly with white suburban racism, until then little included in American novels…. The Corpse Dream of N. Petkov and Diptych Before Dying were recently translated into Bulgarian and published in Sofia. His website is www. abcofreading.blogspot.com