P.G. Woodhouse's 1926 adaptation of Ferenc Molnár's 1924 comedy The Play at the Castle (an absurdist play possiblyly influenced by the uncompleted 1922 masterpiece novel The Castle by Franz Kafka) titled The Play's the Thing is now playing at The Center for Performing Arts in Rhinebeck. Every local fan of the English humorist and satirist will be there for the three full acts of actors falling in-and-out of their roles as either an acting character or a person who attempts to be an actor. The play is an absurdist exercise on the art of acting with plenty of witty transformations, as if every actor was a winking chameleon.
In Shakespeare's Hamlet, the play within a play, "The Mousetrap," is the protective device employed to accuse Queen Elizabeth of being negligently responsible for the poisoning of Shakespeare's son Hamnet—that poison was meant for good Will at the time lunatic Essex had Kit Marlowe assassinated and Thomas Kyd put to the rack. Here the play within a play offers a genial device employed to masquerade a slipshod, momentary, indiscrete, sexual fling. The bait that covers up the affair is a play within a play written by a writer-director played with superb authority by John D. Remington, who at first appears to be a crabby, lazy Lord of Snobbery, yet in the play's third-act reversal, we realize that he is the most sensible, wise, and generous man on the stage, as he transforms from antagonist to protagonist by quickly penning and directing a play to save reputations all around.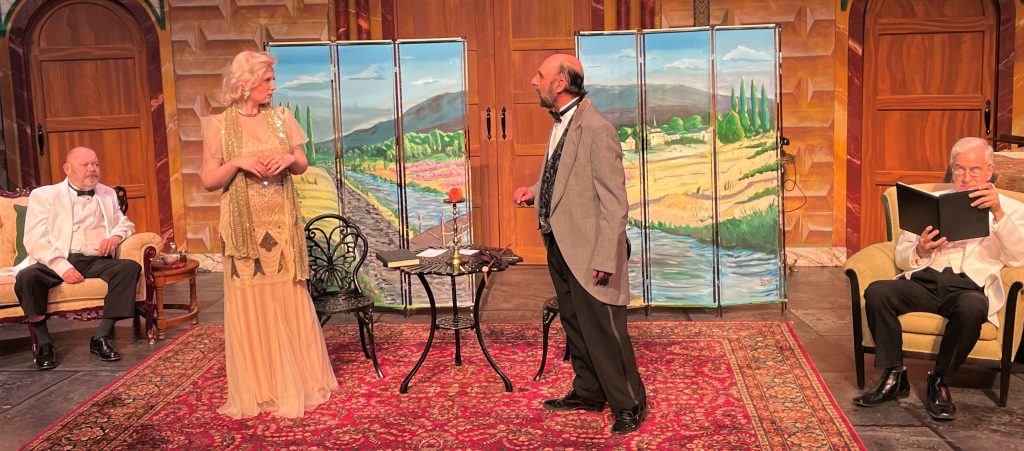 This is a meta-play, that is, a play: about how to write a play, how to direct a play, and how to act: correcting poor acting, jokes about line prompts, satire about over-acting or under acting, the snippy undercurrent of actors needing to deliver lines they abhor, the quick psychological pose-changes required by actors, and especially the farcical moments of awkward rehearsal. There is perhaps an overdose of ridiculing French aristocracy, up to the non-existence of Louis XVII. Threads of wit are sometimes like whimsical and incomplete costume changes—one needs to pay close attention, for the pace of the play often quickly shifts from droll, laconic lethargy to frantic fireworks.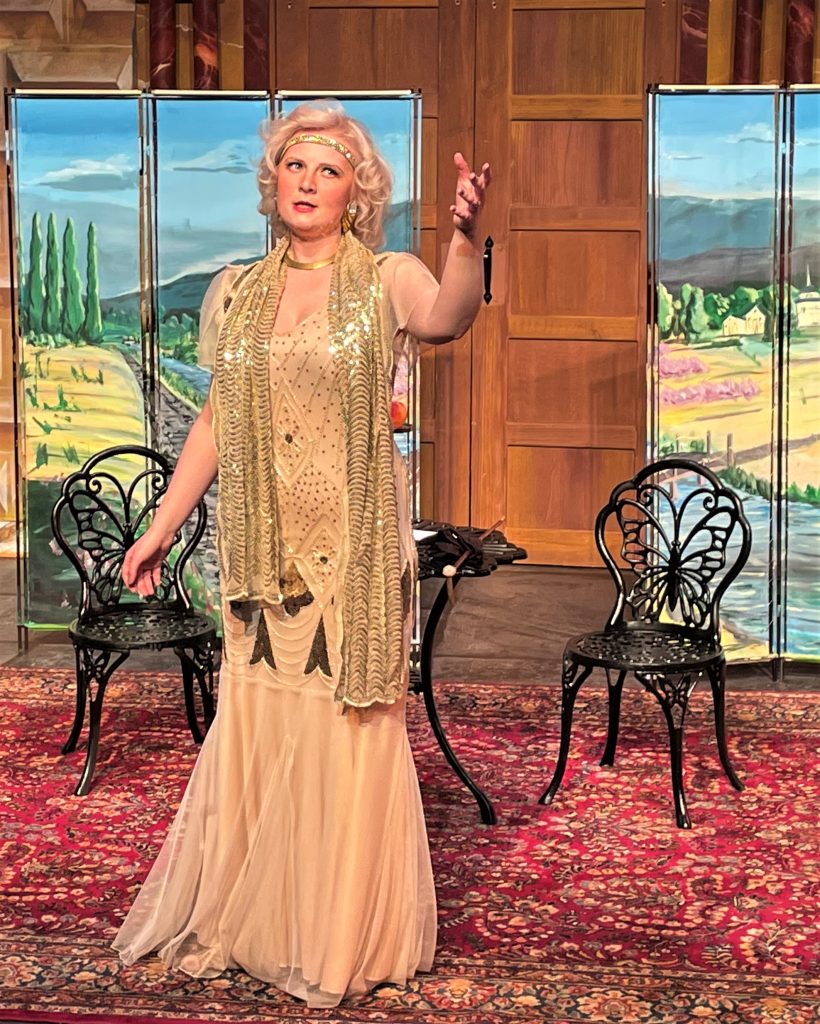 Diane Borshcheva, as the lady momentarily unfaithful to her boyfriend, delivers amusing incandescence as she rollicks from histrionic cliché to off-stage character, a tragedian determined to be a subtle comedian. Alex Skovan as the Butler creates an unusual voice: at once servile and dutiful yet tinged with a menacing undercurrent of irony bordering on threat. Andrew Joffe as Almady, a leading actor, and co-conspirator plays a stalwart, suggestive accomplice with the playwright's conspiracy. Joe Bongorno as the naïve young composer appears suitably bewildered, then ecstatic. Michael Juzwak, the older, rich salacious seducer wears his ignominy with a patience beyond endurance. Johnny Lowenthal, as the Count's secretary, manages some spark in a role resembling a lost pen.
Director Cindy Kubic has mastered the difficulty of the wildly baroque pacing of this play.
The happy conclusion of the comedy features an extended satire on T.S. Eliot's preposterous and pompous satiric poem "Prufrock." Eliot was a fashionable bigot who hated Jews and Irishmen in his early poems, had his rich, upper-class wife whisked to the looney bin, and later posed as an upper-class Englishman while penning coy, phony Buddhist poses. Ignorant of this Woodhouse masterpiece, I did not realize that Eliot had been so ably, properly, and thoroughly lampooned on both the English and American stage. This play remains a bold satiric masterpiece; if you have never seen it, this is likely your last opportunity, although the hundredth anniversary of the play occurs next year.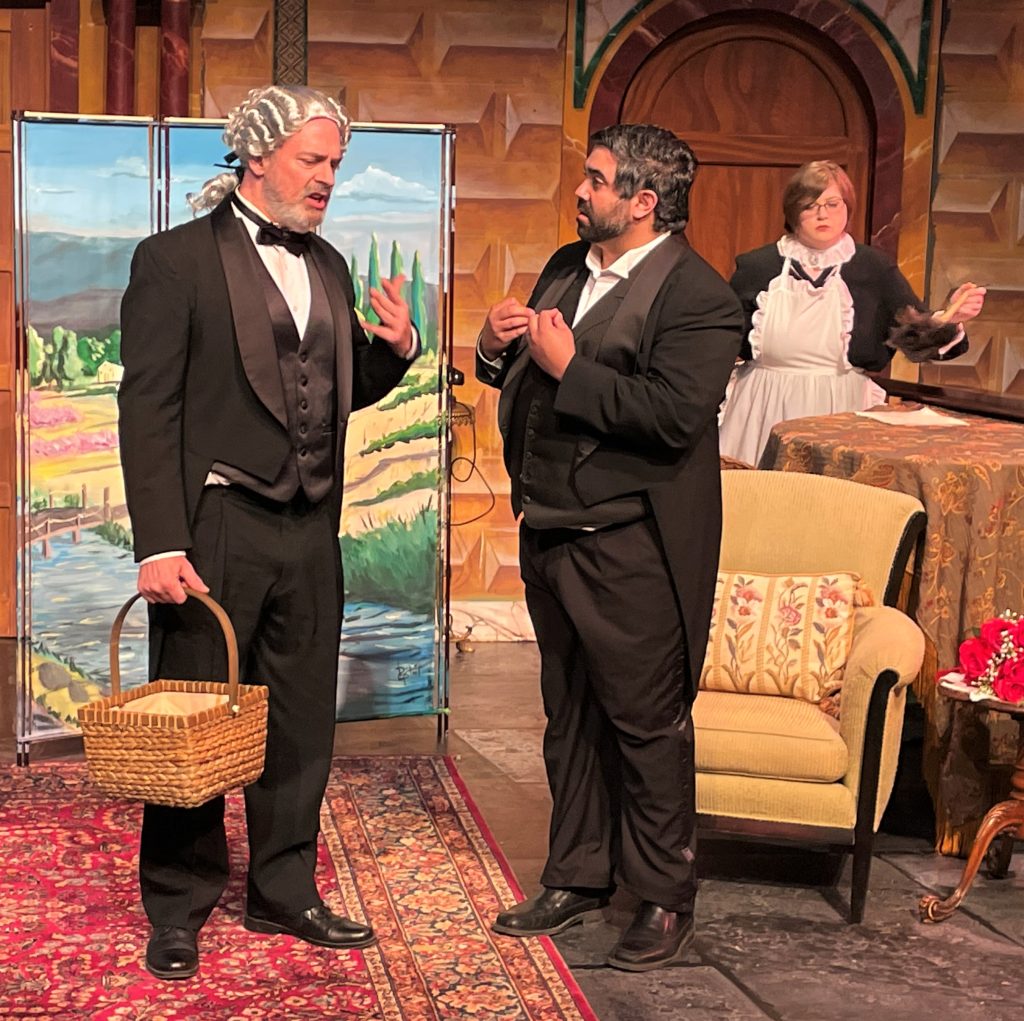 Appropriate period costumes and delightful sets compliment the appeal of this production.
This production at the Center is presented by Troup Enigma. This production runs March 17 – 26, Fridays, & Saturdays at 8pm, Sundays at 3pm, Tickets $25. For more information click this link.
Next up at the Center is William Shakespeare's Twelfth Night on March 31st.