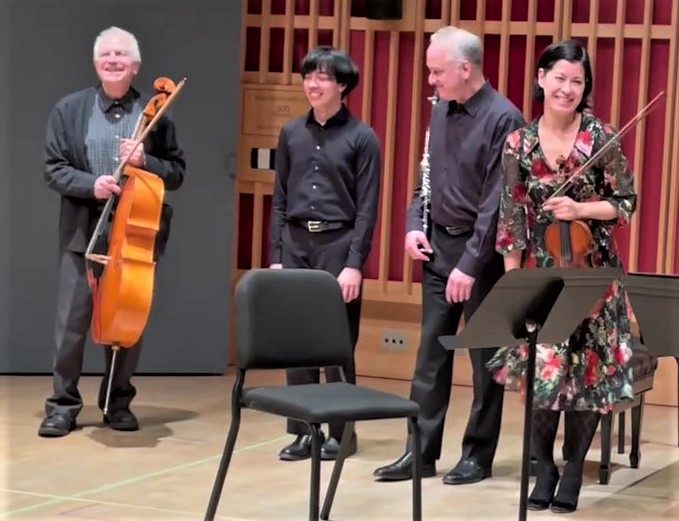 by Kevin T McEneaney
On March 11 Charles Wuorinen, Pulitzer Prize winning composer born June 9, 1938, died due to an accidental fall that caused a subdural hematoma. Bard College organized an honorary concert at the Láslό Bitό Conservatory Building. Bard promptly recruited a mega-talented cast of musicians to perform a seventy-five-minute concert in honor of his work.
Cellist Fred Sherry, who was Wuorinen's cellist of choice on chamber music recordings, opened with Cello Variations (1975) by Wuorinen, an idiosyncratic modernist who possessed a gift for unusual and traditional harmonies, transforming medieval polyphony into astonishing modernistic modalities, and encasing his material with charm and humor amid atonalities. "Cello Variations" was a dialogue between soprano and bass lines that wandered about the history of music, as if the audience was overhearing educated table-talk on the history of music over a few glasses of wine. Tempos changed quickly from charming to abrupt with an occasional musical joke. Here Sherry painted his interpretation of the man with whom he had worked with over decades.
Sherry noted that one of Wuorinen's favorite bon mots was: "Recognizing the obvious is a special talent that needs to be recognized as a skill." Sherry recalled that Wuorinen was an energetic worker rather than a plodding worker; that he was a mathematical genius and read heavy tomes on mathematics; that he spent much of time improvising on the piano; that when he composed, he composed at lightning speed, writing with his left hand when his right hand grew tired.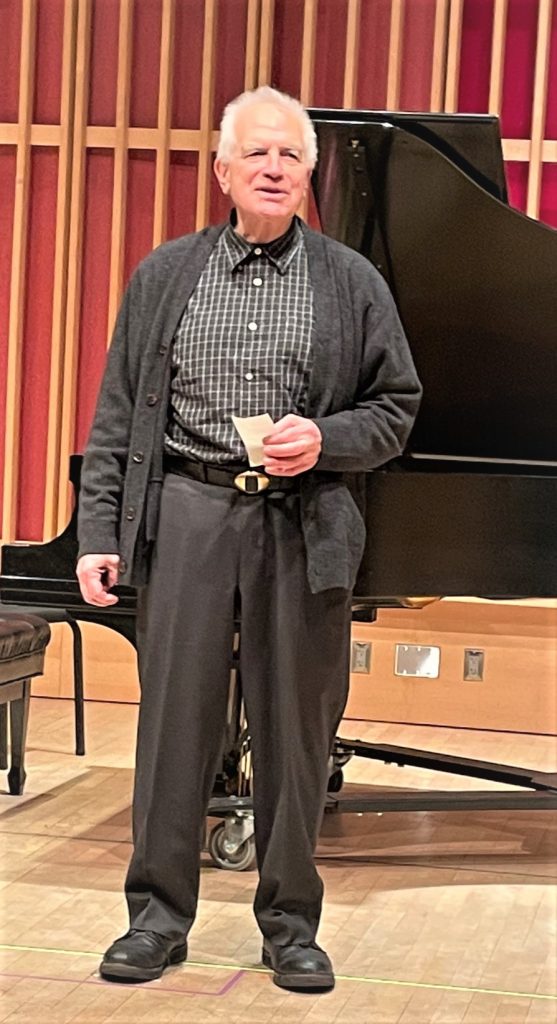 Jennifer Frautschi, a Stravinsky specialist, and Tengku Irfan performed Igor Stravinsky's Duo Concertante. (1932) which Stravinsky wrote with Polish-American violinist Samuel Dushkin with the violinist playing David to Stravinsky's Mendelssohn (as biographer Stephen Walsh has it). This piece of instrumental drama appears to depict a day in the Russian countryside from dawn to dusk. The penultimate Gigue mimics the galloping trot of a carriage. The concluding Dithyramb melts the present with memories glowing in sunset. I think this piece was chosen both to illustrate Stravinsky's narrative and dramatic impish influence on Wuorinen as well as an example of the kind of intimate collaboration that Wuorinen preferred. I had heard this delightful piece performed once before and was once more mimetically plunged into my own distant memories.
Tengku Irfan, Malaysian-born prodigy (and composer) on the world stage and currently on scholarship at Juilliard School, performed Scherzo (2007), a work dedicated to Bard Professor Peter Serkin, which can be found on the Naxos label (Wuorinen: Chamber Music) with Peter Serkin on piano. Irfan performed this eccentric meditation on composition with clear, impulsive, abrupt rhythms immaculately with deep feeling. This piece may be an astrophysical meditation on the origin of the universe: its density demands multiple hearings.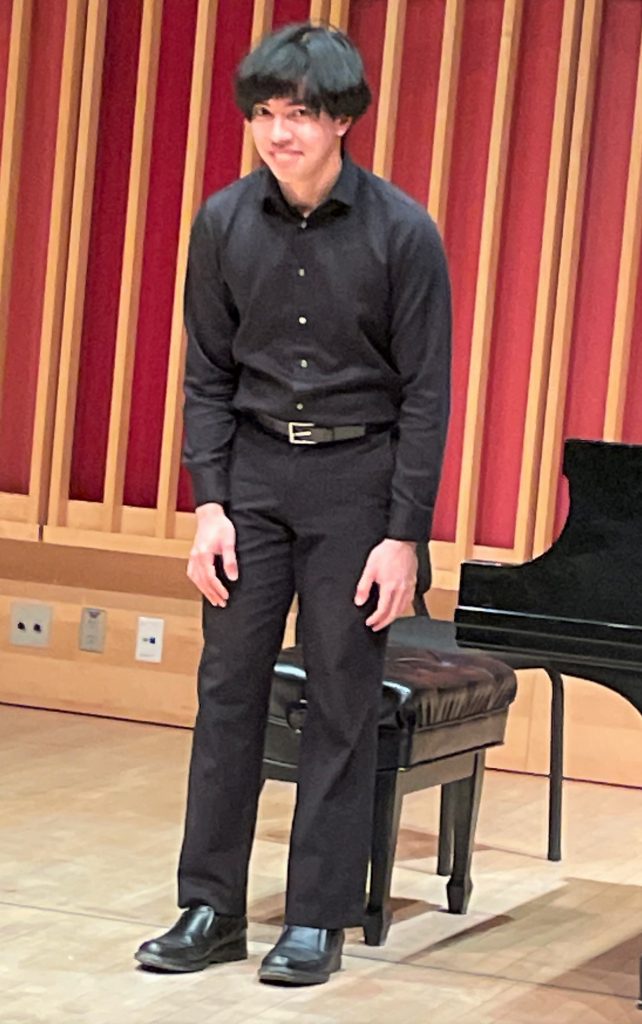 Clarinetist Alan R. Kay joined the three performers for Fortune (1979), composed for the Tashi Quartet (available on Naxos), had roughly the same tempo of 125 beats in two parts, Before/After. The first slow part which could have written before the collapse of tonality sounded in its eerie mystery as if it was music in the womb; the second much faster part was a humorous celebration of the birth of atonal musical with intricate riffs of Before harmonies, so that what's new with sudden tonal surprise also encapsulates what is old.
This was a fitting celebration of Wuorinen's more intimate side by superb musicians attuned to intellectual musical gymnastics and robust ironic humor from one of this country's most prolific and influential composers.