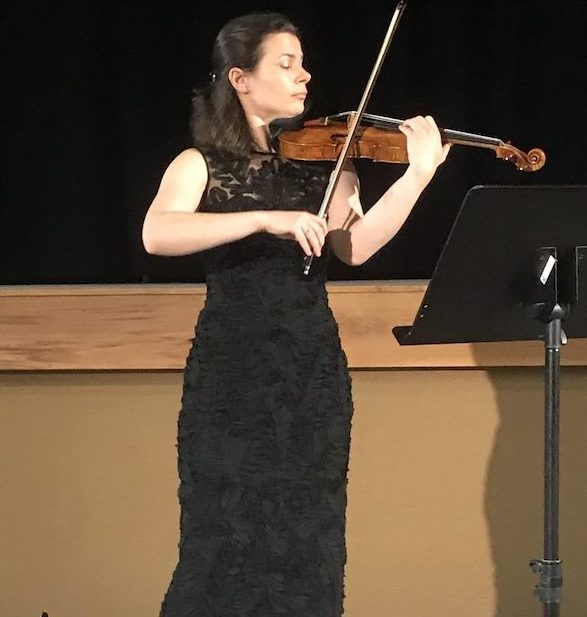 by Kevin T McEneaney
After being closed for sixteen months due to the recent pandemic, Stissing Center in Pine Plains has resumed live in-person concerts. They opened this past Sunday at 4 pm with a solo violin performance by noted Bulgarian virtuoso, Bella Hristova, a former student of Jaime Laredo. Bella currently plays with the Lincoln Center Chamber Orchestra. Before a full-house, eloquently introduced by pianist Sophia Zhou, she presented an imaginative and difficult program.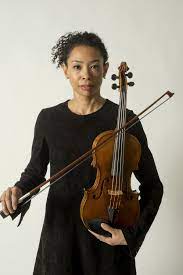 Bella opened with Miasma by Nokuthula Ngwenyama, a contemporary American composer of Japanese ancestry. This work was inspired by the Covid-19 pandemic and employs motifs in the genetic genome of the virus. Such an approach would lead strictly to much repetition, yet she has leavened this structure with the dodecaphonic techniques of Dmitri Shostakovich which permits the composer to move in and out of patterns at will. This audio phonic allegory begins with fear that arcs toward a diminishing resolution concluding with 33 notes in A, indicating the eventual elimination of the virus as a threat. There are many stops and sudden starts in this vigorous work that captivates one's attention as it seems to only live in a present without coherent past or future. In an odd way it reminded me of climbing a large tree with many branches of different sizes to discover new viewpoints of what was on the ground. It was a dramatic and energetic ride to the calm of silence.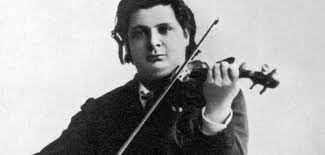 While the opening was stunning, it turned out to be merely a warm-up. Bella took up Eugène Ysaӱe's Sonata no. 4 for Solo Violin, which was dedicated to legendary violinist Fritz Kreisler and is often referred to by the latter's name. The Belgian genius Ysaӱe (1858-1931) revolutionized violin playing with robust rubato, a technique he transferred to violin from folk music. Yes, Bella also had vibrato with full house, aces high. Her seamless bowing was a marvel! There were moments when she held a single vibrating note for long periods and then played with manic fury. Not only were the 1/16th notes crystal clear, so were the 1/32nd notes! I was so overwhelmed that my eyes began to well with water (unconsciously), something that has happened to me only twice before at concert. Her playing was not mere technical wizardry, but had powerful emotional depth, the sign of profound music.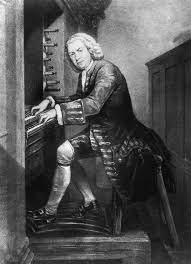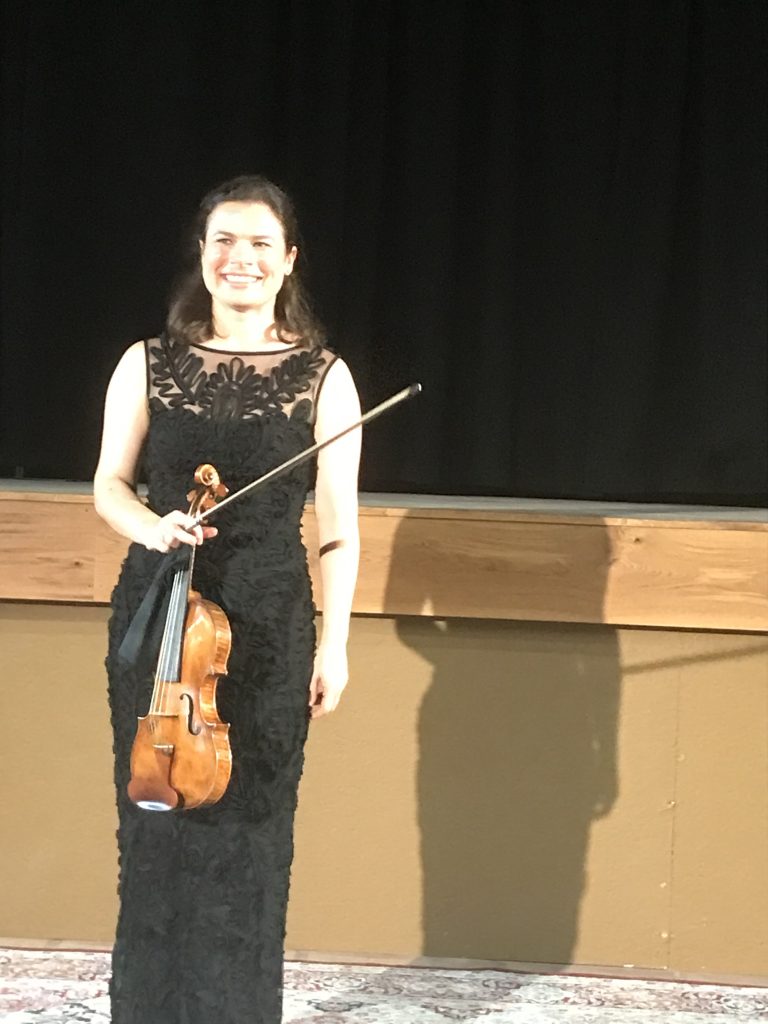 For Finale, she performed Partita in D minor, BMW 1004 by J.S. Bach which lasts nearly 28 minutes. This five-movement work centered on dance: Allamanda; Corrente; Sarabanda; Giga; Ciaconne, the later comprising about the half the length of the whole work; the Ciaconne being a South American, sexy, swirling dance brought to Spain and Europe which enjoyed great popularity both at court and among the commons in the eighteenth century. Great composers like Felix Mendelssohn, Robert Schumann, and Johannes Brahms loved Bach's solo violin pieces. but they did not conceive there was a market for solo violin, so they added piano accompaniment to draw an audience and widen appreciation for Bach. (This work is sometimes performed with organ arrangement.)
Bella's performance had a touch of the demonic, which the Greeks regarded as the signature of divinity—being possessed by the gods. This was dance that sailed in the gyrating world of frenzied exultation—a musical feast that was overwhelming. She plays a 1655 Nicolo Amati violin.
If you ever have a chance to hear her perform, do not let it pass you by. The Stissing Center has returned to music with hosting one of the great violinists of this century who will be heard by many more in the future. Bella has several CDs out, including a four-disk set of Beethoven's Sonatas for Piano and Violin with pianist Michael Houstoun.
The next scheduled concert in this series features pianist Benjamin Hochman performing Beethoven, Debussy, and Brahms on August 13th  at 5:30 PM.