Last Sunday at Smithfield Church a quartet under the direction of Dr. Christopher Brellochs played music associated with the current HBO series The Gilded Age, a time when new wealth vied with old money American aristocracy. Nine episodes have been aired already with a further nine in production. As period advisor to the series Saxophonist Brellochs pointed out to the production that orchestras were arranged in different formation back then with strings (violins, violas, cellos) evenly divided on right and left on stage; this arrangement offered a stereophonic effect before the invention of recording.
Mezzo-soprano Ann Marie Adamick spoke of how her great-grandparents worked for the Vanderbilt family, one being the personal groomer of Mrs. Vanderbilt, the other being the family chauffeur. This was at a time when Roosevelt, Gould, and Vanderbilt family were excluded from high society. The HBO drama tells the story of how Mrs. Astor final accepted the Vanderbilt family into high society social events and such family were finally permitted to purchase box seats at the NY Metropolitan opera which had opened in 1904.  (The first opera house in America was in New Orleans, 1859, yet opera had been performed there in small theaters since 1798.)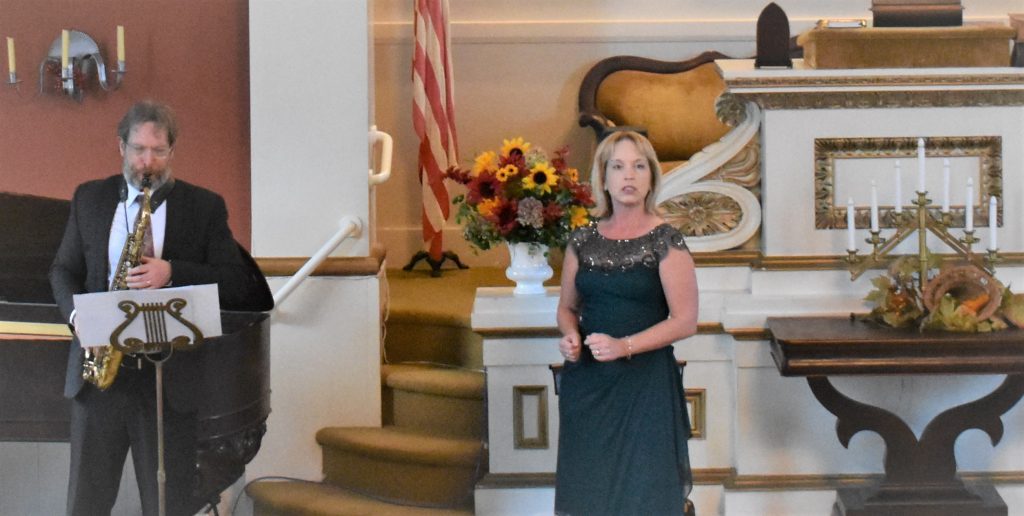 Accompanied by composer Max Caplan on the Church 1863 Steinway, Adamick sang with ardor the aria "Nella fatal di Rimini" from Donizetti's Lucretia Borgia (1833). The singing of sensational or passionate opera arias was a commonplace in Hudson mansions of that era. Another commonplace aspect of opera in that era was for composers to write variations on the melodies of famous operatic arias. Brellochs on sax was accompanied by Caplan in Fantaisie Brillante sur de Lucretia Borgia (1877) by Louis Mayeur.
Soprano Dr. Elizabeth Gerbi forcefully yet suavely with delicacy sang Bellini's "Qui la voce sua soave" from I puritani (1834) with Caplan on piano. This was followed by another Mayeur piece, Fantasie sur des Puritains de Bellini (1878) with Brellochs on sax and Caplan on piano. Here Brellochs showcased the extraordinary capability and range of the saxophone which was beginning to be taken up by classical composers amid great controversy.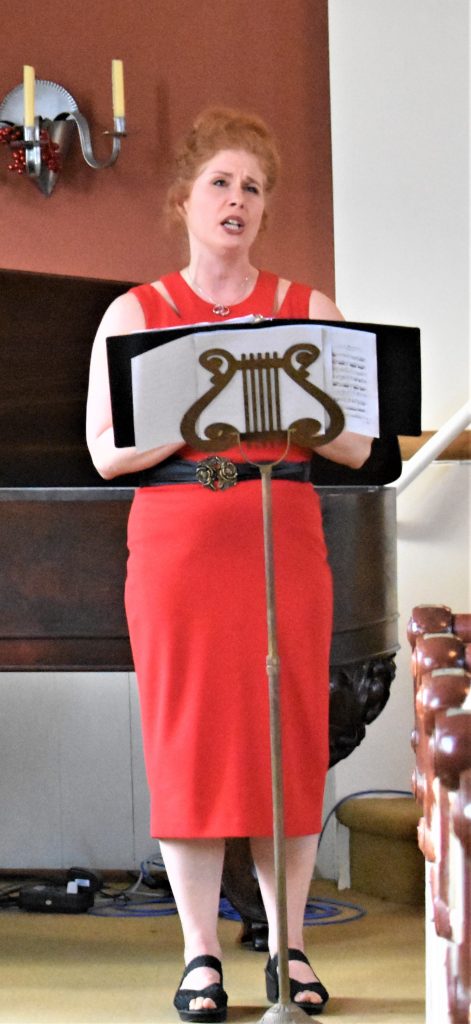 Adamick sang with pathos "Va! Laisse les couler mes larmes" from Massenet's opera Werther: Des cris Joyeux d'enfants (1887) accompanied by Brellochs and Caplan. This was a forte blend of voice of instruments which was strangely moving.
A genial meet and greet reception followed the concert which offered a glimpse of entertainment amid the growing freedom of social and sexual mores in the Hudson Valley, celebrated in Edith Wharton's late novel Hudson River Bracketed (1929), which in the opinion of this writer, remains her greatest (yet least read) novel.