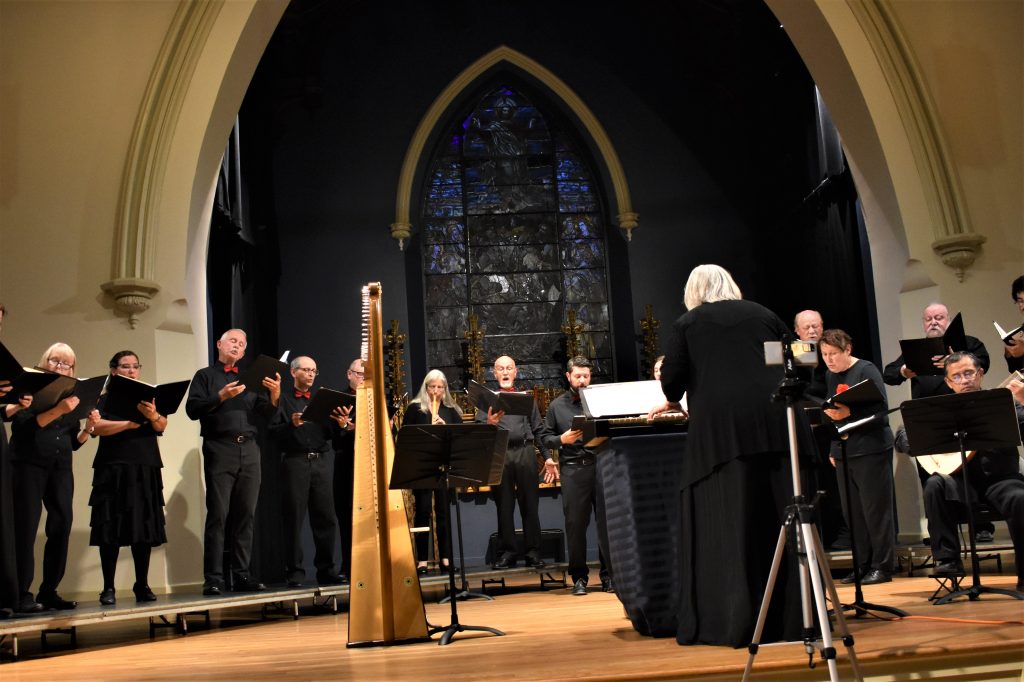 by Kevin T McEneaney
Breaking out from pandemic silence, Crescendo, directed by choir wizard Christine Gevert appeared with a mostly Easter theme material as symbolic of the return to live choir singing at Saint James Place in Great Barrington. The evening concert on July 23 was titled O Clap Your Hands: Renaissance & Early Baroque Motets.
This concert traced the growing musical tradition of church motets from its simple beginnings from monastic five-part harmonies to the complex choral innovations of the Renaissance to Baroque era with Christa Patton on Renaissance Harp (as well as Schawm), Hideki Yamaya on Renaissance Lute, and Christine Gevert on console organ. (Yes, Saint James has dispensed with its great organ during Covid downtime, just as many car rental businesses sold many of their cars to keep afloat.) But people arrived in decent numbers: for the marvelous choir singing and not instrumental delirium.
They opened with a short piece by Giovanni Bassano (c. 1561 – 1617), an Italian composer associated with the Venetian School; he was a cornetist who left a valuable instruction manual on ornamentation and promoted Giovanni Gabrieli's (1557-1612) work. This short, serene piece set the table for Gabrieli's Symphoniae sacrae, an antiphon for Easter Matins. Here the elegant Latin text reveled in alliteration and assonance with gorgeous open vowels. The unusual lyrics were a monologue of the famous rabbi from Nazareth which began "I am who I am." Gabrieli was the first to divide choirs into spatially separate groups for various vocal effects. This piece was arresting and made me wish to hear more from Gabrieli. There was a humming echo effect as lines were repeated: I think I might continue to treasure this work if I heard it every week of the year; it is a truly great masterpiece!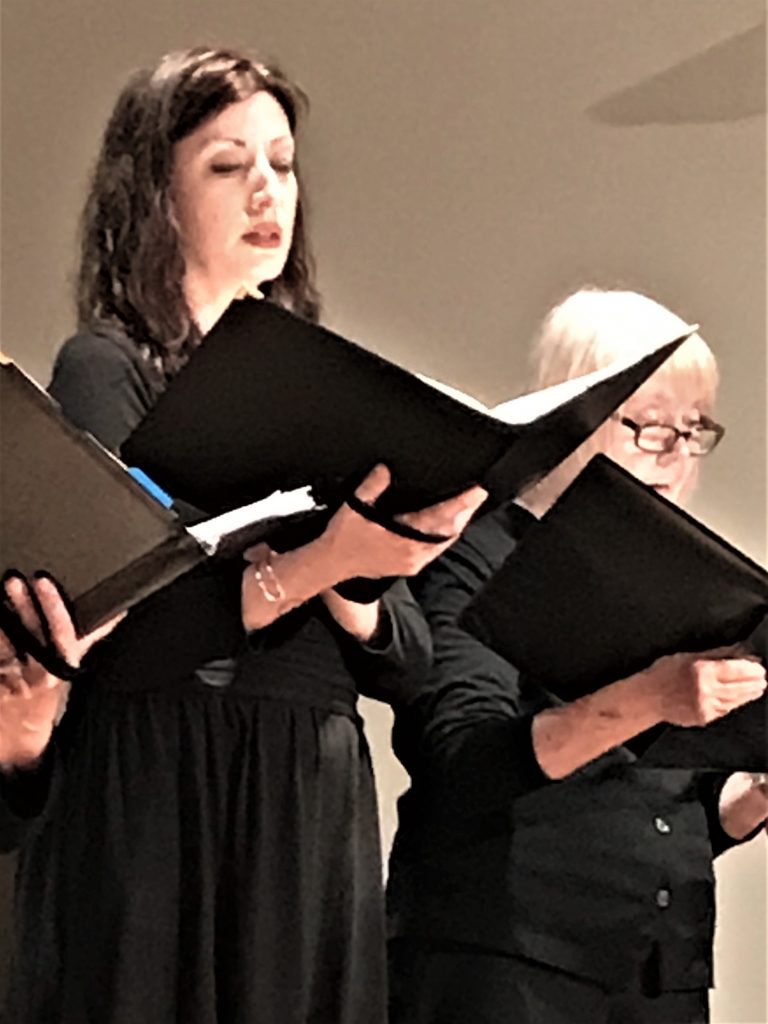 A short piece by Hieronymus Praetorious (1560-1629) served as prelude to William Byrd's (1543-1623) magnificent "Have mercy upon me, O God." This marvelous work featured Jennifer Tyo as soprano soloist with Choir ensemble repetition. Tyo was the diamond whose voice rang into one's heart! (Before Byrd there was nothing in Merry Old England and after him there was little to praise until the German Handel arrived on the island.)
A rather lethargic and somnolent piece on the Trinity by Jacob Regnart (1540-1599), replete with observant and trite lyrics, preceded Ludwig Senfi's (1486-1543) miraculous Ave Maria, the tune of which still remains in current circulation. Although stiff doctrinal lyrics were literally lame, the Latin emotion and elegance arrived with hospitable pleasure in impeccable Latin diction. How Gevert conjures such sinful singing remains a mystery, but I suspect much more practice than we can conceive occurs before performance.
A short graffiti-like piece by Giaches de Wert (1535-1596) introduced "In Dulci Jubilo" by Michael Praetortious (c. 1549-1611). This happy work concluded with the impressive line "Thou art Alpha & Omega." Here those bass singers came through.
A notice of outstanding appreciation of vocal performance goes to soprano Sarah Fay, altos Chris Clark and Pat Barton, and soprano Margaret O'Brien.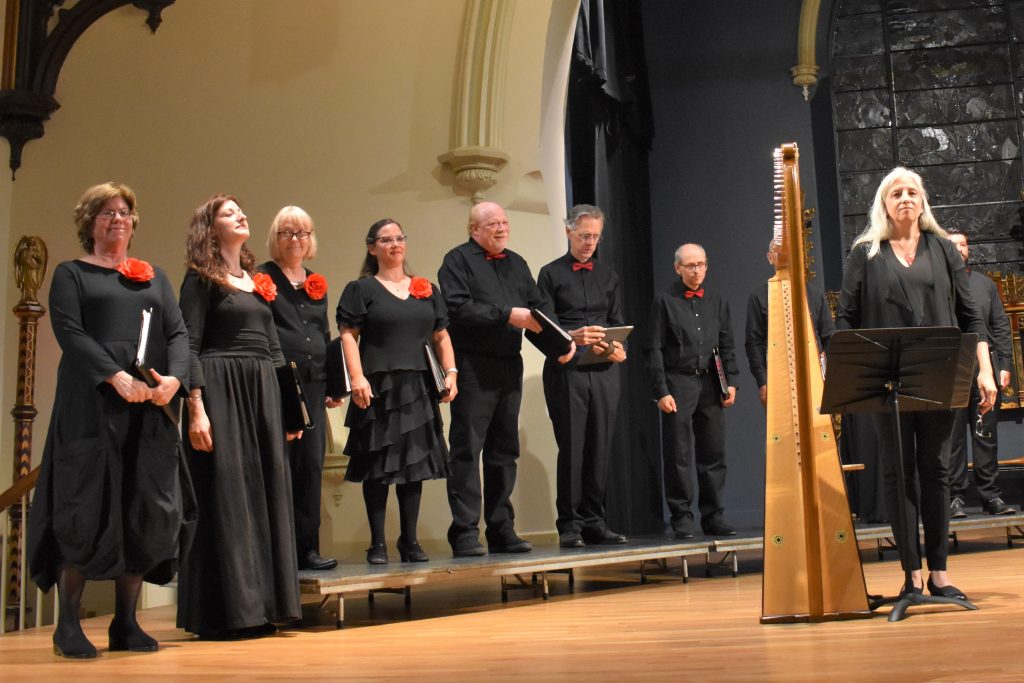 This concert of complex polyphony concluded with the fireworks of Orlando Gibbons' (1583-1625) "O Clap Your Hands," the last line of which declares that God defends the earth like a shield—Oh, would that were so in this era of truculent climate change. All I can say, is that if we go down in chaos, let us still be singing and wishing we could sing of the old days like Christine Gevert's Crescendo crew!