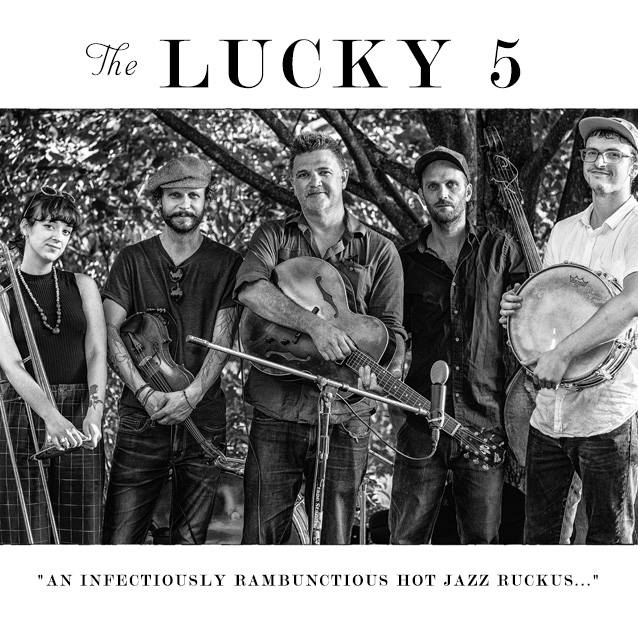 by Kevin T McEneaney
If you spent Friday evening at The Stissing Center in Pine Plains, then you must have felt lucky because the performance of The Lucky 5 was hot, even intoxicating, as they blended, sang, and melded their instruments through the paces of Old Timey, Funk Bossa Nova, French ballades, Swing with a jazzy edge, humous Bluegrass, Whacked-out Polka, Bertolt Brecht, Billie Holiday, and uncategorizable rambles. They were immersed in sounds and traditions of the past hundred years yet made it all sound new and contemporary. They are amazingly tight band!
Located in the Berkshires around Great Barrington, Kip Beacco (guitar, vocals) and Matt Downing (bass) were the heart of noted The Hunger Mountain Boys and played with other successful groups like Lauren Ambrose & The Leisure Class, and traveled, performing and recording with artists such as Peter Gabriel, Tony Bennett, Neko Case, Iris Dement, Bobby Previte, Del McCoury, and Jim Lauderdale.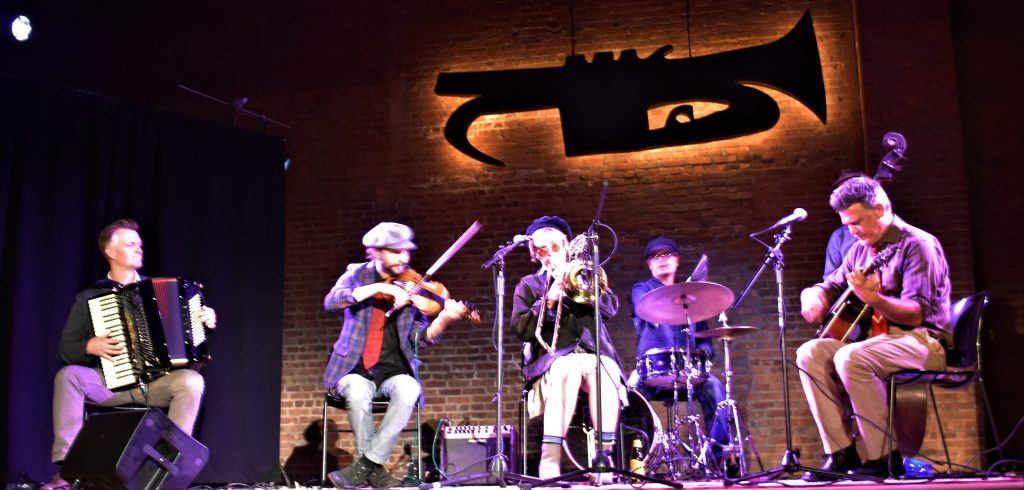 They have a new focus with the addition of Jonathan Talbott (violin), Tom Parker (drums), and young Carolyn Dufraine from Westfield, MA (vocals, trombone), who is the fresh heartbeat of the ensemble. Matt Schreiber (accordion) from Rhinebeck joined them to enhance their folk-gypsy timbre.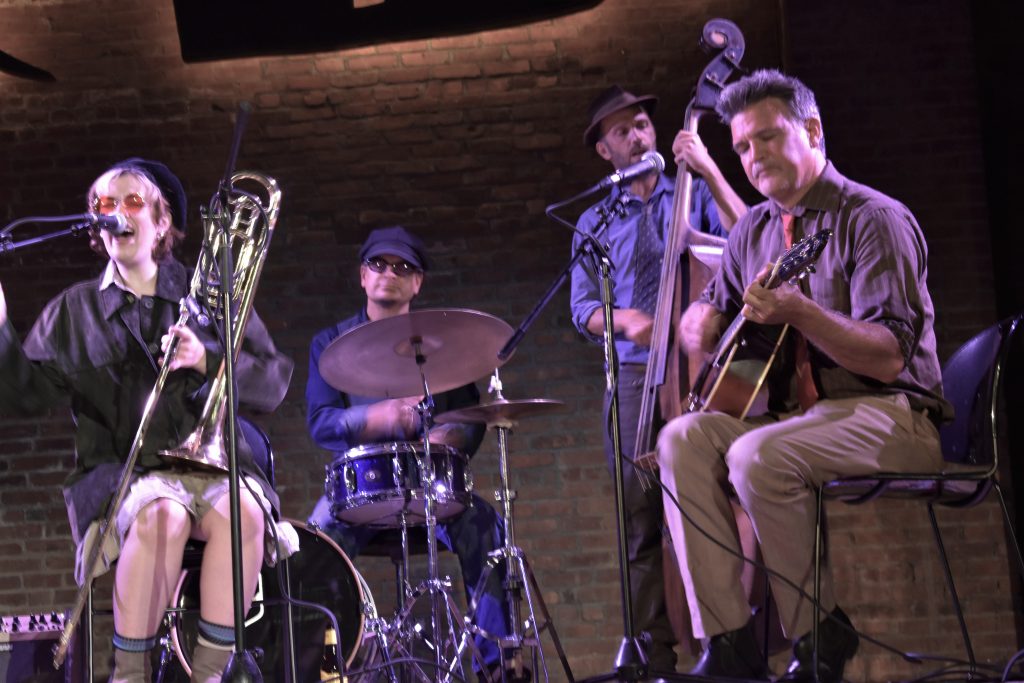 Beacco probably can sing at least a hundred songs from memory—he's something of a walking jukebox. Matt Downing on bass runs his rhythm with foot stomping resonance. Dufraine's soft, velvet voice has great range and especially nuanced intonation redolent with emotional inflection. I'm not sure what was in her dark-glass beer bottle, but I wished I was drinking the same, as I drank the atmosphere of her spontaneity and the rough growls of her trombone. She is, also, like Beacco, a songwriter, and she sings with a perfect Parisian accent.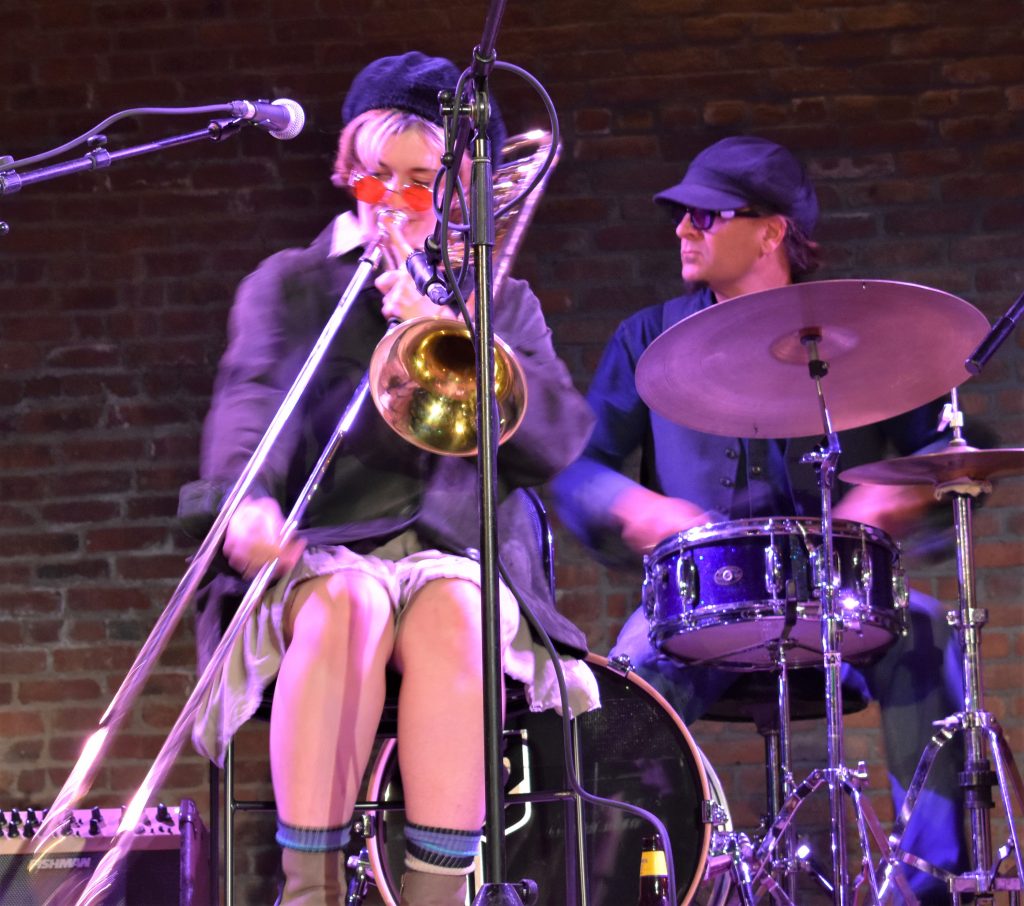 Parker is a suave, talented drummer who does not call attention to himself. Schreiber on accordion was nimbly fingering at whatever odd surprise the band tossed his way. They were individuals rotating solos, duets, and trios, yet they would suddenly mesh, striking like simultaneous hammers. These six approached a Big Band sound and swung as one.
The Lucky 5 is one of the feature performers at the Oldtone Roots Music Festival on Saturday afternoon in Hillsdale. They are eventually going far from their roots in the Berkshires, and I imagine that it won't be too long before they garner national attention. Catch them while they have grit and soul before success spoils them. They play home parties and weddings. You can find them at: http://www.theluckyfive.com/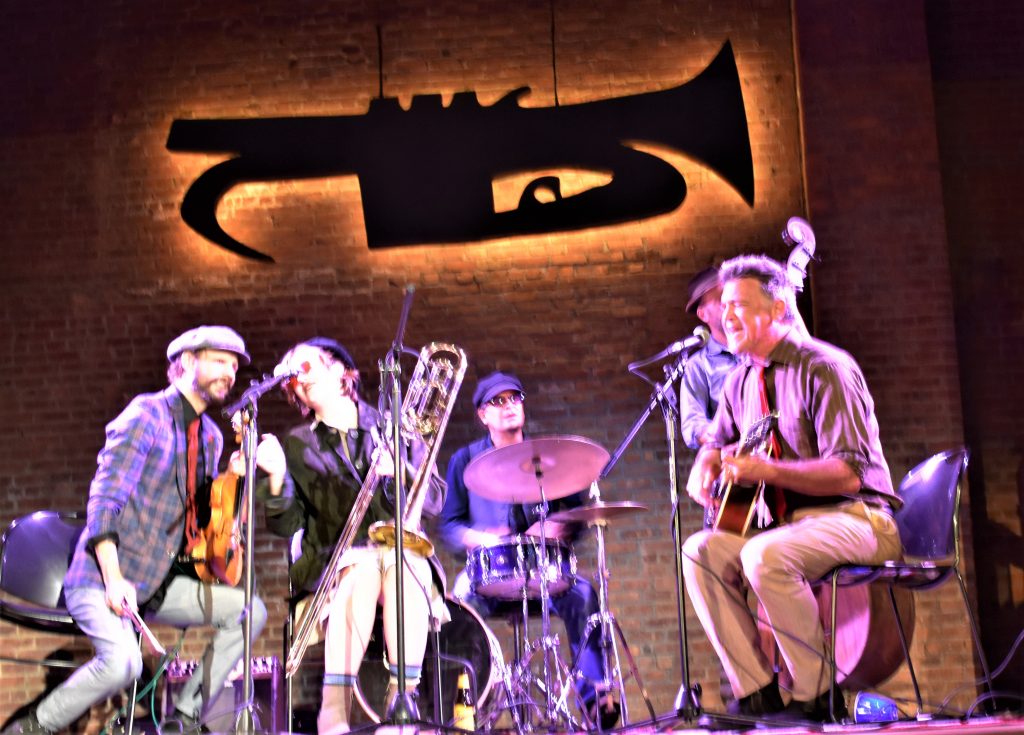 Management at The Stissing Center has its ear to new developments in a variety of musical styles.  Next up is CARNEGIE ENSEMBLE CONNECT on September 19 @ 4:00 pm with Swiss clarinet player Yasmina Spiegelberg, American violinist Stephanie Zyzak, and TSC Director of Chamber music/pianist Sophia Zhou. They will perform a unique ensemble of music old and new.