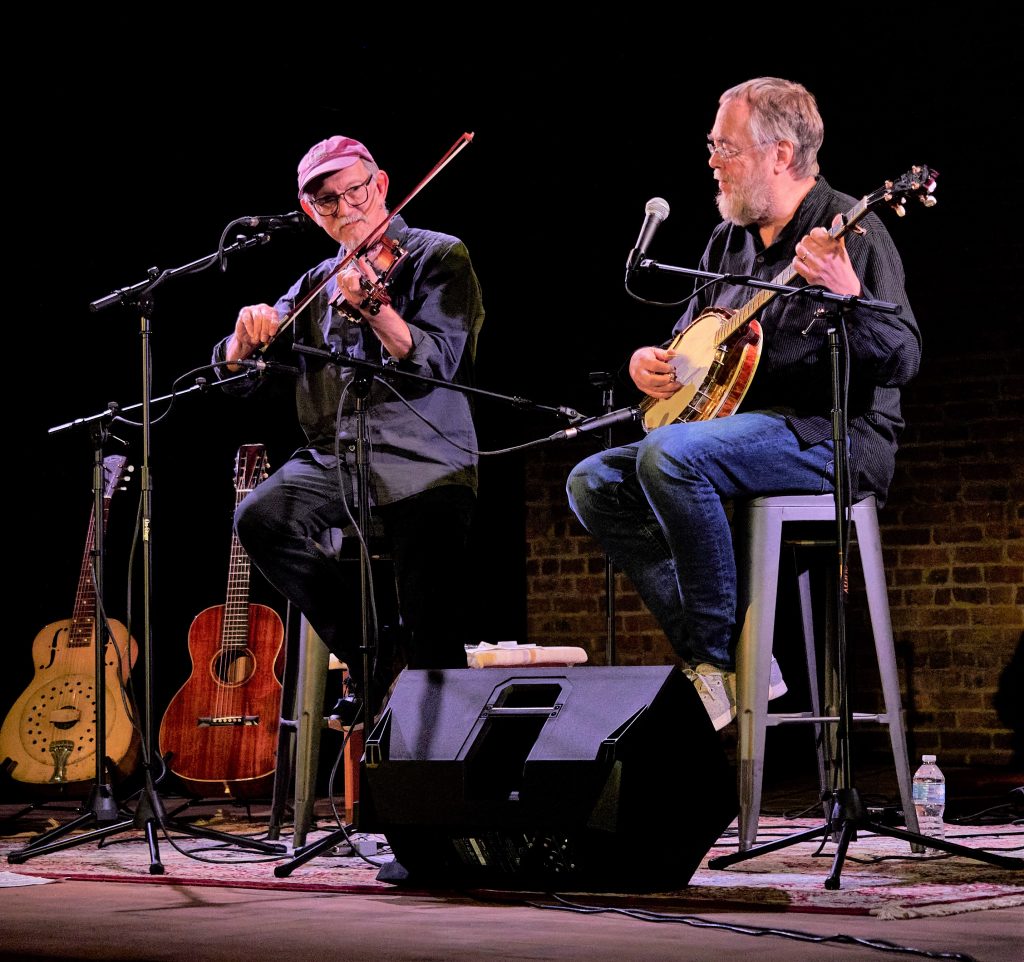 by Kevin T McEneaney
As musicians Bruce Molsky and Tony Trisha are a national treasure: here they were at The Stissing Center in Pine Plains before a sold-out audience melding twin strains of American music—Bruce with Old Timey Appalachian fiddle with Tony on bluegrass banjo.
After warm-up Prelude, they opened with "Down the Road" as Molsky's fiddle soared into high gear with rocket rhythm. A song about an old horse featured Tony's lightening and resonant picking. "Billy in the Low Ground," a fiddle tune about the plight of a goat, was performed with much faster rhythm than is traditional. (I find the slower rhythm overly sentimental, cutesy, and even corny.) I and the audience were delighted to be in the fast lane, especially with "On the Rock Road" and Tony's clean picking.
Bruce and Tony deliver polished, amusing repartee about music and life with delightful anecdotes and witty jokes with roots in rural cunning. Bruce has a fabulous website and his learning system is call Peghead Nation; he also runs the Facebook group Fiddle and Doug and has 13 albums available. Tony has recorded 26 albums to date; he is a member of the international super band Mozaik founded by the Irish fiddler Andy Irvine (who is now based in Australia).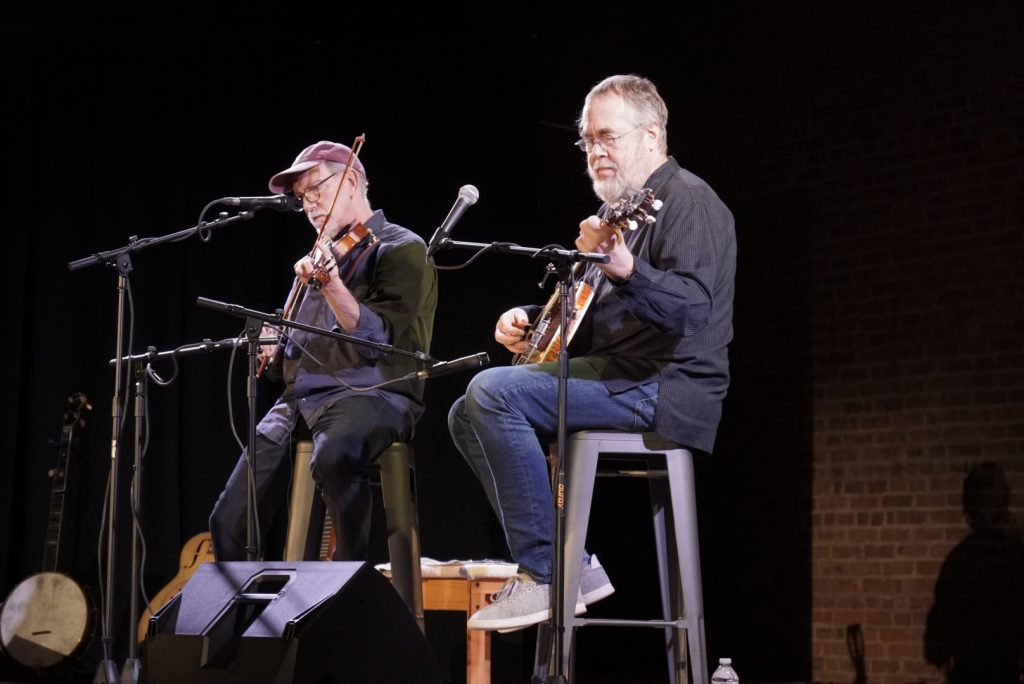 "When I go to Baltimore," a lyrical ballad by Oscar Isaac, blended both their styles. Tony, a disciple of Pete Seeger, with fascinating and humorous anecdotes to relate about Pete, is credited with inventing the modern bluegrass style of playing. (He has an extra two frets on his banjo that deliver some extra magic.)
"Jenny on the Railroad," a 1929 classic by Carter Brothers & Son, provided a madcap fusion of their talents running at top speed. This Mississippi inflected tune was my favorite of the night.
On a Steel Baby Guitar Bruce offered a solo of "Everywhere I Go,'" which will be featured on his new February album. This instrumental is sometimes played on flute, yet the high pitch of this guitar permitted the virtues of both guitar and flute to shine.
Tony's solo, "Prelude to a Möbius Strip," displayed both the high and low range of his banjo with dexterous riffs. Bruce quipped that the title might be changed to "Amoebous Trip."
Bruce performed a solo piece by Edden Hammons (1874-1955), a famous West Virginia Old-timey fiddler who had a weasel head on his guitar and was famous for his odd eccentricities.
"I got my wish from Babylon" by David Gray, played by both, brought us to Intermission.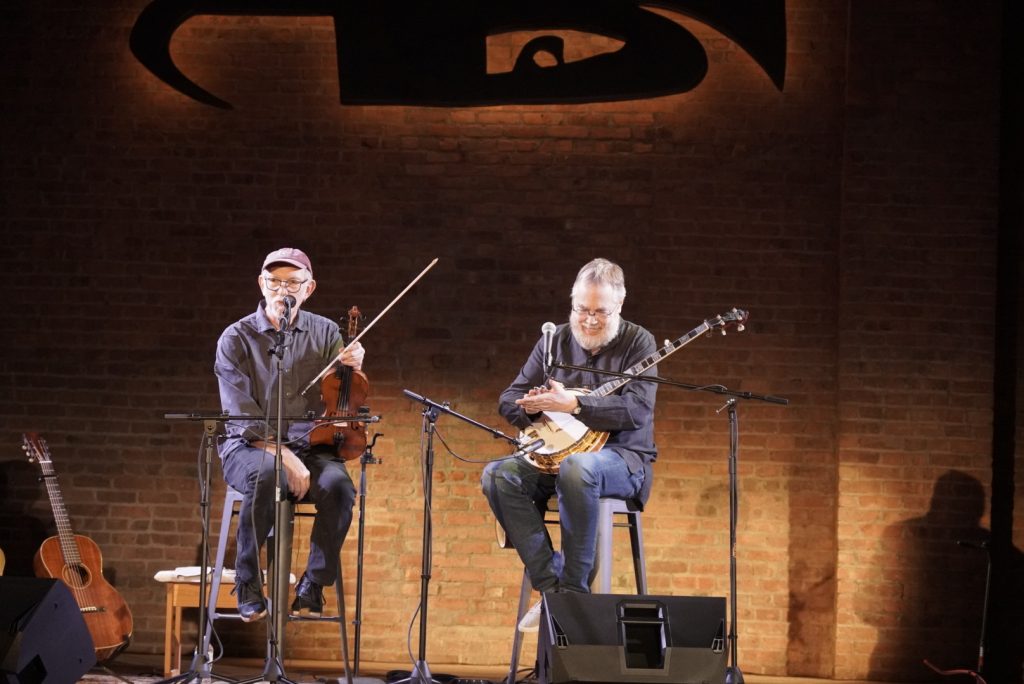 After the break, they played "Old Christmas," which was an Irish dance reel with Appalachian-modified riffs, then "Way Down in North Carolina" by Jeanine Tesori, a charming invitation to stay for the night, which was featured in the film Nights in Rodanthe (2008), an American romance film, an adaptation of Nicholas Sparks' 2002 novel of the same title.
"Cherry River Red" delivered a (syncopated) rag instrumental known from West Virginia fiddler Ed Haley (1885-1951), followed by the intense closer, "Little Rabbit," a classic bluegrass instrumental.
Applause rang out long enough to be treated to a short encore. This concert delivered more varied program than what might have been expected, as it sampled various style of playing from different eras of Appalachian tunes.
The next events at The Stissing Center is Shai Wosner Studio Class on December 12 at 1pm for those who wish to study advanced piano; Eugene Ionesco's surrealist play The Bald Soprano on December 17 @ 7:30 pm and December 18 @ 7:30 pm.