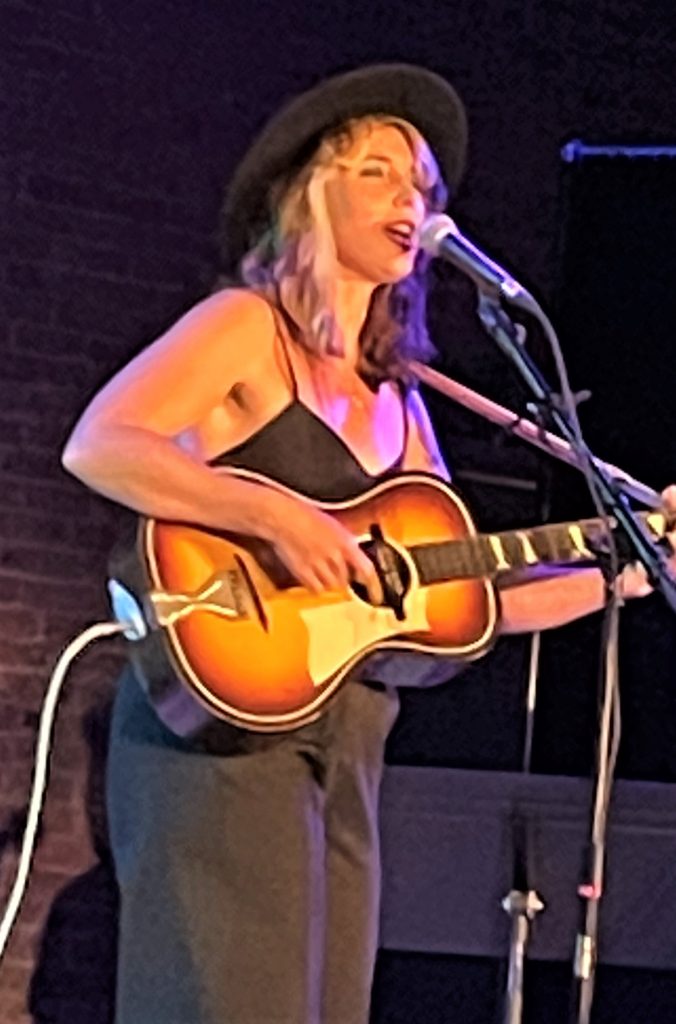 by Kevin T McEneaney
Meg Hutchinson is New York City raised (lived in Boston for some time) with significant education in Paris; she can sing in French with good accent; she does a mélange of folk styles, blues, jazz, swing, and early rock, but of late she has moved to Nashville where she has been immersed in the Nashville sound and scene. After a warm-up song she sang "I don't want to set the world on fire" first recorded in 1941 by Harlan Leonard and His Rockets.
Aware of the mostly older audience before her, she swung into "Sweet Gorgia Brown," then "Melancholy Baby," but shifted to some of her own lyrics with traditional covers. Meg plays guitar (mostly fierce strumming) and she sings with powerful commanding voice, varied nuance, and impressive, dramatic tonality.
Formidable (local) Thor Jensen accompanied her on electric guitar; he can bring his dexterous digits and big sound to anyone he plays with and to hear him play is worth the price of admission, yet this was Meg's spotlight, and she sang, filling the auditorium with "When the moon covers the sun" by Stray Fossa. Meg possesses the unusual ability to sing in a wide swath of genres with vibrant emotion—the raw power of a waterfall cascading!
Meg did a cover of Dolly Parton's "The pain of loving you" from her hit Trio album (1987), then sang in French a song by a Jewish woman Holocaust survivor, who with sorrow, forgave the German people for their atrocities—an unusual exhibition of extraordinary empathy. Meg then crooned a gripping cover of Edith Piaf's La Foule (The Crowd) which describes a woman who falls in love with man in the crowd, but he is torn away from her by the chaotic crowd. (This allegory is a gut-protest song on how mass media reporters may interfere with the private lives of entertainers.)
Although there is still a small French community in Pine Plains, I never expected to hear such eloquent French sung in town, yet I recall that actor-director Orson Welles' favorite chef, Charles Virion, in his retirement opened a French restaurant in town and Orson would appear in Pine Plains. (I have a near-mint copy of Vinion's 1972 country cooking book in my kitchen, yet I rarely consult it because so many of the recipes require more than one day of preparation ….)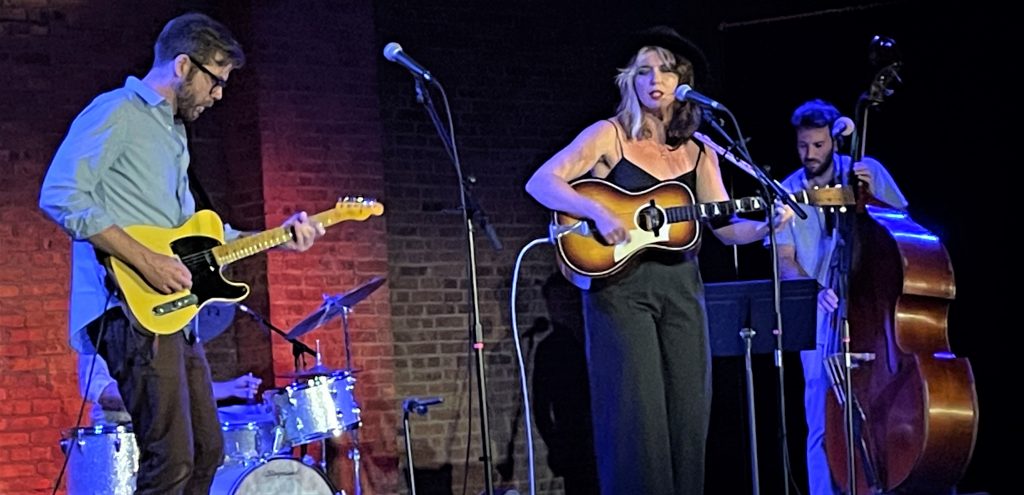 Dylan Perrillo from Albany on bass performed a virtuoso solo string throb and Chris Gelb on drums laid out some snappy riffs and amusing steel conks all night. Both were rhythmic giants. Although this was not Meg's standard quartet, they played as if they had been playing together for a couple of years.
Shifting gear to Nashville sound and southern twang, Meg performed Bob Dylan's "Make you feel my love" (an improvement on the original), then Billie Holiday's version of "In my solitude" with soft, lyrical resonance, which offered moving contrast. "Sitting in my window face" by Lindsay May continued that soft, introspective mood.
Meg sweetly crooned "I'm in the blue again" by Fats Domino, then performed a cover of poet Rita Mae Brown's "I love myself when I am laughing" with vivid verve. She delivered a less sentimental and more gritty, believable version of Lena Horne's "Where or When" about a couple who may have met once before yet cannot recall exactly when. She sang a couple of her own lyrics, yet I can't recall the tittles, but she sang with impressive authority.
As a performer, Meg sports a versatile repertoire covering the past eighty years of music and delivers with ease the various registers of intonation to make covers impressive, even improving on the originals in many cases.