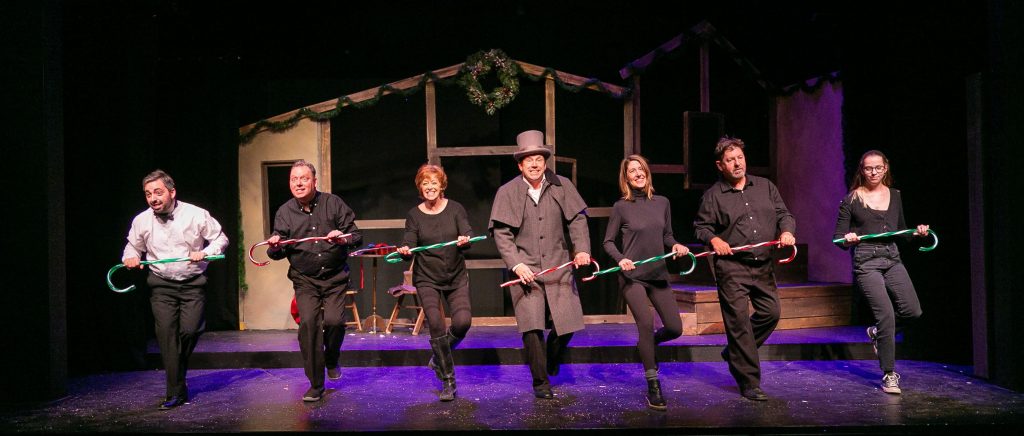 by Kevin T McEneaney
'Tis the Holiday Season; I went to this play: What the Dickens? at TheatreWorks in New Milford, CT; was handed a program. The cover depicted a briefcase with wreath attached; in bold letters the program said Wreath of a Salesman by A. Miller.
The actors often forgot their lines, whispered among themselves, complaining and fighting about who had more lines or who had gotten their lines wrong, misused props, much disorientation about what country or century they inhabited, spoke sorrowfully of Willy Loman when it was Marley who had been buried, much fumbling slapstick, miscellaneous mugging, fake currency tossed about, improvised idiocy, a narrator who often lost his place in the narration and direction yet never lost his Hyperion self-assurance, several talking ghosts who did not know much about nineteenth century couture, accent, clothing, or manners, trite anecdotes laced with inanity and profanity, a grand ball that was censored, much cross-dressing due to an apparent shortage of actors, awkward costumes, flailing gestures, one of the actors being a plant in the audience, and the ever-present threat of preposterous lunacy becoming sane wit. Poor Crochet and Tiny Tim, the novelty musician with long hair and shrunken toy ukulele.
This was the funniest, laugh-out-loud comedy that I have ever seen. Dickens may not have approved the surrealist improvements made to his famous tale, which is more ridiculed than the seahorse who thought he was a shrimp.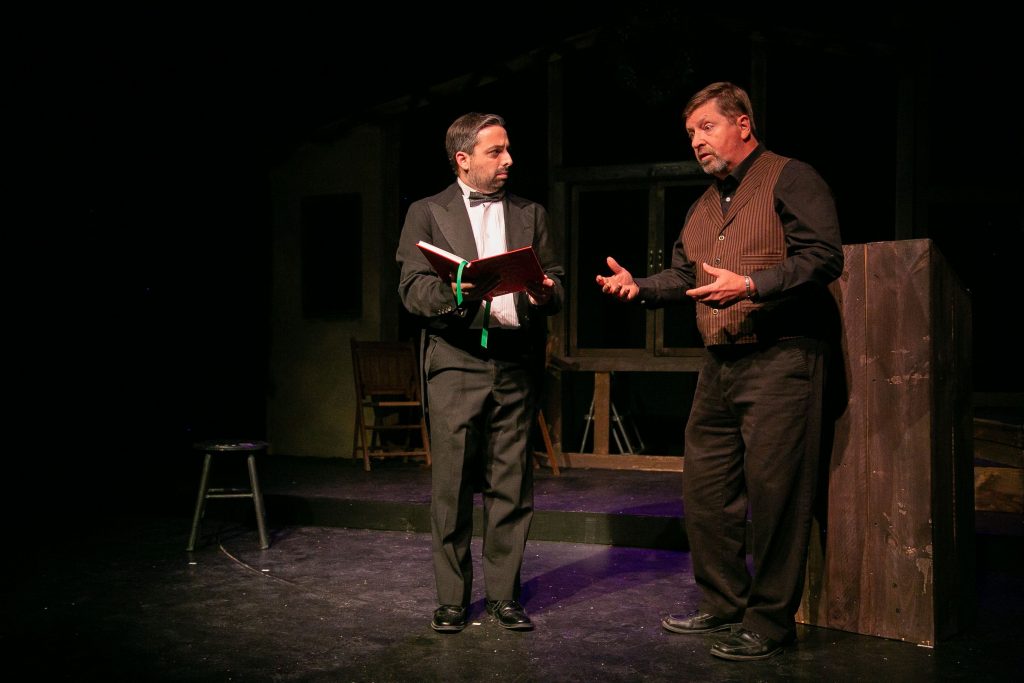 Director/Actor Matt Austin (who has appeared in over a hundred plays) is the insouciant magician at the helm of this ship of fools which sinks and rises like a wacky seesaw, double-bumping on the way down.
Billy Dempster as (one of the two) Willy Lomans—and a dozen other characters with differing facial construction—provides Protean mugging and deliciously incompetent gong ringing when time vanishes as one is lost in hilarity.
Bob Lussier as cranky Scrooge appears near-magisterial in voice and gesture when not hysterically cringing before a world he does not understand.
Gary Millar as Bob Crochet manages to be a dutiful and somewhat subversive slave with an uninhibited generosity that touches one's heart. Jodi Bayer as a Chaplinesque ghost, nurse, and other bumbling roles manages to transform awkwardness into amusement. Jenny Schuck as Linda Loman and avatar ghost of Christmas present delivers high-C ebullience amid artful shambles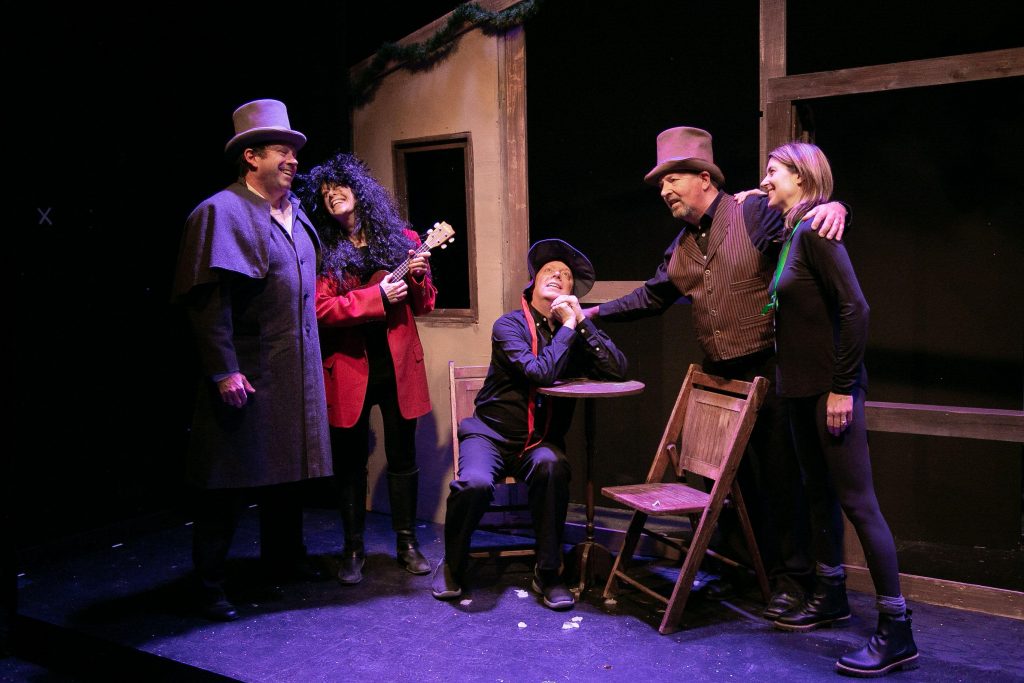 This high-jinks version of "A Christmas Carol" rumbles for adults, not children. The play resembles the improbable embarrassment of Charles Dickens accidentally inviting Monty Python into his study. The joyous reversal with the colorful dance of the candy-cane-themed dance canes concludes with invoking a smile on everyone's face.
If you don't see this production, you will have missed a comedic classic that appears to have no author, except a  brillaint theatrical genius who wishes to remain anonymous outside of his confession as author, and what Matt Austin has wrought should travel the nation with some help from the actors. Photos courtesy of  TheatreWorks.
What should happen is that Saturday Night Live should hire the cast for a special event on the Saturday before Christmas!
What the Dickens at TheatreWorks New Milford runs weekends from December 3 through December 18.
For tickets visit www.theatreworks.us
or call 860.350.6863. $25 for adults/$20 for students and military.