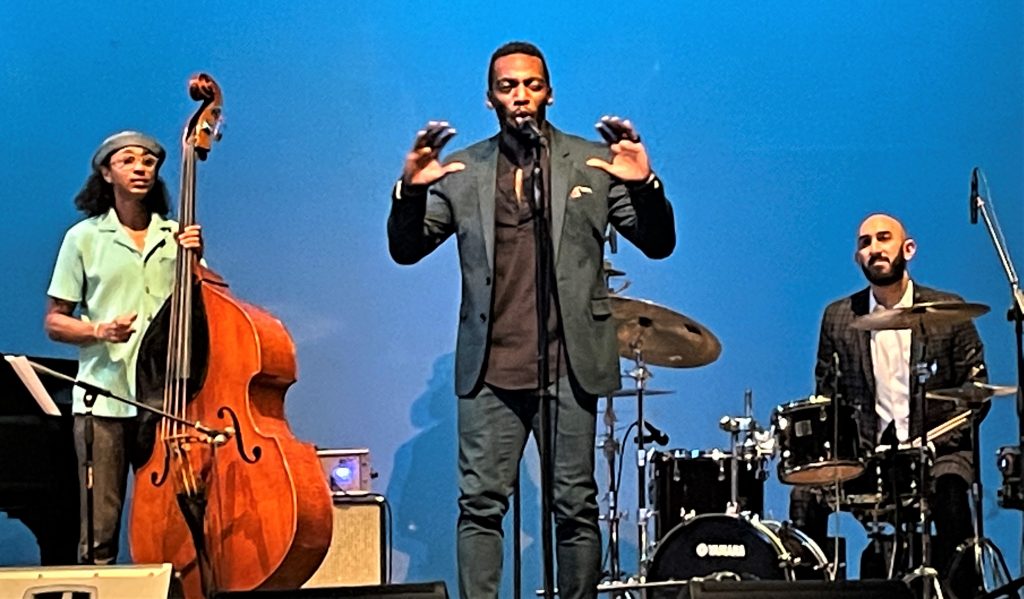 by Kevin T McEneaney
The annual February two-week long Hudson Hall Lift Every Voice features contemporary African American performers. Thursday night the program was entitled Armstrong Now! An Evening of Spoken Word & Music Featuring Daniel J, Watts. On the program was Alphonso Horne whom I had once heard on trumpet and was eager to hear again. The program was co-presented by the Louis Armstrong House Museum in Queens, N.Y.
Grammy-nominated drummer Jake Goldbas, director of the Armstrong Museum, provided musical arrangements along with his strong prowess in rhythm. The program had nothing to do with the legendary  Armstrong, except that a short, jovial tape of Armstrong (among over 60,000 tapes available at the Museum) recalling how when he was poor he would purchase a pile of fish heads, wrap them in newspaper, and make fish stew—the moral being that if you were poor, you needed to learn quickly how to be a good cook.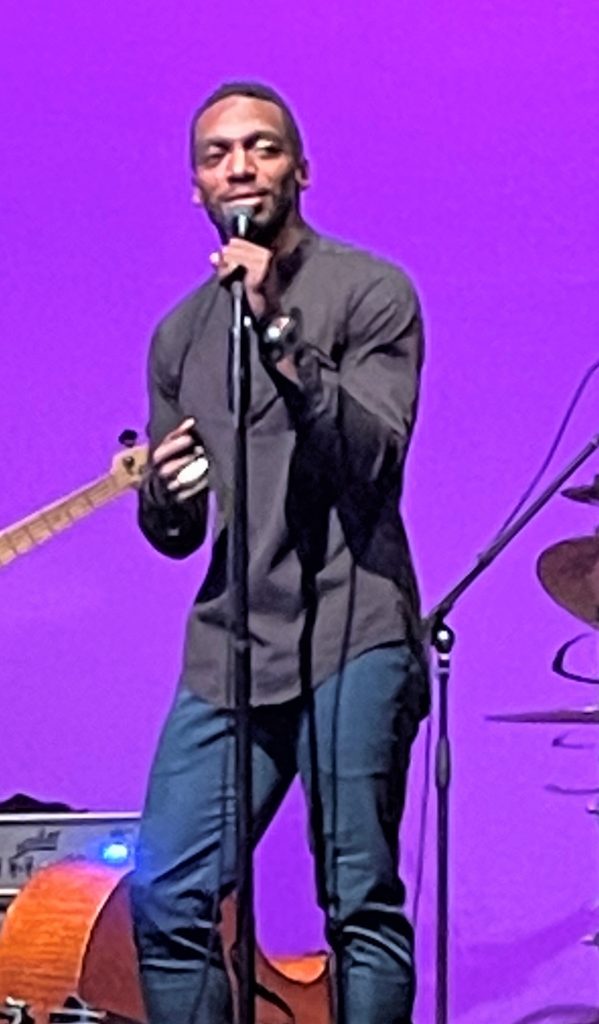 The program was a showcase for multi-talented Daniel J. Watts over the course of two sets, which in ambiance resembled an eclectic update of 1950's Beatnik monologue yet infused with twentieth century hip-hop and autobiographical rap that painted snapshots of his extended family, especially his ebullient grandmother. Watts declared that he saw himself as an all-round performer like Sammy Davis, Jr. Watts is a Broadway and television actor, composer, poet, rapper, folk singer, and tap dancer who has performed with Dave Brubeck, Aretha Franklin, Wyclef Jean, and too many others to mention.
The first half of the program consisted primarily of Daniel Watts with his lyrical, tenor songs, and spoken-word narration, which delivered more sentimental emotional weight than traditional rap-jive boast. Watts presented a sincere, universal love for humanity in all its diversity and lovable eccentricity.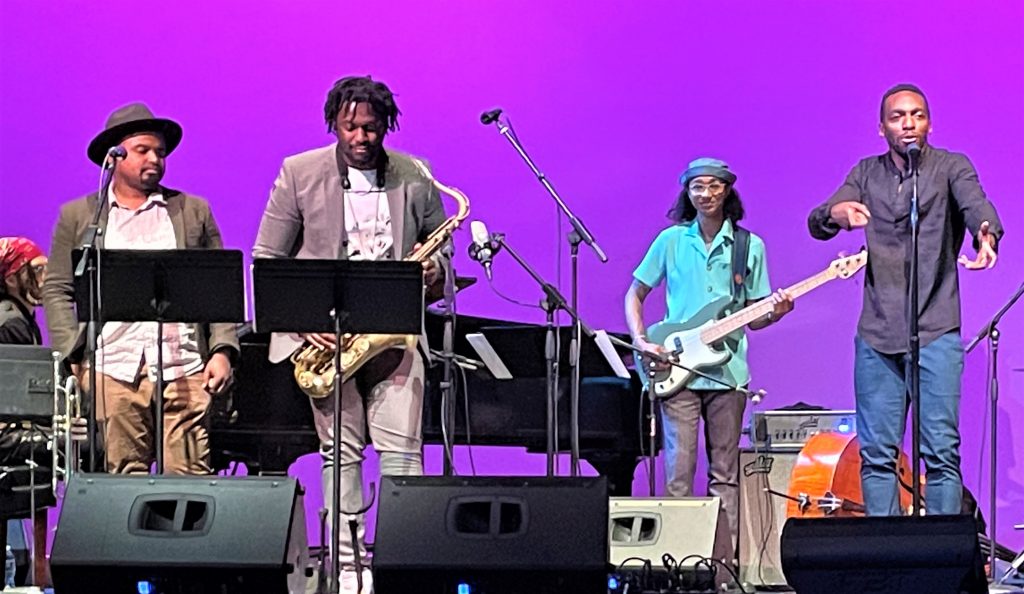 The second set was more café than cabaret style. Watts put on his tap-dancing shoes for slow or rapid chatter (and he was at times lightening quick). He danced up a storm to the beat of Goldbas. Watts' dances featured a blend of planned choreography, as well as spontaneous improvisation. There were moments where he appeared to be an i credible Elastatiman.
The last song of the concert had the audience all singing the word YES in a variety of languages, which offered a satisfactory communal experience.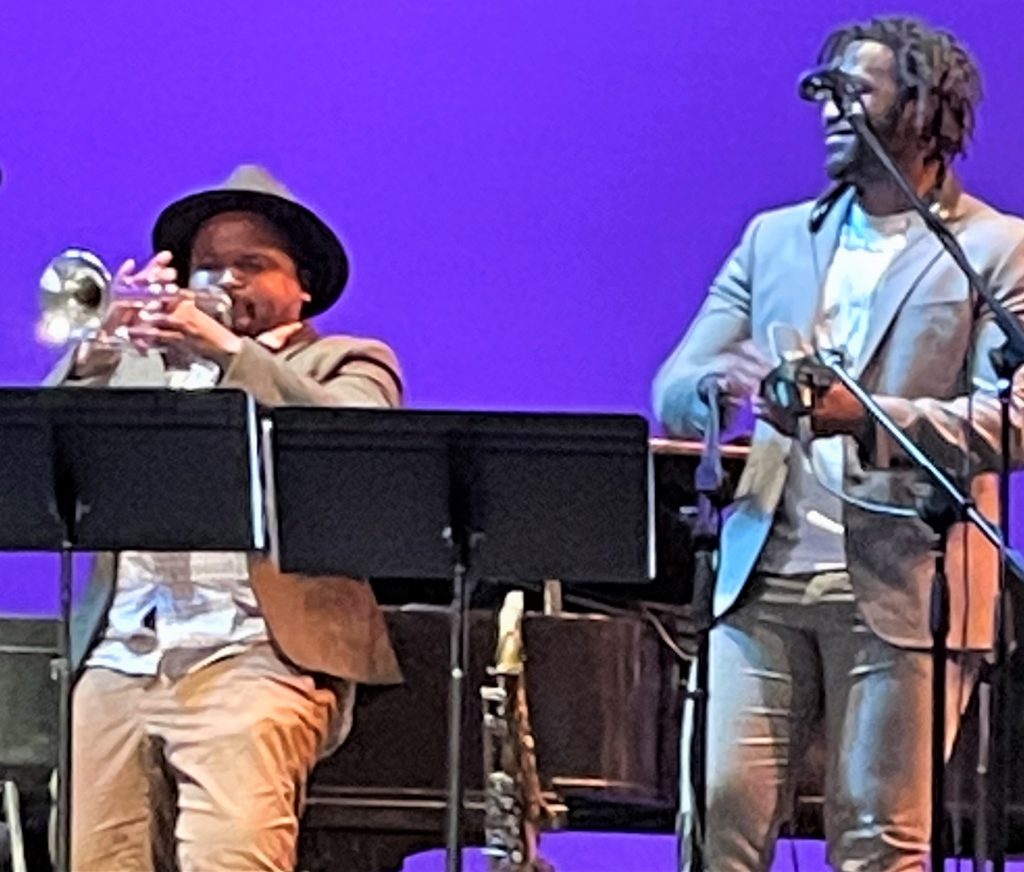 Overall, the musical entourage played background, yet the brass was finally released in climatic ensemble conclusion at the end of each set. Then the under-utilized trumpet of Alphonso Horne and the saxophone of Michael Stephenson blared with triumphant emotion. Stephenson's attractive and mellow countertenor voice in the second set delivered one of his own compositions, and I imagine he will soon have his own showcase album.
Mathis Picard on piano played elegant background throughout the concert with a light Matisse-like fingering which supplied soothing ambiance which lingered in my mind long after the concert. Deft with unobtrusive fingering, Zwelakhe-Duma Bell le Pere played acoustic bass guitar as well as upright double bass.    
The role of Jake Goldbas as arranger and drummer may have been underestimated, yet it was clear that the whole program was a complex collaboration between Watts and Goldbas, who is simply one of the best drummers I have ever heard.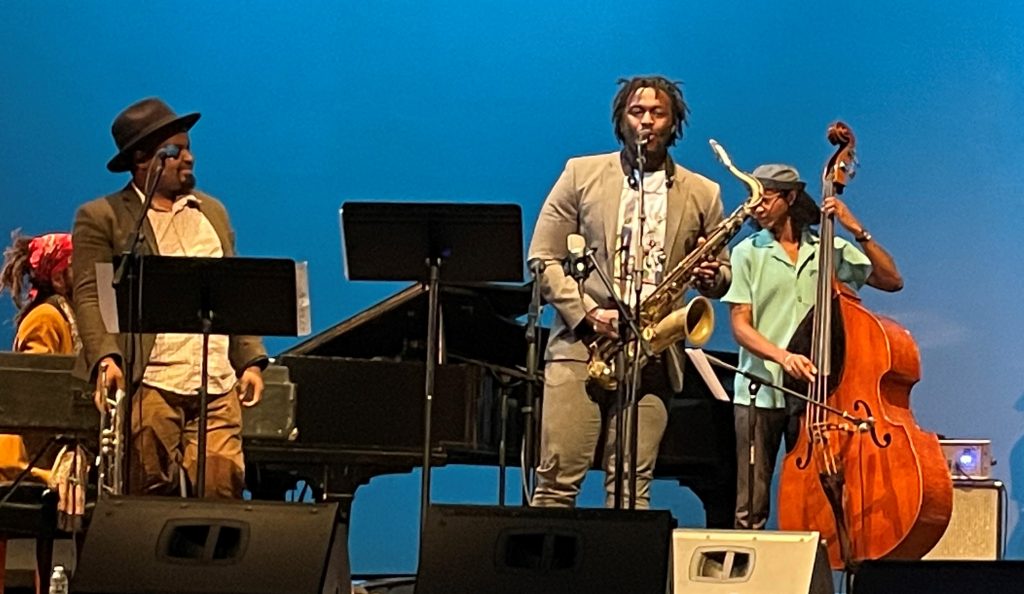 This showcase cabaret offered an impressive fusion of diverse styles in song and narration.
This ensemble of musicians offered a three-week workshop to students in the Hudson City School District, as well as masterclasses for interested students.