Lift every voice and sing
Till earth and heaven ring
Ring with the harmonies of Liberty
Let our rejoicing rise
High as the listening skies
Let it resound loud as the rolling sea—James Weldon Johnson
by Kevin T McEneaney
With fifteen acclaimed albums to its credit and a GRAMMY nomination, the Jimmy Greene Quartet had the honor of closing out the two week Lift Every Voice Jazz Festival hosted at Hudson Hall. Greene's quartet, now composed only of members who currently live in the Nutmeg state (CT), speak the same musical language that blends as a group yet permits each musician to "speak" their own language. Their sound is an extension of the cool jazz movement of the 1970s, yet it is updated with spicier rhythms as Greene switched between soprano sax and tenor sax. While Greene is an expert on both, I prefer his more mellow tenor sax. Greene is a man with large lungs and his playing often appears to be smoothly effortless and his deft fingerings invisible.
Greene was already a noted star when he attended University of Hartford Hartt School. After graduating, he married and moved to Newtown, CT, losing a daughter in the infamous Sandy Hook massacre. His style of playing varies from small jazz club to personal statements of near transcendent spirituality. While he composes his own music, he also re-arranges traditional and pop music into more sophisticated cadences.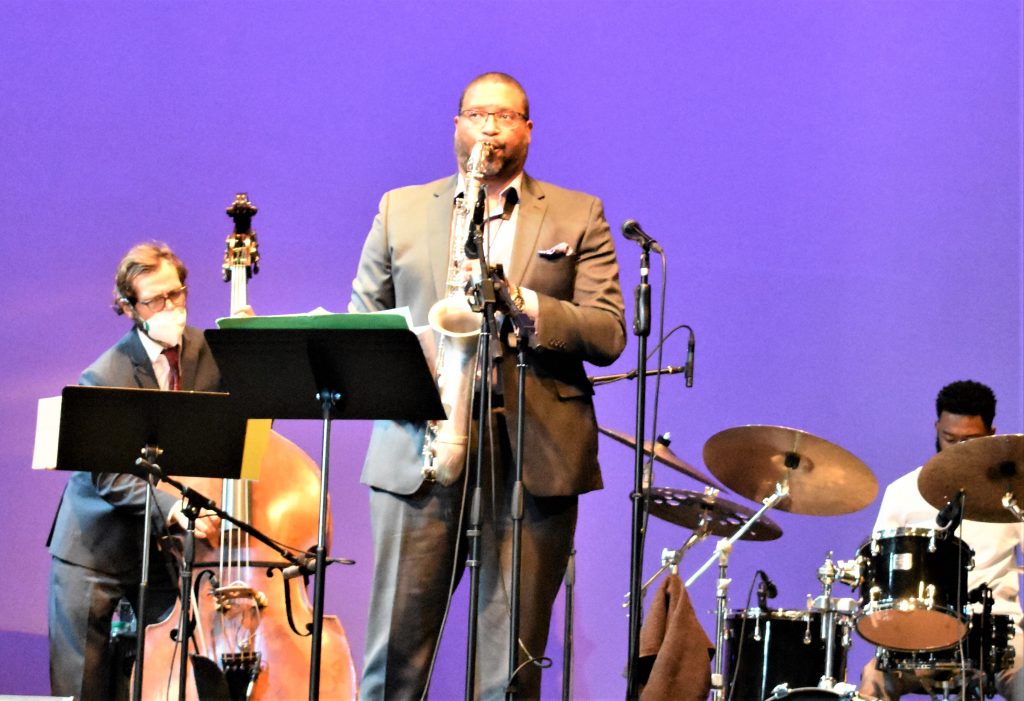 The Quartet opened with a long Prelude that alternatively showcased each of the accomplished members talent. Beneath their blended agreement, there was space for each player to ad their own rhythmic cadence and personality. Greene wailed rapid, fierce high notes on soprano sax while Christian Sands contributed white keyboard riffs with clarity and excitement. He is both pianist and arranger and has worked with many New York area singers. Christian often delivers running riffs that sound like the final unplayed note resounds in your year, making the audience feel as if they are part of the composition.  
Since graduating from Manhattan School of Music, bassist Ben Rubens has had a varied career on stage in this country and Europe. Rubens is adept at layering varied rhythms in multiple keys and produces a larger sound than most bassists can achieve. Jonathan Barber on drums supplies a Memphis style which features crisp cocktail shakes resembling a bartender who never serves the same cocktail twice as he delivers a new spice to taste; he usually plays for the Dan Braden Quartet and has released his own debut band album, I Can Do All Things.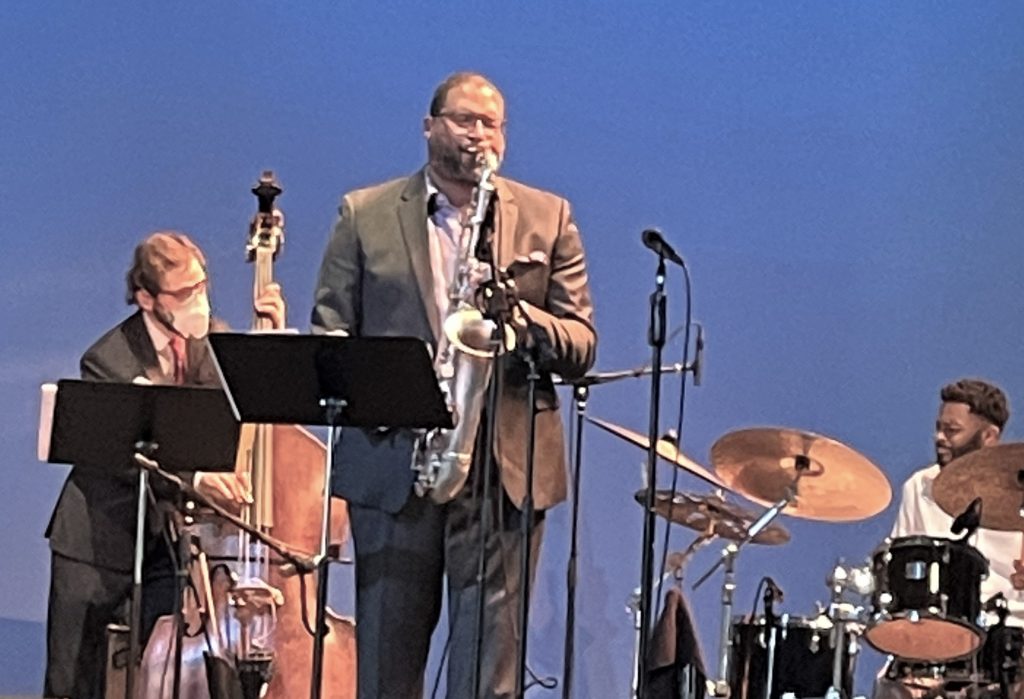 After the progressively rising notes of the ensemble Prelude, they played a version of "While Looking Up" by Cole Porter. This unusual arrangement featured bass leads and nearly every note on the piano with piercing high note sun on soprano sax.
"Last Summer" from the Greene's much-acclaimed Beautiful Life album was a delightful hymn to the joys of life that offered a long bass solo which was complimented by Greene's signature mellow sax. This being a Sunday, they switched to gospel with an arrangement of "Your Great Name" by singer Natalie Grant. Greene soared on soprano sax.
Returning to tenor sax, Greene performed his self-portrait co composition, "Big Guy" which showcased two elements of Greene's personality in the contrast between the slower, emotional resonant inflections of his tenor sax and the more aggressive, intense intellectual ferment in the virtuoso drumming of Barber and the rapid glissando on piano by Austen. The abrupt, snappy conclusion was startling.
Remaining with ten sax, they performed a version of Whitney Houston's pop hit "I want to dance with somebody" were they unearthed sadness and melancholy that underlay Houston's haunted biography. Here they evoked tenderness and a moving lyrical longing.
They closed with Greene's "Bluefield," which he described as an ode to his hometown. Peppy, sunny, and upbeat in its fleet rhythms, this supplied that element of joyful satisfaction with a psychological communal sentiment that made one feel that the audience had kinship with the band. Each member of the ensemble delivered their finest solo runs amid a continuity that felt contagious.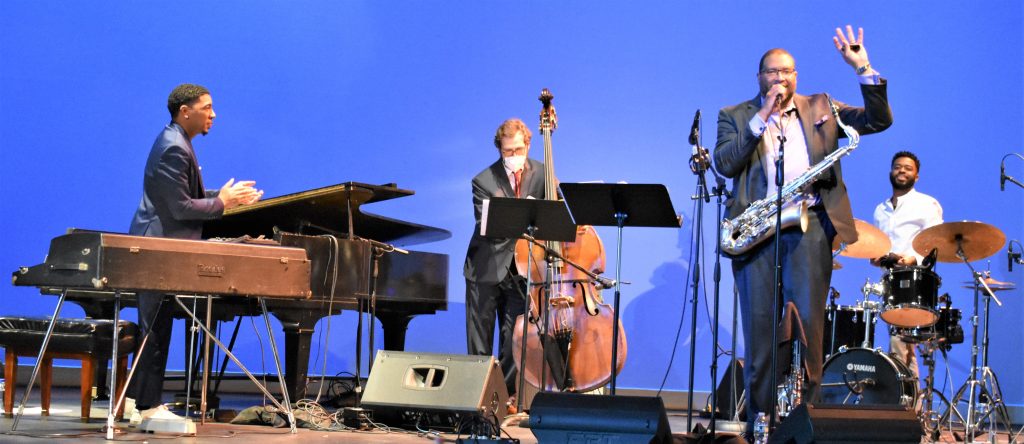 This concert, a Jacob's robe of many colors, was a fitting close to this two-week marathon of varied musical heritages.