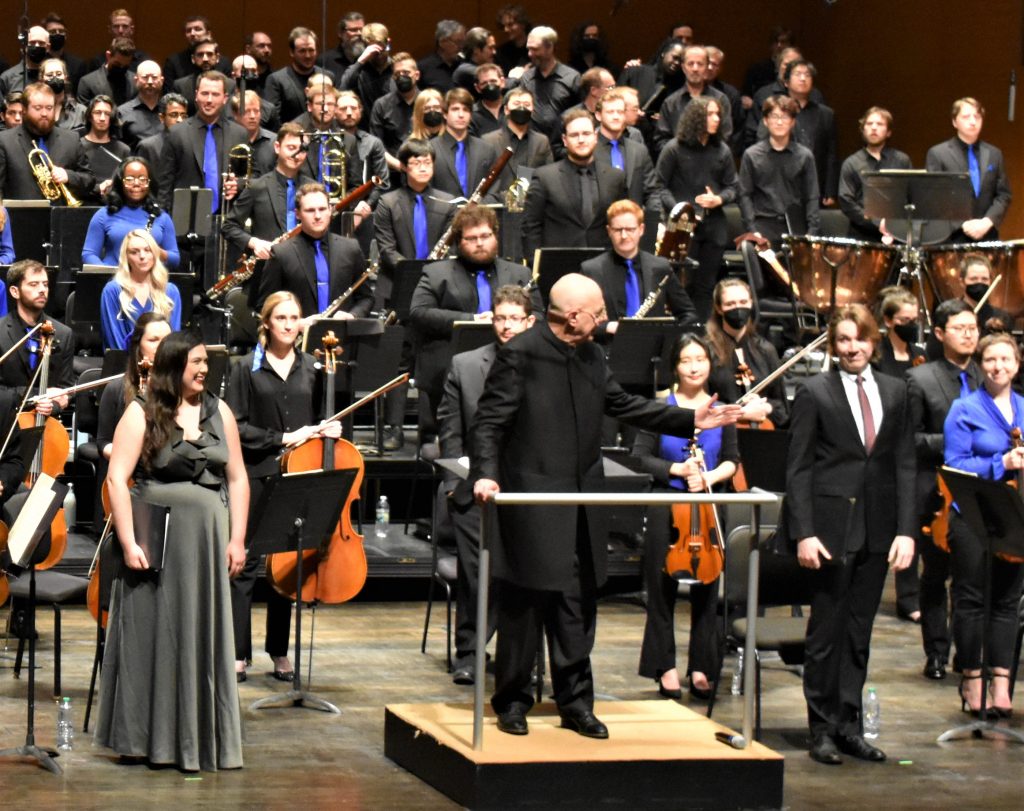 by Kevin T McEneaney
As appetizer for the great Requiem, Anna Polonsky performed Clara Schumann's Piano Concerto, which was written in Clara's mid-teens between 1833-5. The opening, energetic Allegro is modestly arresting, while the Romanze, which dramatizes the romance between her and her future husband Robert Schumann, is charmingly captivating; the eleven-minute Finale, which is the same length as the combined first two entertaining parts—it sounds more like a proclamation of Robert's ambition to ascertain musical immortality: it offers a musical portrait of Clara's delightful personality and an impressive illustration of Robert's talent. Polonsky's performance with The Orchestra Now was emotionally sparkling, yet I was more captivated by Clara's personality than Robert's orchestration.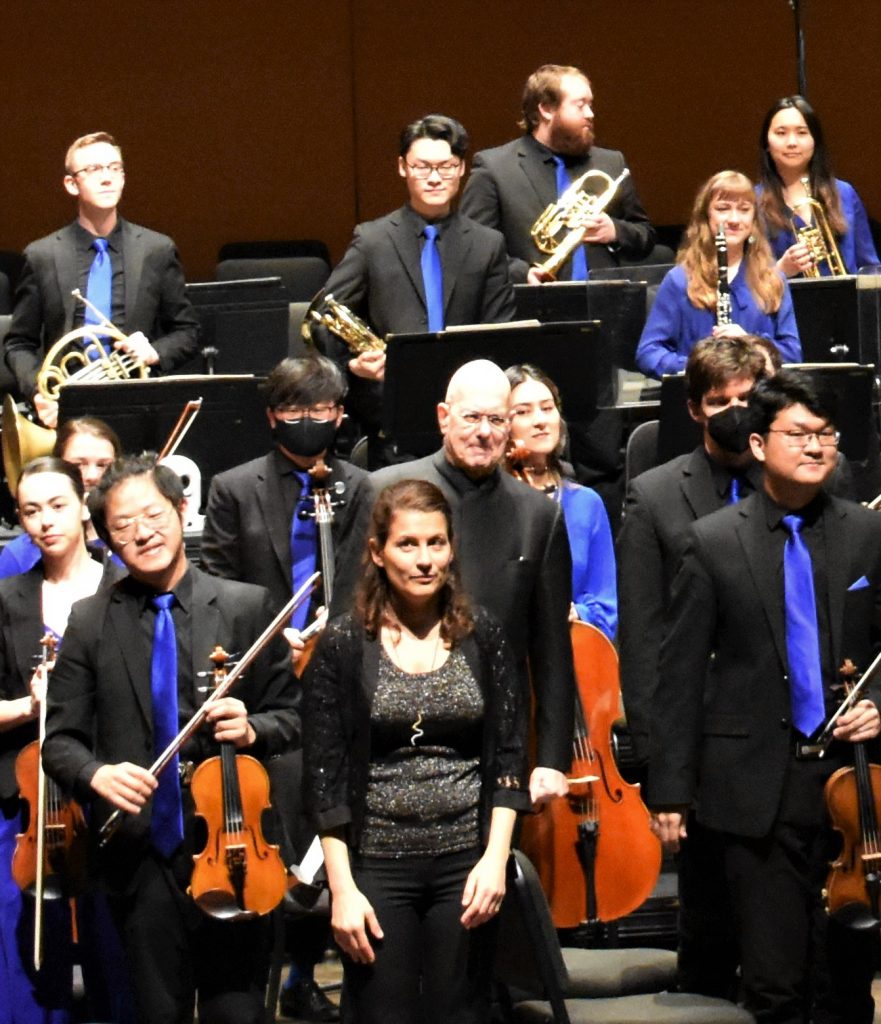 During Intermission members of TON often wander into the foyer and speak to concert attendees. I chatted with trumpeter Sam Exline who is in his last year of his degree. He told me he began playing trumpet at the age of six; he had watched an episode of Rugrats which featured a trumpet theme and was smitten by the instrument; his parents bought him a trumpet and his life is about his trumpet. Sam admitted that he enjoyed playing cool jazz and that his jazz hero was none other than legendary Bix Beiderbecke. Having met this pleasantly modest and affable young man, I was able to focus more clearly on his playing in the second half of the program and was quite impressed by the adroit sound of his horn.    

Most Requiems are linked to the Roman Catholic liturgical service, and usually employing Latin, however, A German Requiem by Johannes Brahms (written over several years and premiered in 1869) is in German and begins with "Blessed are they who mourn" from Mathew's gospel, then employs David's Psalms for the duration. Most composers begin composing their monumental Requiems in old age, yet Brahms began his Requiem in his mid-thirties.
The hallmark of Brahms' Requiem remains its somber yet eloquent meditative serenity; its mellow profundity carries an emotional equanimity that offers a transcendental experience which possesses profound hypnotic qualities; it is a masterpiece of intuitive modesty that echoes in your memory.
There is no climatic frenzy, no Romantic passion, or grand worldly obsessions; one is swept into an Otherworld of generosity, universal forgiveness, and vital resolution to appreciate and love the passing gift of life with deep gratitude. This is a marvelous religious experience outside of liturgical structure that transmits one to the core of daily life beyond artificial structures. The work has the power to change one's perception about religion as the personal essence of life rather than a social pageant or public ritual. Even the trumpet retains its modesty amid the orchestra. The strings play with such a unified tenderness that they are astonishing. Director Leon Botstein baton was coaxingly subdued. Cellos had such warm resonance backed by harp fluidity.
Soprano Alexis Seminario and Baritone Jonathan Lawler delivered superb vocal performances with clear diction and excellent voice projection.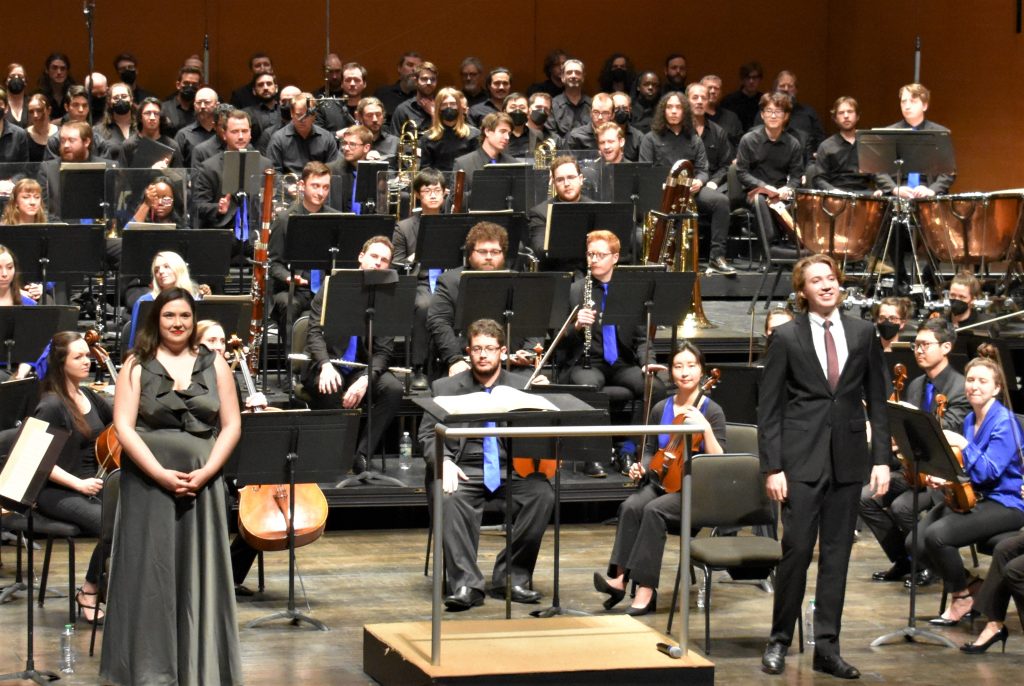 And it was good to see Sosnoff Theater nearly full after two years of lackluster attendance due to the recent pandemic. Botstein dedicated the concert to the memory of those dying in the streets of Ukraine—the antithesis of what Brahms hopefully imagined for humankind.