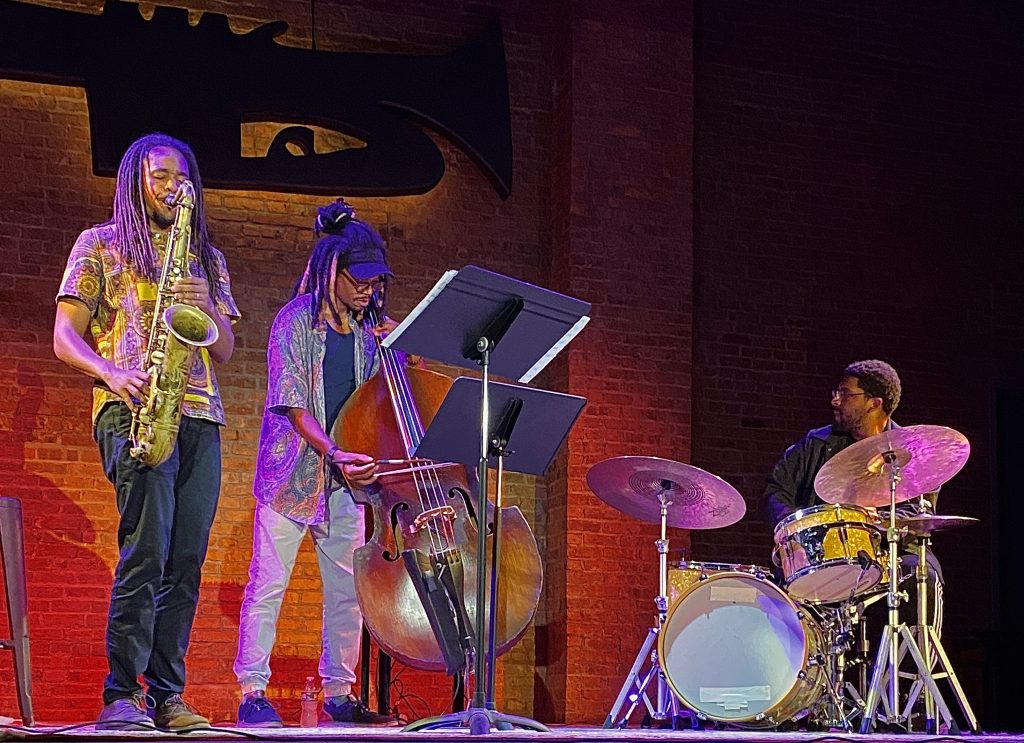 by Kevin T McEneaney
When it comes to jazz, the first image that appears with enhanced approval in my often-disapproving frontal lobes is an imaginary solo saxophone. But last night there was a real saxophone in the hands of a master sax player and talented composer, Kazemde George from Brooklyn. His musical entourage featured Tyron Allen II on upright double bass and Kayvon Gordon on drums.
George perhaps mistakenly managed to acquire his Harvard B.A. in neurobiology, yet he quickly remedied his resume with a Masters in Jazz Composition from the New England Conservatory. Harvard gave him a George Peabody Gardener Fellowship to study in Cuba for ten months. The second piece the trio played was a version of Cuban rhumba, which usually features a drum and singer, but in this case the tight-knit rhumba trio wandered into the night with an abundance of unusual notes that turned the earthy and primitive rhumba into an abstract painting with Juan Miro-like, light notes roaming high in the air of the concert hall and falling on ears like rose petals. As I write, I still have one of those petals stuck in my ear. I am not inclined to remove that petal.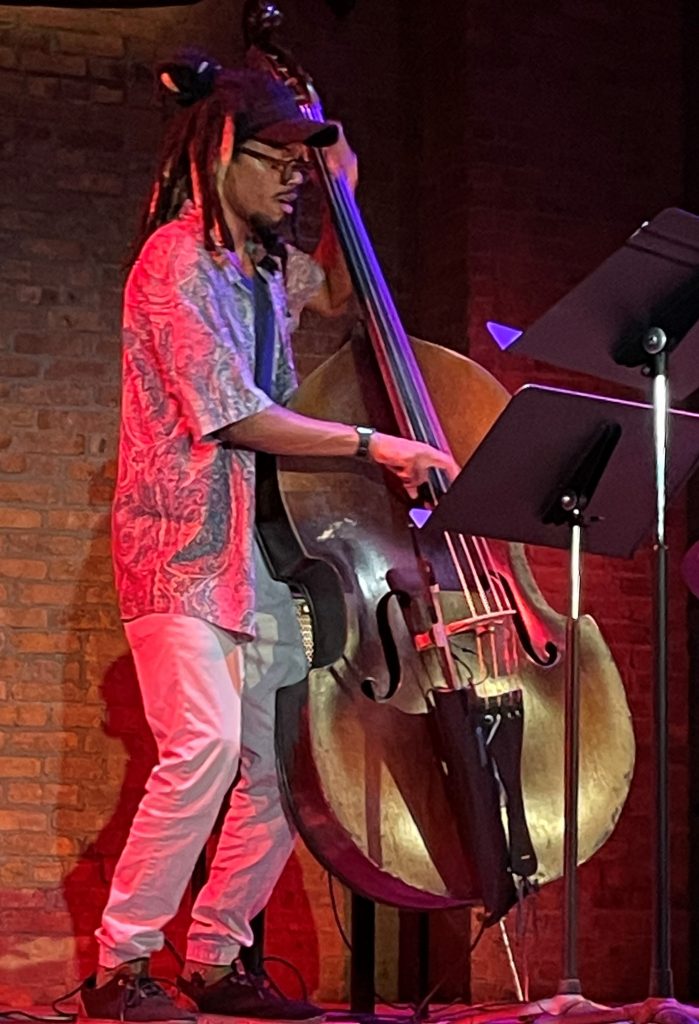 George says his mission is to establish his own style, but he has already done that. His style is based on cool jazz from the mid 1950's with ghost whispers of Miles Davis, Chet Baker, and Dizzy Gillespie, yet that is but a general perception and not certified reality because his influences are more eclectic and international than merely connected to the North American continent. Although there is the residue of collective sampling, especially from South America and Africa, his dialect remains short compositional riffs combined with occasional refrains—take off, rather than running a speedway.
You can sample his new album I Insist (2021) on Greenleaf Music; his wife supplies the vocals for the title track, but since she was not present, we heard the instrumental version which was quite exciting. There is a generous spiritual plane to his music. I think one could meditate on whatever you wish with his new album in the background. I am not insisting on this, but it is a possibility that I recommend you consider.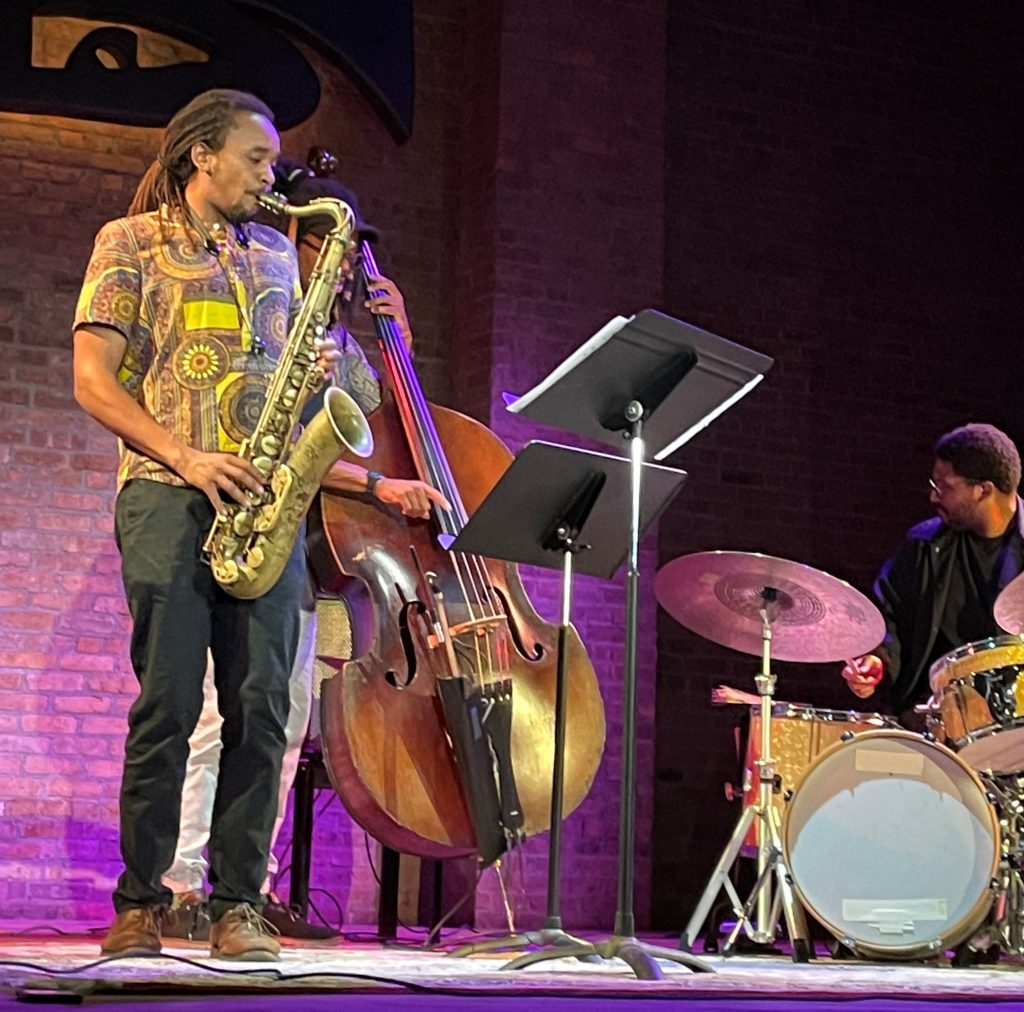 I can't recall every number that was played because I didn't have a piece of paper on me, and I did not want to write on the coupons in my wallet. I will say the trio grew in unity, strength, and power the longer they performed, and the second half of the concert was more thrilling than the first half after the imaginary intermission.
"Reflections," the title piece of an album by Carl Grubbs, was inspiration-ally meditative. Primarily influenced by John Coltrane, this meditative non-George piece was played with extra aces in the deck, delineating the background heritage and lineage of where George was looking in the rear-view mirror.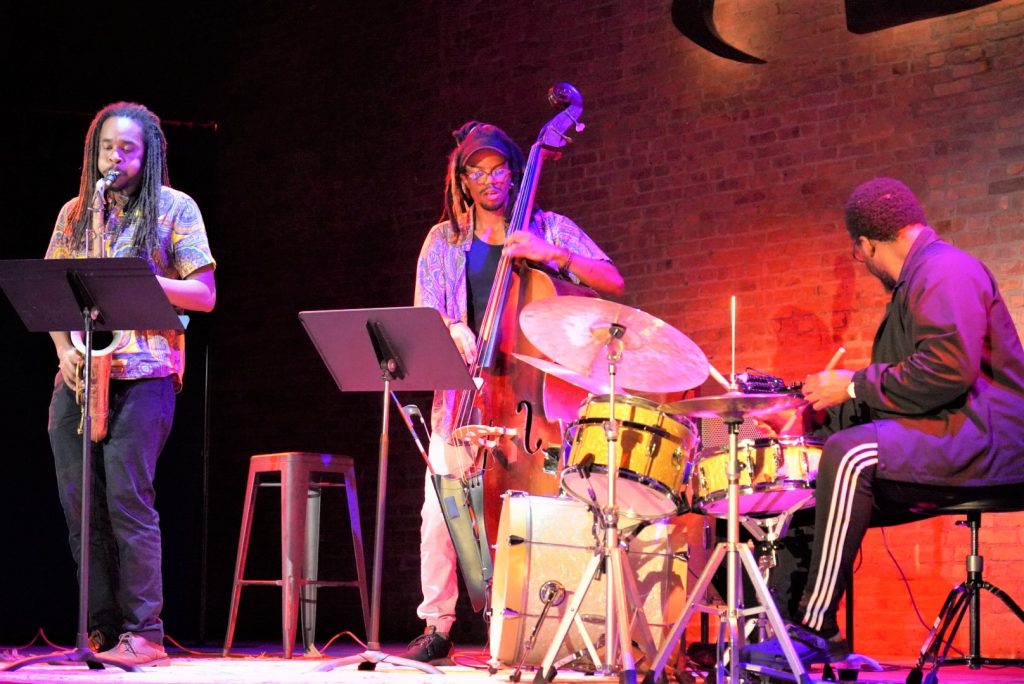 They played a something called "Waltz," composed by George during a Covid retreat in Maine, but it wasn't a waltz, although the piece possessed vivid tempo and haunting melody in 5/5 time. I presume the title was as coolly ironic as George's marvelous, mellifluous tone. The fusillade of notes at the climax made me recollect young Dizzy Gillespie, a composer with spiritual spiral. You had to be an expert to catch some of those notes.
You can read more about George at https://www.kazemdegeorge.com/bio