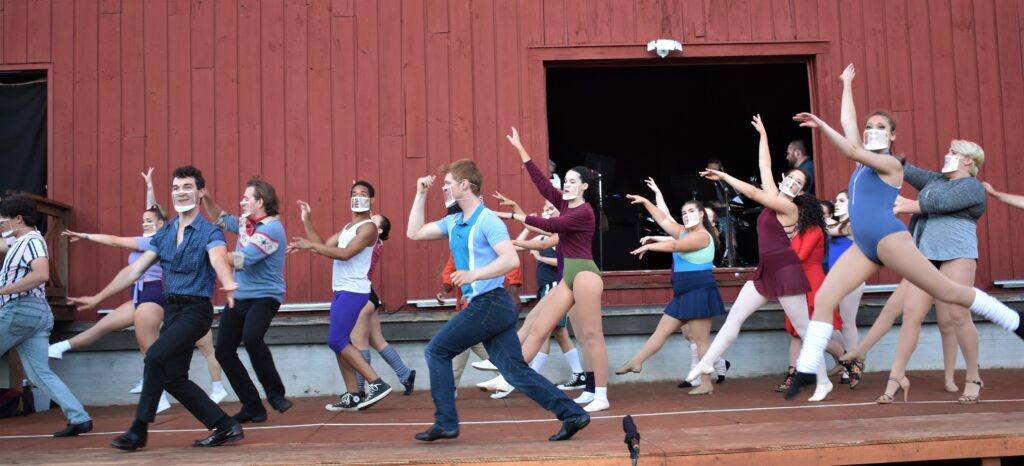 By Kevin T. McEneaney
One of the longest running musicals of Broadway rumbles around the corner. It remains the only great musical that has no set: just a bare stage. Up in One Productions has brought A Chorus Line to the Center for Performing Arts in Rhinebeck under the wizardry of director and choreographer Kevin Archambault with musical direction by Matthew Woolever and produced by Diana di Grandi.
A Chorus Line had opened in July 1975. I was friendly with a cellist in my building who played in the pit; he gave me two tickets for my birthday in September. What a play! This behind-the-scenes drama about the dwindling of dance on the stage was unconventional, slightly raunchy, aggressive with same-sex liberation, funny and witty, with wonderful solo and group singing!
Ryan Dutcher as Zach, the authoritative dance caster, delivers a Rorschach tonal spectrum from anger, frustration, desperation, bewilderment, and empathy for the desperate gaggle of actors who aspire to thump the boards on Broadway. Not everyone will make the cut. One of the great ironies of the play is that the two best male dancers are cut. Paul, played with dignity and pathos by Jalen Carr, is injured just after making the cut.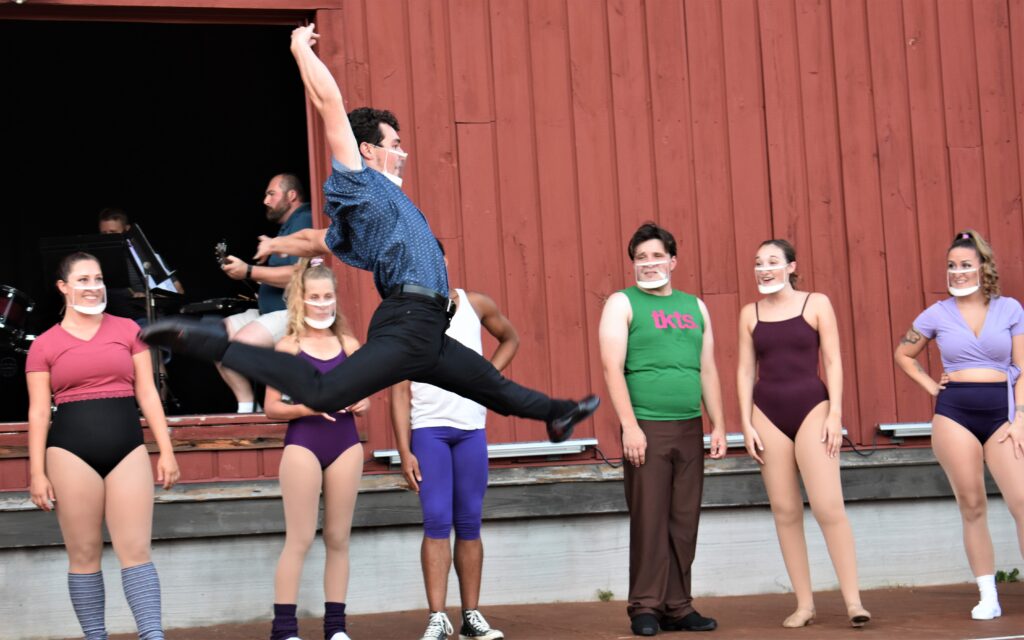 Mike, played by Riley Cornelison, is, hands up, the best dancer, and the audience is left to wonder why Mike does not make the cut. Cornelison is far and away the best dancer, and he is so terrific that he seems born to play this role as the natural, divine hoofer, yet he's kicked to the exit door. Cassie played by Olivia Michaels, is a below average dancer, yet she gets the job because Zach wants to renew his affair with her. The imaginary production does not have the best possible cast, but the show goes on….
The dialectic of individual song and dance solos with ensemble work transports the audience up and down like a theatrical seesaw. The real strength of this production lies in the singing, both solo and ensemble, where the ultimate cathartic experience resides.
Among the superb singers are Katelyn Shoemaker as Kristine; Terrence Boyer as Don; Amber McCarthy as Val; Thomas Netter as Bobby; Tori McCarthy as Maggie; Emily Woolever as Sheila; Cedric James as Richie; Lynne Czajka as Bebe; Terrence Boyer as Don; Rena Gavigan as Diana. In general, male dancers were better dancers. The comic effect of bad dancing at the beginning gives way to memorable unison steps.

At first appearance, costumes appear casual, but as one gets to know the characters one realizes that the actor's costumes are emblematic of their souls. Instead of the usual theater magic of "everything is not what it seems," things are as they seem," and reality then provides healing illusion.
If your local church is closed, or services are not what they used to be due to current state laws, one can celebrate the older, original Christos (Dionysos) at outdoor local theater—limited to fifty in the audience, just as the Romans only permitted theaters of fifty in Alexandria (while exercising the death penalty for actors who performed anywhere else). I must confess that without internal anointing with a couple of glasses of red wine, I might not have been able to write this review, or cope with the tragic implications of this truly delightful production which offers temporary tonic from our current predicament.
This production runs weekends to August 16, yet they may be sold out. You might ring the box office at (845) 876-3080 to see if you may be placed on the waiting list.