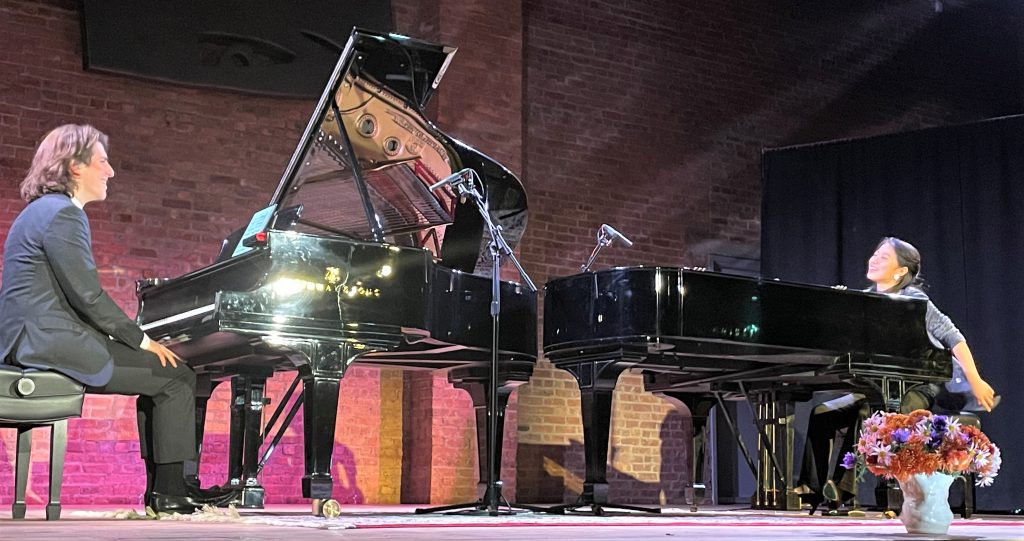 by Kevin T McEneaney
International pianistic sensation Llewellyn Sanchez-Werner from California, who played for President Obama's Second Inauguration and many other world luminaries, participated with local pianist Sophia (Shuhui) Zhou, Music Director of The Stissing Center, in a double-piano program that offered as much delight as keyboard dazzle. They opened with the first movement of Mozart's Sonata for two pianos in D major, K.448 (1781). This work was inspired by one of Wolfgang's students, Josepha von Auernhammer, with whom he played at least six concerts.
There is a buoyant balance in this exuberant piano dialogue between male and female players which appear to describe a man and woman meeting at a dance: he asks if she would like to dance, and they do; they have a short conversation that leads to a second whirlwind dance. The spontaneity and gaiety of the work remains infectious, witty, surprising—sprezzatura in action, art that is mischievously difficult yet appears as easy as whistling. Llewellyn and Sophia caught that playful ambiance as they flamboyantly nailed each coy note.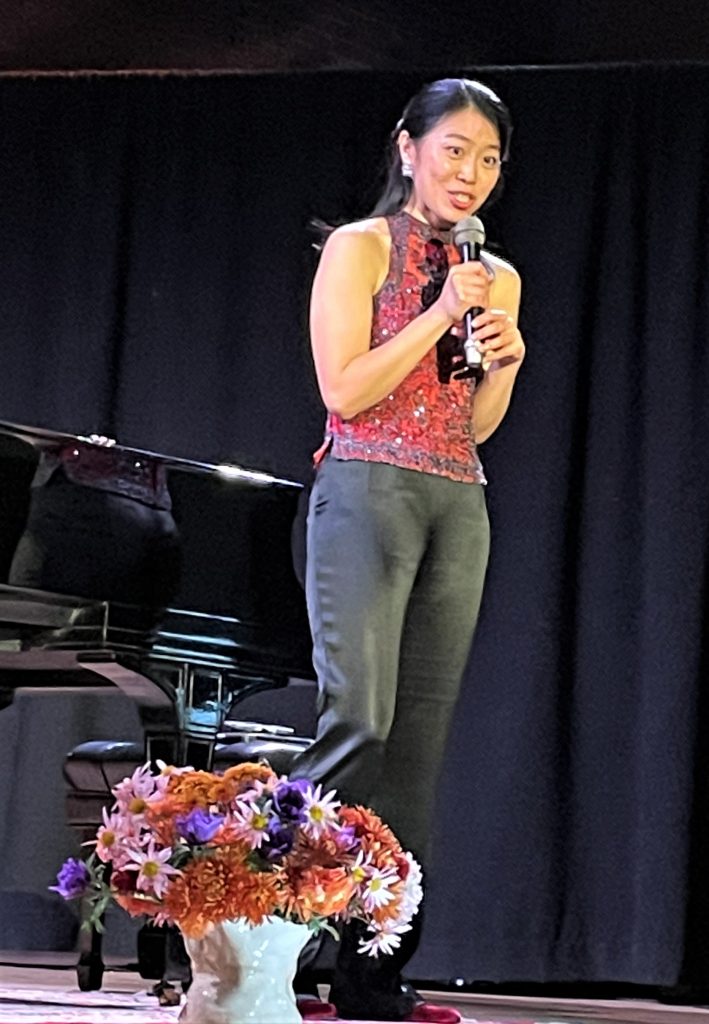 Llewellyn performed Robert Schumann's Humoreske in B-flat Major, Op. 20 (1839) written in a single week. This work invites multiple interpretations in how the work is played. Like the Mozart piece, it remains difficult and playful; it is to be played in attacca mode. Llewellyn gave a wise introduction by inviting the audience to let their imagination wander to the music. In Llewellyn's version the seven movements display an evolution rather than a static aesthetic as in some lesser interpretations. Beginning with the evocation of childhood innocence and wonder, two people begin to explore nature and society as they discover increasing complexity and confusion leading to irrationality and concluding in ironic madness. Perhaps others in the audience heard something else, which is fine. I have heard this work performed several times with amazing technique, yet not until now with such masterful levels of dramatic processing and progression!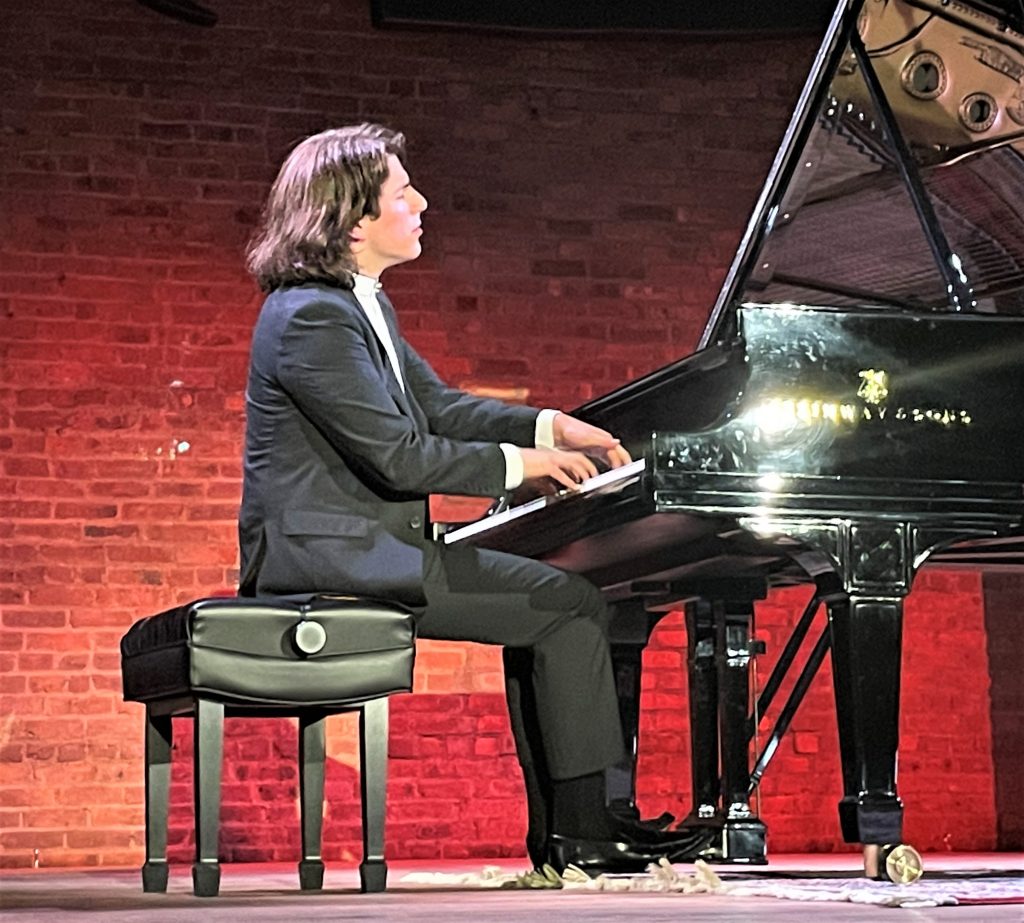 Next Llewellyn played two pieces by the Mexican piano master Manuel M. Ponce. I first heard his version of Nocturne and Sonatas in Puerto Rico at a home where he vacationed for a few years. I enjoy the sophisticated elegance of those works influenced by the Irish composer John Field, yet I was not prepared for the fierce influence of Franz Liszt in the patriotic Balad Mexicana and a quick segue into Peach, which seemed to display the super-macho attraction of a man to a woman with ironic, climatic, comic conclusion.
Some less opaque fare was need for relief and Sophie joined Llewellyn for character dances from the Nutcracker ballet (1892) by Pyotr Ilych Tchaikovsky. (I have always been amused by his surname which means Tea Merchant.) This work narrates a story, then provides a floor show, although the tunes remain so memorable that the two-piano arrangement by Nikolas Economou delivered that sparkling amusement inferred by the pageant as the two interlaced pianos like interlaced hands joyfully announced their seasonal extroverted fantasies.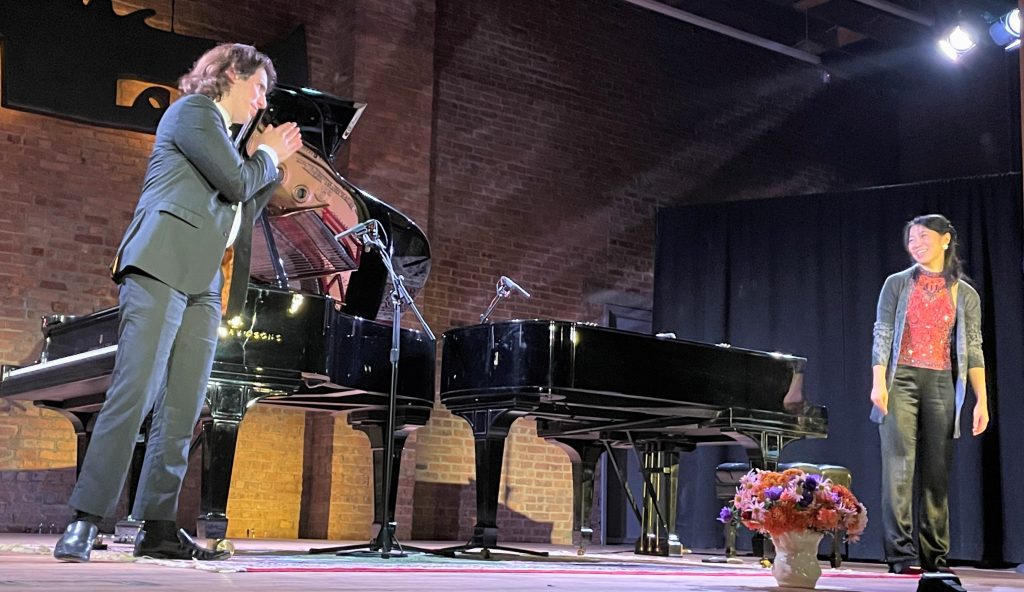 For American extroversion what can compete with George Gershwin? Three Preludes for two pianos , arranged by Gregory Stone (2019) and adapted by these two brilliant pianists supplied eloquent exuberance for the audience which demanded two bows.
For encore, Llewellyn played a short piece by a student of Ponce, Carlos Chavez. This was a suave and genial parlor room work that rang with poetic charm and seductive sonority.
The classical music programing under Sophia Zhou has been growing by leaps into sophisticated and energetic events.