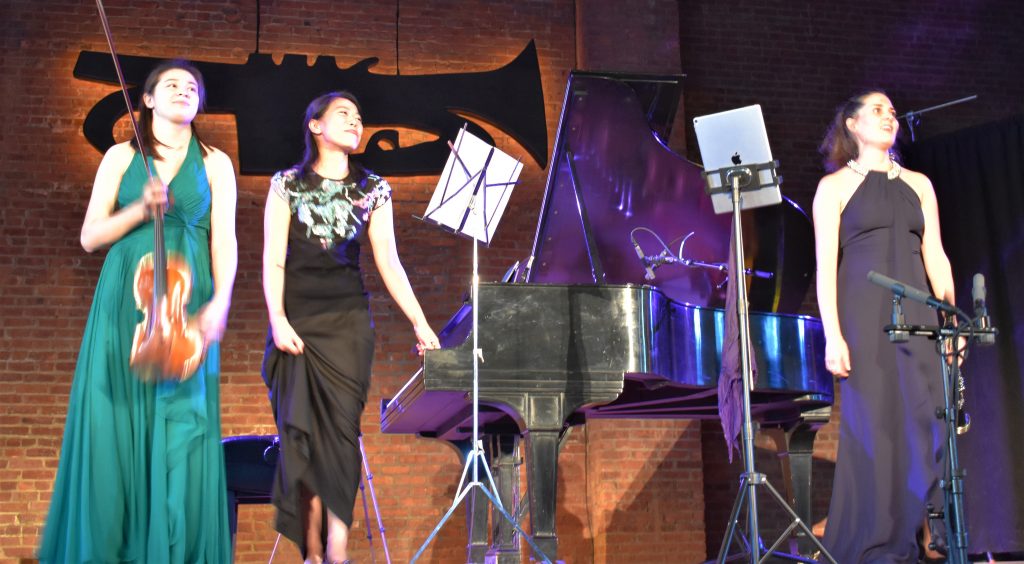 by Kevin T McEneaney
Sunday's concert at The Stissing Center in Pine Plains focused on the theme of dance. Pianist Sophia Zhou and clarinetist Yasmina Spiegelberg performed Ox Tail Dance, a modern re-imagining of a medieval Chinese folk dance that once employed sweeping oxtails. This duet sounded to me like a mating ritual. A male (the clarinet) falls in love with a woman (the piano) at a folk festival.
At first, the piano in rumbling lower keys rejects offhand the clarinet—doesn't want to play (dance) with the clarinet and remains silent. This sequence is repeated once more. The clarinet grows more eloquent, and the piano begins talking to the clarinet. Once repartee becomes established, the clarinet grows even bolder. The piano grows more melodious and graceful in sweeping the keys. The clarinet dives into a long virtuoso solo; the piano replies with affirmative delight. The fertility festival appears to conclude with a happy marriage. This was a most charming opener.
Wolfgang Amadeus Mozart was extremely fond of the clarinet and dropped by with a score, Clarinet Trio in E-flat major, Op. 498, nicknamed "Kegelstatt," that is, "Skittles" based upon the dubious legend that Wolfgang composed this trio while either watching or playing a game of bowling; it was written August 5, 1786, for Franziska von Jacquin, one of Mozart's favorite pupils. Franziska played piano; Mozart, viola; Anton Stadler, clarinet. All three movements feature dance motifs.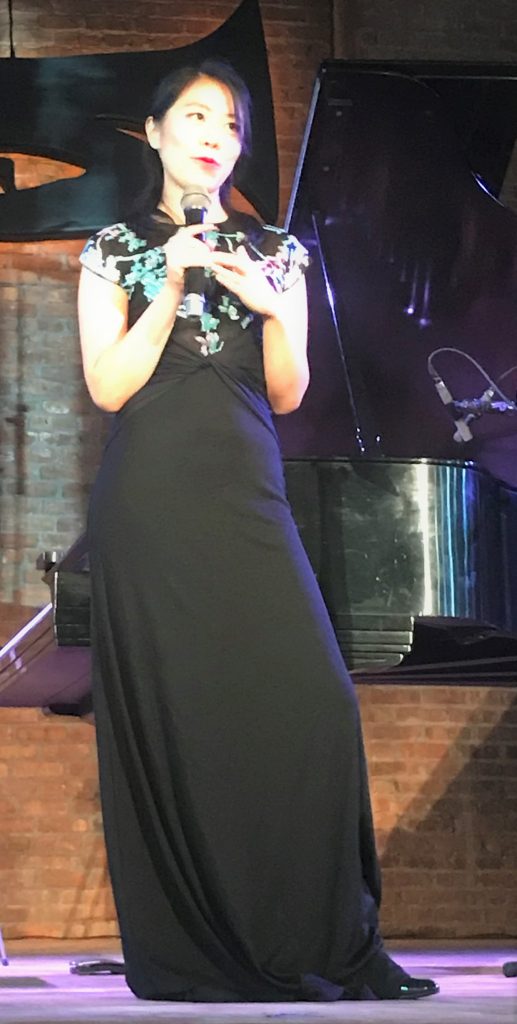 I speculate that the nickname "Skittles" originally referred to gruppetto in the first movement. This fast rumbling-grumbling of lower register notes on the piano, which dominate the whole work, offers similar psychology to the opening Chinese work. Franziska has two older courtiers in whom she is not interested. These are playfully impersonated by Mozart and Stadler. The first movement sonata form presents a dance of wit between the three people. Sophia Zhou was dignified and accomplished on the keys, politely declining to dance with either courtier. The viola softly played by Halam Kim portrays cold dignity and refinement, while Yasmina Spiegelberg on clarinet vigorously portrays a less refined, lustier merchant of grubby wealth.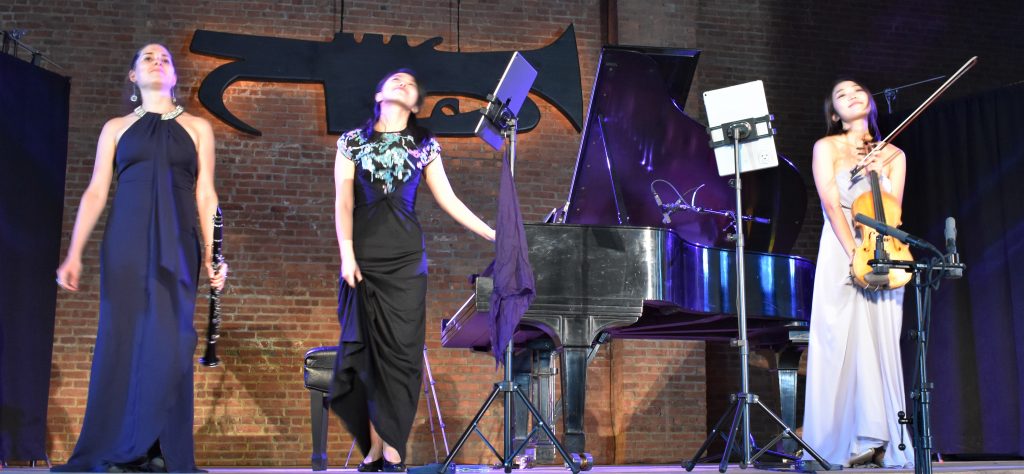 In the second movement Minuet, the piano reluctantly agrees to dance with both, discovering no reciprocal affection. While the marvelous grandeur of the court music is astonishing, the results of the grand occasion remain less than satisfactory for all. The ravishing Rondo—and here Sophia Zhou excelled—celebrates the departure of the courtiers and the personal relief and freedom whereby young Franziska has escaped the clutches of these elderly fossils.
According to Maynard Solomon's biography, Mozart so dotted on Franziska that he wrote two works for her and permitted her to publish them under her own name, K. 520 & 530 in March 1791.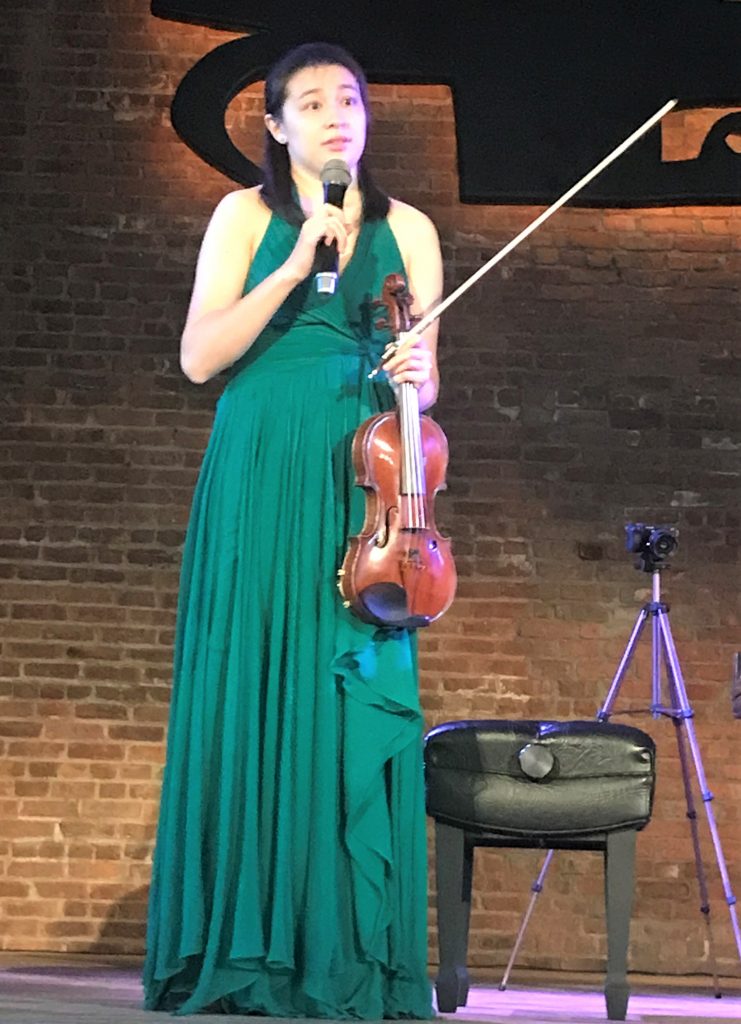 After short break, Stephanie Zyzak performed a novelty piece by John Corigliano (b. 1938). Stomp on solo violin offers a parody of Irish dance wherein Irish folk dance tunes are performed at ridiculously high pitch and whiplash speed. Periodic, parodic foot stomping at random intervals showcases the inanity of this medieval dance tradition. Zyzak played well as she broke a string, capturing the mentally retarded perspective of the composer. I presume this was scheduled for comic relief, despite the prevalence of comedy in the previous two works performed.
But the best was yet to come. Paul Schoenfeld's Trio for Clarinet, Violin, and Piano (2004) offered a showcase for Yasmina Spiegelberg on clarinet. In celebrating the Hassidic tradition of klezmer music through the clarinet, Schoenfeld explored time-bends reaching from all the way back to Islamic Spain and medieval Russia to contemporary avant-garde music. The result in four movements was the weaving of a fabulous tapestry with clarinet as centerpiece displaying the joyful love of virtuous people. Integral to this magical weave was Sophia Zhou on melodic piano and Stephanie Zyzak on furious fiddle. The unity and energy here was intoxicating! This was the thrill of hearing something both old and new in a fabulous, intricate format accessible to both connoisseurs and ordinary folk. One left the concert hall with one's ears buzzing and wondering what The Stissing Center will do next.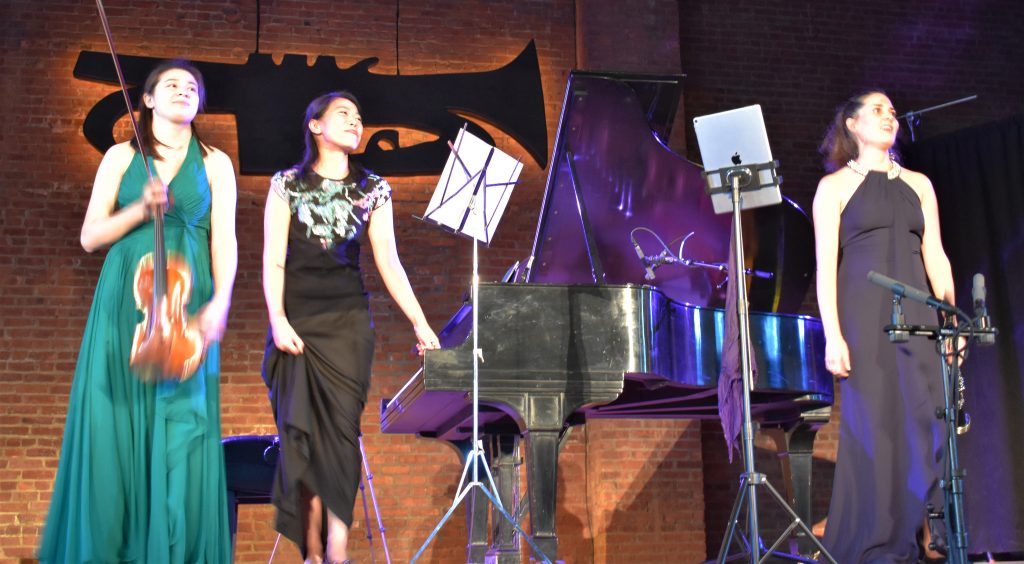 P.S. As a writer and bookseller (who spent a decade selling books from Ireland), I was disturbed by the programming juxtaposition of a comic piece that ridiculed Irish folk music and dance, while valorizing the tradition of Jewish klezmer music.
Unlike many countries, the Irish have never had an anti-Semitic history. I am not intolerant of cultural parodies or jokes, yet I think programming should be sensitive—so as not to alienate possible clientele like myself. I would agree with the critique that Irish Americans should be more involved in donating to artistic developments, instead of being besotted with sports like horse racing and football.