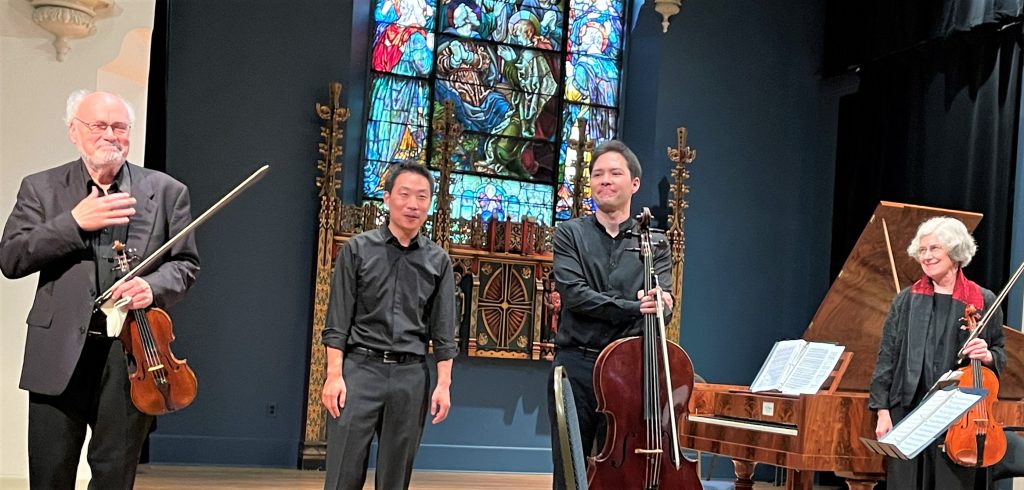 by Kevin T McEneaney
In Great Barrington last Sunday afternoon at Saint James Place, there was an all-Schubert concert to celebrate the thirty-year tenure of Daniel Stepner as the Artistic Director of Aston Magna Chamber Players. Over the decades, Stepner has taught music at many prestigious colleges and universities in the northeast.
The program opened with Schubert's String Trio in B flat, D. 471 (1816). Franz Schubert (1797-1828), born in a suburb of Vienna, wrote three string trios in B flat, however the first one was lost, and we have only a few bars of it. Stepner on violin, Anne Black on viola, and Jacques Lee Wood on cello played the Allegro from Schubert's second B flat string trio. The Allegro is the only complete movement we have; we do have all four movements of the third string trio in B flat. This happy work remains in the classical style of his youth rather than the Romantic style for which Schubert is more generally known; introduced by the violin, its brisk, smooth rhythm runs like a creek over medium stones with oscillating eighth notes by viola with cello clinging to the low riverbed before rising to join the violin, then the violin jauntily begins to skip in triplets. The Allegro possesses a single movement flow, bestowing upon the listener's ear a sense that this inspiration involved no effort at all by the composer. This classical portrait of rural Nature as rushing process remains a priceless treasure of lighthearted joy, setting a welcoming tone for the concert.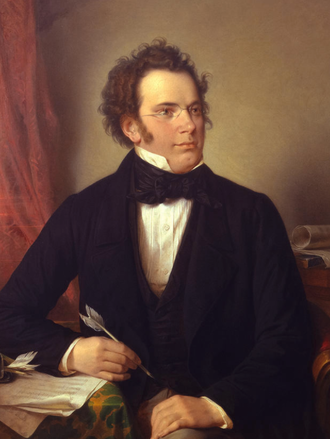 David Hyun-su Kim on forte-piano ably fingered rapid runs from Moments Musicaux, D. 780, nos. 2 and 5. Published in 1828 just months before he died, these short, early Romantic pieces are the most often piano pieces by Schubert played in concerts today. They ripple with delight and wit, once more displaying that sprezzatura ambiance of light-fingered delight.
Sonata ("Arpeggione"), D. 821 (1824), originally written for piano accompanied by the guitar violincello, it is now accompanied by cello, although other arrangements have been made for other instruments, such as a flute version by James Galway. Adaptations of this work succeed due to the lyric focus of Schubert. In three movements, the harmony of the opening chord remains memorable and melodies from this work have influenced many other composers. Here James Lee Woods really excelled on cello with robust bass and melodious bowing.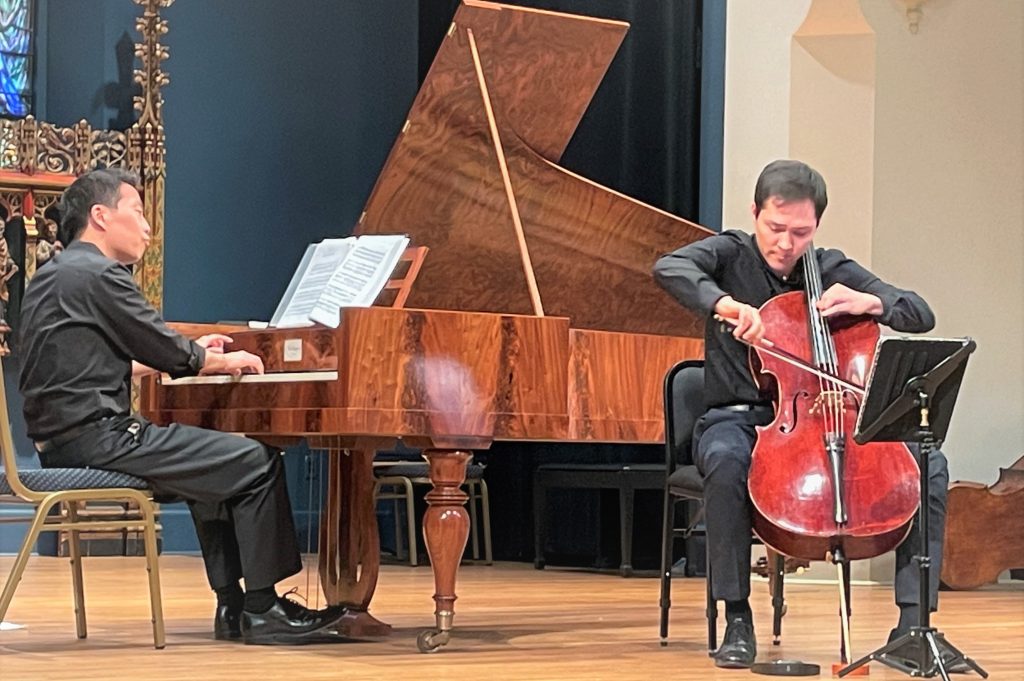 Die Florelle ("The Trout"), Op. 32, D. 550 (1817), a delightful musical version for piano and soloist on a 1783 poem by Christian Schubart (written while in prison for insulting a Duke's mistress) opened the second half. Schubert was informed by a friend that he unconsciously copied a melody from Beethoven, and he decided to destroy the piece, yet his friends prevailed upon him to keep it. This popular song offers a jocular allegory about the dangers of sex. Mezzo-soprano Deborah Rentz Moore sang with expressive finesse. Schubert's lied only covers the first three verses, omitting the moral warning to women about how an affair with a man could lead to death. (The tune is played by some Samsung washing machines and dishwashers to let one know that the cycle is complete.)
On that happy, humorous note Quintet in A Major ("The Trout), D. 667 was performed. At many concerts, only the fourth movement is performed, yet here was the complete work in its four movements. The melodies are intoxicatingly lyrical, and a warning should be given to audiences not to hum along. No one did actually hum, yet there is no way of knowing that some did hum on their drive home or before going to bed. But I digress, and need to declare that this quintet was performed with sublime unity and Daniel Stepner's violin made all the difference to a happy and joyous conclusion of Franz Schubert's resurrected triumph in Great Barrington.