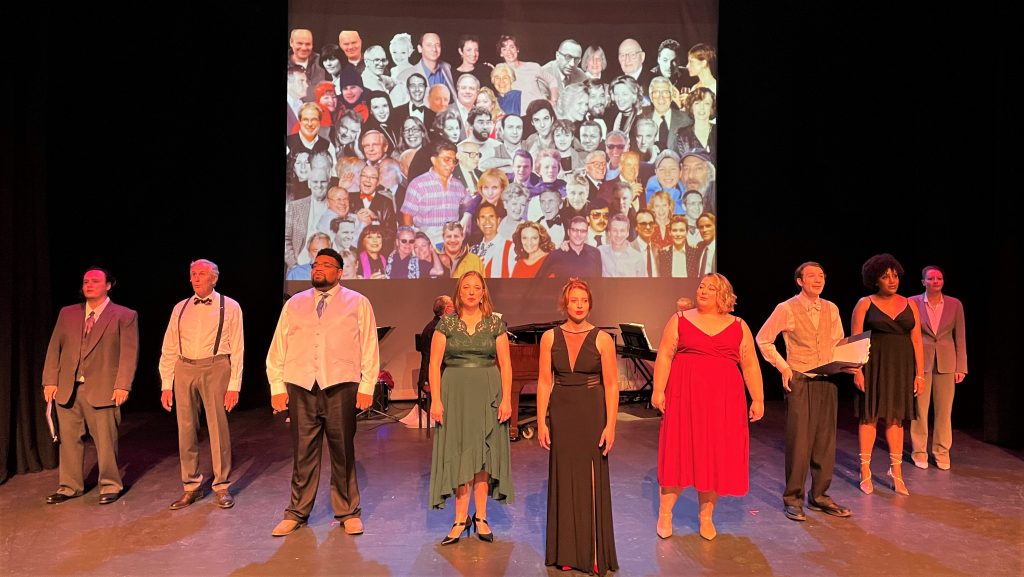 by Kevin T McEneaney
Last year the theater world lost Stephen Sondheim, one of the giants of musical theater. Sondheim was especially gifted in creating both intimate and broadly sweeping conversations with a light lyric touch, which he always wished to keep simple, as he was attuned to the spatial qualities of song and performance. Under the co-direction of Tamara Cacchione and Louisa Villardi this a retrospective selection from Sondheim's vast legacy, yet the show is more than that.
Solos, duets, and ensemble octets fill the air with Sondheim's melodies and lightly poetic lyrics, along with a biographical backdrop documentary of Sondheim: a varied collection of interviews over the course of his long life (1930-2021). The selected songs interacted with these biographical snippets, exhibiting what Sondheim had been talking about. There are even moments when the singers themselves interact with the documentary. I found this dialectic of conversation and song to be stimulating, thought-provoking, and outright amusing at times. Sondheim had an excellent sense of humor.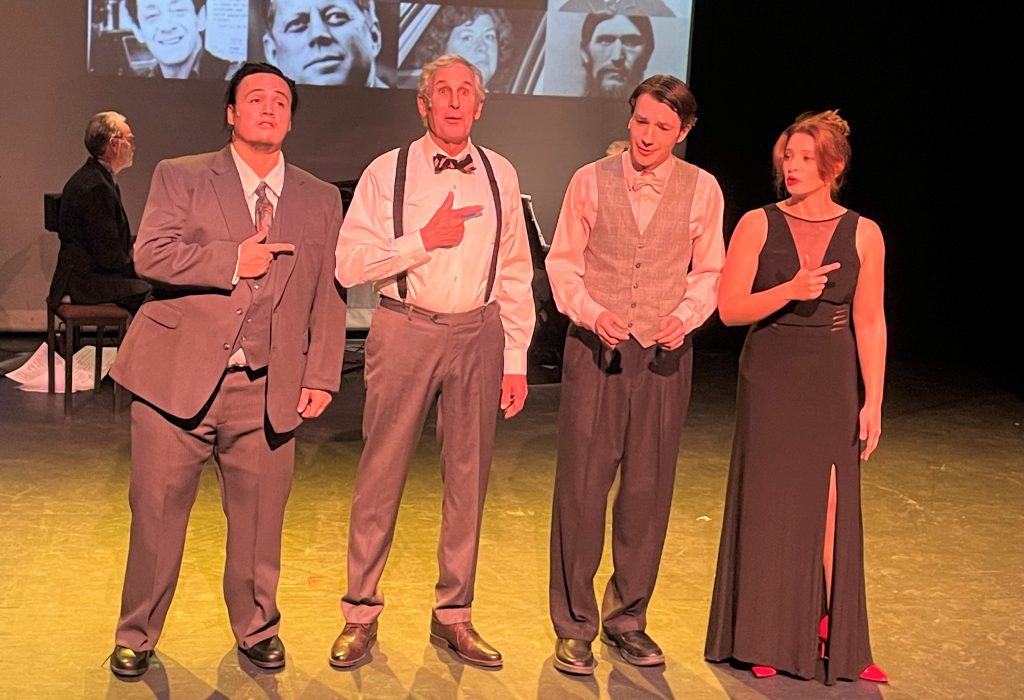 The lead singer was not present opening night, but, of course, the show went on with cast members voluntarily substituting in the vacuum. One of the strengths of The Center for Performing Arts in Rhinebeck has always been access to excellent singers. In the absence of the lead singer, Joshuah Patriarcho, Ashley France, and Alexandra Haines dominated solo songs. There was a pleasant, arching balance between solos, duets and octet ensemble singing. The program was titled Sondheim on Sondheim.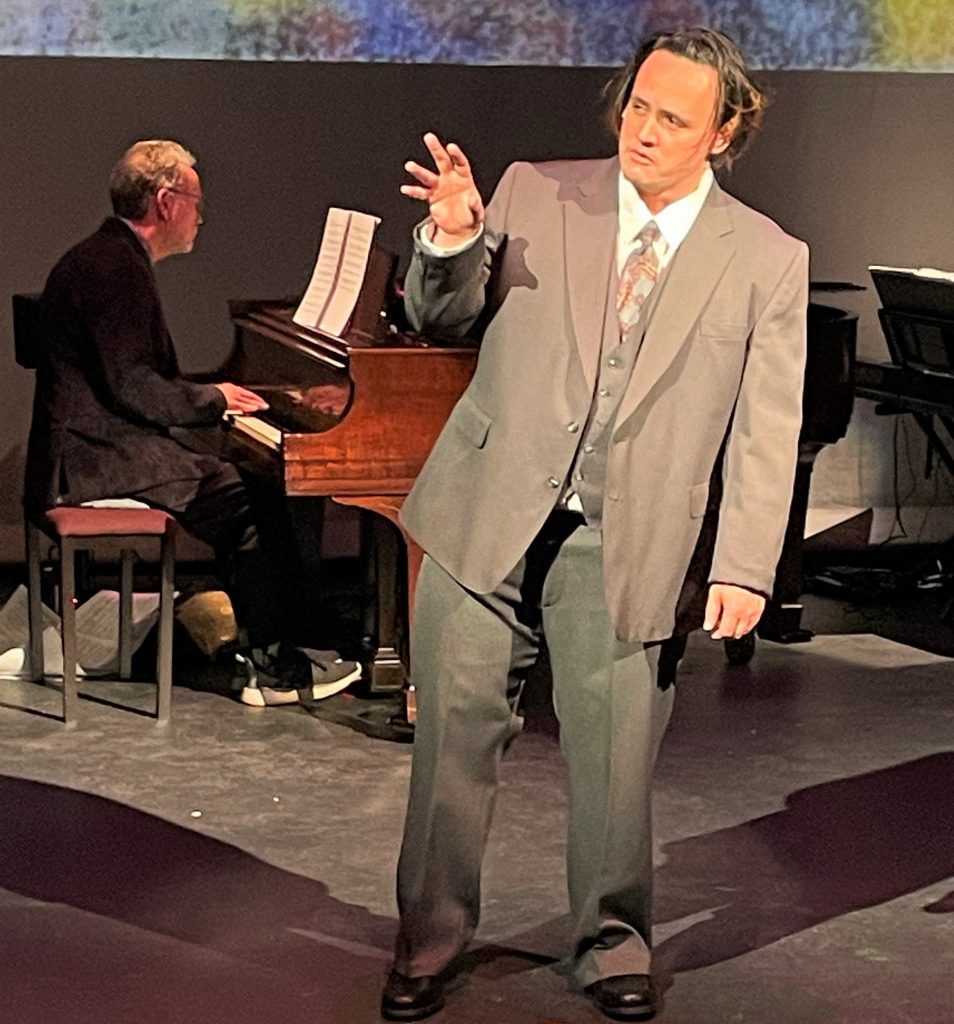 Peter Kiewra and Andy Crispel offered effective acting, as well short interlude singing when not immersed in the ensemble which also featured Karen Dalmer Sheehy, Ann Chris Warren, and the suave tenor Duane Joseph Olson. Kacie Boice, who starred in the Center's wonderful production of Amelie over a year ago was exceptionally effective in ensemble songs. The quartet of Kacie, Andy, Peter, and Joshuah from Assassins was a thrilling high point, as was Ann Chris Warren singing "Take Me to the World," Patriarcho singing "Finishing the Hat," and Ashley France singing "Loving You," or Karen Dalmer Sheehy singing "Do I hear a Waltz." Subbing for the lead actress, Andy Crispel performed a deeply emotional version of "Send in the Clowns" with poignant emotional phrasing.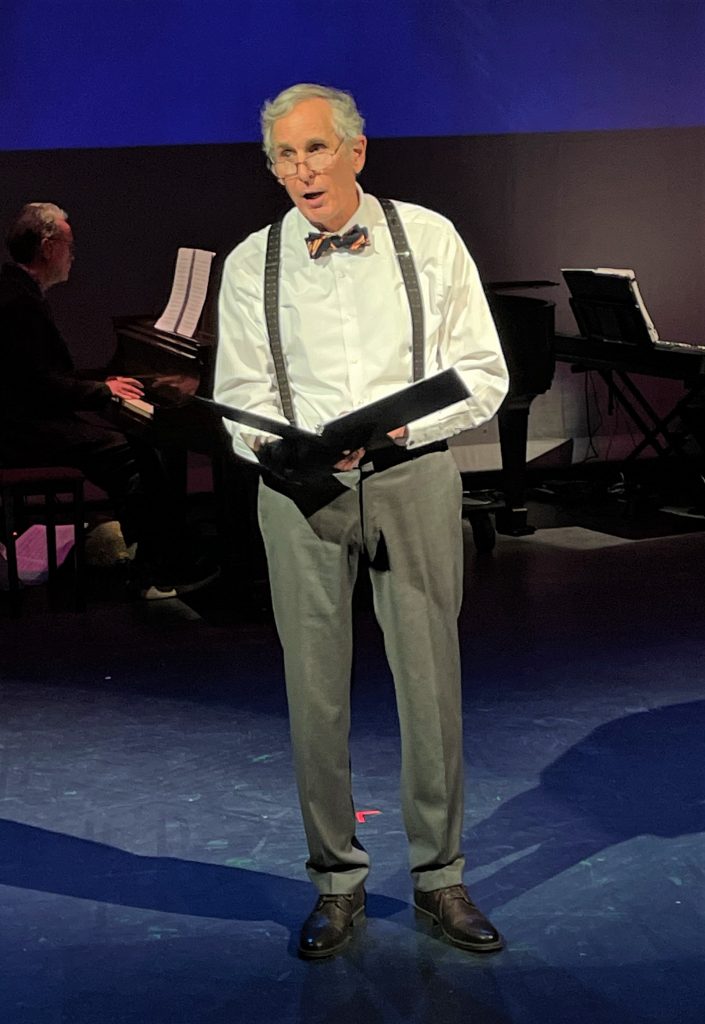 Even if you are a Sondheim fan, you will not be familiar with all the songs sung over the two hour and a quarter presentation. I found it amusing that Sondheim, a noted lyricist musician famous for so many love songs, did not find love in his life until he was sixty. Sondheim had a difficult childhood, and he credits his neighbor Oscar Hammerstein for being his surrogate father, as well as the teacher who influenced him the most.
On piano and keyboard the Schuberts, Joanne and Paul, were accompanied by Donald Terry on electric bass.
Most memorable were the ensemble performances where voices blended to exciting communal effect, especially in "Sunday" (from Sunday in the Park with George) and the full cast closer: "Anyone Can Whistle" This production runs through October 24. For tickets or more information: https://www.centerforperformingarts.org/