by Kevin T. McEneaney
Eugene O'Neill's The Iceman Cometh (1939) has been revived at The Center for Performing Arts in Rhinebeck. The play was likely inspired by Maxim Gorky's The Lower Depths (1902) which was Gorky's first success.
Whenever an old classic is revived, one must ponder why, now? Why is this underclass tragedy revived? It is about a self-indulgent, class-climbing, fast-talking con man who becomes insane. Remind you of anyone in the news?
This is a play, set in 1912, produced by Lou Trapani, where the lead actor shoulders the long arc and heavy burden of the play. I am happy to report that Ken Strauss, a well-established actor, delivers a phenomenal, mesmeric performance with nuanced voice, gesture, and movement—it is a memorable performance! Theodore Hickman (Hicky in the drama) embodies the tragedy of a culture based upon fraudulent salesmanship, a contemporary pathology that monkeys on your television screen, television being the antithesis of good drama.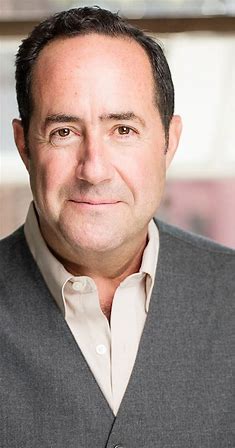 Douglas Woolley as the anarchist Larry Slade (the lead supporting actor) is also wonderful with his secret self-denials and acute wisdom in a subplot role suggested by O'Neill's friend Emma Goldman. The role of Don Parritt has been slightly paired down, yet young Denis Wakeman does successfully inhabit confusion and suppressed rage at his father's stubborn rejection.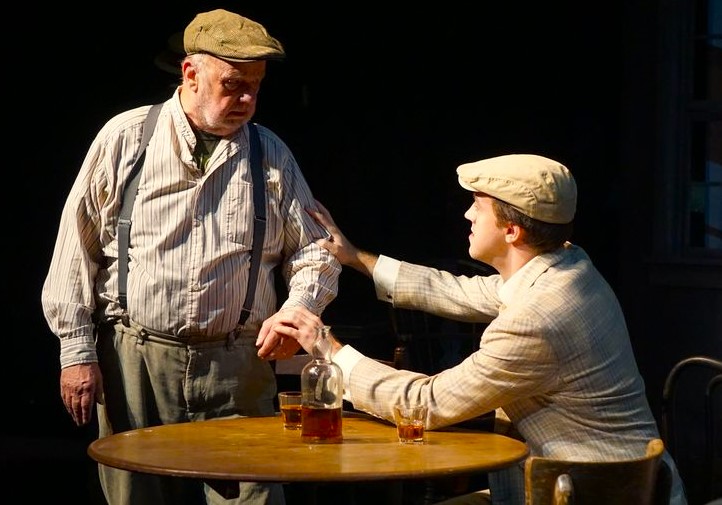 The original version of the play ran for four hours, yet at the time there were three twenty-minute intermissions for this rather wordy play. This version runs for two hours (not the three of the original overly wordy version). This production achieves catharsis and humor while folksy comedy is both appreciated and satirized.
Russ Austin as Harry Hope (who lives without an ounce of hope) conjures fatalism and self-pathos. Joseph Beem as the genial bartender supplying too many drinks on the house and watering the booze supplies a rare note of compliant sanity. Andy Crispell as Ed Mosher manages to illustrate humorous cliché as a droll, dull knife. Leon Williams (not mentioned in the program bios) contributes a welcome dose of dignified reality amid his pipe-dream boasting. Alex Skovan offers adept, cutting comedy. Jessica Boyd, Vera Perry, and Emily DePew, as the silly floosies, present effective, genial comedy.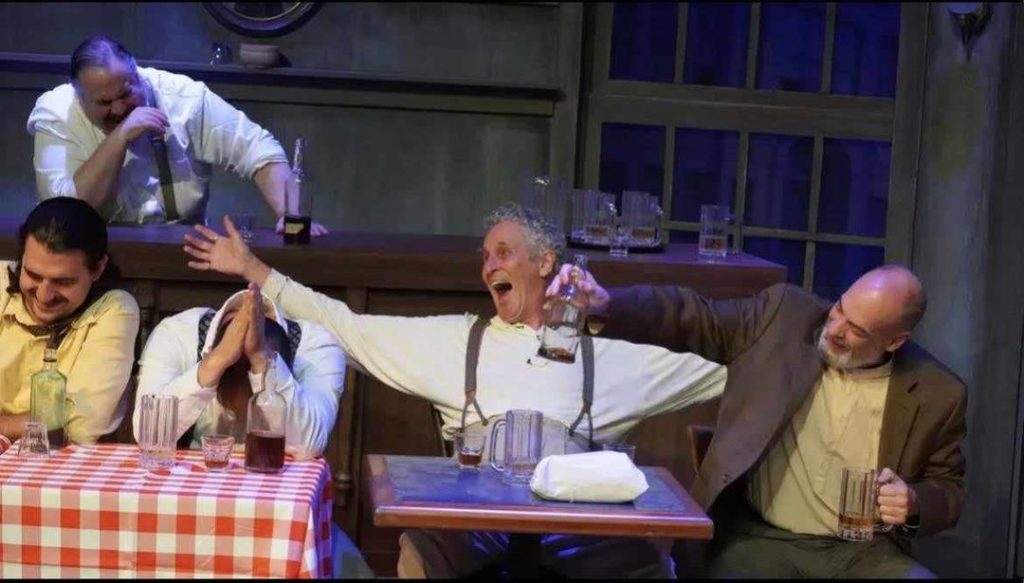 More than most plays, this production presents special problems for effective stage manager Wendy Urban-Mead, yet above all Director Donna Betts has honed the cast to speak rapid-fire dialogue with clear diction and gestural pathos.
This play is rarely produced. If you have not ever seen this play in a theater, this may be your last chance! Action photos above by Russell Austin.
The Ice Man Cometh runs until October 29. For more information or tickets click this link.
P.S. I grew up in Hicksville, founded by John Hicks, the first Englishman to settle on Long Island, (The Dutch were in Brooklyn.) Hicks was a cousin of Roger Williams. Roger exiled his cousin for polygamy. Four years after arriving, Hicks acquired a third wife. To be a hick means to come from nowhere. The town often had referendums on changing its name to something bland like Centerville, yet the residents kept the old name….