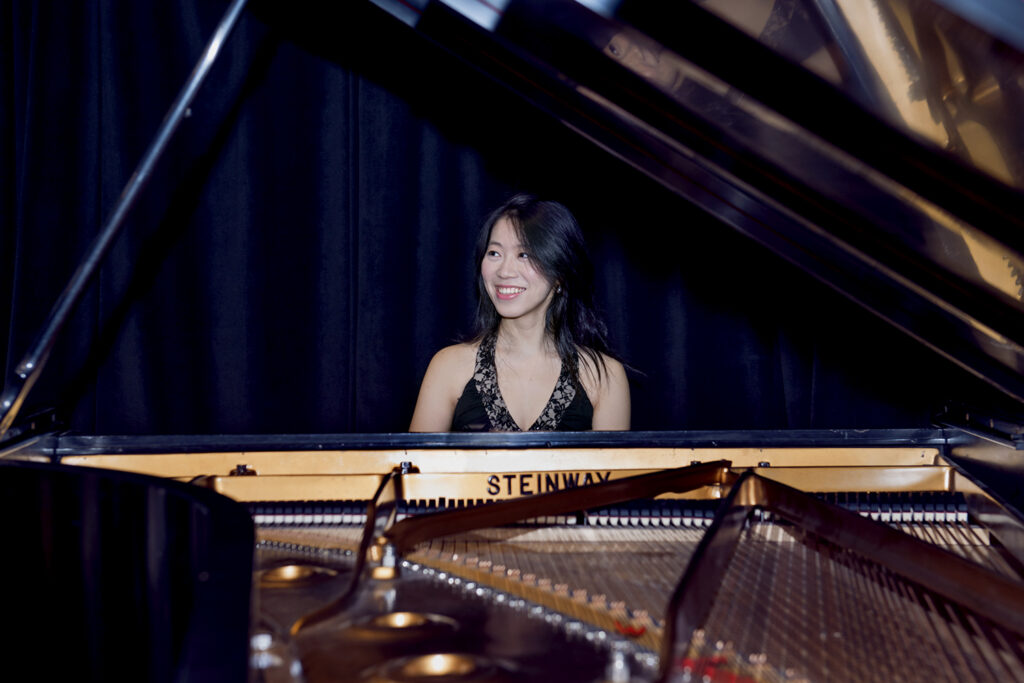 As piano soloist in Oberlin Contemporary Music Ensemble, Sophia Zhou recorded and premiered contemporary pieces by composers such as Andrew Norman, Benjamin Broening, and Thomas Ades. She is a highly sought-after collaborative pianist in the metropolitan New York area, working with Brooklyn Art Song Society, Mannes Opera, Bare Opera, Classical lyrical Arts in Italy, and others. She is also at home with harpsichord and chamber organ continuo playing, frequently performing with Mannes Baroque Ensemble, as well as Bach Institute in Emmanuel Music (Boston).
Sophia is a recent Graduate Piano Fellow in Bard College Conservatory of Music, working with acclaimed vocalist Stephanie Blythe and pianist/ coach Kayo Iwama in the Graduate Vocal Arts Program, as well as serving as secondary piano faculty for the college.–Kevin T. McEneaney
KM: You have performed as soloist and international chamber musician in the Royal Concertgebouw in Amsterdam, Carnegie Weil Concert Hall, Steinway and Son hall in New York City, Kennedy Centre in Washington D.C., Shanghai Concert Hall, National Library of Catalonia, Juventudes Musicales in Sevilla, and various house concerts around New York City. Recently, you have won the VBPA International Piano Award of Barcelona. What did you perform?
SZ: It was a really nice surprise to win a piano competition in one of my favorite cities, Barcelona! Growing up, playing the Austrian-Germanic tradition of piano repertoire, I offered those pieces that are close to my heart. I selected the youthful, sparkly Beethoven's Piano Sonata Op.10, no.3 in D major, the titanic Brahms' Variations and Fugue in the theme of Handel, Op.24, and Debussy's voluptuous L'isle Joyeuse.
In the last concert of the tour, I was so lucky to be able to play the entire recital on the great Spanish/ Catalan composer Enrique Granados' personal piano in the National Library of Catalonia! It was a gift from Mr. Ignaz Pleyel (the piano maker himself) to Enric Granados on occasion of his concerts at the Salle Pleyel in Paris in April 1911. As much as I would have loved to play a piece by Granados on his own piano, I felt that I wasn't well-versed enough in that sort of repertoire, and that the idea seemed a bit pompous (especially when the Titan pianist of Catalan piano repertoire, Albert Attenelle, was sitting in the audience…. Did I mention that he played the entire two volume of Albeniz' Iberia perfectly after a 24-hour flight to New Zealand? )
It was such a treat to play Debussy on that extraordinarily refined instrument. The sensuous long trill at the beginning of L'isle Joyeuse had such clarity and sparkling timbre to it, plus a warm tone. I still remember the sound so vividly to this day.
KM: This past Spring, you were appointed as the Artistic Consultant of Stissing Arts Center, Pine Plains, NY. What plans do you have for the Stissing Center's programs? And why have you chosen the performers you have selected?
SZ: The Stissing Center in Pine Plains, NY, is truly a hidden jewel! I am extremely grateful for the opportunity to curate a summer concert series with the help of the generous underwriters in the area. My vision was to create a program that engages musicians at different stages of their lives and careers, but share the same love, truthfulness, and dedication towards music.
As we all know, because of Covid, almost all the performing artists have been grounded from travelling and performing during the summer—usually a busy season for us. Because of the geographic closeness to Bard College Conservatory, we managed to draw some of the most sought-after artists at the height of their careers, especially Israeli/American pianist and conductor Benjamin Hochman, a piano faculty member of Bard, and from Cornell University, Lucy FitzGibbon and her extraordinary pianist husband Ryan MacEvoy McCullough;
One of the missions of the Stissing Center is to offer rising artists opportunities to perform in the Hudson Valley area. Among the younger generation, I have always admired violinist Mari Lee. In addition to being an awe-inspiring violinist and dedicated chamber musician, she also created and produced her own interdisciplinary project—Salon Seance. When I reached out to Mari Lee about the concert idea, she immediately brought along her long-time recital partner Mihai Marica, a regular performer in The Chamber Music Society of Lincoln Center. He is a formidable cellist from Romania with boundless imaginations in color and expression. The three of us presented a program of music by Debussy and Ravel in August.
Despite the drawback of not having a live audience, we partnered with renowned photographer and environmentalist J Henry Fair and his team, as well as pianist/ sound engineer Ryan McCullough. Together we created some wonderful archival videos of the concerts. They are still available at the Stissing Center website.
STAY TUNED FOR UPCOMING PROJECTS:
On September 26 at 4:30 p.m., Violinist Miranda Cuckson, a true force in the new music scene, and faculty member of the New School will go ON AIR at: https://thestissingcenter.org/miranda-in-concert/
Currently, we are working on engaging piano students from Bard College Conservatory to perform in the Stissing Center on October 3. In this challenging time for the performing arts world, it is never more important to offer young musicians a platform to showcase their work and passion. We are looking forward to sharing more information with the public soon!
KM: I have heard that you are fond of French chansons. The French have such a great tradition in that format. What period or librettists are you interested in? What poets or arrangers?
SZ: Several years ago, I traveled to Holland and, not without trepidation, played for one of the big-name German piano pedagogues: Bernd Goetzke, professor of Hannover Hochschule für Musik, in preparation for a recital. We started working on the famous Chopin Prelude Op.28, no.4 in e-minor, where the left hand plays a procession of languid chromatic chords accompanying a very sad melodic figure. Out of the blue, a serious-looking German professor (with a very dry sense of humor) started tickling the ivory, playing the opening piano solo of Ne me quitte pas by Jacques Brel. We rushed to the computer and listened to the whole song and I realized that the exact same melodic figures are everywhere in the song! I can never unhear that Chopin prelude again: it's always going to be our Ne me quitte pas!
That is how I got into French chansons, as nerdy as it sounds! I need not stress how beautiful and musical the language is and the aesthetics of poetry, an art form itself. Among all the greats, my favorites are Charles Trenet, George Brassens, Edith Piaf (of course!), Barbara, to name a few.
Last year, Stephanie Blythe (with love!) introduced me to Léo Ferré and generously loaned me one of his song books, after I drooled all over it. What a man! Apart from writing these vehemently passionate verses and singing himself, he did his own setting of the great poems by Villon, Baudelaire, Verlaine, Rimbaud, Apollinaire, and Aragon. I found it very inspiring that he insisted on his beliefs and values throughout his life and would not compromise his freedom of expression for anything.
KM: It has been announced that you are working on a two-year project of translating Jan Swafford's Brahms biography from English to Chinese, to be published in 2025. What drew you to Brahms and the complex story of his life? What peculiar challenges do you face in this project?
SZ: At the end of the day, Brahms (along with Bach and Richard Strauss) is my favorite composer. I found the juxtaposition of passion versus disciplined in his works terribly moving. On one hand, his music approach to compositional technique (writing counterpoint exercises every morning for 20 minutes!) is quite intense!
When I was studying in Vienna and enjoyed the convenience of European Train System, I made countless trips to follow in Brahms' footsteps: starting from Hamburg where he was born, to Wolfgangsee in Salzkammergut where he took his father for a walk shortly before his death. It was a revelatory trip to me. I finally understood the beginning of the Second Symphony when I saw the sunlight slowly changing the color of the water at Wörthe Lake, where he spent his summer of 1877. I can never hear the warm horn calls without visualizing the Austrian Alps.
It's quite important to establish a personal connection with the composer you love. That is why when the translation project came along, I happily accepted it without realizing the tremendous amount of work. I now have tremendous respect for people who work with words!!
As in all translation projects, it remains difficult to transfer all the connotations of a word from one language to another language. For example, I had a difficult time translating the word misogynist, which the biographer thought Brahms had the tendency to be. In Chinese, I would write something like women-hating person, which sounds much more definitive than the English word, but then obviously the better half of the Chinese-speaking community would declare Herr Doktor Brahms the Enemy. That is just one example of many which explains why it's taking so long to finish this project.
KM: The thinking process of Westerners tends to organize in categories and linear constructs, while Easterners incline to think of the relative relationship of concepts amid the layering of comprehending complexities. I suppose that this is the result of the immense influences of Aristotle and Confucius. As a composer, Tan Dun often appears to be able to resonate in both aesthetic worlds, as does the young composer Corey Chang, who studied at Bard and is now at Juilliard. What other contemporary composers inhabiting both worlds do you find interesting?
SZ: This is an interesting topic and certainly much talked about. I remember reading an interview with my favorite Chinese pianist Fou T'song where he compared a piano sonata of Schubert with ancient Chinese poems written in 800 B.C. The sentiment and state of being resonated perfectly with each other despite being so far apart in geography and nearly 3,000 years in time. It is so beautiful, isn't it? When you suddenly realize that these two are both talking about this quasi-resigned feeling after having gone through so much in life.
However, being born in 1991 and raised in a historically international and bustling city of Shanghai, I never felt a hard divide between the East and the West. We were trained to recite thousands of ancient Chinese verses and prose in school while practicing Beethoven, Mozart, and Schubert hours on end since childhood. These influences plant seeds in our minds and inevitably germinate, sprout, and blossom in the later artistic works. That is why I loved Tan Dun's music since I was a kid—it speaks for this mix of culture and expresses it so organically.
Recently I have been fascinated by the music of Berlin-based South Korean composer Unsuk Chin, whose music tastefully and interestingly reflects so many styles and cultures. She is influenced by György Ligeti, Bartok, electronic music, Balinese Gamelan, etc. Her style resonates with me because the forms and words characterized by certain historical and cultural contexts. We are all trying to arrange sound and rhythm to express our feelings and state of being, which is ultimately universal.
KM: I find it fascinating that you practice Yoga. So much of music happens in the relationship of silence to sound—the timing of rhythms. This relationship of silence to sound was essential to the work of John Cage, and in a different way, to Phillip Glass. Do you have any thoughts on meditation and discipline in the performance of music?
SZ: I always find the trance state we enter during performance remarkably similar to yoga practice. We have been trained from a young age to think critically, to identify and solve problems in order to navigate in this complex modern world. But we were never taught how to be present with and within ourselves and our surroundings. For performers, learning to be present is a skillset just as important as critical thinking. For me, that's where yoga and meditation unites. Only when you silence your mind, can there be space for music to flow freely. Easier said than done!
I think all performers will agree with me in that: we musicians are just artistic athletes!! Yoga is tremendously helpful (and lifesaving for musicians on busy schedules) for body awareness, flexibility and injury prevention. I can talk days on end about the benefits of yoga for performing musicians. But here I would like to recommend all performers a wonderful book, mentioned to me years ago by one of my favorite woman pianists: Ewa Kupiec (professor at Hannover Hochschule für Musik and an avid Ashtanga yoga practitioner): Flow in Sports- The keys to optimal experiences and performances.
I go back to it every time I hit a block in performances.
KM: What pieces are you working on now?
SZ: Coming out of a very intensive two-year postgraduate fellowship in Bard College Conservatory, I cannot find a better project than Bach's Goldberg Variations to rejuvenate and recenter my musical vision. I would also like to learn them in loving memory of the late Peter Serkin. That will keep me busy for a while….
On the lighter side, I am planning on doing some chamber music sessions with close friends. With a tough winter ahead, we need a supportive musical community more than ever. I am relearning Schubert's Piano Quartet in B-flat major to prepare for an upcoming concert. I just heard William Bolcom's Piano Quartet on BBC Radio 3: I am going to order the score right now!
Oh, I also take requests! Anyone?
KM: Thank you for being so gracious with your time!