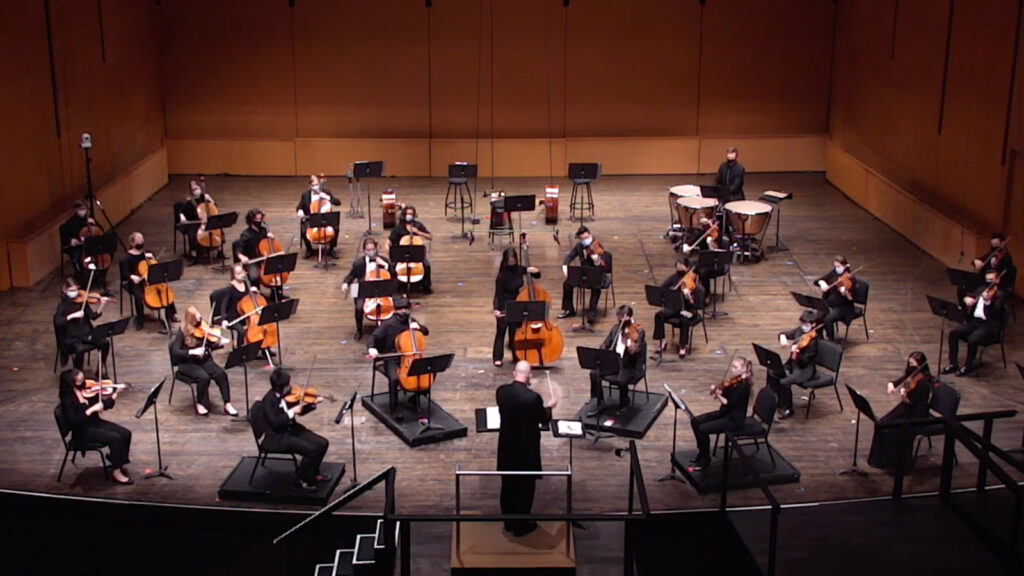 by Kevin T. McEneaney
Under the baton of Leon Botstein, The Orchestra Now performed superbly an unusual program of music, offering an intellectual dialectic on the history of classical music which opened with Witold Lutoslawski's twelve tone Musique funèbre (1958). This work, in memory of Bela Bartok, became Lutoslawski's signature stylistic break through which made him an important international composer. I was particularly excited since Lutoslawski's work remains under-represented in U.S. repertoire performance. (Naxos offers a good, inexpensive ten disk set.)
Introduced ably by cellist Chris Collins, the sonority of the work increases with unusual sounds while the intervals freight a mediative quality with a density that remains unusual. Lutoslawski was a violinist and the violin lines are mesmerizing. Despite the twelve-tone technique, there is a tri-tone canon, triple-forte climax, and the opening refrain finds repetition in the coda finale. We move onward with the legacy of the past (Bartok) to a new future. That students can play such a difficult work with relaxed and intense passion was an exciting miracle.
While much of the piece sounds like political and personal artistic allegory, the work in our current context also projected amid the elegy a reconstituting hope not only for contemporary reinvention of music, but for a medical hope that the ordeal of our pandemic will eventually restore our psychological and physical health.
Introduced by violinist Esther Roestan from Indonesia, Serenade for Strings by Teresa Carreño (1853-1917), a noted pianist, improviser, composer, and opera singer who is not to be found in most musical reference works and who was an occasional piano teacher of composer Edward MacDowell) offered a Romantic composition that achieved majestic grandeur in the opening Andante that morphed in the next movement to energetic cheerfulness with arresting conclusion. The third movement opened with a wonderful cello lead that appeared to describe the rural graces of Nature during an afternoon that faded to sunset with a most serene setting. The concluding lively march appeared to summon the dramatic sunrise of a new day, which appeared to be an allegory for the hope of a new political era where the horrors of the Civil War and slavery would give way to a new day of freedom for all, including the role of women.
Violinist Joyce Lee from Hong Kong introduced J.S. Bach's Brandenburg Concerto #3 for stings in G by pointing out that it was originally performed with 9 solo strings plus harpsichord. Conductor Botstein noted that it has since been performed by a wide assortment of instruments. I counted twenty-nine strings plus piano on stage. Famous for its contagious optimism and delightfully hypnotic refrain, this performance evoked the intense joy for which it is so famously renowned.  
The concert concluded with Arnold Schoenberg's early Transfigured Night (written 1899, performed 1902), perhaps his most often-performed work. Introduced with eloquence by violist Sean Flynn, we hear that it is based upon a poem of Schoenberg's friend Richard Dehmel that recounts the story of woman bearing another man's child as they walk in romantic moonlight. They decide that their adulterous love transfigures the night as well as the child within her womb. Opening with a marvelous viola solo, this creates a slow dramatic mood of apprehension, eventually transformed into tumultuous ecstasy. Both the atmosphere of fear and the exultation of hope for a new child to nurture was expertly evoked; the lovers will defy societal norms in a reversal of social tragedy empowered by love and joy.  
All four of the works performed concluded with traditional Dionysian reversal. Lament turns to transfigured joy in a hope for a new future. This satisfactory thematic program of musical reversals became a tonic during our difficult time of pandemic. But most of all, it was the meticulous unity and intensity of all four performances that made this a memorable concert. I am sure that the orchestra was thrilled by the deeply approving, heartfelt, nod Dr. Botstein gave the orchestra at he rested his baton.