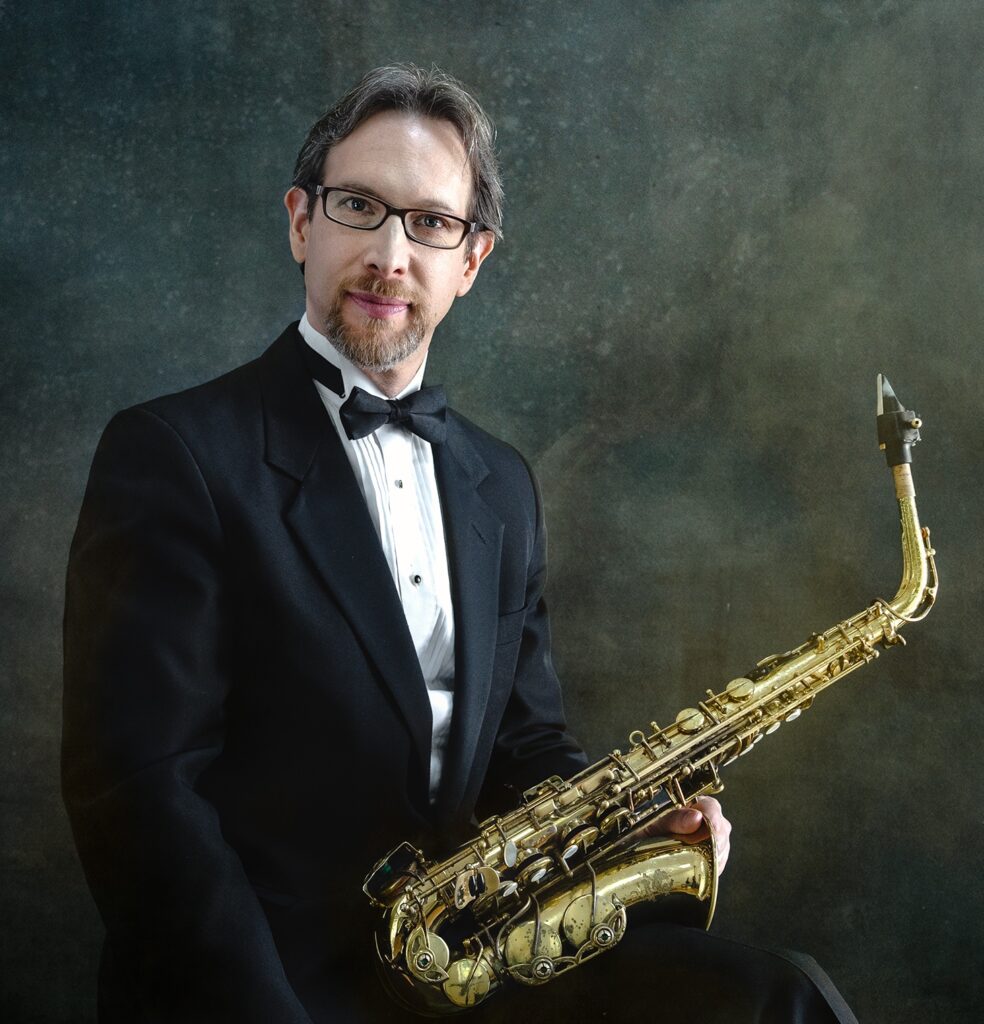 KM: When did you show an interest in playing an instrument?
CB: In 5th grade my mother told me I had to pick an instrument to study and that it could be anything except the violin, because it takes so long to learn how to play in tune, and the drums, because it was too loud. I picked the saxophone!
KM: Who were your most influential teachers?
CB: I started taking lessons on saxophone in 5th grade from flutist Flo Flumerfelt who had a mobile home she would park on the street outside of my elementary school once a week. My first saxophone teacher was Peter Rothbart who I asked one day to teach me how to play jazz for a performance in two months; I did not realize how short a timetable that was, so after he got off the floor and back into his chair, he gave me a list a jazz-saxophone legends to listen to, which started my love of jazz.
I then studied with jazz saxophonist Joe Salzano, before attending Ithaca College where I studied classical saxophone with Dr. Steve Mauk. At the time, I only wanted to play jazz, but Steve provided me with a profound understanding of the saxophone that allowed me to take-on professional classical opportunities.
Like many jazz musicians I eventually moved to New York City and studied jazz saxophone with Ralph Lalama and Ted Nash, improvisation with Mike Holober, and arranging with Jim McNeely. Although I didn't want to study classical saxophone as an 18-year-old; as a 34-year-old that changed and I thoroughly enjoyed studying with Paul Cohen, who gave me a copy of an unpublished composition by Aaron Copland which became the center piece of my dissertation and world-premiere recording. That album is titled Quiet City and can be purchased at Amazon other recording outlets.
KM: Which saxophone players do you most admire? And why?
CB: For jazz saxophone, I admire the technical perfection and energy of Michael Brecker, the emotional spirit and warmth of Dexter Gordon, and creative evolution and dedication of John Coltrane.
For classical saxophone, I admire the tonal purity of Claude Delangle; the breadth of styles performed (and knowledge of) by Nicolas Prost.
KM: In what ways do you see that the saxophone has great diversity and range?
CB: Most people are familiar with the sound of saxophone from recordings of jazz big bands or rock groups of the '80s. When I played the solo from Maurice Ravel's "Pictures at an Exhibition" at Carnegie Hall, many people told me that they had no idea that the saxophone could be so delicate and refined. The diversity of sounds that the saxophone can create allows it to play a pivotal role in multiple musical styles.
KM: You recently re-constructed lost performance works that were played in the Hudson Valley during the Gilded Era. What led to this project? Can you comment on the difficulties and triumphs of the project?
CB: I moved to Poughkeepsie thirteen years ago and fell in love with visiting the beautiful 19th century mansions all along the Hudson River, but it always made me sad to take the house tour and not hear any music. These homes would have been filled with music and the pianos sitting quietly for decades seemed to promise exquisite beauty if they could just be played again.
One day I asked the tour guide for the Crawford House in Newburgh if I could play the piano and to my surprise they said yes! This became a year-long sabbatical project where I researched the stories of families and their Hudson Valley homes and then performed music that they would have heard. I'm in the process of creating a documentary series and have excerpts available on my YouTube channel from Crawford House, Boscobel House & Gardens, and Lyndhurst, and am working on editing footage from Montgomery Place.
Now that the creator of Downton Abbey has written a new series called "The Gilded Age" set in 1882 New York City for HBO, I think even more people will learn about the amazing stories, culture, beauty, and challenges faced during that time. I was recently on the phone with the casting agency for the series and they asked me to put together a 30 person orchestra to be filmed in Troy, New York, this summer! I'm hoping that will lead to an opportunity to share my research with the creators of "The Gilded Age" and that some of the forgotten gems I uncovered can be used to elevate the story.  
KM: What other projects are you working on?
CB: The Dutchess Community College Academy of Music Benefit to raise money for student music scholarships. This is a new program in our county.
The Academy of Music (AOM) has established partnerships with K-12 public school music teachers to provide individual music lessons and classes to deserving elementary through high school students in Dutchess County. Some of these students have gone on to enroll at DCC as college students, effectively creating a "pipeline" from credit-free to credit programs. If a class is not filled, we also admit adults who wish to learn more about music.
On February 20 at 7pm, we will be broadcasting a Virtual Benefit Concert. You can learn more about this exciting and innovative program at https://1406.thankyou4caring.org/musicscholarshipbenefit. Please help, as we provide, "Music for All."   
KM: Finally, do you have any favorite saxophone jokes to cheer readers with a parting laugh?
CB: The saxophone can be a pretty raucous instrument sometimes, so I've always remembered the joke: "What is the difference between a saxophone and a lawn mower? Vibrato!"