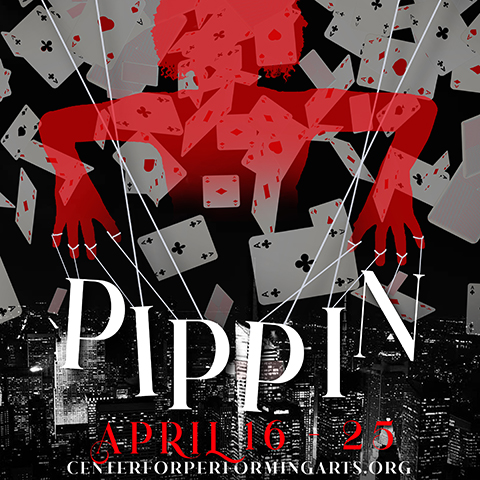 On a quest to find his "extraordinary" life, Pippin struggles through the everyday just being ordinary. Having experimented with every possible path to fulfillment he realizes, with the help of a widow and her child, that the most fulfilling road is a modest, ordinary life.
With music and lyrics by Stephen Schwartz and book by Roger O. Hirson, Pippin won 5 Tony awards in 1973 including Best Direction and Best Leading Actor in a musical (Leading Player), and four Tonys in 2013 including Best Musical Revival, Best Direction and Best Leading Actress in a Musical (Leading Player).

Directed by Jovan Bradley, with music direction by Paul and JoAnne Schubert and choreography by Cedric James.
Starring Ben Simonetty and AnnChris Warren. Featuring Ory Lopez, Jess Lyke, Amy Gustin Millin, Howie Riggs, Kyrie Sweet & Laurie Woolever.  With Emily Fuller, Cedric James, Jennelle Liscombe, Amber McCarthy & Joei Vita.  
Pippin will be performed at The CENTER and will be available at show times to stream to the comfort of your home.
In order to purchase tickets, you must place order before 5pm on show days. That day's link will be sent no later than 5:30pm.
April 16 – 25
8pm Fri & Sat
6pm Sun
Tickets: $30 for a household pass (no limit to attendees)
Streaming into your home!