by Kevin T. McEneaney
On April 10 under Leon Botstein's baton, The Orchestra Now opened with Ácana by Tania León, a rather prolific Cuban composer (b. 1943). The title refers to a tree wood found in the Caribbean, especially Cuba. This work was original, mysterious, redolent of the forest. Horns and flutes acclaiming sunrise opened the work and we were plunged into the jungle of odd rhythms with dissonant undergrowth, sinister turns, and eventually a rather lengthy rainstorm which became oppressive until the return of sunlight at evening, a haunting reversal freighted by horns that resonates in my memory.
Leonard Bernstein's 1954 Serenade (after Plato's Symposium) provided a meditation on one of the most interesting and debated of the philosopher's work which features a legendary drinking party of seven friends speaking about Eros. In five movements the music dramatizes the personalities of the characters with the solo violin appropriating the voice of Socrates, played by star violinist Zongheng Zhang, winner of the 2020 Bard Conservatory Concerto Competition. Zongheng played with the dignity and eloquent assertion of an ethereal Socrates. While Bernstein found himself inspired by a re-reading of Plato's work, it may be tendentious to take the program literally. Bernstein himself said is to be "the natural expression of a contemporary American composer imbued with the spirit of that timeless dinner party." This work is usually considered to be Bernstein's finest orchestral work. Although this orchestral chamber work presents an array of intellectual puzzles, its arc is pleasant and exciting on the surface. It was a treat to hear, especially since it is now not often performed.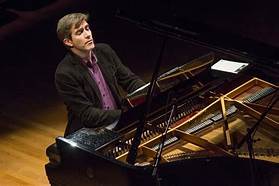 Igor Stravinsky's Concerto for Piano and Wind Instruments (1923–24, rev. 1950) was then performed with pianist Blair McMillen on the keyboard whose sound had been eccentrically shaped by Igor's unusually large hands and sudden shifts in tone and rhythm within his neo-classical period style. While the piano appears at first merely as an accompanist, then conversationalist, it eventually challenges the orchestra to move to greater heights of intensity. At this point the demands on the pianist with horns encouraging the piano are nearly demonic and McMillen proved the piano equal to any orchestra as the piano in act becomes the real conductor as well as prime instrument. The sudden and abrupt conclusion, like an afterthought pointing out the self-evident, usually discovers that the audience remains unsure that the work has ended.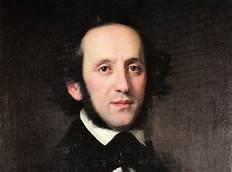 Among his five symphonies, Mendelssohn labored more over the composition of his Symphony No. 3, which was published after No. 5. Since its original inspiration occurred when (at twenty) he visited Scotland, it is commonly called the Scottish Symphony, which remains Mendelsohn's most often performed concert due to its majesty and thrilling horns that remain ringing in your head long after you have arrived home. The unified performance of the orchestra shivers one's bones, even on YouTube, yet I yearned with solemn regret that I was not present bodily in Sosnoff Theater with its great acoustics.
I assure you this performance is worth more than one hearing on YouTube: https://www.youtube.com/watch?v=rkC5F_DT1Ak