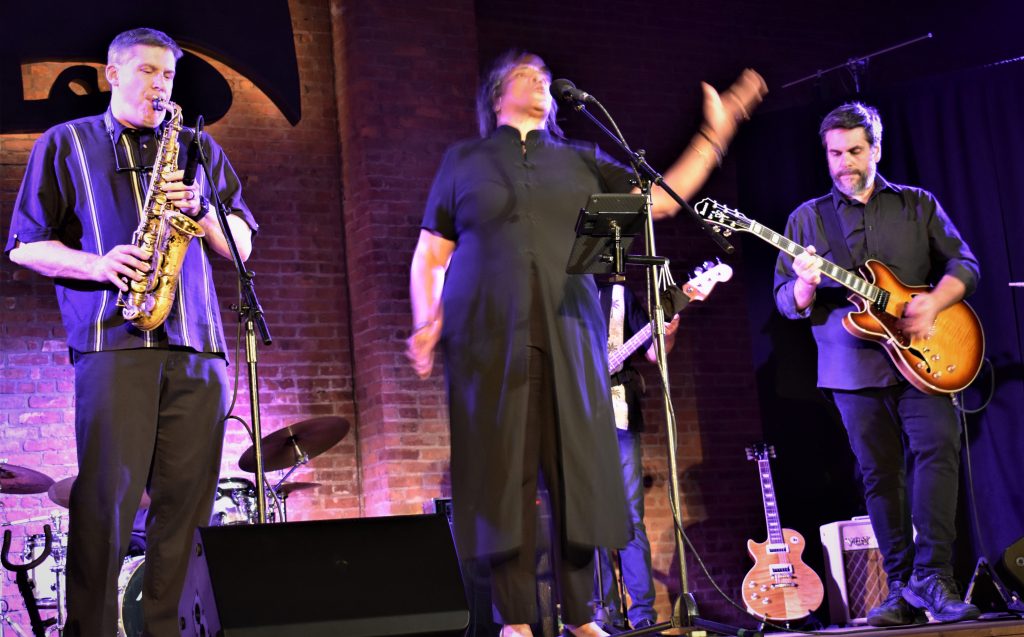 by Kevin T McEneaney
While most contemporary pop bands are fussing over how outrageous and flashing their goof attire and make-up can be (how much mascara to mesh around one's eyeballs or to what heights they should dye their florescent hair colors) as they re-arrange their plaintive lines about how nobody notices them, or how painful their adolescent years were, Misty Blues Band has decided to forego faux creativity and deliver their own musical slant on great gutsy classics.
These six musicians are rooted in jazz, funk, and especially blues with dynamic front singer Gina Coleman (formerly lead singer for the Cole-Connection). With new blasting arrangements, full of subtle spice and edgy maneuvers, the theme of Saturday night's concert was the four Queens of the Blues (title of one of the band's albums).
Misty Blues hefts that big band over-the-top sound that one rarely hears in this part of the country with Aaron Dean's exploding cheeks and neck on saxophone, dazzling with subtle segues and raw vibe asides. David Vittone of Pittsfield pounded that piano and joked that it would need a new tuning as he melded intense spontaneity and lyrical riffs.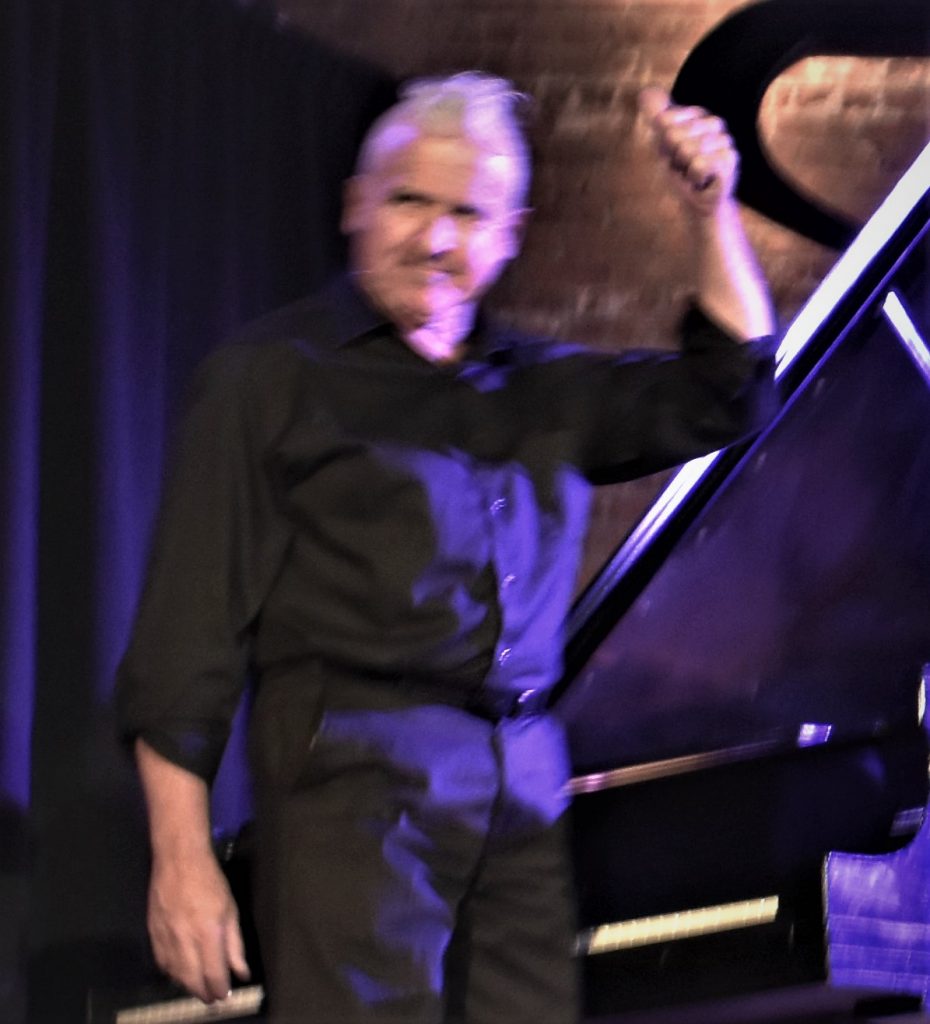 Front tenor guitarist Seth Fleischmann was featured in a preponderance of blues solos and wailed nimble nuance. Underneath everything was the throbbing bass guitar undertow supplied by Bill Patriquin, and the handsome rhythmically skilled drummer Diego Monque (Gina Coleman's son). One sat with astonishment and was often tempted to dance and shout!
Based in the Berkshires, their regular tour traverses all of Massachusetts, including Cape Cod. And yes, they do have their many own gritty originals written by Gina Coleman. Hey, they are devoid of narcissism and screaming, repetitive riffs, and are deep into historical nuance; they are seasoned musicians who have been around the block a few times.
The single one-hundred-minute set opened with The Empress of the Blues, Bessie Smith, with a leer of raunch: "I need a little sugar in my bowl" (1931). Coleman belted in out with a playful growl, then followed up with W.C. Handy's famous "St. Louis Blues," which Smith popularized, then "Nobody Knows you when you're down and out," in Smith's version, recorded by Columbia in 1929, two weeks before the Wall Street crash. Coleman's deep blues voice has a wide register range, and she has no intention of rendering imitations. Likewise, with the orchestral re-arrangements.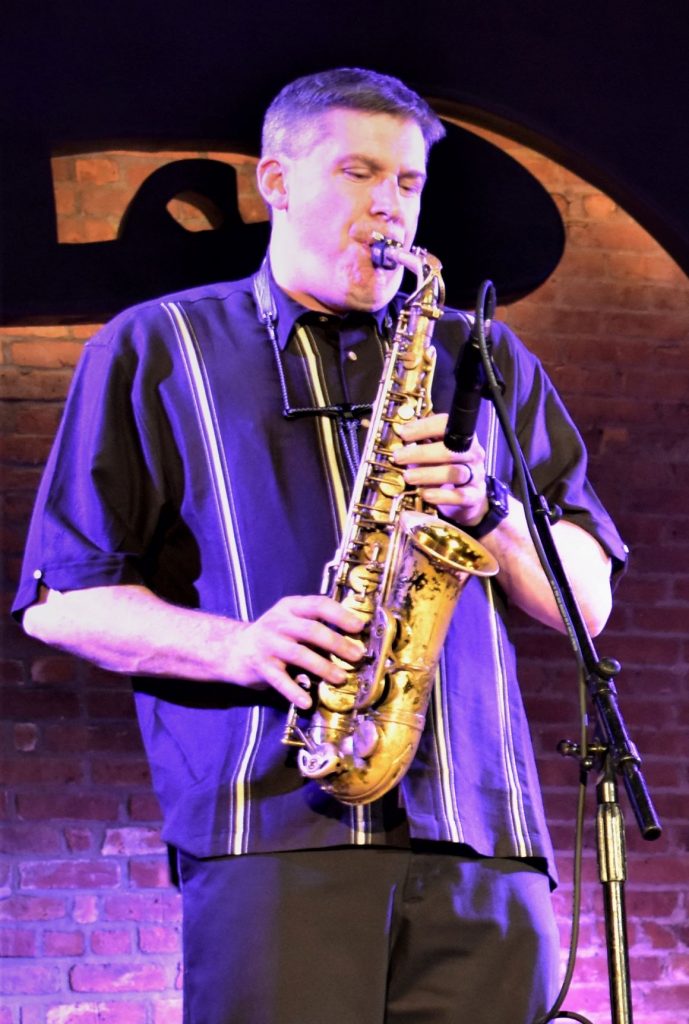 Coleman jumped to Big Mama Thornton's "Ball and Chain," which Janis Joplin popularized with Big Brother and the Holding Company at the 1967 Monterey Pop Festival. Coleman's version was closer to Big Mama's original, yet the band this time skulked in the shadow of Big Brother and the Holding Company. Coleman performed a slightly censored version of the original 1952 "Hound Dog" (Big Mama's only big-time hit) by Stoller and Lieber (which sold over two million copies before Elvis Presley covered it by gutting amusing lyrics with his blatant sexist version, whinny Southern drawl, inane repetition, and cashing in more money and fame). Joplin discovered Big Mama singing for drinks in a San Francisco bar and created a world tour retrospective for her, so she could retire decently.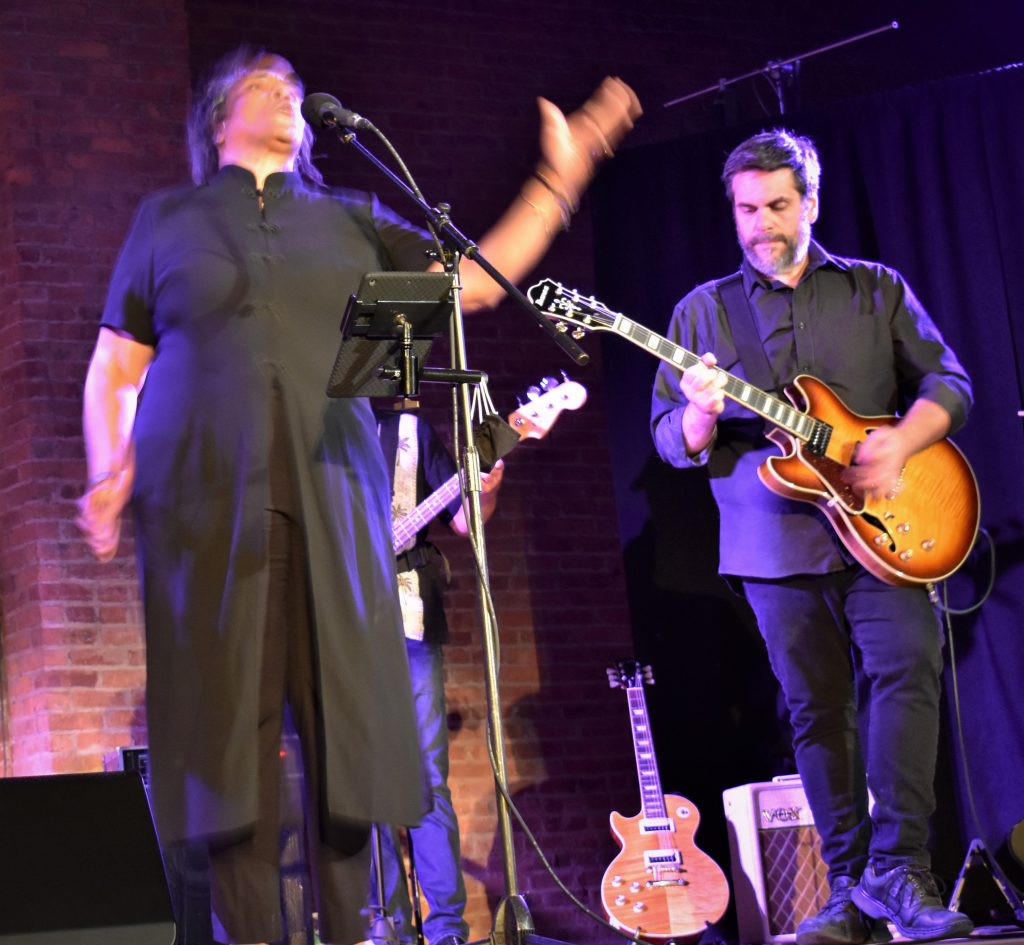 Next up was the more seductive Ruth Brown, Queen of Rhythm and Blues, with one of my favorites, the amusing "Too Many Men," which offered a cornucopia of perhaps too many round-robin solos by the too many men, but, man, they were terrific solos and the best improvisations of the set! (Special applause to Dean blowing and howling with Vittone picking and teasing sparking blue notes!)
Koko Taylor's "29 Ways (To Get to my Baby's Door)" was next, although it lacked the softer edges of Taylor's version, but had more upbeat robust humor. I would have loved to hear their version of Taylor's "Insane Asylum" to put the crowd over the edge. The audience interrupted with stand-up ovations several times.
We could have stayed up all night with some help by Ma Rainey or Etta James, but that may be for another day. It is wonderful that good local music is now coming back after a year of pandemic silence!
Twelve Misty Blues cds from the past twenty years were for sale; most of these featured originals by Gina Coleman. I bought her latest disc and was not disappointed. Gina Coleman has THE VOICE. Catch her if you can!