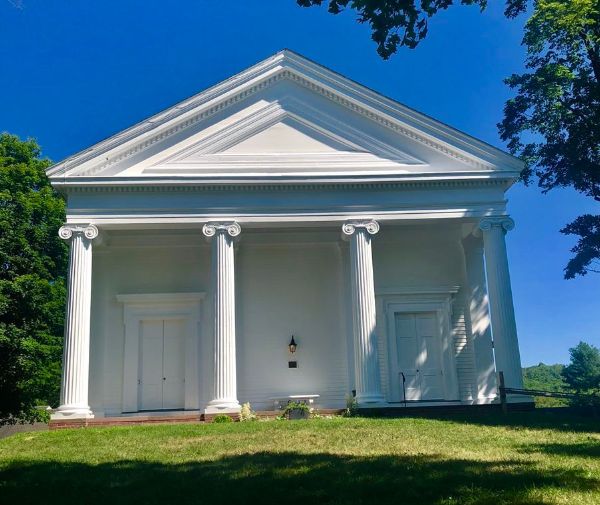 Preview
by Kevin T McEneaney
What is the best way to enter the Holiday Season with optimism springing in your step? Attend a concert, of course!
The sixteenth annual Christmas Concert & Tea at Smithfield Church in northwestern Amenia will be held on December 4th at 4pm. The Smithfield Church Orchestra will feature eight talented musicians with a program arranged and directed by noted horn player Matt Finley. The Concert at 656 Smithfield Valley Road (Route 93) remains free. The program:  
Carol: "O Come All Ye Faithful," Hymn #133, verses 1 & 3
March from The Nutcracker Suite, Pyotr Tchaikovsky
Trio Sonata in G major, BWV 1038, J. S. Bach
Rev. Grandgeorge, poem, W. B. Yeats, "Down by the Sally Gardens"
Down by the Sally Gardens, arranged by John Rutter
A Child's Eyes, Matt Finley
Why & When, Bert Van Der Veen
Offertory on Greensleeves, Dr. Hampson Sisler
Poem: "Christmas Spirit" by Kevin T McEneaney
Carol: "Angels We Have Heard on High," Hymn #113, all verses
Le Tombeau de Couperin, Maurice Ravel
Lakmé Flower Duet, Léo Delibes
Christmas Oratorio, BWV 248 Part VI, J. S. Bach
The Christmas Waltz by Sammy Cahn & Julie Styne
Carol: "Joy to the World," Hymn #134, verses 1 & 4
Attendees must wear masks and for the fabulous, sumptuous Tea that traditionally follows, attendees must be vaccinated. Sometimes an unannounced celebrity musician often swings by to accompany the orchestra. There is now chair lift access for the disabled at the Church. I freely admit that I am a mentally compromised individual on this subject of this event because I have been part of the event for many years. I hope to see you there!