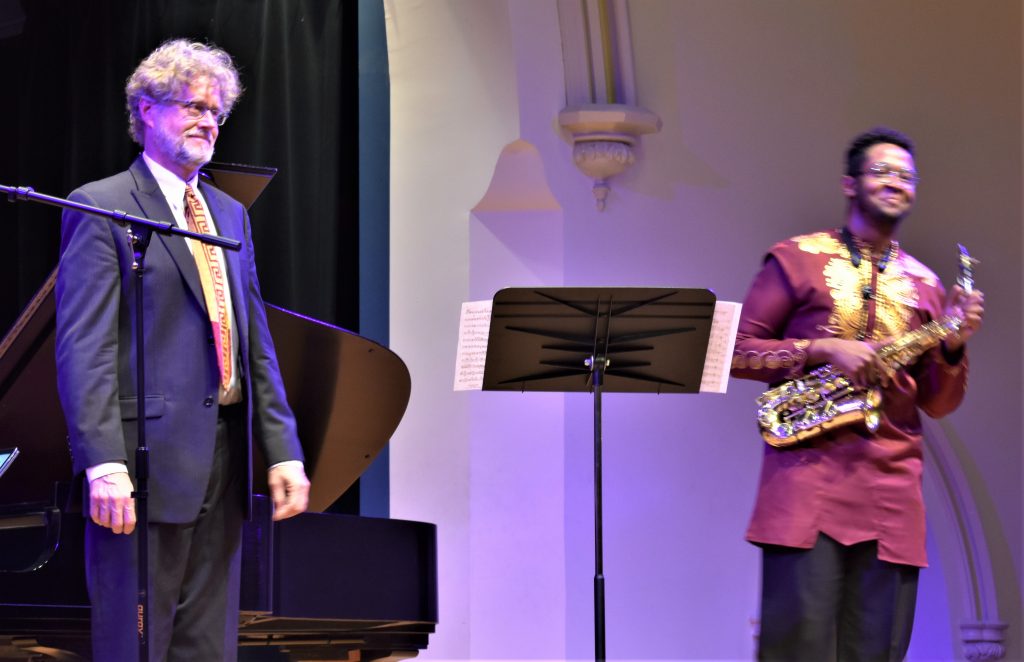 by Kevin T McEneaney
Eugenia Zukerman's Clarion Concert series is back! At St. James Place in Great Barrington, Saxophonist Steven Banks and Pianist Xak Bjerken delivered a memorable concert that still rings in my ear hours later. At 28, winsome Banks is a formidable star in a new generation of superlative musicians. He plays with the Cleveland Orchestra and the award-winning Kenari Quartet. Xak Bjerken has worked with György Kurtag, Sofia Gubaidulina, Steven Stucky, Stephen Hartke, Naxos released his recording with Jesse Jones last month. His work is featured on five different labels.
They opened with Sonata in E-flat Major, Op. 19 by Paul Creston (1906-1985). Creston was born Guiseppe Guttoveggio, son of a Sicilian immigrant; he sensibly changed his name to Paul Creston. He studied choir and organ at St. Patrick's Cathedral, NYC, yet taught himself the art of composition, composing five symphonies. Noted for the deep emotional power of his work, Creston's early sonata with its dense harmonies, lyrical digressions, and lively rhythms presents a dialogue between sax and piano.
Between the pure tone of Steven and the immaculate dexterity of Xak, fierce energy flowed into emotion. While the sax leads in the first movement ("With vigor") there is a sudden piano solo that expands the musical lines as the sax stands silently by as if to chime in with "I get what you're going." The delicate lyricism of the second movement ("With tranquility") appeared to be a welcome bucolic glance at the rear-view window of life. The third movement ("With gaiety") certainly lived up to its billing with its vibrant rhythmic drive which made one wish to dance. This structure was, of course, Antonio Vivaldi's old recipe of fast-slow-fast movements, an archetype that never dates, yet unlike Vivaldi, Creston had warm, inviting, harmonic texture. I'm not familiar with Creston's work, but this is the kind of concert programing that offers excitement and exploration by wandering off the beaten path.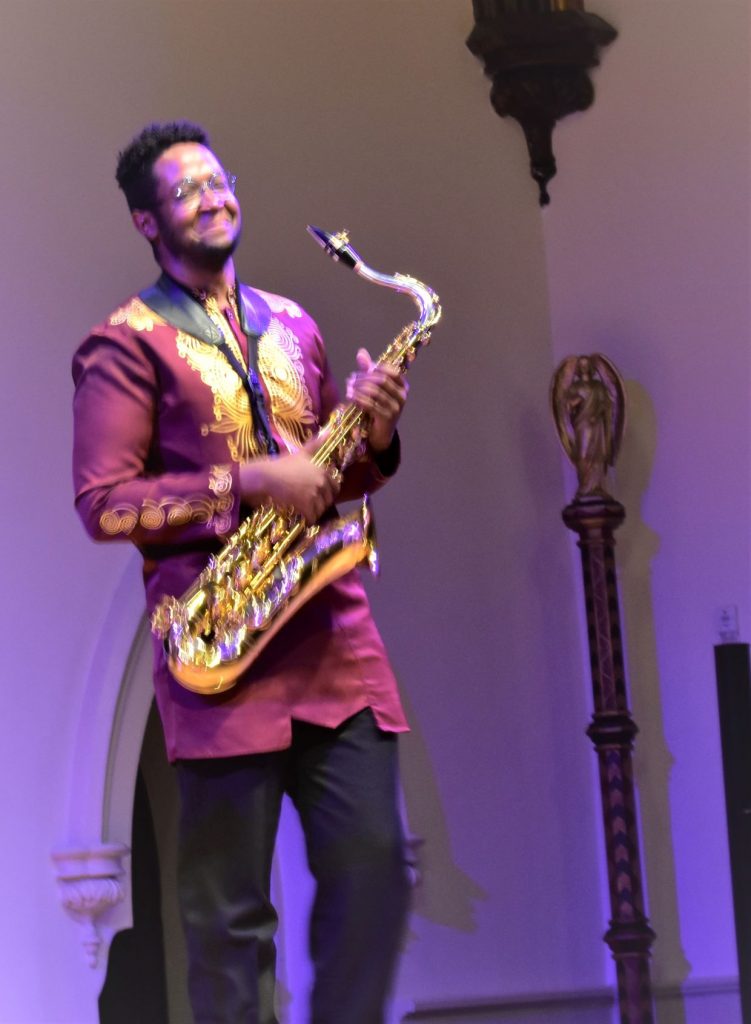 Sonata in C-sharp Minor for Alto Saxophone & Piano by Fernande Decruck (1896-1954) was another unfamiliar jewel. A French improvisation organist who toured the US, she wrote over forty works for saxophone—this composition being perhaps her most famous. Published in 1943, she arranged this work also for viola or orchestra. This composition was recorded by Quator Ellipsos and released earlier this year with the title Saxophone published by Nomadmusic in France.
The energetic first movement was taut with jazzy edge; the second movement was dreamily impressionistic with the feeling of snowflakes falling; the third gracious for the gifts of life with a feeling of walking on air; then a concluding Nocturne that appeared to bring down the curtain, until it turned into a celebratory Rondel!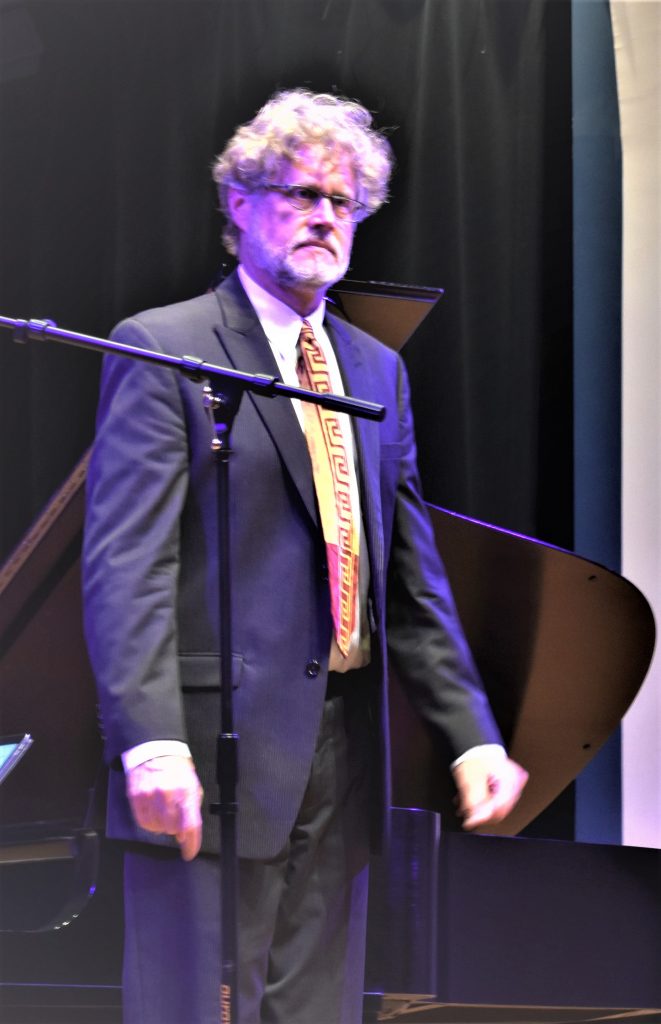 Glancing backward to 1894, Sonata in F Minor, Op 120 for Clarinet & Piano by Johannes Brahms (1833-1897) was the penultimate piece of chamber music composed by Brahms. Here performed with sax, there is a tender melancholy where the sax can more fully express the grieving lower register, although some of the transient sweetness of the clarinet is lost. The piano remains fiercely robust and extroverted. The lyric opening of the first movement in three sections suddenly turns to epic elevation, then recedes in a mellow coda; the concluding fifth "Vivace" contains unexpected comic digressions, as if Brahms is poking fun at himself for past errors. The piece is regarded as a pinnacle masterwork.
Against this backdrop, Banks proceeds to compete with his own work, Come As You Are (2021). The composition is based upon the four favorite spirituals of the women in his family: mother and three sisters. "Lift My Eyes" was based upon "My Lord, What a Morning." "Times of the Storm" upon "Wade in the Water." "Strength of My Life" upon "His Eye is on the Sparrow." "Lift My Hands" upon "I Still Have Joy." Yes, at the age of 28, Banks is competing with the late masterpieces of Brahms, but in an African American vernacular of his own devising that is simply wonderful to hear! You can hear this work on YouTube, yet the real thing remains live…
And I want to add that Xak Bjerken's fingers on the keys were dazzling and thrilling!