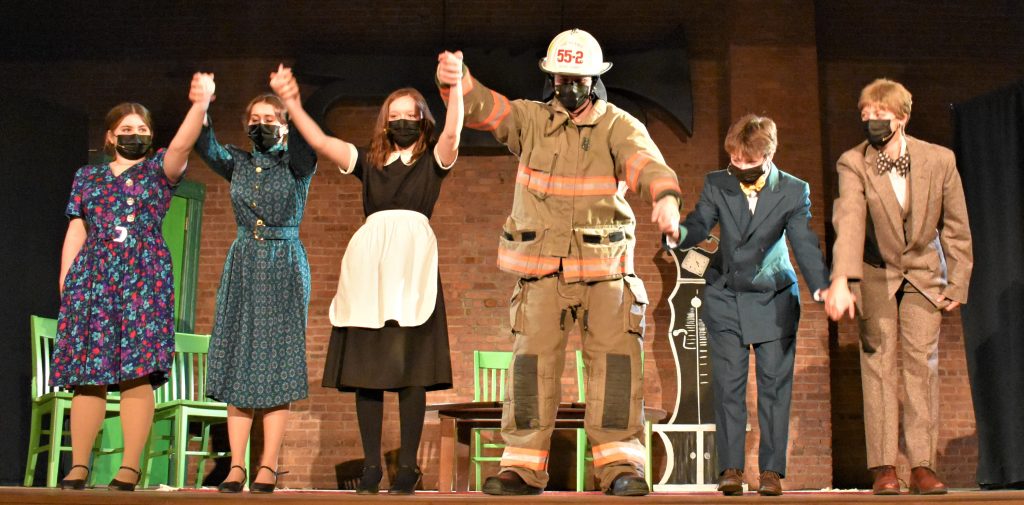 by Kevin T McEneaney
This past Friday and Saturday night, Stissing High School at The Stissing Center performed Eugène Ionescu's lithesome play The Bald Soprano, under direction of English teacher Greg Locker, who prefers to employ Old Baskerville, a very pleasant but not often employed typeface.
In presenting a play not often performed in high schools, Locker has revealed the incompetence of many high school directors and informed us that amateur actors from the far fringes of Broadway are often underrated, and when evaluated in a comparative mode, these amateur actors may exceed the presumption of celebrity actors, whether on stage or tritely pretending to act via sumptuous home-theater screens.
The Bald Soprano became the longest running play in Paris (and in the history of the world), due to its being a wicked satire on English culture and sensibility, although the monologue by the French maid, Mary, the Maid, played with jaunty zest by Sarah Griffin, does ridicule the prime French vice—humorless Cartesian-ism. (In the program notes, Griffin voiced the often-heard complaint that the director refused to let her act and she was forced to play herself.)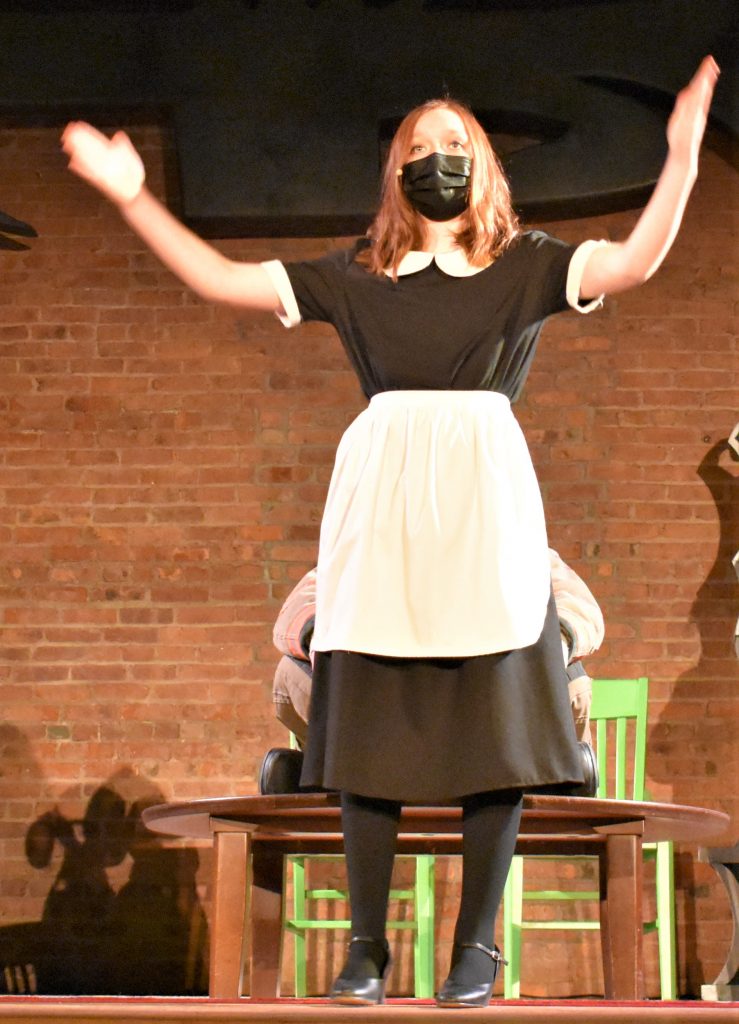 Mrs. Smith, the English housewife who has so much to say while saying nothing beyond trivial banalities, projected her voice (despite being masked) in the mono-tonal manner that many English women prefer to jabber in. Her dubious husband, played by Paige Arent, metamorphosed from indifferent, lethargic layabout to the kind of blathering pontificant one might bump into at a small party in London.
As Mrs. Martin, Autumn Prezzano intimated that all English women may not be batty (although they may remain narrowly dim-witted and superficial), since she projected charming, sophisticated inflection of various levels of surprise and displaced emotion.
Cameron Decker as Mr. Martin exuded the narcissistic complacency of established Kent suburbia and suggested why so many English men have committed suicide without being aware of what they have done.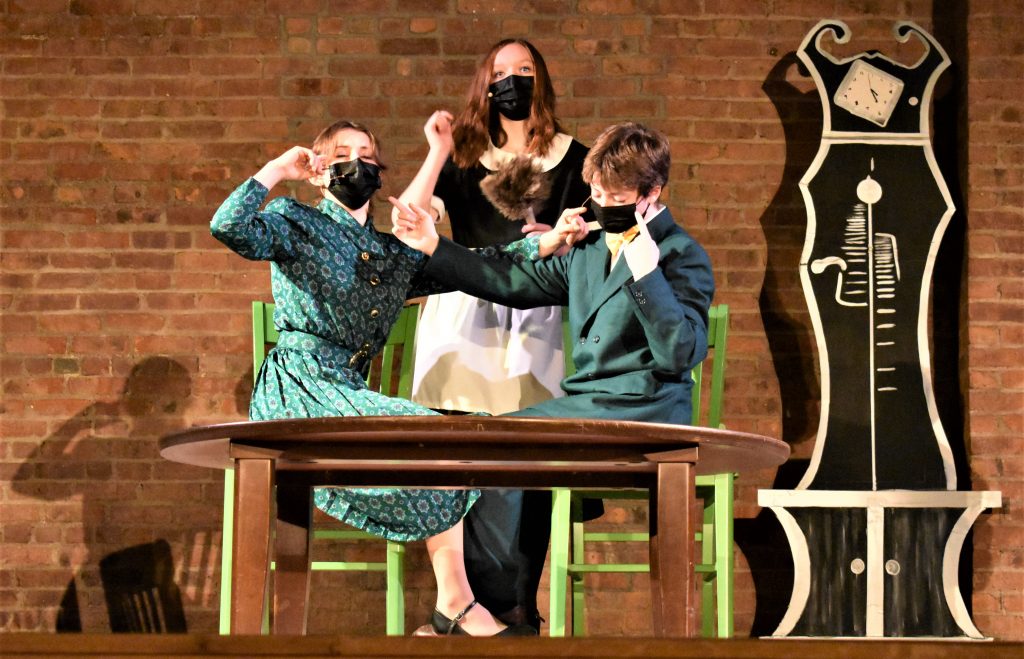 Nearly stealing the show, Noah Curtis. as The Fire Chief, who knew nothing about his job yet was able to produce a long recitation satirizing the banality of English verse. Noah was so tall that he seemed to be a living allegory.
The communal round-robin satire on the inanity of English folklore (as opposed to the sophistication of French folktales) might have benefited from more poignant, knowing, slower pace rather than blithe, skipping. self-sophistication tonal mugging signifying cultural retardation.
Some applause for Carl Baden for finding the perfect oval table that can host more than the Fire Giant. Costumes by Esther Evans were pressed so primly clean and without any eye for color—perfectly appropriate for an English tearoom.
The principal character in the play, Time (in the form of a Big Ben, Tower of London clock) was the stage villain one wished to shoot more than once.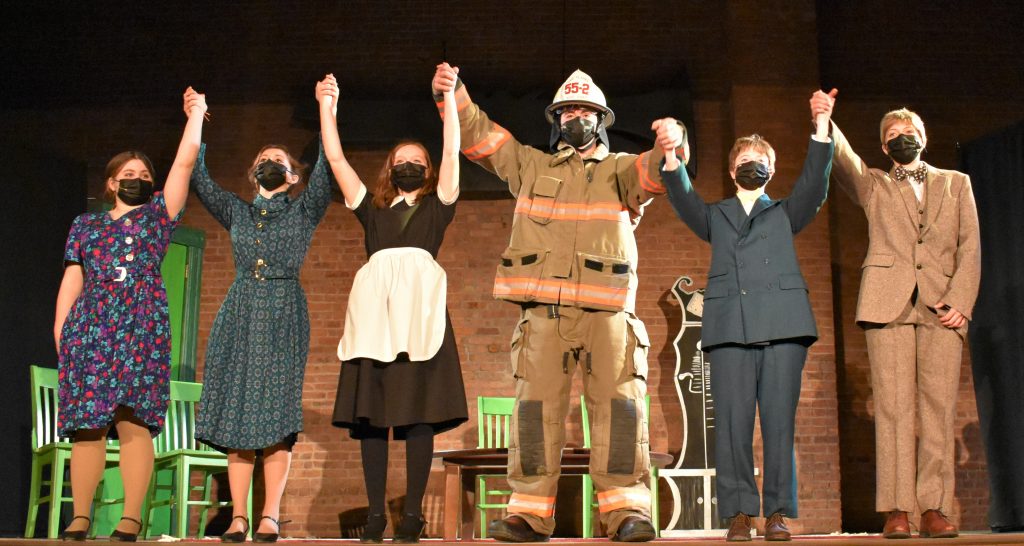 After the play, people asked me what the play was about. I said it was about people, society, culture. I said it was about people who did not exist at a time that did not exist, yet it was at the same time about your neighbors. Basically, it was a comedy about nothing, but that comedy was universal and about everything English, so that was why you could be said to have been a participant in the play about your neighbor's language, and in a certain sense, you may have participated in the play through your attendance, which would make you complicit in the play.
It's much easier to understand the play if you suffer from insomnia, poetry, or reality politics.
This play convinced me that Pine Plains has become the Paris of Dutchess County (as long as it continues to renounce the influence of that menace sitting by the wood-stove and creating imaginary fires: René Descartes).
Long live Pine Plains and The Stissing Center and may they not appropriate the great English vice—lack of a sense of irony! (Who in theater can forgive them for crucifying Oscar Wilde?)