by Kevin T McEneaney
As part of the Local Produce series of play readings at The Stissing Center in Pine Plains, Last Gasp of the Liberal Class, by Robert Lyons, offered seemingly light-hearted humor, depicting upscale liberals grasping at their version of sanity and narcissism as the shadows of tragedy gather around each character in the ten scenes of the play.
The play charts the dysfunction and dissolution of an American family. At his family's vacation farm in Canada, Nick Pinder, a genial academic longing for intimacy amid the swamp of robotic technology, fears that robots will begin to rule humankind. He writes a book on technology and despairs of society, marriage, children, the future in general. Nick, played by affable Dean Temple, appears unable to understand the philosophic implications of his social diagnosis.
Pinder's flight to agrarian Arcadia appears to be his hermetic remedy, but his bucolic retreat leads to an unraveling of his identity. His bright 17-year-old daughter, Andrea, has read his book and grasps the anarchic despair behind it, inspiring her to attempt (with others) to destroy the stock market. Andrea, vivaciously played by Zelda Kosofsky, visits him with her sullen boyfriend, played by Tristan Latino, a young orphan who is a gifted cyber hacker.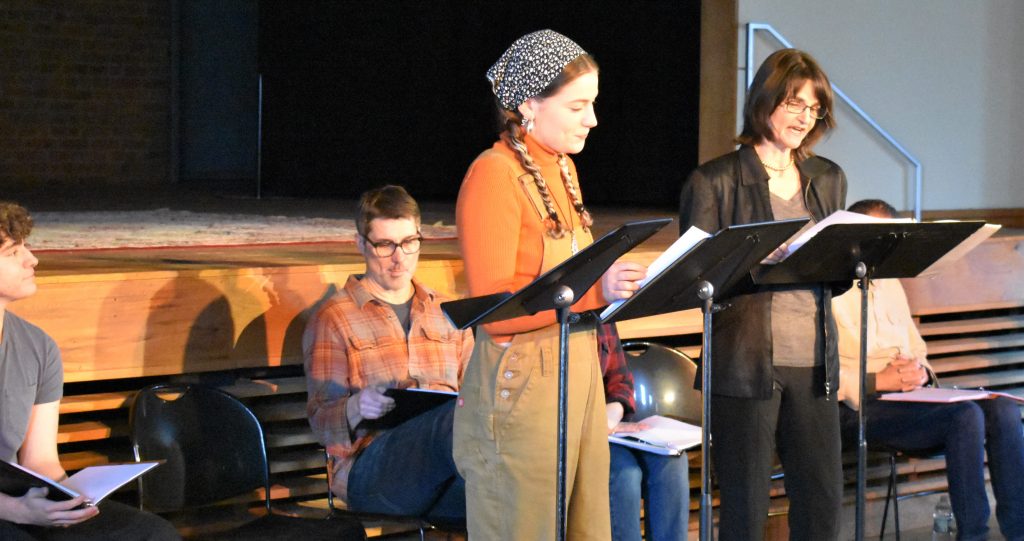 Adrift, with nothing to do, Pinder seduces his neighbor's wife, charmingly played by Paula McGonagle, who invites him to dine with candlelight when her husband is away. Andrea spies and plots revenge. She hacks the bank account of the neighbor's wife and steals all her funds.
Wife Daphne Pinder, played by Anne Undeland as a triumphal Amazon, arrives to discuss the terms of their divorce. She is a prominent TV anchor with a million fans. After arguing, she agrees to bestow the farm on Nick, then return to news limelight. However, they have the problem of daughter Andrea, who wants to drop out of high school. (Daphne envisions her daughter at Yale.) Shielding his daughter, Nick lies to the police, covering up for her crime, thereby committing a felony. Andrea restores the bank funds to the neighbor, yet the husband discovers his wife's infidelity and repeatedly beats her.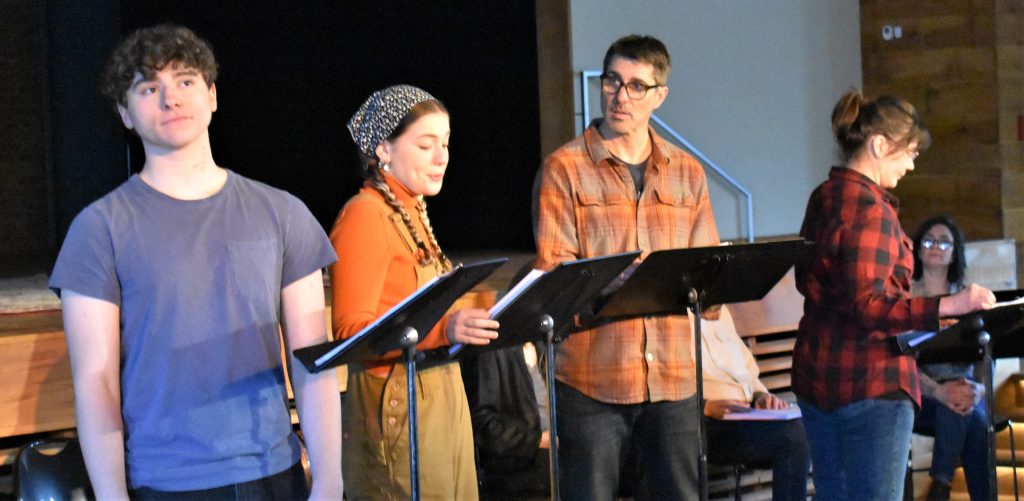 Jim Petrie ably played the knowing Policeman and Catherine Howard had a short role as an inquisitive reporter doing an interview. For a reading, all actors were remarkably impressive.
In some respects, the play presents an updated version of Jean-Paul Sartre's notorious existentialist play No Exit (1944) where hell is other people's narcissistic madness.
Nick is the unfortunate rationalist, a quixotic academic who wants to be all things to all people and ends up being no one to everyone; he is a kindly narcissist who does not understand the depths of narcissism all around him; he is the scapegoat of an apparently liberal family that has no sense of humor or empathy for anyone. Irony in the play is oblique, as it is clothed in cheerful sit-com banter, itself a satire on what passes for popular family humor on television.
The next reading in the Sunday 3 pm series at The Stissing Center will be Village Cidiot by Laure Letellier on March 27, followed by TRACES/fades, by Lenora Champagne on April 10.