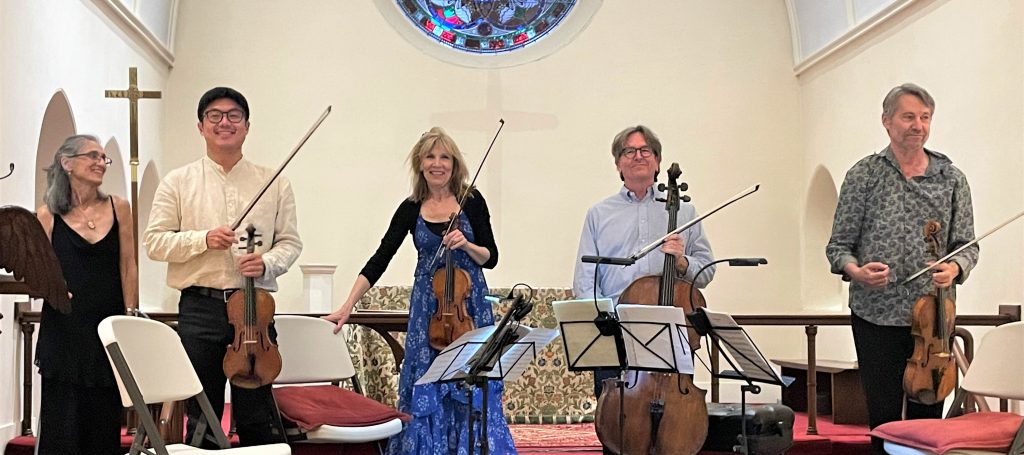 by Kevin T McEneaney
In Kent on Friday night, August 12, at St. Andrews Episcopal Church the Sherman Chamber ensemble devoted their concert to the work of women composers not often played. They opened with Moambi Asante (A Prayer of Thanks) by Valerie Coleman (b. 1970), featured as one of the top 35 women composers by The Washington Post. Coleman has won a plethora of awards around the country for her compositions; she is also a noted flutist who has taught in 49 states in this country, including The Juilliard School of Music. She was the founder of Imani Winds, one of the most noted jazz groups that injects jazz into classical compositions (or perhaps the other way around). Her resonant influences are Afro-Cuban, varied regional African, and her African-American heritage.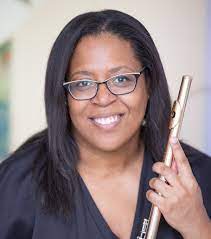 Moambi Asante was a lively trio with Susan Rotholz on flute, Elizabeth Perry on violin (First Concert Master of the Netherlands Radio Chamber Philharmonic), and Eliot Bailen on cello. The first mark of this notable seven-minute work was joyful, then reverent, joyful once again, then solemn with pathos, playfully upbeat, followed by peaceful resolution.  The combination of strings and flute possessed dynamic flexibility as rhythms were swapped in fast/slow patterns with excellent arrangement. This was a memorable prayer of thanks and praise for the gift of music from a divine source.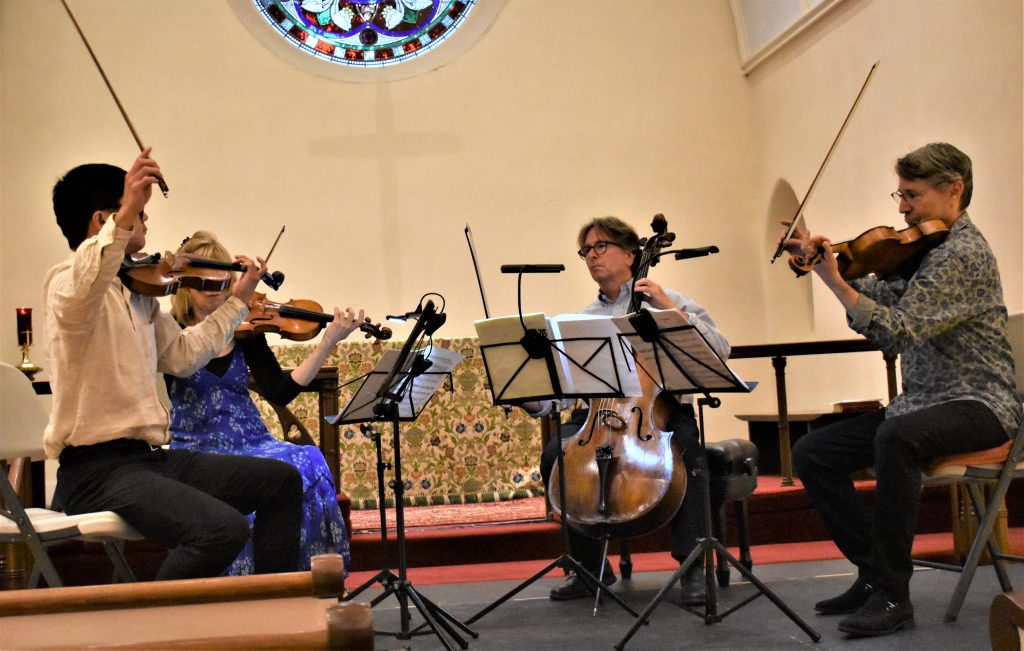 Five Folksongs in Counterpoint for string quartet by Florence Price followed (1887-1953). Price was the first African-American composer of note with symphonies, many choral works, oratorios, and solo piano pieces to her substantial catalogue (over 300 works). A recent discovery of many unpublished compositions has jump-started a much-deserved revival of her work. Susan beautifully sang with passion, projection, and subtle shading of the song lyrics, then the string quartet with Doori Na as lead violinist joined Bailen and Perry with violist Richard Wolfe, lead violist of the Netherlands Chamber Orchestra (Holland) to play the musical arrangement of the songs.
The first song, "Calvary," dramatized a religious meditation on the illegal crucifixion of the noted rabbi from Nazareth. There was reverence, sadness, and an extraordinary soaring texture in the interweaving of the strings that evoked meditative astonishment. Then some comic relief was offered with a version of "Oh, my Darling Clementine." A marvelous version of Ben Jonson's "Drink to me only with thine eyes," his most famous Elizabethan lyric, was performed with sweetness, wit, and deep pleasure: a superb arrangement for the centuries to come! More comic relief with the children's song "Shortnin' Bread" followed. A densely lyrical yet complicated in texture version of "Swing low, Sweet chariot" (the big dipper pointing to the north star) supplied a stunning closer: after a dramatic prelude solo by Bailen on cello, an unusual lyrical tapestry emerged that made my mind and heart shiver with wonder—this piece is a classic gem where Doori Na excelled in timbre and inflection.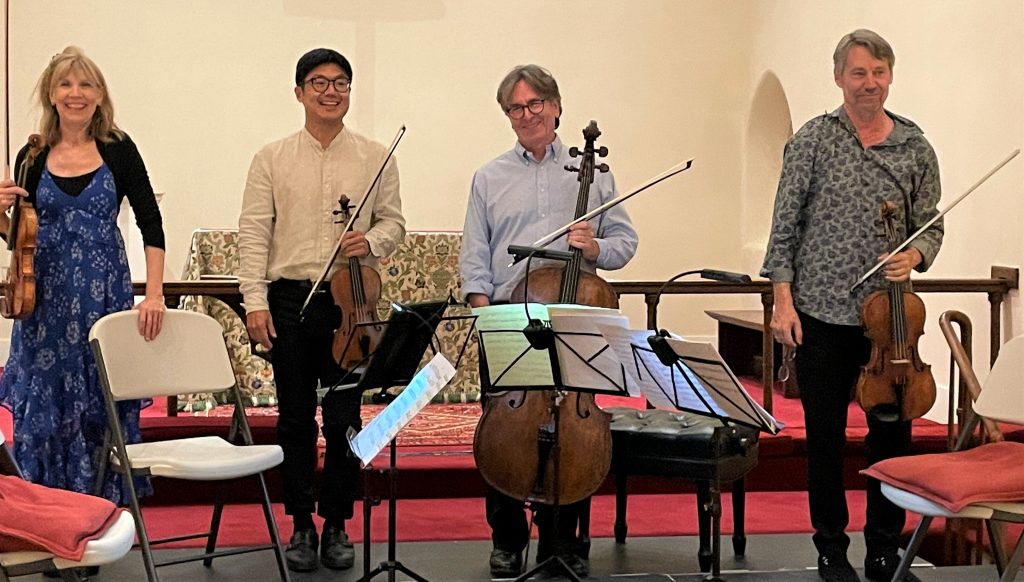 The closer was Fanny Hensel Mendelssohn's String Quartet in E-flat Major, composed in 1834, yet not published until 1988. (She wrote over 500 works, of which 300 are songs.) I admit to not knowing this work which is more difficult to play than most of her husband's noted works: the density of repartee between the strings, the deep emotional quality of the work, its near-orchestral luminescence, made me feel as if I was floating in air. There was a palpable transcendence in the work which was enhanced by lead violinist Susan Perry. The string quarter played with such forceful unity!
This was a chamber concert to remember for the intensity and clarity of the performance! It remains astonishing how men have been able to denigrate the aspirations of female composers yet that era of whimsical prejudice has passed and we move into a new world where women are now composing works of contemporary genius.