by Kevin T McEneaney
Program three, Pianist-Composer, compared Rachmaninoff's piano compositions to Ignacy Jan Paderewski and Ferruccio Busoni with Dr. Leon Botstein conducting the American Symphony Orchestra. The Prelude to Act 3 from Paderewski's opera Manru, Op. 20 (1901) opened the concert. Here the piano as heroic protagonist interacted with orchestra (society) in a foreshadowing of the tragic plot amid the rural beauties of nature: love as victim in the garden. While artfully dramatic the atmospheric envelopment breathed melodramatic cliché. Here was fictional plot based upon folkloric history. This short opener served as a foil to Rachmaninoff's Piano Concerto No. 2 written mostly in the fall of 1899 when Rachmaninoff stayed with Shalyapin near Genoa. One was invited to compare two works written roughly at the same time.
But let that comparison be suspended in air like a lingering, floating note for a paragraph.
The closer was Busoni's Piano Concerto in C Major, Op. 39 (1903) with Piers Lane at the Steinway. All six movements, seventy minutes, were played. The piano score was formidable, requiring extremely fast passage runs, repetitive passage runs, occasional bombast, exquisite orchestration uniting piano and orchestra, some lovely flute playing and dramatic French horns, sumptuous string atmosphere, and the lower register of the piano booming to compete with orchestra. Busoni was serving up a feast and some of the dishes were served more than once: there were festive marches, local piazza town parties, people going to church and doing business, a panorama of Italian society.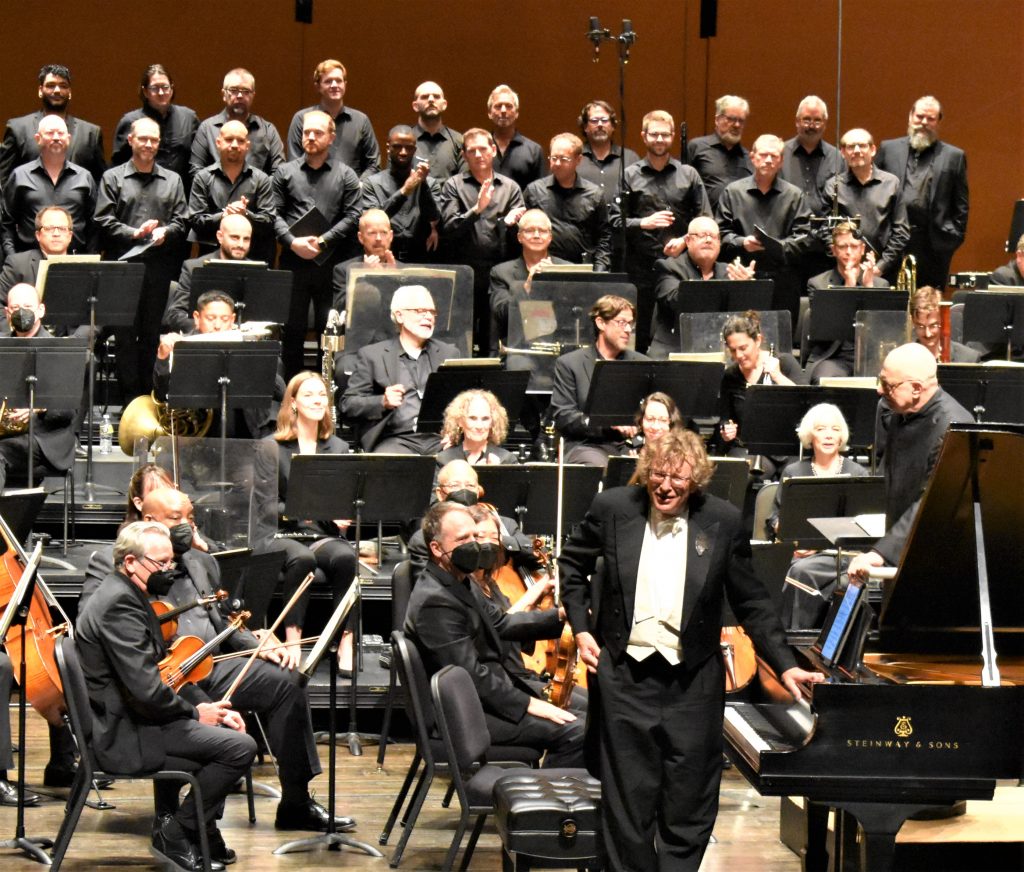 To cap off this extravaganza one needed a large choir, here directed by James Bagwell, to place all this diffuse ornamentation into a single bag: an ethereal hymn to Allah, celebrating Christianity and Islam as brother religions, an obvious take-off theme from the conclusion of the greatest German epic, Parzival by Wilhelm von Eschenbach. (Busoni's mother was Austrian and he lived mostly in Germany.) Was the piano the glue? There was robust dexterity and showmanship at the fingers of Piers Lane's rhythmic panache, but how did we end up in this fantasy-anemic religious swamp? Despite stellar performances, the audience appeared diminished as lesser peons under the authoritative voice of a choir preaching a non-cultural, theoretical universal religion.
And what was different about Rachmaninoff's Piano Concerto No.2 in C Minor, Op. 18 (1999-1904) played with exquisite energy by Danny Driver playing from memory? A long list: density, concision, greater melodic palette, robust rhythms with interior development, more subtle modulated shading of strings, use of percussion without bombast, more finesse with clarinet, more emotional timbre from cellos, and sharper edges from violins to name a few. And what was the story? Growing up at a rural estate in Russia, which accounts for Virgil Thompson's snide remark that it was merely "an evocation of adolescence." But it was so much more: it broke the traditional mold of a piano concerto in the same way as James Joyce's A Portrait of the Artist as a Young Man did (begun in 1904 and finally published in book format in 1916).

There was no longer any public entertainment formula: here was the interior monologue of an artist recalling childhood and young adulthood through musical paintings. Like Joyce, Rachmaninoff was doing a modernist thing without being doctrinaire about it. (Well, Joyce was a bit doctrinaire about Ibsen and other things.) Rachmaninoff was transmitting his youthful joy in life and suggesting that his melodic richness might uplift your life. No doctrines here. No catches. This was just free art saying hello and sharing interesting perspectives on life, which explains why some attendees at the full house left at intermission.
Both Driver and Lane were magnificent! Yes, one can be a modernist without bragging about being one. Rachmaninoff was a Great Ambassador of Music, not a propagandist, nor empty showman looking for that tempting ladder of success. After all, he usually performed or conducted over a thousand concerts a year, and once as many as sixteen hundred in one year.
Rachmaninoff's Rhapsody on a Theme of Paganini, Op. 43 (1934) might very well be considered a Postmodern work before the existence of Postmodernism….