by Kevin T McEneaney
Last Sunday Joann Falletta, Conductor of the Buffalo Symphonic Orchestra (which she has transformed into one of the country's leading orchestras) was a guest Conductor of Bard College's graduate school The Orchestra Now at Rose Theater. She was given carte blanche to select the program, offering an unusual selection of short masterpieces rarely performed in this country.
Fandangos, by Puerto Rican born Roberto Sierra, was first performed in 1999, and became the opening piece for the 2002 London Proms performed by the BBC Orchestra which was broadcast by radio and television throughout England; it remains his most prominent and delightful work. From its horn and oboe opening, its cheerful, captivating rhythms deliver a sophisticated arrangement of colorful sound. Falletta conducted with her trademark energy and enthusiasm with delicious crispness from the orchestra.
Having opened with a rather jaunty contemporary piece, the rest of the program offered an historical progression from 1896 to 1943, beginning with Poème by Ernest Chausson. Redolent of the Belle Epoch era, this work evokes an aristocratic aesthetic of satisfying emotional swoon. Inspired by the raw emotionalism of a gypsy violinist, Debussy advised Chausson, who loved counterpoint, to minimalize counterpoint in this work. Debussy judged Poème for violin and orchestra as Chausson's finest work and that judgement has withstood both public approval as well as academic scrutiny. (Chausson died unexpectedly at forty-four by accidentally running his bicycle into a brick wall on his estate.) Poème remains a significant showcase for any ambitious, virtuoso violinist. Award-winning violinist Nikki Chooi from the Buffalo Symphony Orchestra delivered an astonishing performance with a waterfall cascade of rushing emotion combined with strings of notes that could outshine the whole orchestra. To hear this breathless performance was to experience an electric shock of awesome pleasure that one carried into the next day and most likely, at least, next month.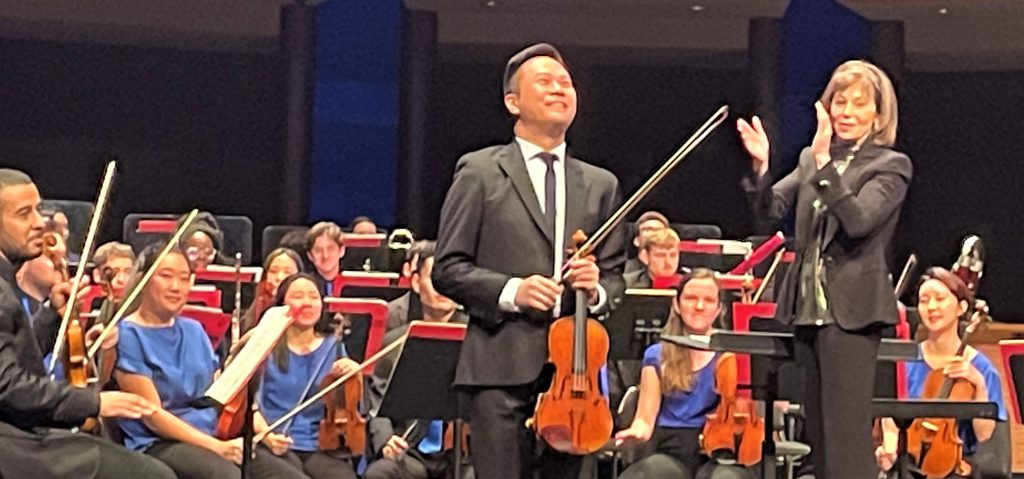 Yet Chooi was not finished: Maurice Ravel's rhapsodic Tzigane (1924) was next. Originally written for violin and piano, Ravel, a master of orchestration quickly arranged an orchestral version. Inspired by and dedicated to the Hungarian violinist Jelly d'Arányi, the title meaning gypsy remains ironic as no gypsy tunes are employed. For about ten minutes Chooi held forth with orchestral backing, delivering an astonishing performance of this virtuoso gem which appeared to extend beyond the limits of exhaustion. The audience demanded two bows. Chooi was so delighted he asked Concertmaster Samuel Frois if he would accompany him on violin to play an impromptu duo version of Mendelssohn's Hallelujah, which they played together with inspiring convivial charm.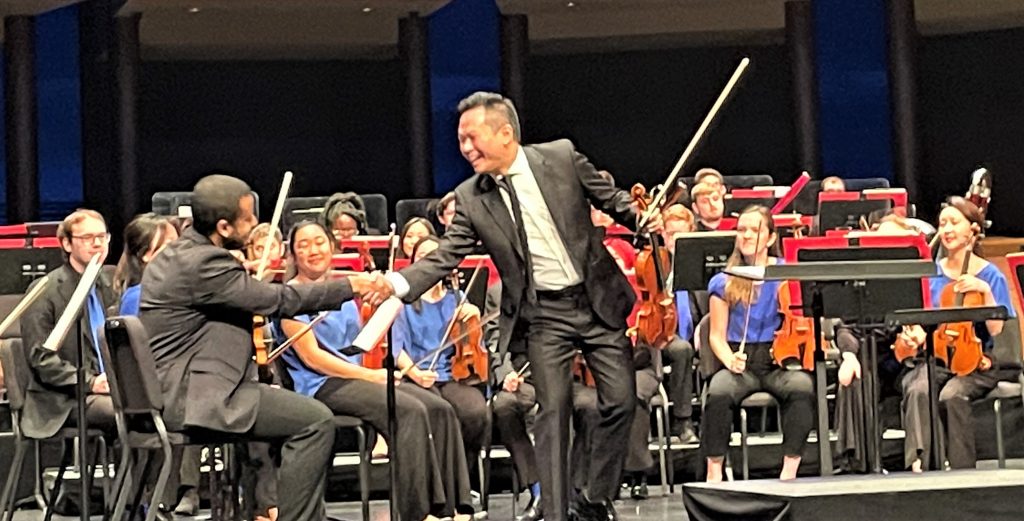 After Intermission: Bacchus and Ariane Suite No. 2 (1931) by Albert Roussel transported us to the Impressionistic period with a ballet excerpt, this work being his last important composition, and perhaps Roussel's most extroverted piece, as he was narrowly observant of the aristocratic "art for art's sake" elite mentality. This intricate piece with three exciting, rolling crescendos remains a devilishly difficult piece for any orchestra to play; here TŌN turned in a thrilling, unified, musically muscular performance. Is the ballet version ever performed???
Symphonic Metamorphosis of Themes by Carl Maria von Weber (1943) by Paul Hindemith supplied the Finale. Written under aerial bombardment, (hunted by the Nazis Hindemith successfully eluded them by changing his name and going underground), this orchestral virtuoso work remains Hindemith's most played work, despite its density and difficulty, around the globe. It was a contemporary reply to Bartόk's famous 1943 concerto, yet it originated as a composition for a possible ballet production. This composition offers a decidedly Modernistic take on music, linking our sensibilities to the opening work which is thoroughly Post-Modern.
We now perceive the thematic thread of these difficult, yet important eclectic works chosen by Falletta: the primacy of dance rhythms as the foundation for all ambitious musical projects, even if they are not ultimately dance pieces. Our ancestors danced before they sang: dancing was the beginning of musical evolution and that propulsion to dance still dances on in musical works of extreme sophistication and unusual achievement. Conductor Falletta is not only a teacher of students—she places herself in the vanguard of educating. while entertaining, any audience on this dancing globe.