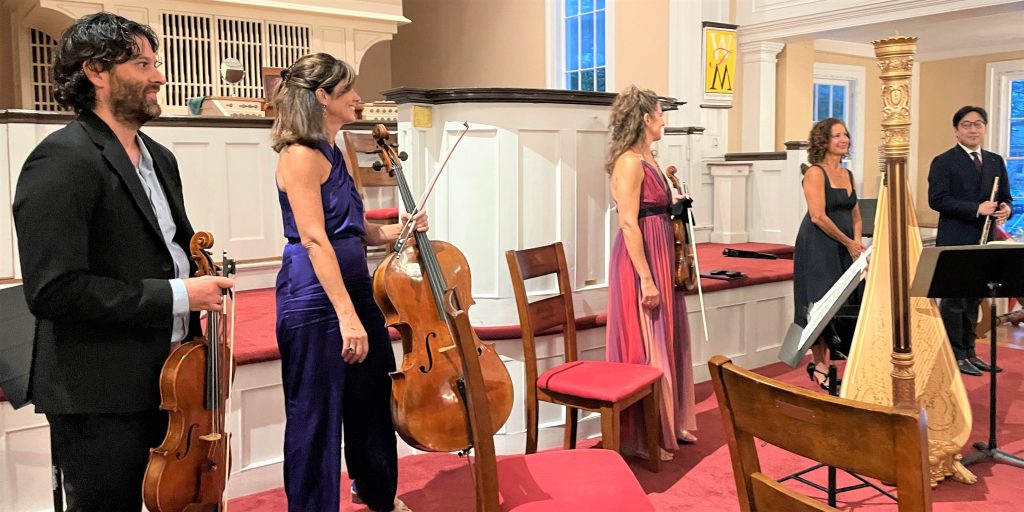 by Kevin T McEneaney
As a New Yorker, I sometimes think that the best musicians blaze to prominence in New York City, and that about half of them are native New Yorkers, and the other half are from the rest of the globe. You will need to forgive my parochialism, as I admit that Connecticut possesses its air share of talented musicians. I had heard virtuoso Stacey Shames play harp with The Sherman Ensemble and was impressed with her performance. (A harp needs to be re-tuned every day and a harpist needs to spend more time tuning their instrument than any other musical instrument; the joke about harpists is that they spend more time tuning their instrument than playing their instrument.)
I was attracted to the event at First Congregational Church in Washington, CT, by Stacey at strings, yet also by the difficult level of playing announced on the program. Where can one hear Claude Debussy's last important work when he was dying of cancer? Where can you hear Maurice Ravel's late posthumous tribute to Debussy?  Who could perform such difficult pieces that are rarely performed? Apparently, many people knew who could perform such work, since this all-French program event was sold out.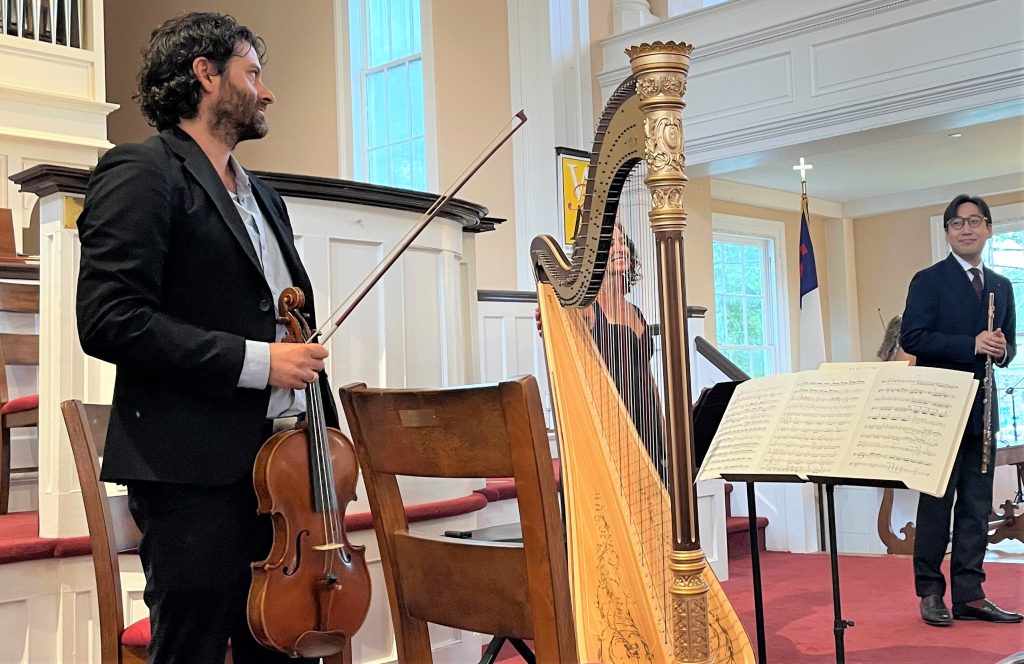 Sonata for Flute, Viola and Harp, L.137 (1915-16) by Claude Debussy, one of the projected six sonatas before his demise, yet one of the three completed in the series when he was on terminal morphine; it is a homage to the sixteenth-century origins of the sonata, yet it sounds like one of the most avant-garde astonishing fragments of twentieth century music! Debussy conceived of a cultural continuity in music when the war had seemingly destroyed all cultural continuity. Debussy was, in many ways, influenced by impressionism and pointillism as a vehicle of global art. There is an effortless spontaneity about textures and themes that seem like small streams merging into a river. Debussy is reported to have said "I don't know whether it should move us to laughter or tears, or both." The tears were from the war. This is a work of sublime absurdism that chronicles civilization on the edge of despair and hope with plangent poignancy in every note on harp Stacy was magnificent on harp, and Beomjae Kim on flute supplied such a fierce and delicate emotional edge that the performance was lifted to a transcendent level! On viola William Hakim contributed memorable riffs and pizzicato that contributed to a seemingly improvised lyricism that would foretell prophetic future frames of music for the twentieth century. The unusual harmonies were so rich that I wished I could hear this work played again.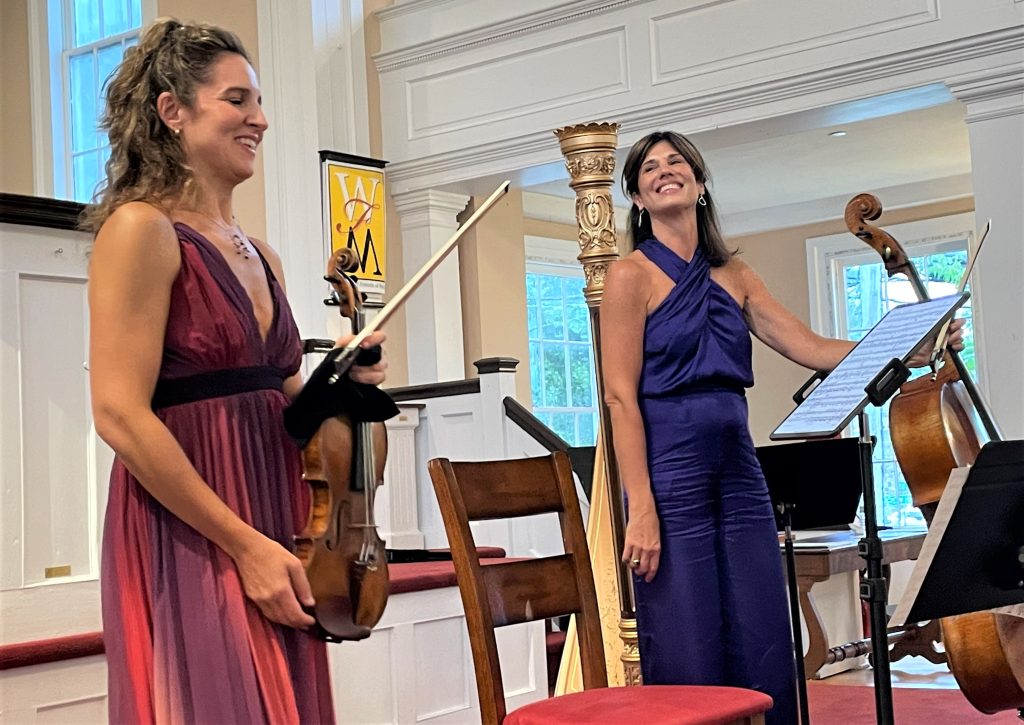 Sonata for Cello and Violin (1922, often called the Duo) by Maurice Ravel is both a tribute to Debussy, as well as a work that looks backward and forward in music history. The work employs thematic cyclicism in shattered fragments. Cyclic motifs of fragments from early Italian Renaissance pleasantly flit about in the first Allegro movement, the lively Très vif Scherzo presents cyclic fragments in a Dadaist fashion, then the slow Lent movement offers a meditative lament on the death of Debussy, while the concluding reversal, Vif, avec entrain, presents a forward-looking celebration of what modern music might attain in the twentieth century by working with fragments from the past. The work remains an intriguing and complex WOW!  On violin Deborah Buck appeared to be illustrating what the violin could do from Vivaldi to the present. (There was an eerie, high, Otherworldly riff on the violin's bridge, a technique invented by Vivaldi.) Artistic Director Wendy Sutter on cello also played on the bridge with a low, groveling metallic sound. Sutter's cello acclaimed the cello as the foundation of all music, past and present; she played with remarkable, dominant resonance. Ravel seemed to proclaim that the future is both the past and present and that the past is a cornucopia ready to inspire a bounteous future.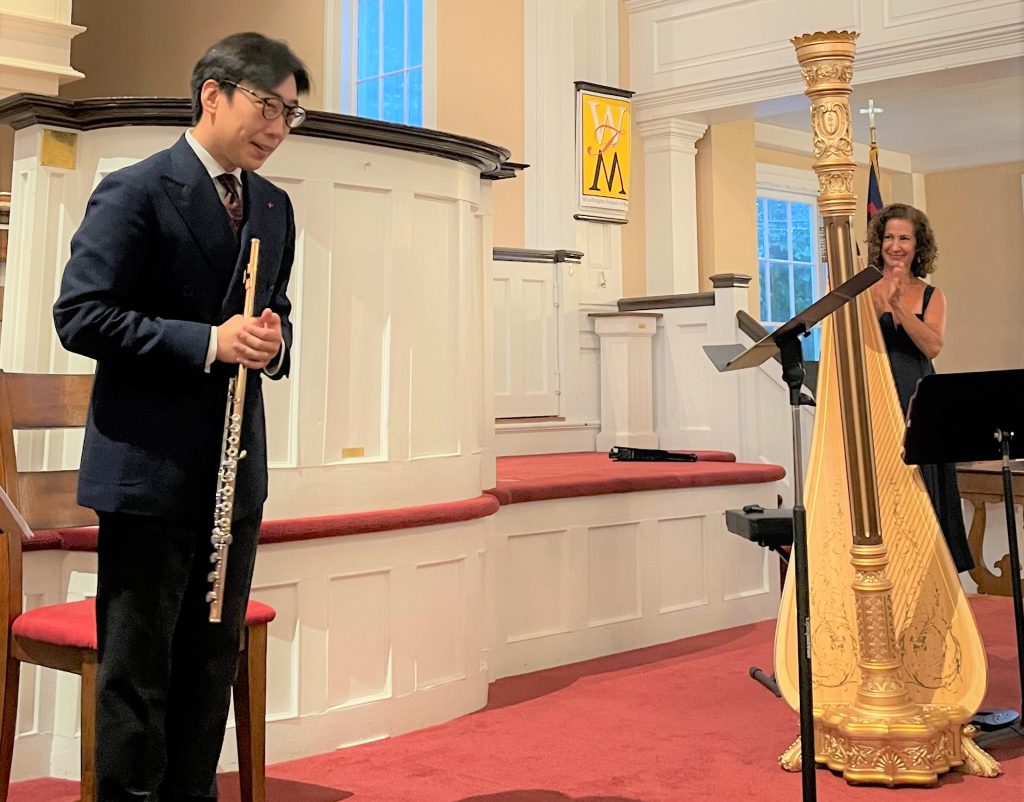 "Reverie" and "Clair de Lune" by Debussy offered more accessible lyricism along with "Entr'acte" by Jacques Ibert. The first two pieces were written on piano, yet today they are most treasured with a flute and viola rendition as performed here with Beomjae Kim's fluent flute and William Hakim's ardent viola.
The Finale was Suite, Op. 34 (1928) by Marcel Tournier (1879-1951), principal harpist at the Paris Conservatory for decades. This required all five performers to be on stage. In four movements it appeared to depict an evening sunset where Shames on harp led, then formal estate dancing led by Kim on flute, party song lieder articulated by Hakim on viola, and the event concluding with a triumphant feast of banquet food led by Buck on violin, yet it was Sutter on cello who was the Atlas who held all aloft!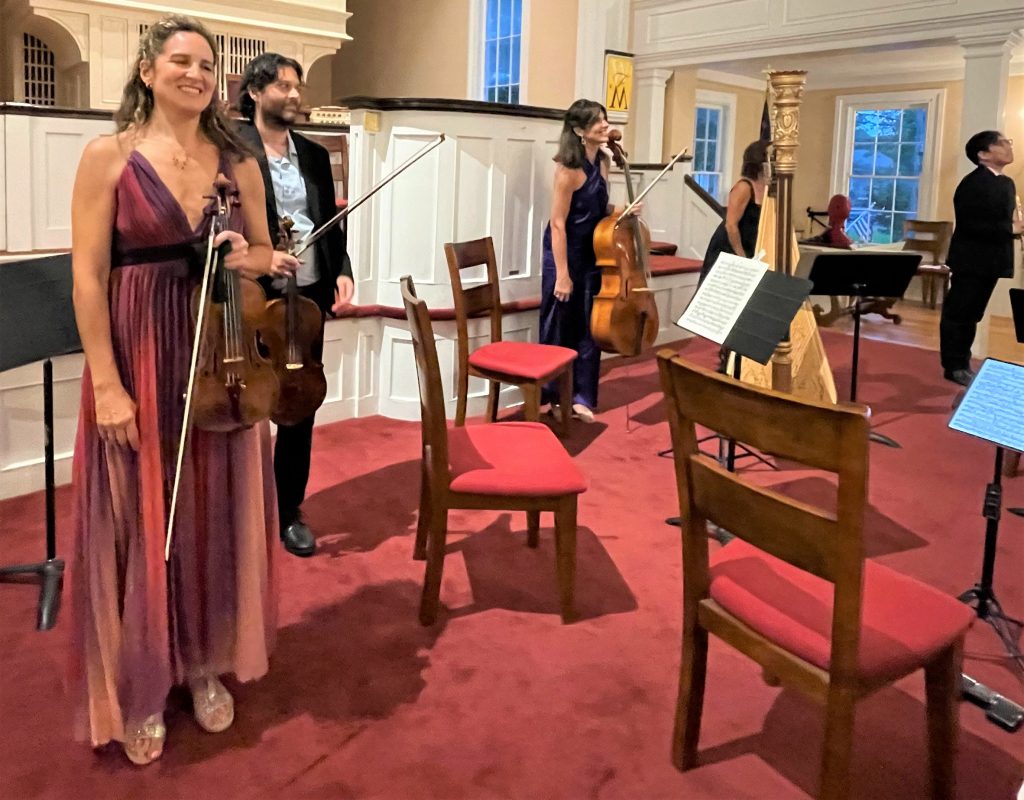 The next concert at First Congregational Church in Washington (which has terrific acoustics and striking architecture) will be on September 1st and will feature works by Luigi Boccherini, Manuel de Falla, and Xavier Montsalvatge with additional Spanish guitar works performed by Robert Boyd at 5:30 pm.
On September 8th at 5:30 pm their program is Eight Seasons, that is, Antonio Vivaldi's Four Seasons and Astor Piazzolla's Quatro Estaciones Portenas with featured international violinist Nicolas Danielson from Argentina. I have often wondered why I have never seen this program paring before.