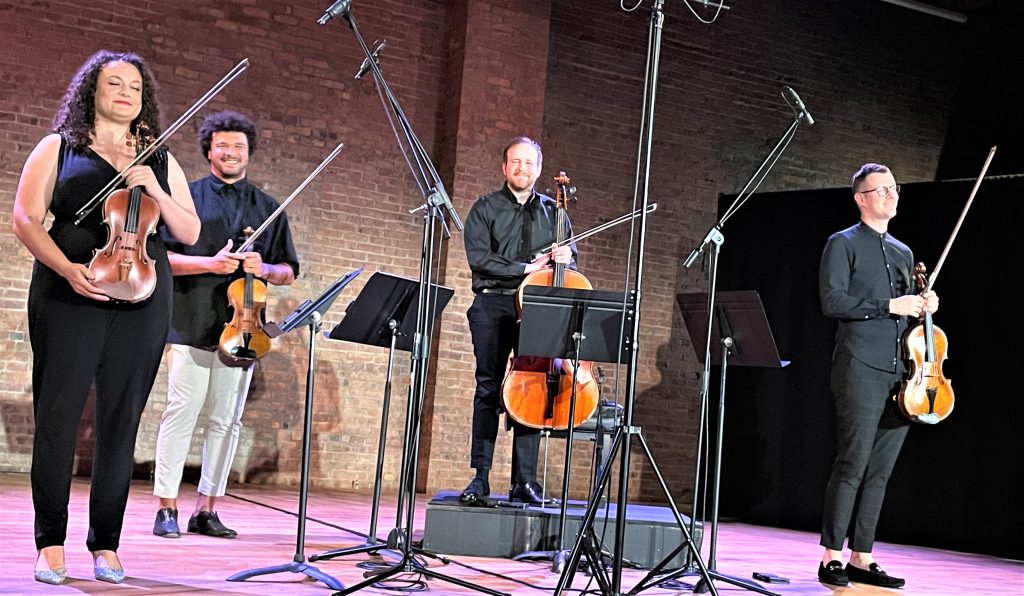 by Kevin T McEneaney
When a concert is organized by improvisations, albeit rehearsed improvisations, it remains difficult to describe what is happening. This is not exactly new, as the general concept goes as far back as Dada (Yes, Yes) as described by Tristan Tzara—a reaction to the horror and injustice of World War I. Dada enjoyed a momentary success in poetry and painting (mush more successful in painting) yet musicians were so wedded to traditional structure that the Dada movement had no effect on the classical tradition. But now there is a resurgence among young classical musicians to revive Dada in music. At the forefront is PubliQuartet who last week played on the same stage playing with Kronos Quartet in Amsterdam. This concert was a sampling of a future which will never repeat itself.
Repetition is the basis of music. The music part of our brain is much older than the recent language part of our brain which has become overly structured and stuck with rules and conventions that only editors and copy editors have professional access to. Rhythm is about how we perceive time amid repetition. A sense of rhythm preceded language and sounds preceded words. Recently a Neanderthal bone flute was found in a cave. Early music was improvisation: chanting, celebrating, and gradually moving to ritual and social conventions. All recorded music is basically dead music because it lacks the improvisation of the moment. Musicians learn from listening to each other and imitating techniques, not from canned music, whether classical or pop. Dada allows the present moment to exist without prescription.
Classical music evolved out of dance and song which have much repetition. Composers began to mix cycles of repetition to create sophistication. Then came the new mode: counterpoint, based upon scales and progressive mathematical calculation was invented in Italy and massively improved in Germany. Inspiration was constantly renewed by local folklore which has recently undergone something akin to deforestation. There are now two new influential trends in modern music: one based upon mathematics, as in the musical game Geometry Dash, or intuitive improvisation based upon educated musicians who prioritize spontaneous improvisation, as in the jazz tradition. PubliQuartet is squarely in the latter.

Their program was titled What is American? and that was also the title of the first-played piece which was a cut-up version of String Quartet No. 12, Op. 96 (1893) by Antonín Dvořák, nicknamed "American." This twelfth string quartet was composed in rural Spillville, Iowa; it has a variety of American melodies, including African American spirituals, jazz, and blues as well as Czech tunes, all presented with straightforward clarity and acclaimed as a great masterpiece due to its attractive spontaneity and memorable melodies (it was written in sixteen days). The performers presented improvisations on each of the four movements with a wide variety of techniques available to their instruments. I would call such an approach semi-scripted, allowing each musician to offer new, spontaneous riffs if they felt inspired. Some played solos, duos, trios, or they played all together. The solos and duos highlighted particular memorable melodies while harmony was not as common as dissonance, yet dissonances often acted as a foil to place in greater relief an attractive melody, especially African American spirituals. Nick Revel sometimes played viola on his bridge. Curtis Stewart and Jannina Norpoth on violins swept up the lions share of the most gorgeous melodies, while Hamilton Berry on cello laid down a carpet on which the other players could dance and play.
Prelude for Piano by Julia Perry (1924-1979), along with her other work, is enjoying a revival. There is no denying that traditional classical programming has neglected American composers of color. Perry is enjoying a revival and this early work on piano was re-arranged for strings by cellist Hamilton Berry, who, if he gave a solo concert, I would happily attend.
Sixfivetwo (2018) by Henry Threadgill (b. 1944), a jazz saxophonist and flautist, who in 2016 won the Pulitzer Prize in Music. This fast-tempo piece has been recorded by Kronos Quartet, yet here we were presented with a new version, since the work requires improvisation and this version or something similar will likely be on PubliQuartet's next album. This piece was innovative and unusual, and I would like to hear it again.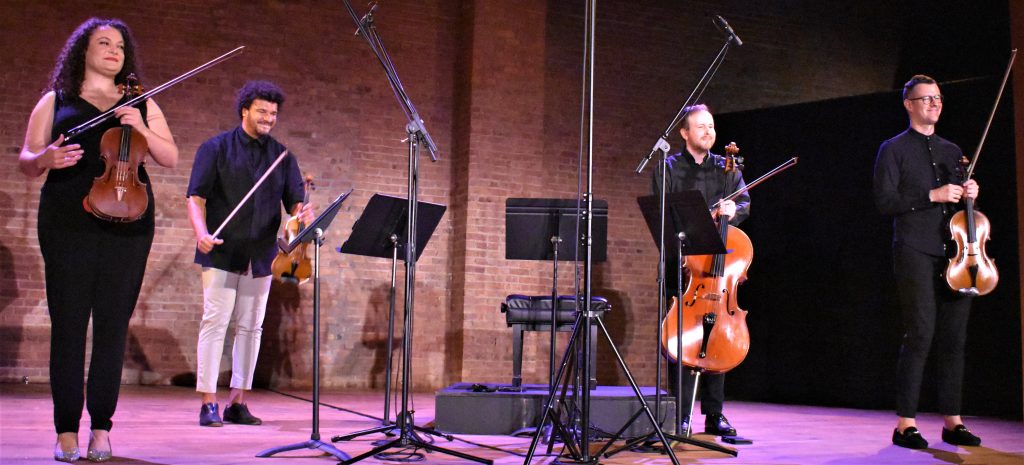 They closed with a set titled Wild Woman based on songs by four women: Tina Turner, Betty Davis, Alice Coltrane, and Ida Cox (1888-1967) who happens to be one of my favorite wild-woman singers who sang of the down-and-out with remarkable wit and humor. Jannina sang and played with exuberant backup to end the evening, which began with the presentation of a specially engraved plaque presented by Executive Director Brett Bernardini to Stephen Kaye who sponsored these last few seasons of classical music programming at The Stissing Center; the gracious audience applauded him warmly before the concert began, while at conclusion the mostly gray-haired audience demanded two enthusiastic bows from Grammy-nominated PubliQuartet.