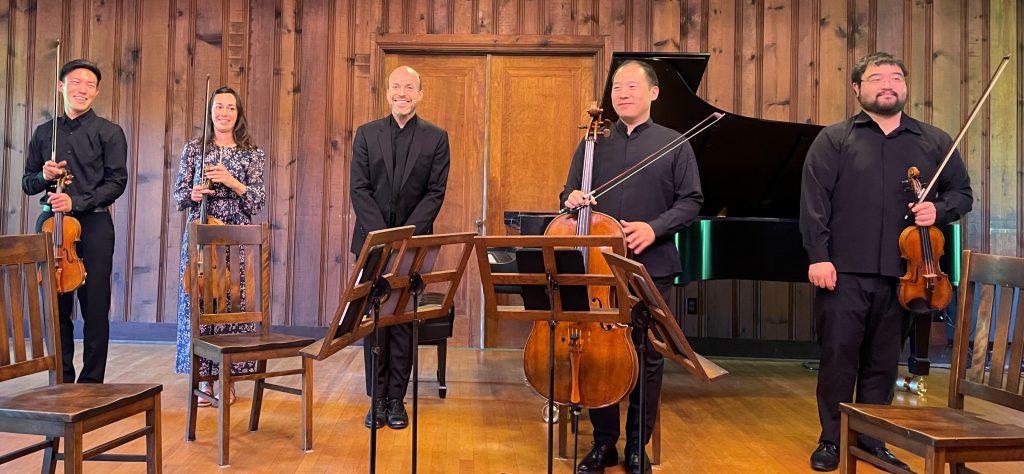 by Kevin T McEneaney
The Parker Quartet opened with String Quartet in B Flat Maor, Op. 18 # 6 (1800) by Ludwig van Beethoven completed in December (first performed on the 9th) as he turned thirty. This was the last of a set; biographer Jan Swafford perceives this quartet as heralding a prophetic motif that echoes through his work until his death—the tragic undertone appearing more dramatically in the Fifth and Seventh Symphonies and continuing its ghostly presence in many of his compositions. Beethoven had self-consciously discovered his tragic genius adumbrated beyond his masterful Pathetique (1798). In terms of technique and psychology, here is the mature Beethoven. The counterpoint was ironically transparent in Kee-Hyun Kim's cello, the melodies charming in Jessica Bodner's viola amid insistent repetition from Ken Hamao's second violin. and Daniel Cong on first violinist was scorching and impressive with delayed resolution! The surprising syncopation in the third movement Scherzo offered a self-satiric motif remains distinctively unusual as it mocks Beethoven's own three-four-time signature. The atonal conclusion in the last movement arrives with sudden shock, as one muses in sheer wonder about the work. While many were impressed by this work, his old teacher Haydn stayed aloof, perhaps slightly jealous, calling his former student "the Great Mogul."

String Quartet #2 in A Minor (1944) by Ralph Vaughan Williams opens with great agitation as it dramatizes the German bombing of London. Many lives and loves are lost, historic buildings are destroyed, the countryside wounded. Kee-Hyun Kim on cello was eloquent in gravity while Daniel Chong on violin was eloquent in communicating pain. The second movement arrives as relief: a paean to the rural beauty of the English landscape and the robust character of country folk. Here Jessica Bodner's viola delivered plangent relief. The Scherzo Allegro appears to record happy memories of rural childhood where Ken Hamao on violin provided playful lyrical recollections. The concluding Epilogue: Andante sostenuto provides a declaration of spiritual resolve; the sheer beauty of this movement arrives with startling shock and lingers in one's memory with haunting impact: England has withstood the trauma, will be rebuilt, and the countryside—that heart of English ethos and civility—will be revived. Part of the power of this movement arrives with its concluding shift to D, as in his Fifth Symphony.
After Intermission Pianist Orion Weiss appeared to join the quartet for Piano Concerto #12 in A Major, K.414 (1782) by Wolfgang Amadeus Mozart, one of Mozart's first great chamber works composed in Vienna where Mozart established himself as a successful free-lancer after breaking with the archbishop of Salzberg. The original scoring included two oboes and two horns, reflecting the recent influences of J.S. Bach and Handel respectively, whose scores Baron von Suitten had recently bestowed upon Mozart after he had played them all for the Baron. This pared down version permitted Orion Weiss to shine more clearly. While this may have appeared as quintet, it is not. The strings play, as if gossiping about the star guest who has not arrived, then the piano plays with humble majesty, proceeding to converse with the instruments, asking various questions and delivering probing questions to the strings. There is no overall integration into musical themes as in Schumann's invention of the piano quintet.
This piece freights a doubling: Mozart wished it to be lyrically pleasing to all, so that published sheet music might be sold, yet he inserts bravura piano runs inspired by Bach to impress and amaze connoisseurs, which Weiss delivered with seemingly effortless panache and clean clarity that carried a genial emotional appeal amid marvelous melody. These bravura passages were most likely conceived to compete with the leading pianist of the day, Muzio Clementi, whom Mozart had recently encountered. The most tender and ardent movement here is the middle of the three, the Andante, which Weiss rendered with deep feeling. The conversational structure of this work with other instruments resembles the structure of Piano Concerto in E-flat Major, K.449 (1784) played by Benjamin Hochman at the conclusion of this summer's seasonal opener, which indicates sly sophistication in the complex programming at Music Mountain.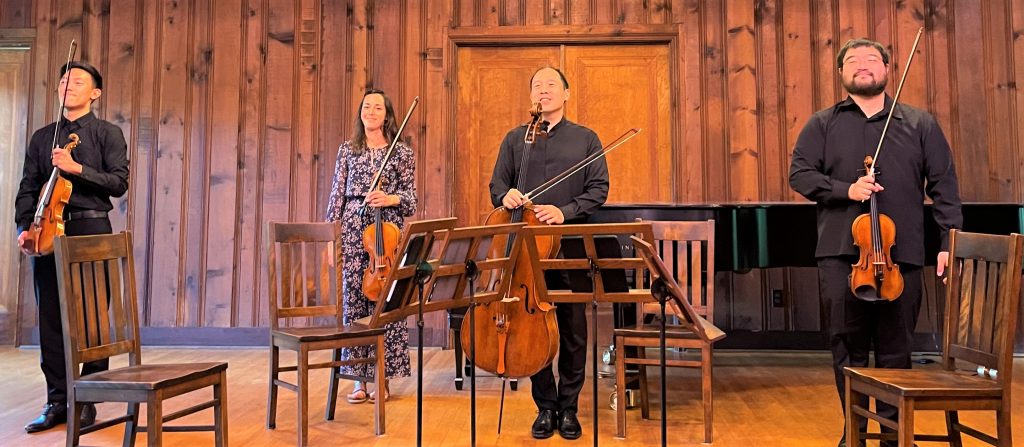 Next Sunday at Music Mountain: Borromeo String Quartet & Henry Kramer, Piano with the following program: Eleanor ALBERGA, Remember; L. van BEETHOVEN String Quartet in E Flat Major, Op. 127; A. DVORAK Piano Quintet in A Major, Op. 81.