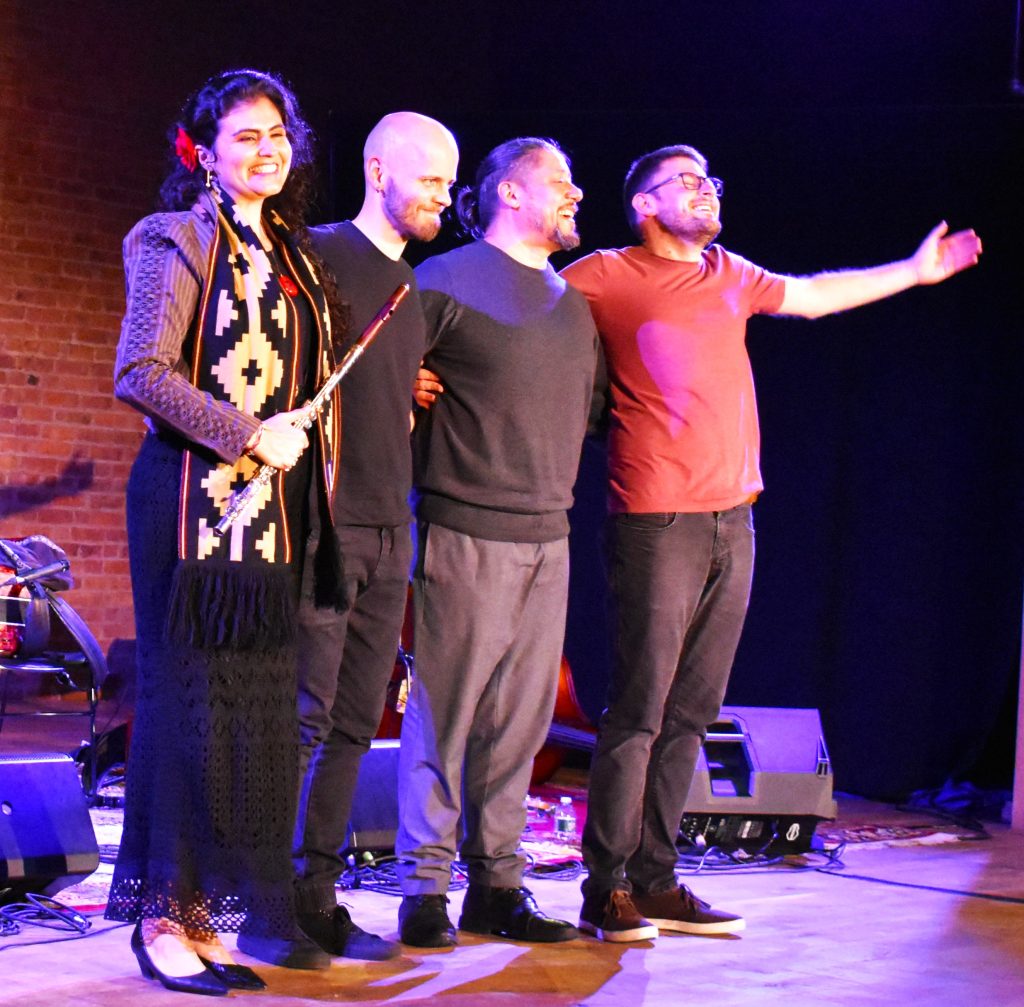 At the Stissing Center in Pine Plains last Saturday with a full moon promising drier weather, the Alejandro Brittes Quartet from South America held forth with a versatile program of folk music, presenting a cornucopia of varied styles. Alejandro, as both performer and composer, has won many international awards; he has written a book on chamamé, a style of party dancing origination on the borders of Paraguay, Uruguay, and Brazil. While he was born in Argentina, he now lives in southern Brazil where this style of music originated. He has also published a book on the González accordion which he plays, boasting ten recorded albums, one of which features period Baroque symphonic work composed in South America.
His quartet has toured Europe a number of times, yet this is his first tour of the United States. (They played at the Library of Congress last Saturday.) Folk music in South America remains more innovative and original than most places on this globe. Indigenous culture prized music, which was why the Spanish Jesuits were able to bond with indigenous tribes, so must so that in the 18th century Spain and Portugal sent armies to destroy all Jesuit missions for bonding with indigenous people over music. (This subject was addressed in the 1986 film The Mission.) Indigenous, instrumental folk music was program music: music about the earth, sky, rivers, forests, rituals, as well as animals, gods, dances, and locales—a trait that still informs much of South American music.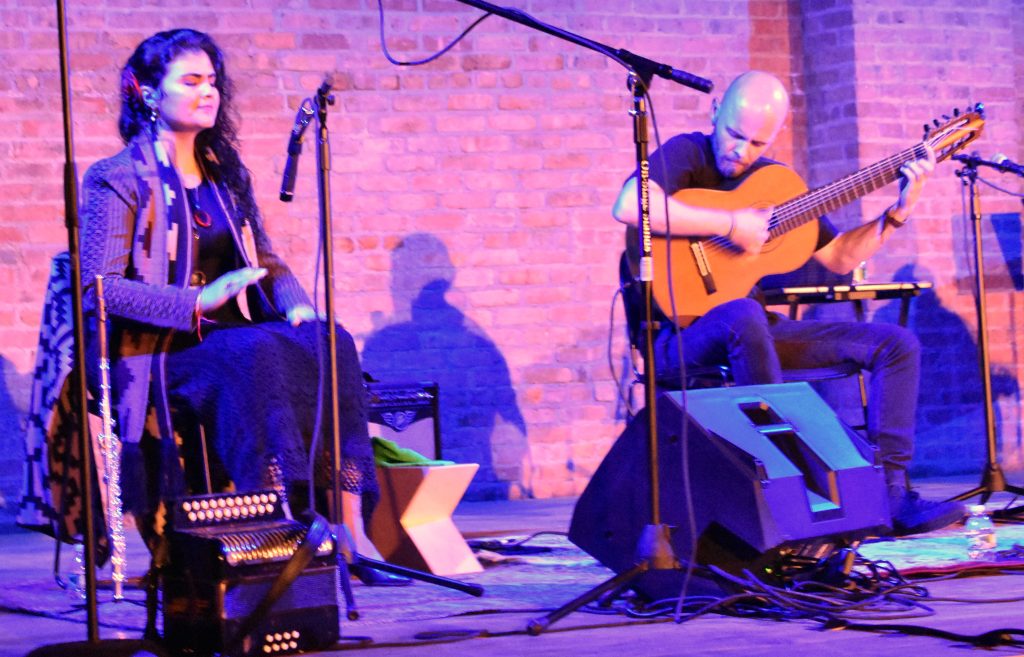 Brittes is an accordion virtuoso. The accordion was brought by various immigrants to South America, and it thrived because of the range of its sound, its portability, and it could be encased to endure the climate.
They opened with "Carau," which means Wow, a popular introductory piece throughout South America, then went on with a romantic work. composed by Brittes, that dramatized the pathos of geographical distance between two lovers before arriving at a co-composed Jesuit inflected religious song about Yeshua of Nazareth; here Carlos on double bass excelled.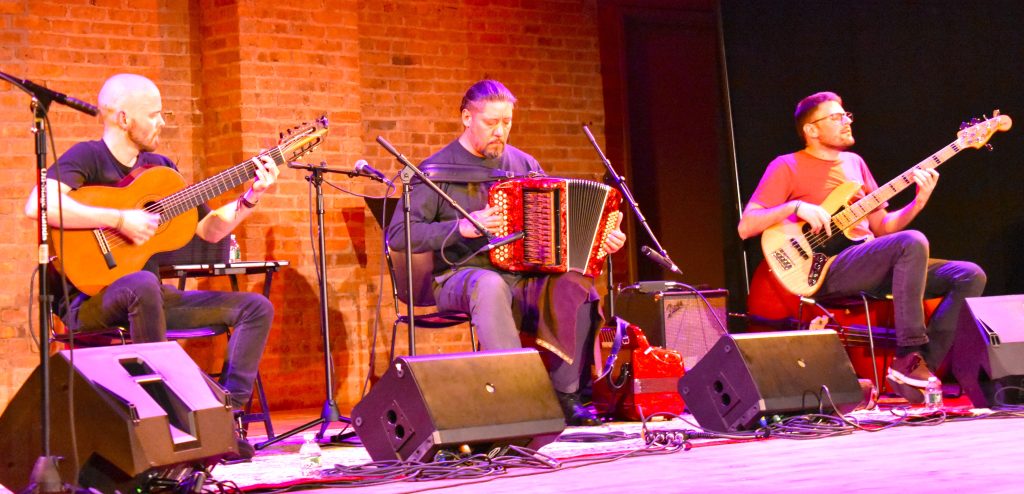 A piece describing a mountain top river followed which featured Andres on guitar delivering difficult string picking. Another original composition about a wide-winged bird soaring, probably a condor, where flautist (as well as percussionist) Maya delivered smooth lyrical melody. Another religious theme on works of mercy followed, then a piece about his native hometown, Caiboaté, the capital of the southern-most county in Brazil (population five-thousand).
They played seven more compositions in the nearly two-hour concert without intermission. My favorite was "Mi Cielo," (My Sky) composed by Brittes, with Carlos switching to tenor guitar. They played more dance music, including a waltz (I was expecting some tango), as well as impish folk tunes imitating sounds of a chicken, bull, and horse.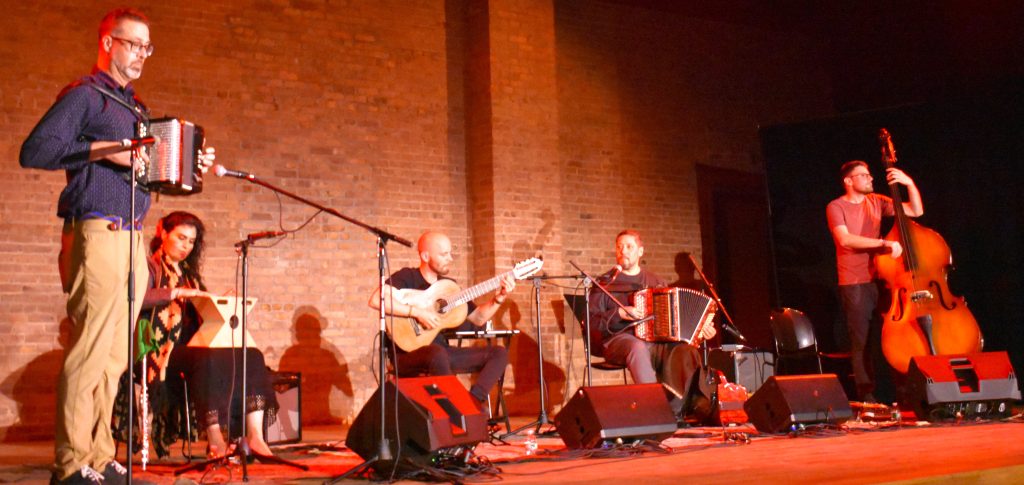 There was charm, cheer, whimsy, and sunny generosity in the works played with adroit and sometimes astonishing orchestral effects from all four musicians who played with welded unity. Their tall translator, Jose Curbelo, joined them with his own tenor accordion for the last two rapid numbers