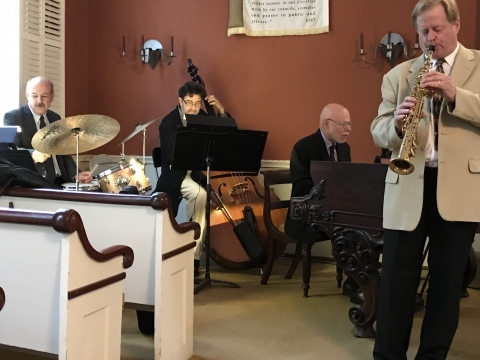 Preview
by Kevin T McEneaney
Next Saturday at 4 pm there is the opportunity to hear a marvelous jazz quartet with Matt Finley on trumpet, Larry Ham on piano, Lou Pappas on bass, and Jeff Seigal on drums. They play cool jazz: mellow, sinewy, meandering harmonic interplay of instrumental lines inspired by bebop and older big bands, yet it offers more relaxed tempo and lighter phrasing than the more hectic tempos of bebop. Rio means River and what you will hear is a contemplative, winding river of sound delivered by noted musicians.
Trumpeter Matt Finley, composer and arranger of award-winning works, plays trumpet, flugelhorn, piccolo trumpet, soprano sax, vibes, and flute. He was band leader of Rio Jazz from 1988 to 2018. Matt has played with famous musicians from around the globe. His work can be heard on Apple Music, Amazon, Pandora, and Spotify. Among his many cds, Brazilian Wish remains his most famous. He is currently Director of the Smithfield Chamber Orchestra, Smithfield Church, at 656 Smithfield Valley Rd., Amenia. This historic Greek revival Church features excellent acoustics.
On piano will be internationally known local Millbrook resident Larry Ham who played in the Lionel Hampton Orchestra and was pianist in the Illinois Jacquet Big Band and has been a sideman recorder on so many jazz albums that the number is difficult to estimate. As a United States Department of State Jazz Ambassador, Larry toured eleven West African nations in a cultural exchange program, performing in concert and conducting workshops on the art of playing jazz. He has performed in the US, Japan, Canada, Germany, Poland, England, Switzerland, Austria, and France.
Lou Pappas on double bass, has a career that encompasses both jazz and classical music. has been teaching private and college level bass for over 40 years, just recently retiring from Vassar College and SUNY New Paltz. During his broad and varied career, he was a bassist for 20 years with the United States Military Academy Band at West Point, retiring in 2006. He continues to perform with the Hudson Valley Philharmonic. He has just retired from 40 years of teaching at Vassar College and SUNY.
Jeff Siegal will accompany on drums. Known for his adept and sophisticated drumming on concert stage and recording studio with legendary artists such as Ron Carter, Kenny Burrell, Jack DeJohnette, Benny Golson, and Frank Foster. Siegel teaches jazz drumming at the New School for Jazz and Contemporary Music as well as at Western Connecticut State University.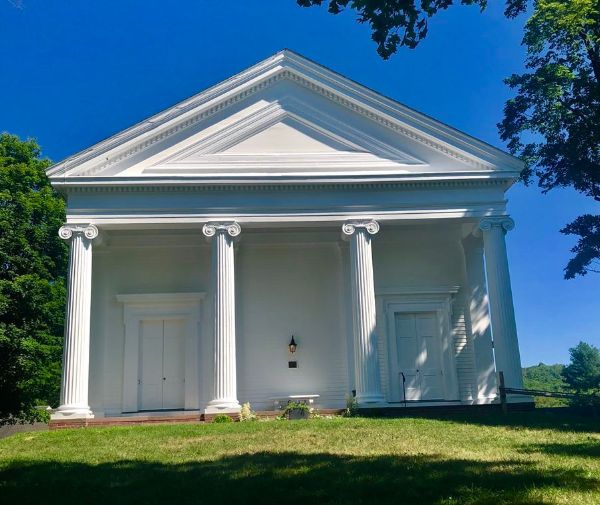 This promises to be a most unusual jazz concert in Dutchess County. There will be a meet-and-great cheese and wine reception after the concert. Smithfield Church now features handicapped elevator access from the basement. A twenty-dollar donation is requested for the concert.