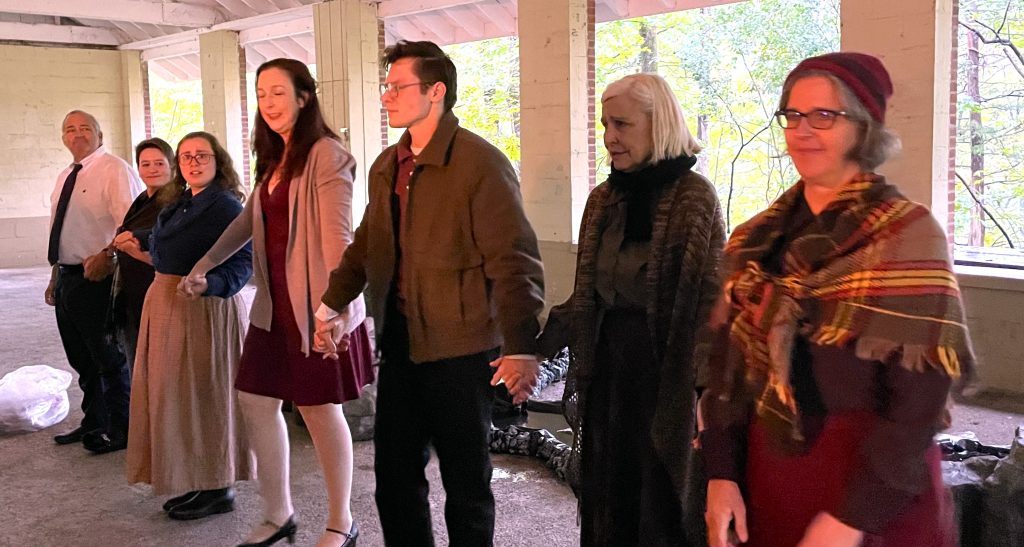 by Kevin T McEneaney
When was the last time that you attended and experienced a transformative drama? Why is it that one is tempted to re-watch an old movie because you have forgotten aspects of the plot? The reason you have forgotten scenes is that you have indulged in virtual reality. Seeing a live play remains akin to hearing a live concert, which is not forgettable. Viewing drama is the real thing to open one's mind to substantive reality.
The name of author Deborah Brevoort may be unfamiliar to you. She has written ten operas, two screen film-scripts, and over a dozen plays. The Women of Lockerbie (translated into nine languages) is about the aftermath of the downed Pan Am Flight 103 destroyed by a planted bomb. Lockerbie, a small rural town in northern Scotland, was the locale where the remains of the passengers landed. The play is a distant descendant of The Trojan Women by Euripides.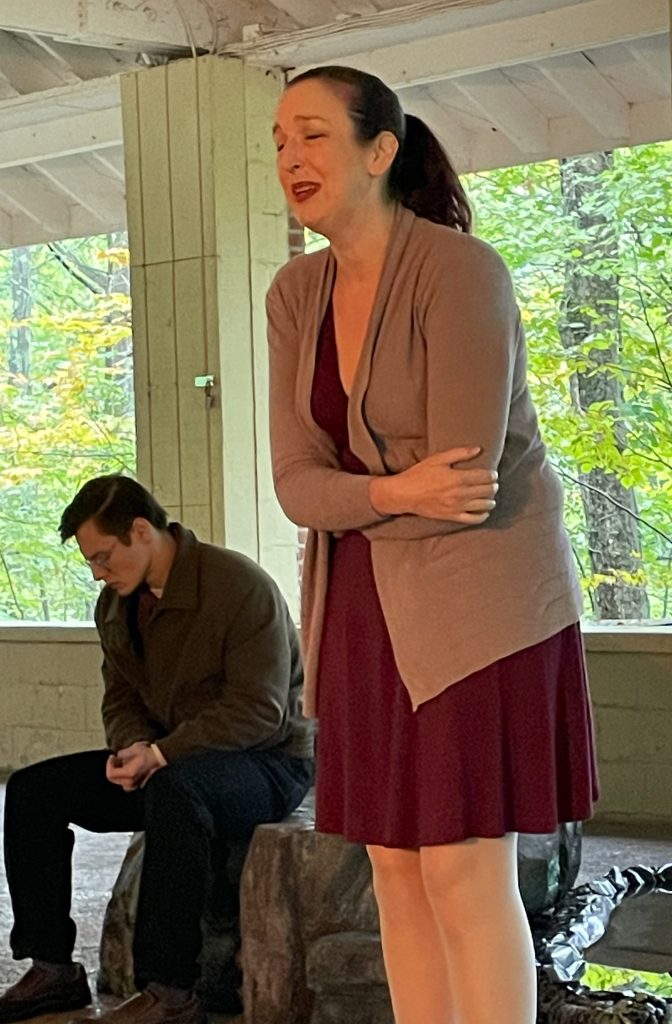 This mesmerizing, minimalist production produced by Joseph Eriole and directed with calm, suspenseful assurance by Duane Joseph Olson features some marvelous performances. Stephany Hitchcock as Olive manages to be both reasonable as well as a torrent of emotion; Wendy Urban-Meade as Hattie delivers superb comic relief. Courtney Constantino-Baldeh and Michael Risio, as the deeply wounded American parents who have lost their only son in the atrocity wear comatose "masks," as awkward, afflicted, alienated outsiders to themselves, finally revealing their real identities at the dramatic reversal-resolution, which is transformative and effectively cathartic. Hitchcock delivers a shocking and memorable crescendo. This spare, deep, psychological drama will evoke a tear or two at climax.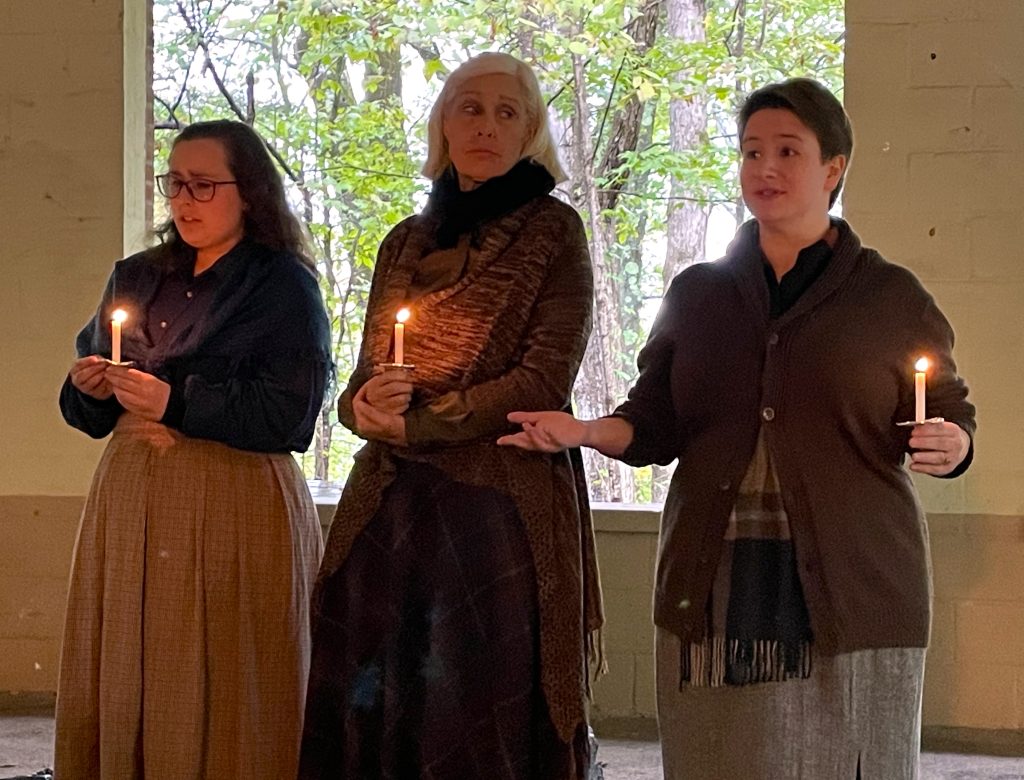 There is only one scenic prop in the play, a stream, and it is employed only twice, although its silence becomes haunting. Incidental background string music by Sharon Penz hefts emotional ambiance. Cora Colwell and Jess Boyd offer effective symbolism representing the invisible 200 women who are the linchpin of the story. Joseph Eriole convincingly performs the role of the American ambassador, a functionary without a heart, until he his shamed beyond endurance. The climax of the play produces an inanimate pop that appears to be a living relic. This is the story of a small rural town in the middle of nowhere successfully defying the power of the American and British governments in order to provide common sense generosity.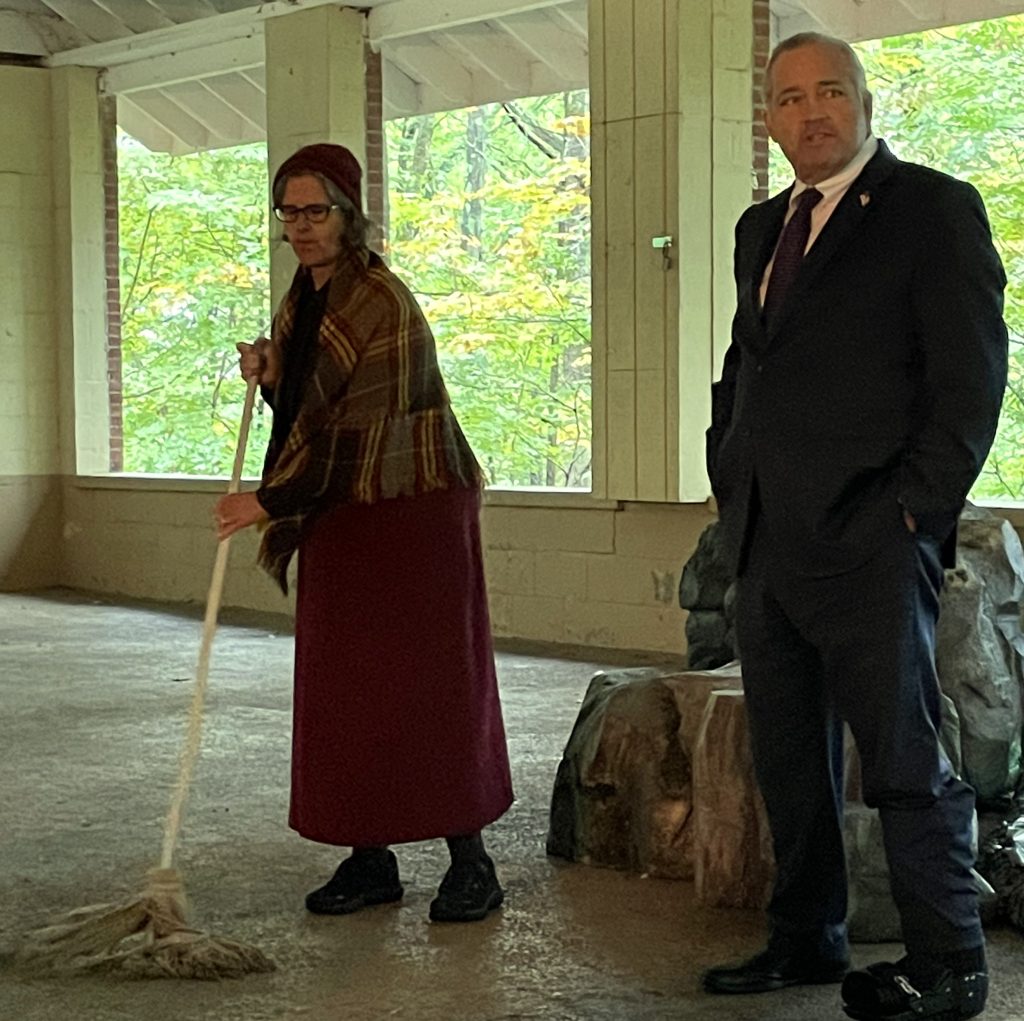 The Scottish accent by all actors is well-done and offers no impediment to comprehending dialogue. This deft production by The Rhinebeck Theater Company plays for just one more weekend on Friday and Saturday night at 8 pm as well as 3 pm on Sunday. The location of the play might appear odd , yet the environment of the Shelter offers a good setting for this remarkable play.
This play runs 90 minutes without interruption at James Baird State Park, Shelter #1. The park encompasses 590 acres and is best approached from Freedom Road. After about a mile one comes across Shelter #2; Shelter #1 is about a quarter mile further on to one's right. This production is not permitted to have a sign at the turn. If you have trouble finding Shelter #1, you may get directions from the park Bar & Grill.