by Kevin T McEneaney
Cool jazz had its roots in saxophone Prez Lester Young and especially trumpeter Miles Davis' short-lived nonet band of 1948. They were looking for a more mellow, extended, contemplative melodic form. This approach to jazz became more popular on the California coastline where life was more informal and relaxed than the hectic east coast. While Davis dominated east coast recordings with such masterpieces as Birth of The Cool (1949), Chet Baker eventually achieved the moniker "the King Of Cool." Some threads of cool jazz were influenced by classical music, especially Baroque music. Cool jazz remains widely known for its flexibility, soulful beauty, wit, and artful improvisation.
All of the latter was on exhibit with Matt Finley & Rio Jazz at Smithfield Church in Amenia last Saturday. Most of the works played were composed and arranged by Matt Finley who has created a mellow synthesis between West Coast cool and the rhythms of Brazilian jazz.
They opened with Finley's "Last Day of Summer" which as it turns out was an accurate forecast with the melody slightly nostalgic for summer yet looking forward to the wonderful, redolent colors of autumn. Finley's intimate, contemplative style on Flugelhorn brooded sweetly on the tapestry of life. As is traditional in cool jazz, solo opportunities for variations in the melody are passed around casually between players; here Finley's fluglehorn to famed, local, pianist Larry Ham to Lou Pappas on bass to back to piano then to fluglehorn.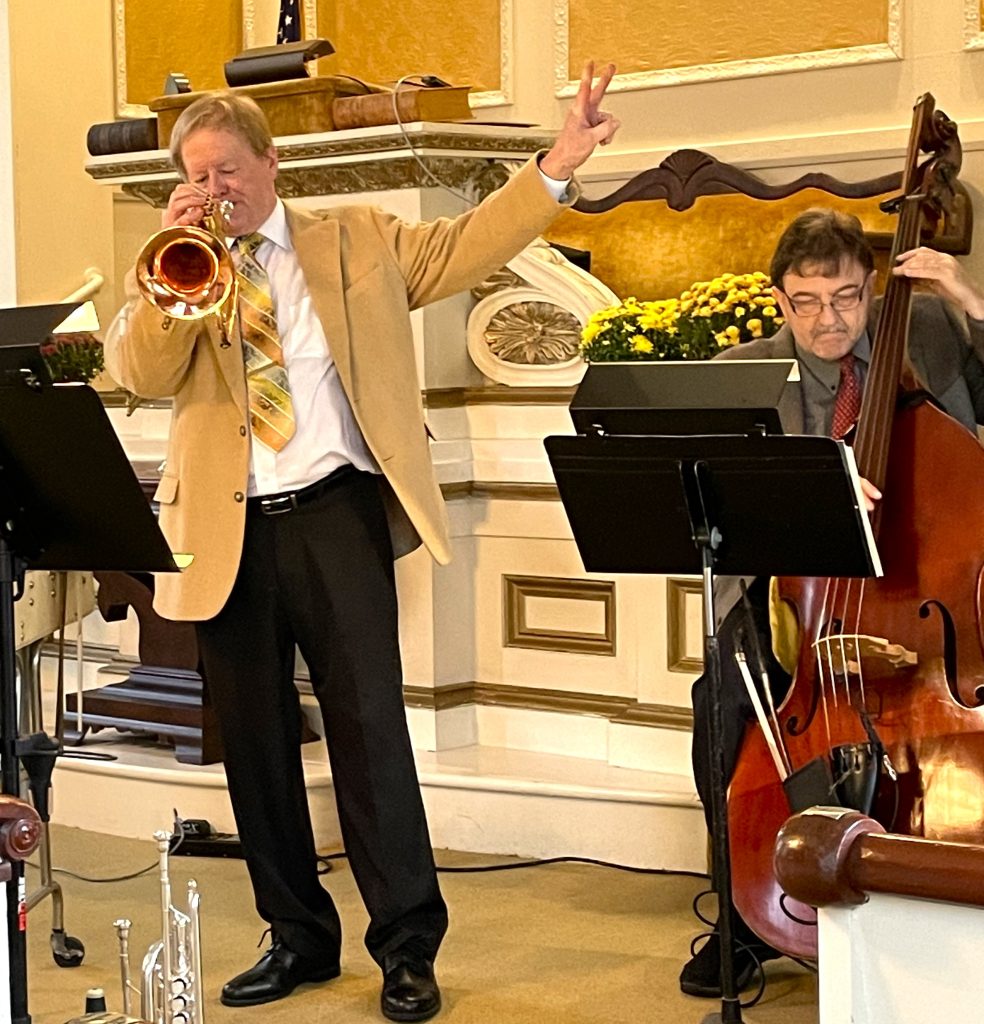 "Good News" was a recent graceful jazz waltz inspired by the successful birth of Matt and Denise Finley's granddaughter Ruby. Exhilaration and tenderness lifted the waltz above the common triteness of the genre to a transcendent level that was remarkable. I experienced a floating levitational sensation in this unusual work, partly the effect the soft, subtle drumming of Jeff Siegel and Finley's magic flugelhorn.
"How I Feel with You," another recent composition, plumbed the dialectic between hope and despair as it happily concluded with tenderness and affection. Here Finley played vibraphone with adroit panache on an instrument that more often pretends to be the brash, extroverted exploder.
"One Note Samba" (1963) by Antônio Carolos Jobim (1927-1994), one of the most important song writers of the twentieth century, offered a tribute cover to one of Brazil's musical giants who internationalized bossa nova and brought Brazilian jazz styles to the United States. This permitted the audience to compare the development of Finley's present compositions with an influential source and put in relief Finley's later flugelhorn developments from the beginning of that historic trend.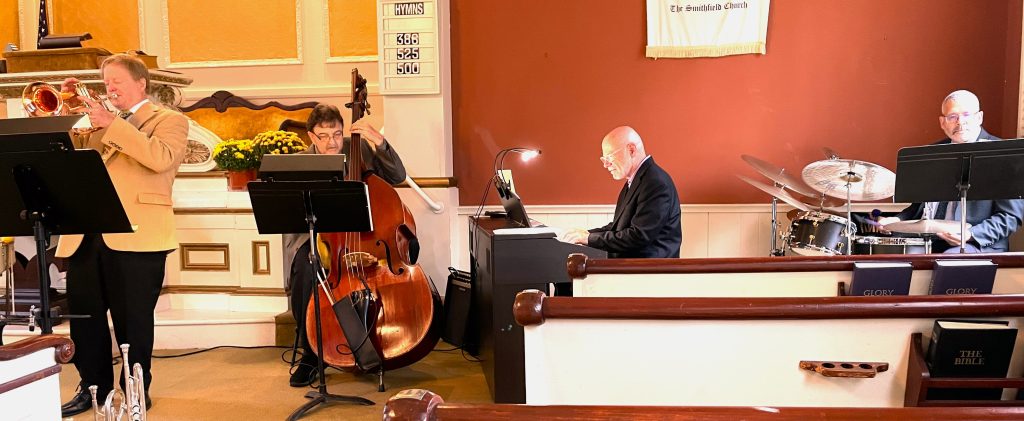 Slow and Steady" offered a bluesy beat with Finley on flugelhorn that permitted Pappas to exhibit what he could do as soloist, which was to be the mesmeric hypnotist at the fair. I can still hear his solo echoing in my mind two days later.
"Art's Message" was a composition by drummer Jeff Siegel which appears on his recent album London Live published by Artits Recording Collective. The title refers to the legendary drummer Art Blakey and the Jazz Messengers with whom Siegel has played. (Art died on October 16, 1990.) On this tribute composition Siegel paints a portrait of the great bebop giant from whom many giants of jazz emerged. There was deep memory and affection in this piece where Siegel excelled in vibrant solos affirming the generosity of Art's musical message to the world. On trumpet Finley delivered authoritative, note by note, clean sound.
Lou Papas requested that Victor Herbert's masterpiece "Indian Summer" (1919) be included in the group's performance. I have heard this classic tune numerous times and wouldn't mind hearing it a hundred more times. This also gave Lou another opportunity to shine on bass.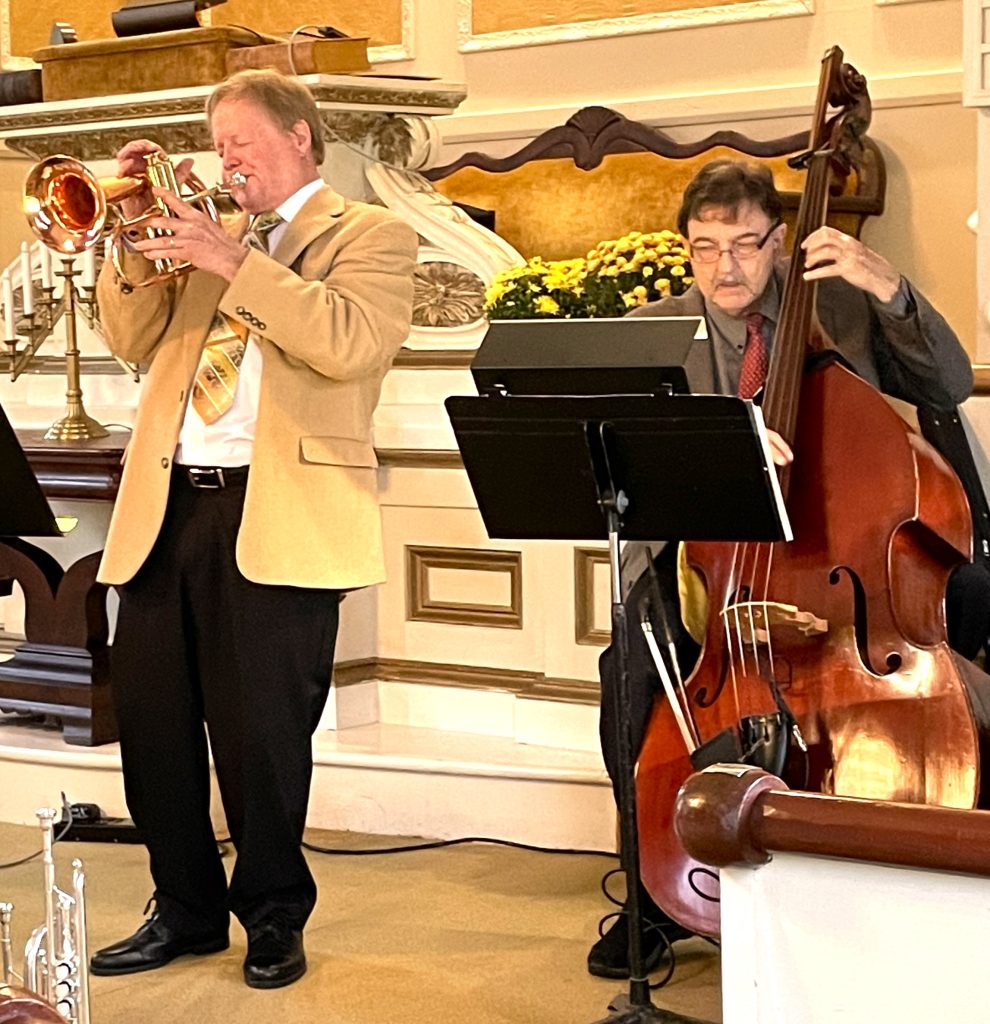 "Honfleur" by Larry Ham refers to the Norman town where Eric Satie, pianist, composer, and eccentric extraordinaire (most of his compositions were written on cafe tables with alcohol), grew up. This tribute melds cool jazz with the sharp angles of Satie's compositions while making its own quizzical commentary on one of the great esoteric composers. This witty, wry, probing work reached that scenic height of sophistication that cool jazz enthusiasts delight in.
"Now We Have a Good Time" by Matt Finley delivered a brassy, upbeat closing on flugelhorn that meant what it said it meant without qualification. This was an emoti9nally rousing call to fellowship delivered with energetic intensity. With those happy notes filling the air the audience went downstairs to the fellowship room for refreshments, food, and conversation.
The psychological effect of cool jazz puts people in a generous, copacetic fellowship which encourages a deep relationship with others and society, akin to yoga or other spiritual endeavors.
Back in the day, J.S. Bach exuded magisterial, contagious, and humorous spirituality with the organ. The cool jazz movement attempted to spread the message of fellowship with regard to race, war, bigotry, and hatred. Cool jazz remains as important today as ever, although it has been commercially replaced with formulas of angst and hysteria.