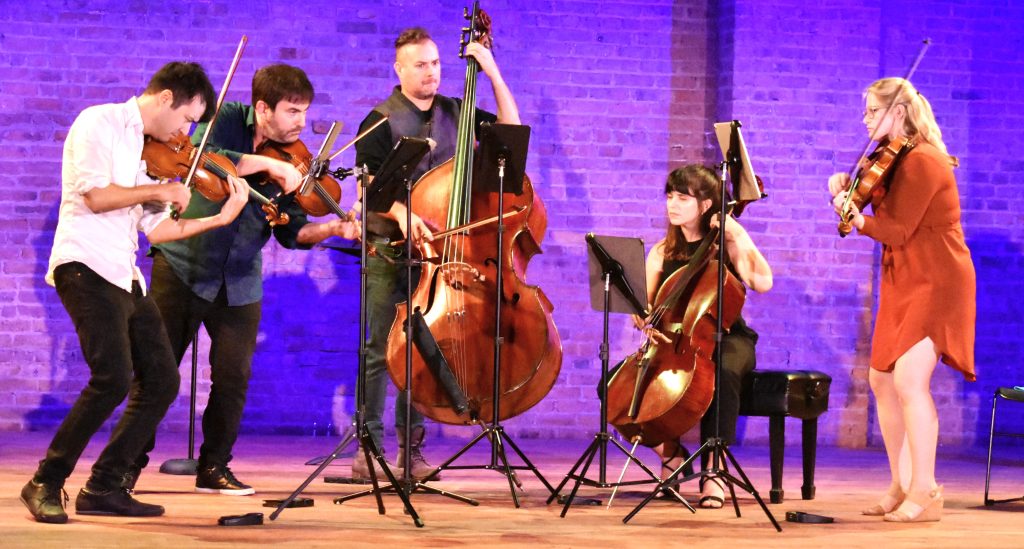 by Kevin T. McEneaney
Five young talented musicians lit up the stage last Sunday at The Stissing Center. This tightly unified group of five talented musicians will publish their fifth album this very week. They are burning with welded precision! They offered a cornucopia of eclectic contemporary classical, traditional folk music from various countries as well as a feverish anthology of styles. They pack a formidable repertory. The program was titled Rite on Time.
They opened with a work by the eclectic Punch Brothers that sounded like ethereal static roaming the airwaves in electrical bursts; Movement and Location limned a super-fragmented work freighting tension, suspense, and mystery. We were at a new whistle-stop in contemporary American heartland.
Moving to a cooler climate of eccentricity, they performed Allemande pour tout le monde by contemporary classical composer Kenji Bunch where double bassist Louis Levitt grounded the four other string players with their double-time signatures.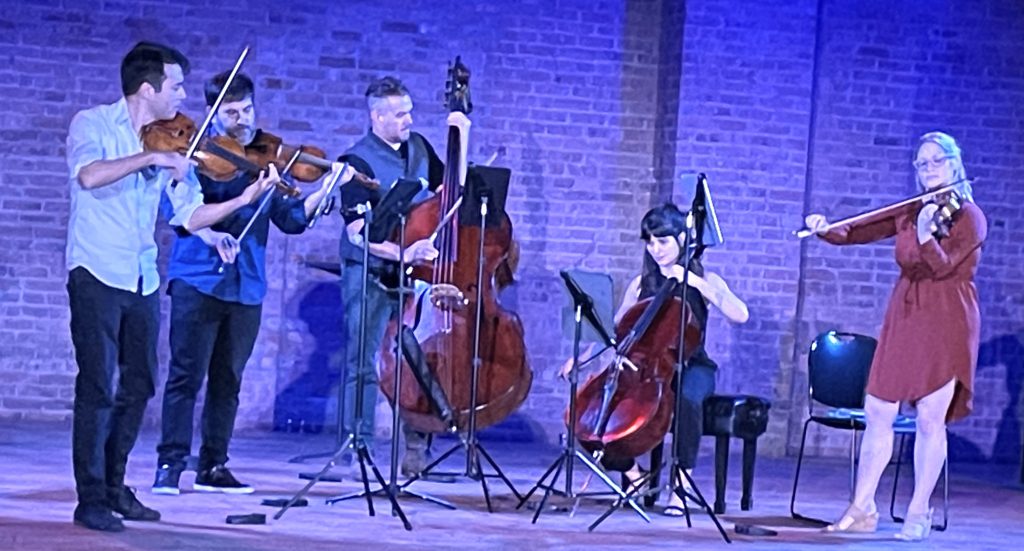 Yann's Flight by Hawaiian born composer Shawn Conley described the flight of a hang-glider over the Hawaiian landscape, rising and falling in air, creating mind-bending swerves and ascents that open up to endless vistas. Here violist Caeli Smith occasionally employed her viola as a percussion instrument. I was struck by the surprising beauty of this graceful aerial flight of notes in air.
Slow Burn by violist and composer Jessica Meyer delivered a see-sawing rhythm with Levitt adding slaps on his bass. There was tension and edge to this piece which sounded like it was suspended in air.
2 + 2 = 5 was their cover of the inventive classical-rock band Radiohead, which here was hotter than a sizzling gridle. I was reduced to a major state of enthusiastic shock. The title (a poetic rendering of musical mathematics) refers to four musicians playing who sound like five; in this case it was five musicians playing who sounded like six—unity brings about another force or presence.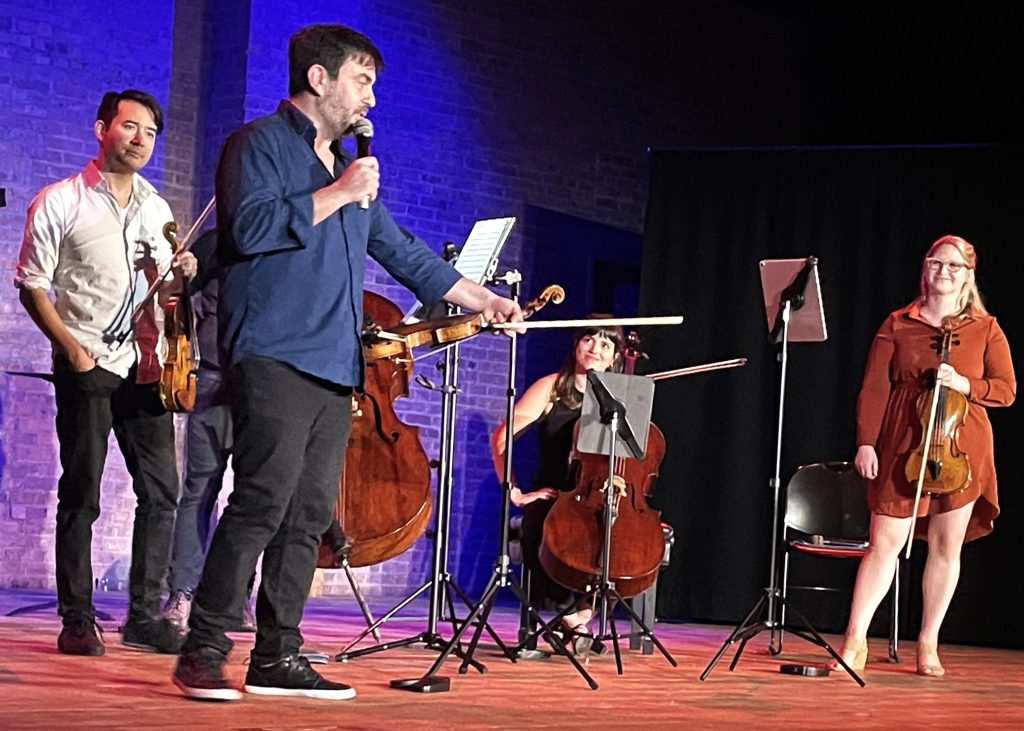 Violinist Sami Merdinian, who is part Armenian heritage and part Argentinian heritage, gave a short introduction about the musicologist Komitas, the Armenian folklorist who like Bela Bartok collected hundreds of folk tunes. These were quite interesting; the third, with Sami's plangant tone, was my favorite. They performed these folk tunes with ardent affection, then played two Argentinian Mangas and an innovative instrumental version of the popular romantic folk song Con un nudo (With a knot), which stripped the song of its sentimental gush, investing the melody with contagious classical inflection.
The long brooding instrumental piece "My Desert, My Rose" by the prolific composer Aleksandra Vrebalov was also clothed with imaginative and fierce orchestrational dissonance and rhythmic suspense with a surprise finale reversal of silence. Here violinist Suliman Tekalli and cellist Laura Andrade were astonishing!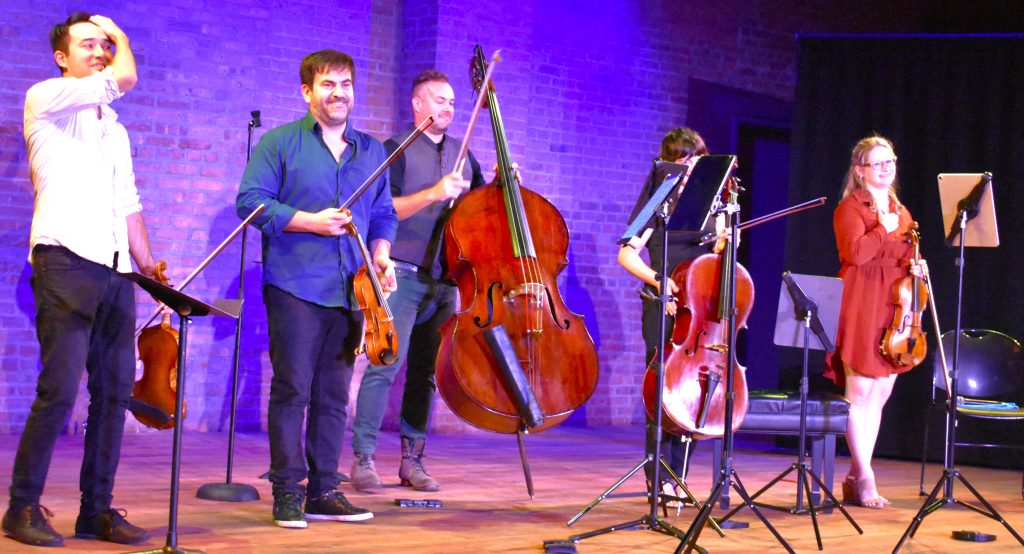 They received a standing ovation and returned to play another Radiohead piece, Weird Fishes, for encore. This blissed me out.
This was a concert that traveled across much ground in style, technique, breadth of dynamics, and joyful interplay by these five ultra-talented musicians. This exciting event was the last of the year's tailored Chamber Music Series curated by pianist Director Sophia Zhou whose taste in diverse music hits sophisticated high notes with a Wow!
P.S. if you attended The Stissing Center concert of April 30th when violinist Stella Chen who played with pianist Giles Vonsattel in a program titled , you will not be surprised to hear that Stella Chen has just has won the Young Artist of the Year in the prestigious Gramophone Classical Music Awards. Here is the link to that extraordinary concert.