by Kevin T McEneaney
It has been nearly a year since I heard the fabulous Borromeo quartet. Their quartet moniker alludes to the Borromean Islands at Italy's Lake Maggiore, near where they played their first concerts. Lead violinist Nicholas Kitchen and cellist Yeesun Kim are husband and wife. The quartet is the ensemble in residence at NPR radio program Performance Today. The quartet is a national treasure.
The opened with Remember by Eleanor Alberga (b. 1949), a contemporary Jamaican composer who writes symphonies, operas, solos piano works, and chamber music. This five-minute work is a poignant elegy based upon the Jamaican folk song "Come Back, Liza." As a memory-recollection piece, it paints cherished memories of the departed beloved. While just under five minutes in length, its tonal texture conveys loss, longing, and tender, emotional grief. In the context of this performance at Music Mountain, it might be interpreted as a prelude-homage to Beethoven and to set the mood and theme for the opening of the next work.

String Quartet in E-flat Major, Op. 127 (1925) opens, somewhat surprisingly, with an intimate, emotional tone in the Allegro, a buried memory evoked and embroidered with ornamentation—perhaps of a relationship that might have been a happy one. Here, Yeesun Kim's cello combined with the viola of Melissa Reardon to transport our ears to a fantasy landscape. The following Adagio features a remarkable stream of melody with Kim underpinning Kitchen on violin with lyrical support from Kristopher Tong on violin.
I speculate that this may be a meditation on what might have been, if Beethoven had been successful in adopting Karl, who had turned eighteen in the fall of 1824 when Beethoven began composing this work. Karl was living with Beethoven at this time and studying philology at Vienna University, although Karl's occasional nights away form home greatly disturbed his uncle, so much so, that he hired a spy and quarreled loudly with Karl's best friend so often that the landlord requested that Beethoven leave the apartment. Furthermore, Karl, fearing failure at the University, had the disappointing ambition to be a soldier. Would that have happened if Beethoven had full custody of Karl so many years ago? Oh, the dreams of what could have been! This work was finished in February before Karl's unsuccessful attempt at suicide in the Spring, the second bore of the two pistols having missed his skull while the first entered his skull. Karl told a magistrate that he tried to kill himself because his uncle harassed him. (See Morris, Edmund, Beethoven: the universal composer, Harper, 2005, p. 215)

The Scherzando vivace develops a more dissonant approach: Beethoven venting about what is really going on in Karl's life. There is a vigorous attempt to introduce absurdist wit. Here Nicholas was fierce and eloquent on violin amid dotted rhythms. Despite the difficult situation with Karl, the Finale celebrates the situation that Karl is not living with his mother but with Beethoven. Perhaps Karl may turn things around and be a success at school, find a woman who loves him, have a family, and discover a way to be happy, yet the fierce dance rhythms contain beyond celebration a premonition of despair. The conclusion acclaims wild hope in the face of despair. Exasperation haunts the exclamation of hope. The enigmatic fury of this last movement was impressive as each instrument was welded to each other!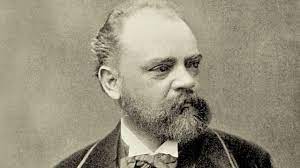 Piano Quartet in A Major, Op. 81 (1887) by Antonín Dvořák has often been labeled as perennially fresh. This was the forty-eighth performance at Music Mountain. This remains an astonishing work that one would like to hear every year. The four movements have a rich impressionistic palate of colorful moods from sorrow to nostalgia to gaiety and ecstasy, a cornucopia of melody and vitalist dance rhythms that celebrate the panoply of life. From the cello's stately opening line in the Allegro, the viola develops complex melody—Dvořák's melodies being a creative, transformed adaptation of Czech folk tunes, especially the second movement Dumka whose slow rhythms evolve to rapid dance beats. Guest Pianist Henry Kramer (with five record albums) delivered spontaneous conversation with the strings, a fluid conversational interplay with lyrical edge in the higher registers. The furious Scherzo was a marvelous kaleidoscope of color with Nicholas delivering a hypnotic violin redolent with luminous memory.

In the Finale, everyone united in such magnificent accord that it appeared to be Otherworldly magic. The audience delivered two extremely long ovations, displaying an enthusiasm that was markedly unusual. Everyone felt lifted into the clouds above. The genial humanity of Dvořák was contagious!
Next Sunday the Dali Quartet & Vanessa Perez, Piano will offer a program of a FREE FAMILY CONCERT AT 2 PM, plus J. C. ARRIAGA, String Quartet #3 in E Flat Major; A. PIAZZOLLA Tango Ballet; Clarice ASSAD, Sonic Landscapes for Piano Quintet.