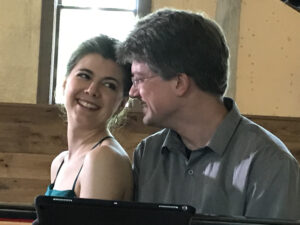 By Kevin T. McEneaney
The Stissing Center—like many other music and theatre venues—has opened its doors via the Internet. The Saturday evening concert at 4:30 pm featured soprano Lucy Fitz Gibbon with pianist Ryan MacEnvoy McCoullogh in a program of Clara Schumann, William Grant Still, and Adela Maddison. This husband-wife duo from Kingston, NY, recently released the album Descent/Return on the Albany Records label which features works by American composers John Harbison and James Primosch.
This inaugural concert, entitled Out of Silence, for The Stissing Center began with Fitz Gibbon singing Six Lieder (1844) by Clara Schumann with McCoullogh at piano. Lucy possesses a marvelous natural soprano voice with effortless scale movement and warm, emotional texture. Her voice projects sincerity and delight. She as if German was her native language. As a team, Lucy and Ryan appear to enjoy lightening synchronicity. As a pianist Ryan plays with svelte, meditative flow.
The middle section was all Ryan performing chamber works by William Grant Still (1895-1978), the first important African American composers and a friend of George Gershwin. I'm an avid fan of Still's first symphony, yet have never heard his chamber music, so this was a thrilling opportunity to hear something new. Ryan began with "Cloud Cradles," the first movement from Seven Traceries (1940), which explored the upper register as if it were a modern Nocturne, yet it delivered a decided American accent. The movement "Out of Silence" also began in the upper register yet moved to the melodic middle with poignant poetic reverie wherein the silence of the piano lingered as if producing a further note, an effect that appeared magical.
Moving to the earlier Three Visions (1936), a tripartite spiritual view was dramatized as in the traditional Hell, Purgatory, and Heaven. "Dark Horsemen" offered a frightening Gothic gallop through dangerous woods, concluding with a thundering period demarcating death. "Summerland" evoked the landscape of patient hard work on a farm. "Radiant Pinnacle" described ascent with chord blocks of rising wave-sound where one reposes on a Petrarchan mountain top. Ryan delivered a river of meadow-like lyricism.
Lucy then performed a suite of French songs with texts principally by the poet Edmond Haracourt and composed by Aedela Maddsion, an English composer of opera and songs. Her husband was the London publisher of Gabriel Fauré and Aedela was Gabriel's translator and promoter. Aedela eventually left her husband and children to be Gabriel's mistress in Paris where she composed her many French pieces. Lucy sang in excellent French "L'Armada," Vesperalè" (which I admired for its passionate sunset climax), "Bien-aimée" (Good friend), "Soir en Mer" (Evening at Seaside), and "Mon amour ést mort" (My love is dead). These were by turns gorgeously poetic and plunging with pathos, in depths that only French can articulate.
During this novel and genteel evening, the acoustics of this nearly hour-long concert at The Stissing Center were better than I anticipated—they were excellent! Live streaming remains better than recordings because it is still live. And when you listen at home to the recording at your convenience, you do have the advantage of stopping at any moment for any reason.
This concert can be seen and heard for free on YouTube: just type in Stissing Center and it will appear or hit this link. The local becomes universal through the Internet. This concert was a prelude peek at the marvels that will be forthcoming, which will be curated by pianist Sophia Zhou, Artistic Consultant, who will, if this program is any indication, provide a refreshing combination of both new and old classical works by upcoming performers. For further upcoming concerts you can check out The Stissing Center webpage here.