by Kevin T McEneaney
After a two-year pandemic suspension of Vassar College's BACHFEST, its Artistic Music Director, Christine Howlett, raised her baton to conduct the Vassar Chorus & Orchestra presented by the Vassar College Music Department, Vassar College Ford Scholars Program, and Hudson Valley Society for Music at Skinner Hall last Sunday afternoon.
The opened with two short pieces: Christ lag in Todes Banden by Samuel Scheidt (1587-1664); Heut' triumpieret Gottes Sohn, BWV 630 by Johann Sebastian Bach (1685-1750) with dexterous James "Barefoot" Fitzwilliam on organ. Scheidt wrote a three-volume work on the organ that contained over 50 preludes which breathed counterpoint into the Italian concerto style. Bach's piece was a version of a Lutheran Easter hymn (written by Kaspar Stolzhagen in 591) which expertly weaved short chorale melodies as prelude for what a congregation might sing. The impressive, printed program for the concert contained elaborate and incisive notes written by Ford scholar Madeleine Donat.
The Bachfest Chamber Choir then sang two works by Heinrich Schütz (1585-1672) published in 1625: the compressed polyphony of Hue mihi Domine with its plangent plea for forgiveness, SWV 65, and Cantate Domino, SWV 81, which is based upon the joyful and dance-like Psalm 149, "Sing to the Lord a new song," a favorite of many composers. Having established a period, background snapshot of the musical culture in Germany, all other presentations were by J.S. Bach.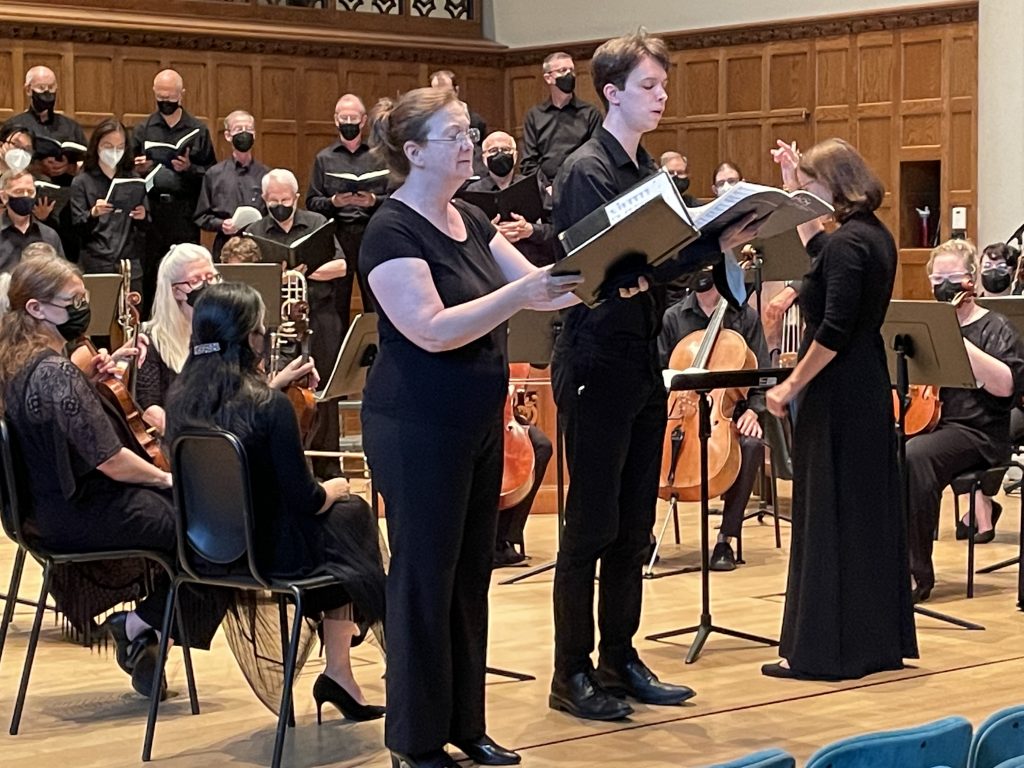 The complete Bachfest Choir then sang Der Herr denket an uns, BWV 196 in its five parts with James M. Fitzwilliam on small console organ and soloists: soprano Lucelly Orrego, alto Madeleine Donat, tenor Benjamin Prud'homme, bass Rafi Ettinger-Finely, tenor Benedikt Kellner, and bass Michael Sanders. This is believed to be one of Bach's earliest cantatas, c, 1706, thought to be written for the wedding of Johann Lorenz Stauber, pastor of Bach's church in Arnstadt; text is from Psalm 115, verses 12-15, which bless pater and children. The influence of Dieterich Buxtehude lingers in the music.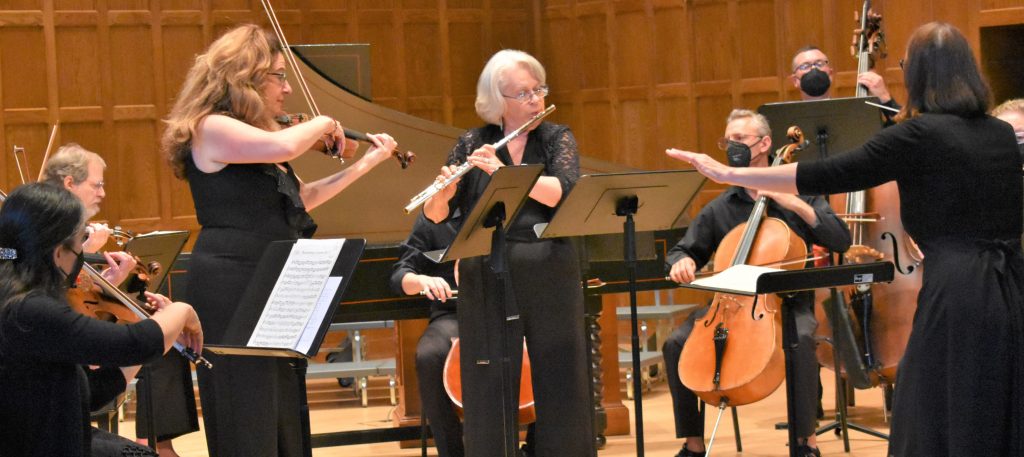 Brandenburg Concerto No. 5 in D major, BWV 1050 provided the crescendo with James Fitzwilliam on period harpsichord. Bach wrote this piece to show off the musical potential of a new harpsichord he had just purchased. This chamber music piece dispenses with concerto conventions of the time. In the first trio movement Rachel Handman on violin and Marcia Gates on flute alternated leads with support from strings led by Rachel Crozier's violin as harpsichord follows with background support, yet the harpsichord gradually begins to change the conversation of the violin and flute, then dominates with long solo cadenza (most likely designed by Bach to show off this new harpsichord). Many music critics cite this solo as the father of the harpsichord concerto.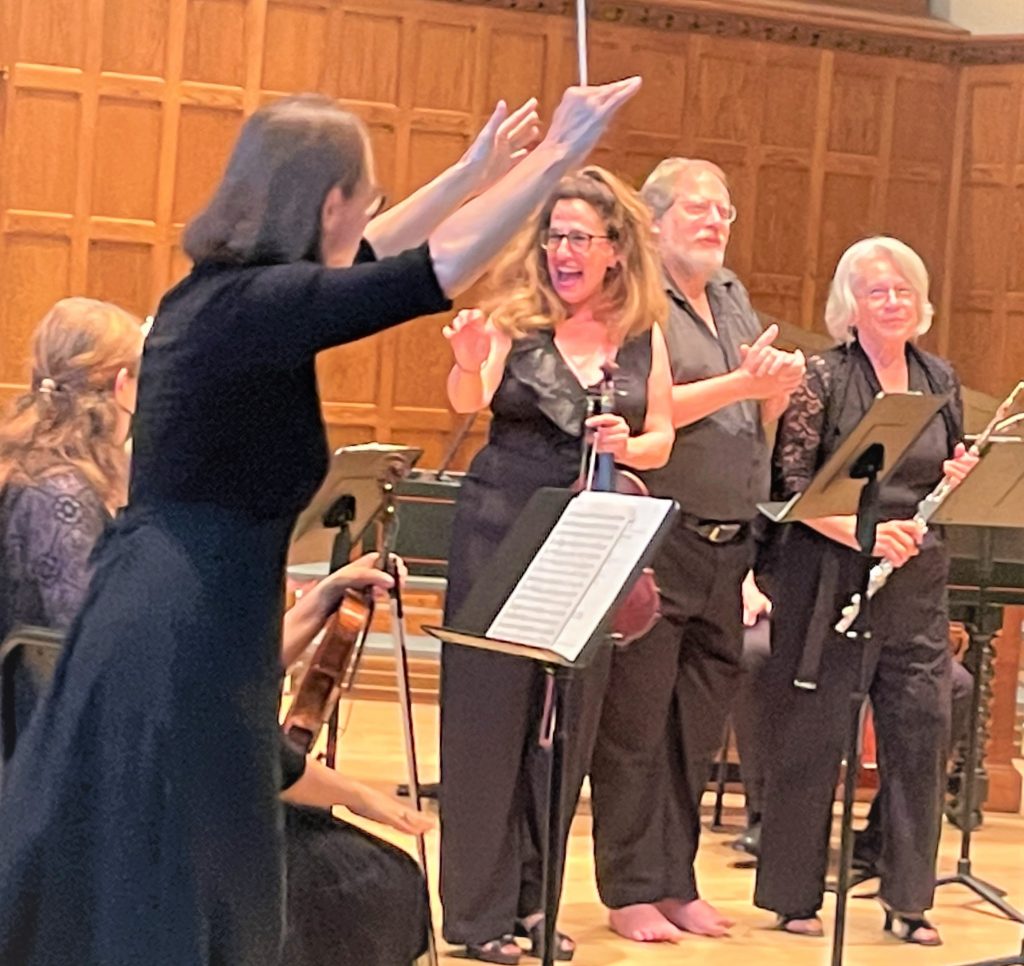 The satiric opening of the second movement echoes the chattering semiquavers of popular Italian opera at the time, then, eliminating the string orchestra, proceeds to argue that music should be a more intimate experience as fugues and gigues display the spontaneous vitality of everyday life rather than elaborate social spectacle. In the ritornello finale, Bach integrates elements from French, Italian, and German styles in a complex mosaic. This performance was beyond outstanding!
For finale, the Bachfest Choir & Orchestra conducted by Christine Howlett presented Christ lag in Todes Banden, BWV 4 with soprano Fern Ashworth and tenor Benjamin Prud'homme. This cantata on the death and Easter resurrection of the rabbi may be Bach's earliest surviving cantata (Bach's only piece on the subject), it is an awesome, lengthy work which may have undergone a long history of revised improvements of many years. From Pachelbel, Bach appropriated the technique of employing a single choral melody as a continuous chant. The spirited joyful rhythms and closely woven text produce a seamless robe of sound. The double-time "Hallelujah" in the opening movement is exalting; that "Hallelujah" refrain functions as a leitmotif throughout the piece. Here the simplicity of the melody delivers a powerful emotional impact.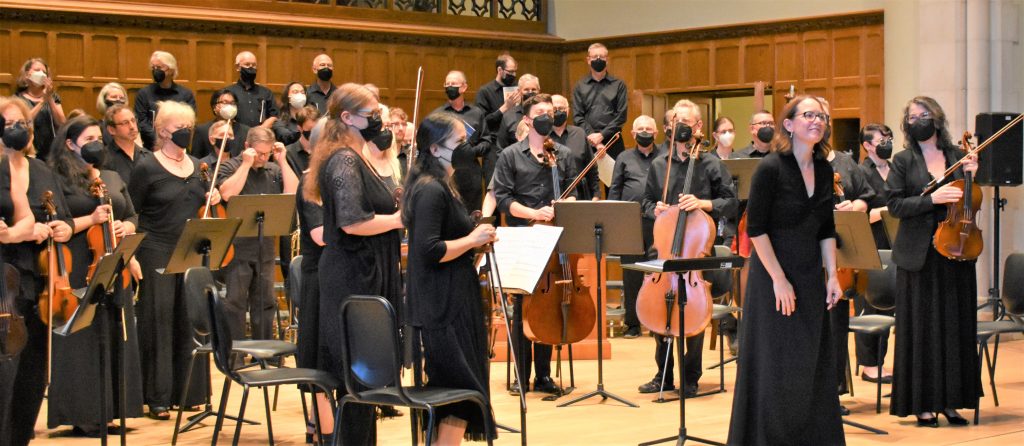 The fully-packed auditorium rose with applauding exultation and demanded a second bow from all. This was the first concert in over two years when Skinner Hall enjoyed a capacity audience. Their next Sunday concert in Skinner Hall (at 3 pm) will present Gail Archer with a program of contemporary Polish organ music from her new CD, Cantius, including works by the influential woman composer Grazyna Bacewicz as well as scholar/composer Pawel Lukazewski.