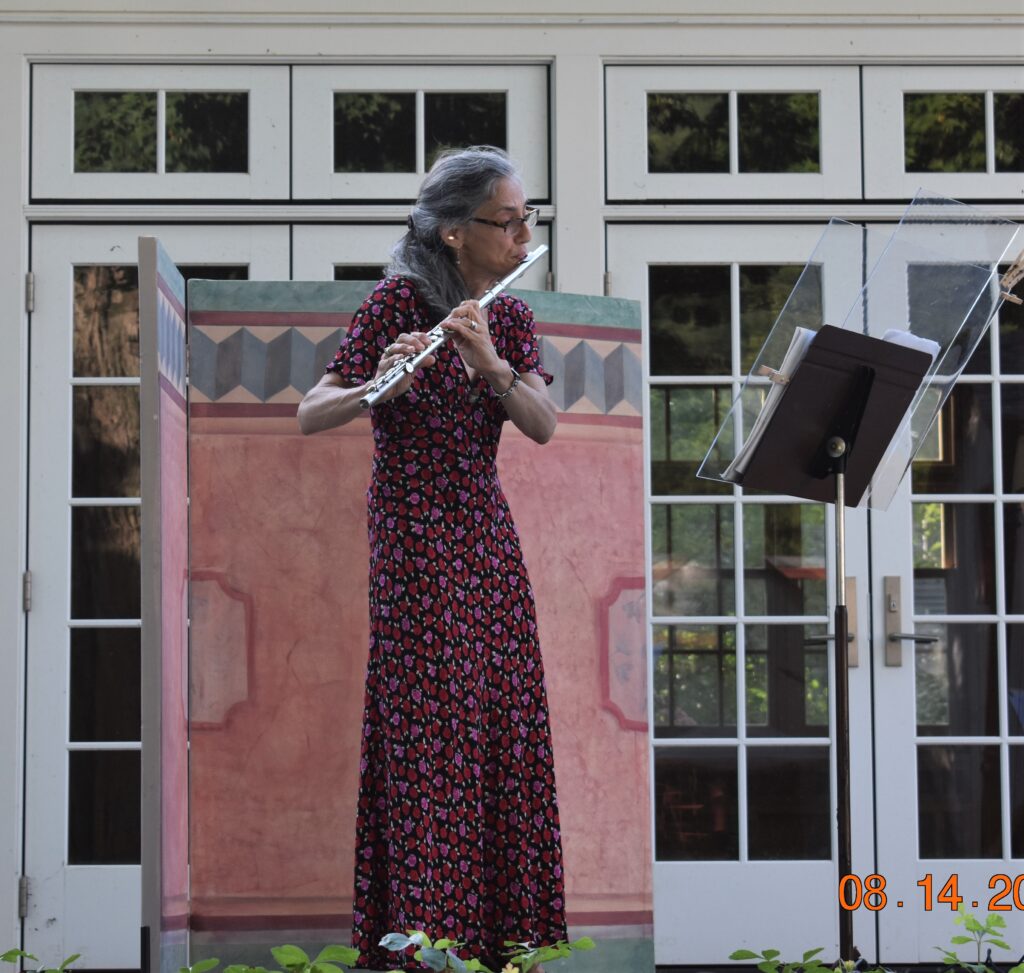 by Kevin T. McEneaney
While there are no classical music live concerts in our area, The Sherman Ensemble gave a live-audience concert in Kent at Kent Barns near the traffic light last Friday at 5:30 pm. They played from the porch and the audience sat on chairs or sprawled on the green grass, observing social distancing (six feet in NY but eighteen in CT).
The program, entitled "The Harp's Delight," featured harpist Stacey Shames with Eliot Bailen on cello and Susan Rotholz on flute. The concert was dedicated to the memory of Hannah Schorr, whom I once met and thought she was a wonderful delight.
As is their custom, The Sherman Ensemble chose a rather unusual program. They opened with "The Swan" by Saint-Saens, where Eliot on cello sailed on the shimmering water of Stacey's river of svelte current. This languid impressionism was then enhanced by a liquid selection by the Belgian pianist and organist Joseph Jongen, from Deux Piece en Trio, Op. 80. This impressionistic mood sailed in a larger lake of intricate interchange with blending sound: Stacey's harp providing the speed, Eliot's cello being the keel, and Susan's flute the ascending, unfurled sail.
They played the Andantino for flute and harp from Gabriel Fauré's Fantasie, Op. 79 which further transported me to another age where there was no pandemic and I felt the healing vibes of uplifting, ambient enchantment.
Four short pieces on children by Claude Debussy delivered charm. The last piece, "Golliwogg's Cake Walk" was eventually famous in several jazz variations, but here was the original in its coy simplicity.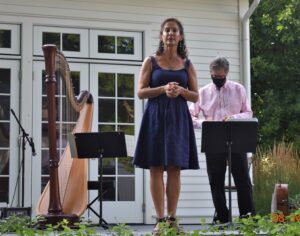 For harp solo Stacey chose Au Matin (1913) by Marcel Tournier, one of the great harp composers who expanded the sound of the harp. Stacey was delightfully hypnotic in conjuring that floating world of calm before the tasks of the day happen to begin. Tournier's compositions remain staples of degree performances and harp competitions.
Sonatine en Trio (1905) for flute, cello and harp by Maurice Ravel plunged into the subject of memory through cycles of recollection in three movements, the last movement offering a waterfall of cyclic foam. There were times in this concert where I felt transported elsewhere but with this climatic masterpiece, I was lost in sounds I appreciated yet could not digest. Memory flickers and fades, rushes and finds itself displaced by memories thought lost.
This minimalist version of The Sherman Ensemble provided healing sanctuary during a period of sci-fi nightmare and their limpid, clear sound still reverberates in my ear as I write.